I keep trying to take my wardrobe these basic pieces that make our lives easier and more comfortable when we dress every day .... so I've finished another pants, if you've followed this blog for a while you may have noticed that I have not been a woman in pants, I have a weakness for dresses ... but sometimes it happens that I get cold and need to keep warm my legs.
Sigo intentando llevar a mi armario esas prendas básicas que nos hacen la vida más cómoda y fácil a la hora de vestirnos todos los días.... así que he terminado otro pantalón, si has seguido este blog por algún tiempo te habrás dado cuenta que hasta ahora no he sido una mujer de pantalones, tengo debilidad por los vestidos... pero muchas veces me sucede que llega el frío y es necesario abrigar las piernas .
For some unknown reason, pants found in stores do not feel good about my body, are really uncomfortable! So I have given you the opportunity to use more pants making some alterations to the patterns I've sewn for me so far .... if you ask yourself which is this pattern ....
Por alguna razón desconocida, los pantalones que encontramos en las tiendas no sientan bien a mi cuerpo, son realmente incómodos!! Así que me he dado la oportunidad de usar más pantalones haciendo algunas alteraciones a los patrones de los que he cosido para mi hasta ahora.... si te preguntas cual es este patrón....
The original pattern is Burdastyle 2009, August, # 105. This time I modified the pattern by reducing the waistband and trouser pattern extending upward to my natural waist, I have also added two false pockets on the back.
El patrón original es de Burdastyle 2009, agosto, #105. Esta vez he modificado el patrón reduciendo la banda de cintura y alargando el patrón del pantalón hacia arriba hasta llegar a mi cintura natural, también he añadido dos falsos bolsillos en la espalda .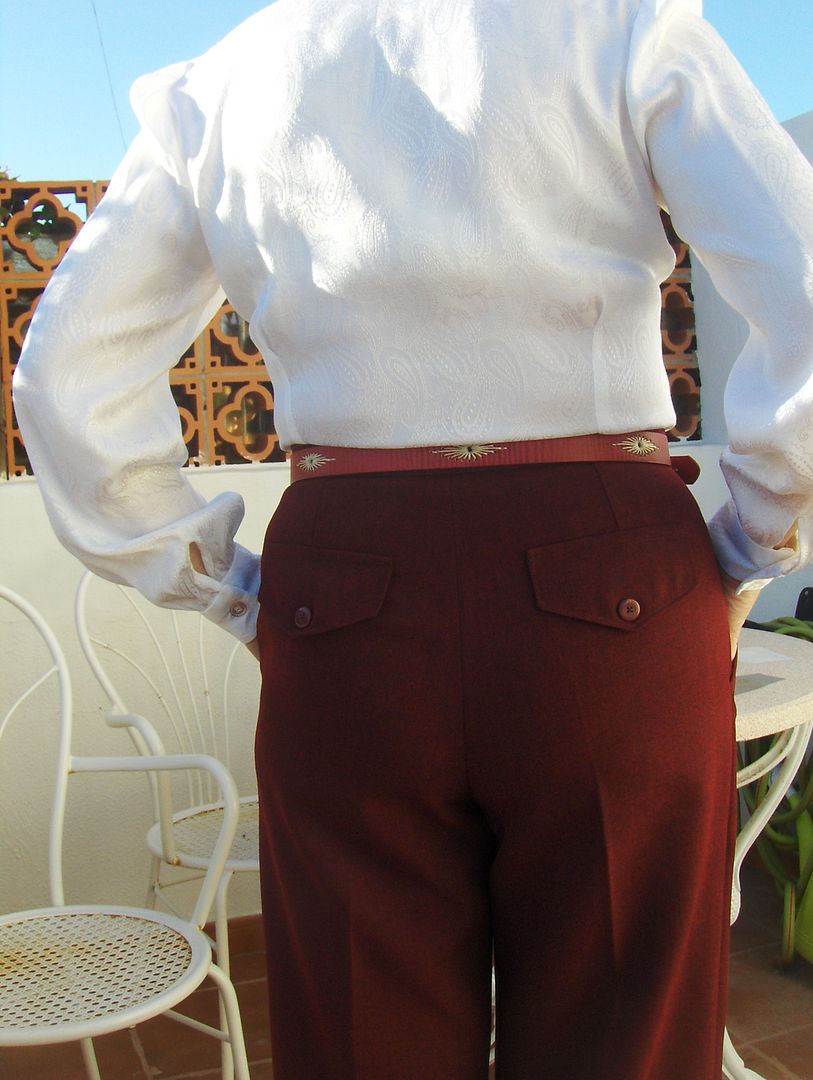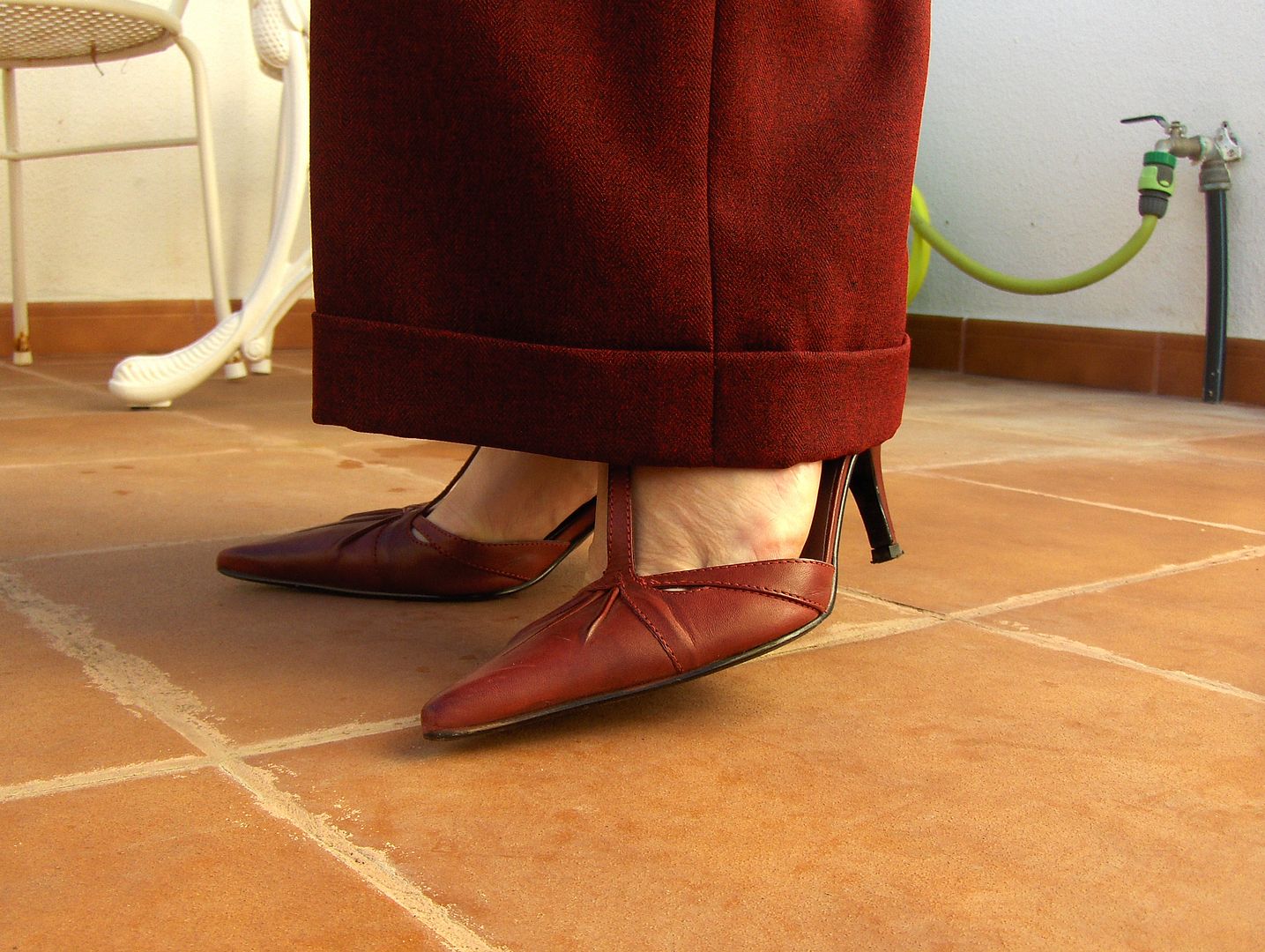 The fabric used is a mixture of poly-wool, perfect for cold days, if you look closely, it makes a herringbone design ....
La tela utilizada es una mezcla de poli- lana, perfecta para los días fríos, si la miras de cerca hace dibujo de espiga....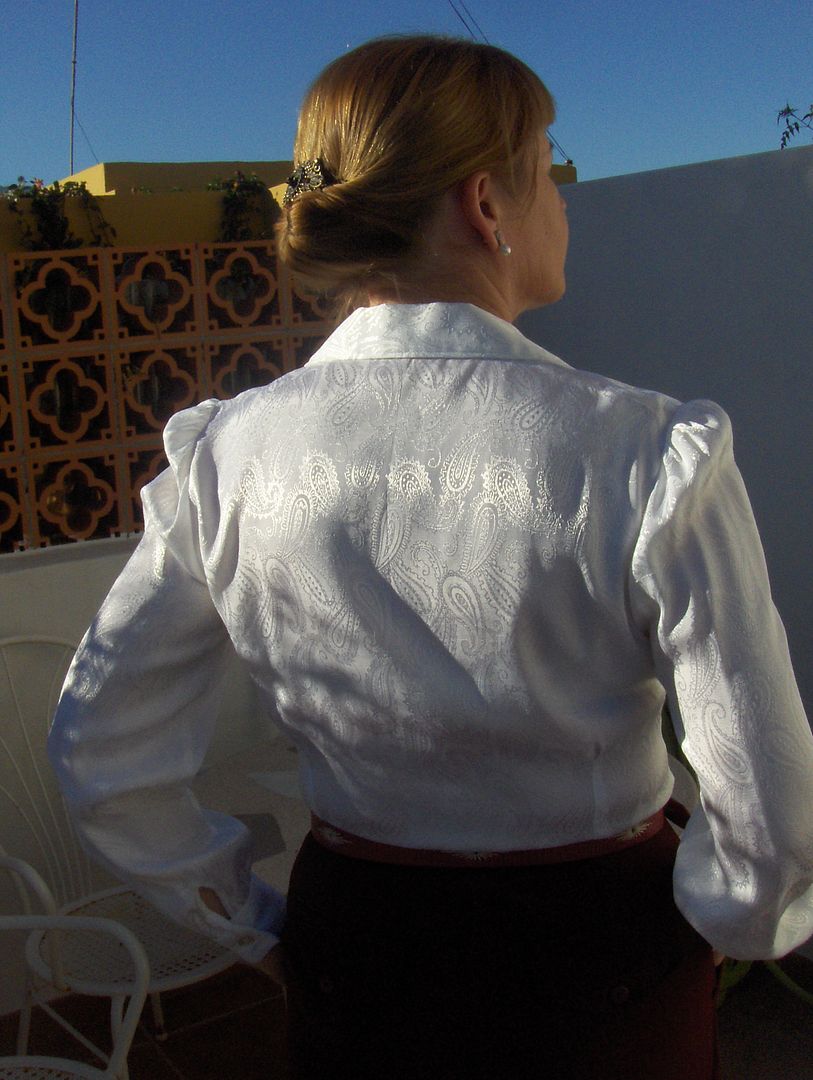 The blouse is the idea of a project that never came to an end, the top of the outfit that appeared in the movie "Christmas in Connecticut" 1945. I never sewed pants.
La blusa es la idea de un proyecto que nunca llegó a su fin, la parte superior del outfit que aparecía en la película "Christmas in Connecticut" 1945. Siempre quedó por coser el pantalón...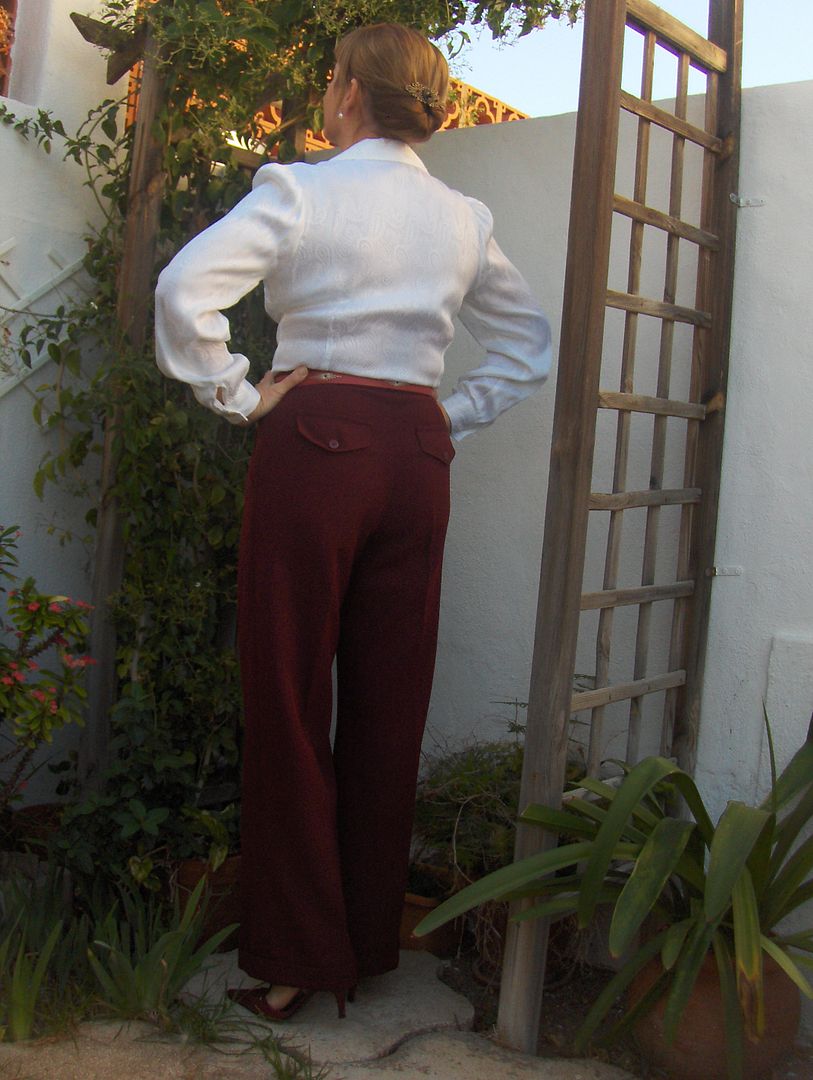 You have to excuse my swollen face again, because of a migraine that has accompanied me three days and three nights ....
Tienes que disculpar mi cara hinchada de nuevo, debido a una migraña que lleva acompañándome tres días con sus tres noches....
Although I have to confess that this is only half of the project I have in mind, this pant was the perfect companion to the top I'll do next ... I'll give you a preview of the fabric that I use in that top ... let me that it remain a mystery for now ...
.
Aunque tengo que confesar que esto es solamente la mitad del proyecto que tengo en mente, este pantalón fué la compañía perfecta para la parte superior que voy a hacer seguidamente... yo te voy a dar un adelanto de la tela que voy a usar en esa parte superior... permíteme que siga siendo un misterio por ahora....