Sorry for this absence, the nagging flu decided to visit this family in this day and time has gone between delirium of fever and cough annoying, all this time I wandered like a zombie at the corners and now am a simple snot bag ... so miserable ... but back to life! So to celebrate, I decided to get my ears on some challenges I've seen on the net, so interesting!
The first was the challenge offered us the wonderful Rochelle, the challenge is to sew one or inspired some teams in the 40s, I recently felt the call of love for fashion in this decade, in fact I have always been attracted to the subject of the Second World War, the history and the facts that pushed each country to bet on either side, but I've recently fallen in love fashion this time. If you want to join the challenge, you have all the information here.
Lo siento por esta ausencia, la molesta gripe decidió hacer una visita a esta familia en estos días y el tiempo se ha ido entre delirios de fiebre y molesta tos, todo este tiempo he deambulado como un zombi por las esquinas y ahora mismo soy un simple saco de mocos... tan miserable... pero vuelta a la vida!! Así que para celebrarlo, he decidido meter las orejas en algunos desafíos que he visto en la red, tan interesantes!
El primero ha sido el desafío que nos propone la maravillosa Rochelle, el desafío consiste en coser uno o algunos equipos inspirados en los años 40, recientemente he sentido la llamada del amor por la moda de esta década, en realidad siempre me he sentido atraída por el tema de la Segunda Guerra Mundial, toda la historia y los hechos que empujaron a cada país a apostar por uno u otro bando, pero es recientemente que me he enamorado perdidamente de la moda de esta época. Si te apetece unirte al desafío, tienes toda la información aquí.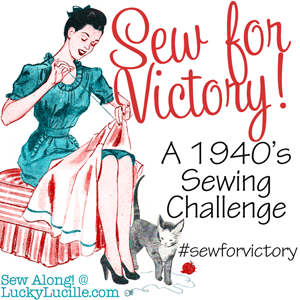 A bit of inspiration...
Así que vamos con un poco de inspiración de esta década....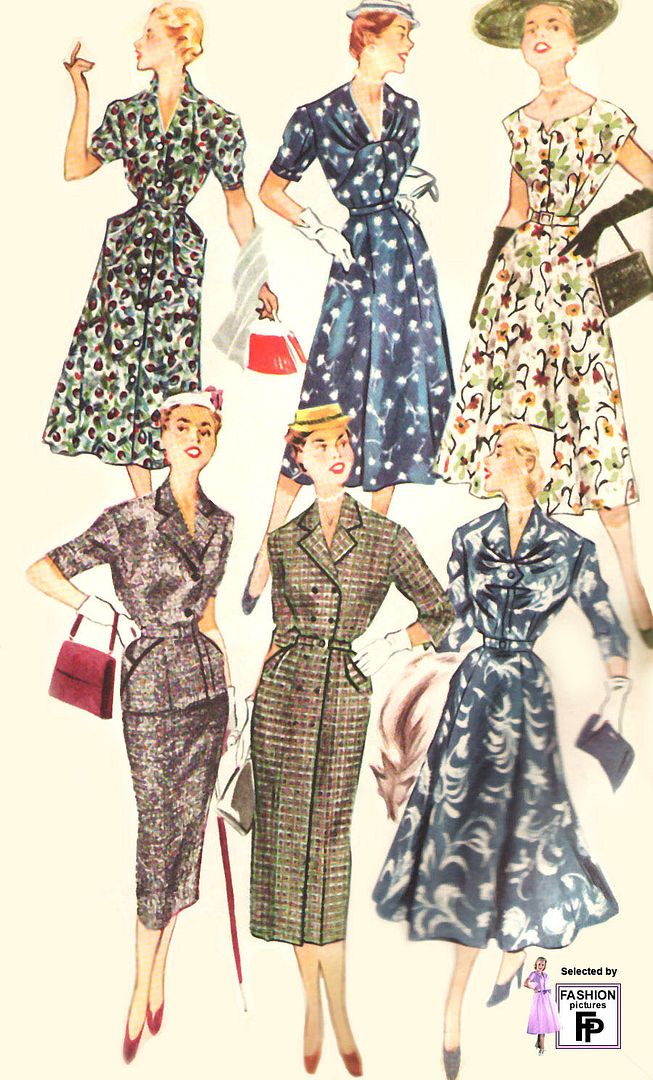 All images from Pinterest.
And of course I could not pass up the opportunity to accept the challenge offered us Julia! Already started the second challenge Mad Men!
I had the pleasure of participating in last year's first edition of this challenge in this dress ....
Y por supuesto, yo no podía dejar pasar la oportunidad de aceptar el desafío que nos propone Julia!! Ya está en marcha el segundo desafío Mad Men!!
Yo tuve el gusto de participar el año pasado en la primera edición de este desafío con este vestido....
So, here we go! Julia offers us make a dress copied or inspired by the TV show "Mad Men" and send photos until 19 April, sincerely ... I like so much the costumes for the show that I do not know where to start .... so Julia offers inspiration here. And of course you can see the result of the first challenge here.
Entonces, vamos allá!! Julia nos propone confeccionar un vestido copiado o inspirado en la serie "Mad Men" y enviar fotos hasta el 19 de Abril, sinceramente... me gusta tanto el vestuario de la serie que no se por donde empezar.... así que Julia nos ofrece inspiración aquí. Y por supuesto puedes ver el resultado del primer desafío aquí.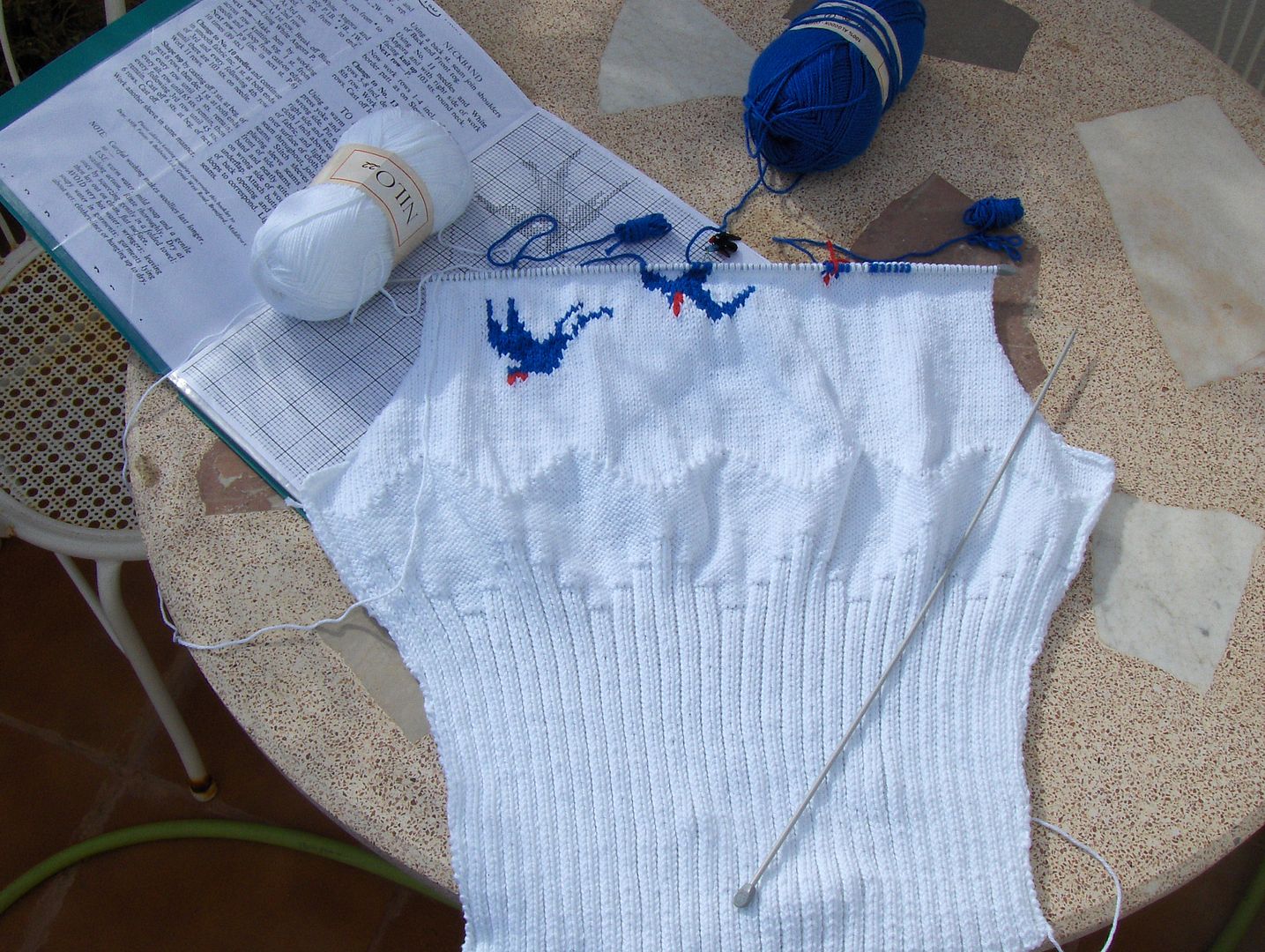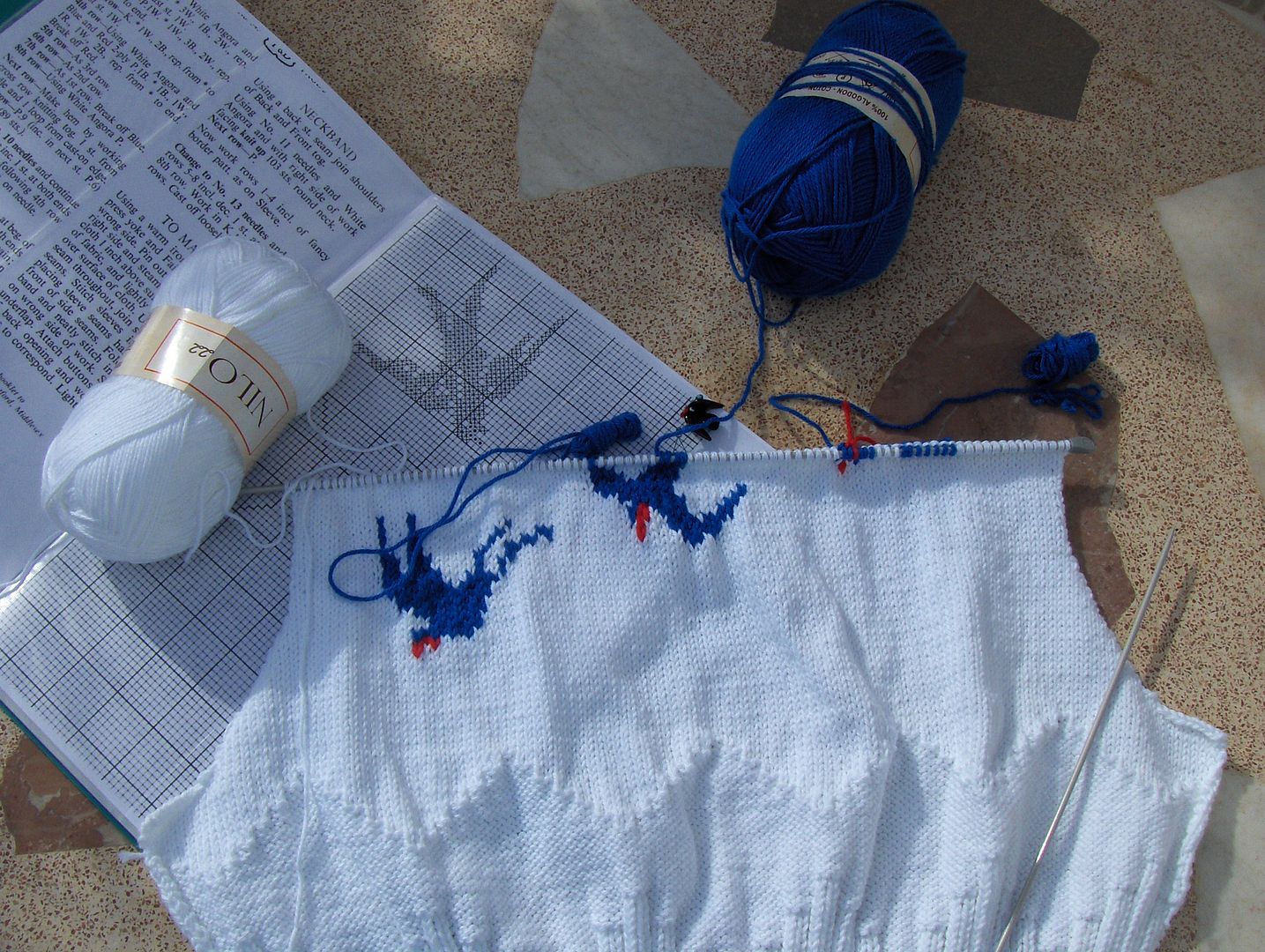 And finally, let me show you what I have progressed with my knitting needles, Do you remember this post?? Well, these days it has been impossible to sew anything, the discomfort and upset of the disease have left me near my sewing cave, so free time was spent with the other vice ... in the post where I had this jumper, someone asked if the birds would be embroidered on the front above the tissue, you can see that no, dear friend ... birds are knit while the front, I use a technique to cross yarns while I'm weaving in different colors, so no cross threads in the back of the material, is a bit tricky at times, but very effective ... I also used a small ball of blue yarn for each bird, the cleaning effect is greater and the blue is not "hint" for the right to work in the white spaces between the woven in birds ... so I only need to finish the front and sleeves of this beautiful jumper.
And of course ... we continue with our Sew Along fuchsia coat of "New Girl" ... stay tuned .....
Y por último, déjame mostrarte lo que he avanzado con mis agujas de tejer, recuerdas este post?? Bien, estos días ha sido imposible coser nada , las molestias y el malestar de la enfermedad no han dejado que me acercara a mi cueva de costura, así que el tiempo libre fué gastado con este otro vicio... en el post donde yo presentaba este suéter, alguien preguntaba si los pájaros del frontal sería bordados encima del tejido, puedes ver que no, querida amiga... los pájaros se tejen a la vez que el delantero, yo utilizo una técnica de cruzar los hilos mientras estoy tejiendo en diferentes colores, así no hay hilos cruzados en el revés del tejido, es un poco complicado a veces, pero muy efectivo... yo también he usado un pequeño ovillo de hilo azul para cada pájaro, el efecto de limpieza es mayor y los hilos azules no se "insinúan" por el derecho de la labor en los espacios tejidos en blanco entre los pájaros... así que solamente falta terminar el delantero y las mangas de este hermoso suéter.
Y por supuesto... seguimos con nuestro Sew Along del abrigo fucsia de "New Girl"... manténgase en sintonía.....