Yep, the day arrived and we will begin our coat fuchsia, this third Sew Along from the costumes of New Girl ...
Before I need to publicly thank all the great people behind every blog I visit, I feel your words of encouragement and assistance so close as if you were lifelong friends, I still say that the Internet is great! But is that what you do it great!
As we make the necessary changes in our basic pattern front, let's start thinking about the wonderful times that we will be able to enjoy our beautiful coat, avoid that parts of this project that are somewhat tedious but inevitable ... us away from our goal, we will fight discouragement while comes the fun part!
Pues si, llegó el día y vamos a comenzar nuestro abrigo fucsia de este tercer Sew Along del vestuario de New Girl...
Antes de comenzar necesito dar las gracias publicamente a todas las grandes personas que hay detrás de cada blog que me visitan, siento vuestras palabras de aliento y ayuda tan cerquita como si fueran amigas de toda la vida, sigo diciendo que Internet es genial! Pero es que vosotras lo hacéis genial!!!
Mientras hacemos las transformaciones necesarias en nuestro patrón básico de delantero, vamos a ir pensando en las maravillosas ocasiones en que vamos a poder disfrutar de nuestro precioso abrigo, hay que evitar que algunas partes de este proyecto que son algo tediosas, pero inevitables... nos aparten de nuestro objetivo, vamos a combatir el desaliento mientras llega la parte divertida!!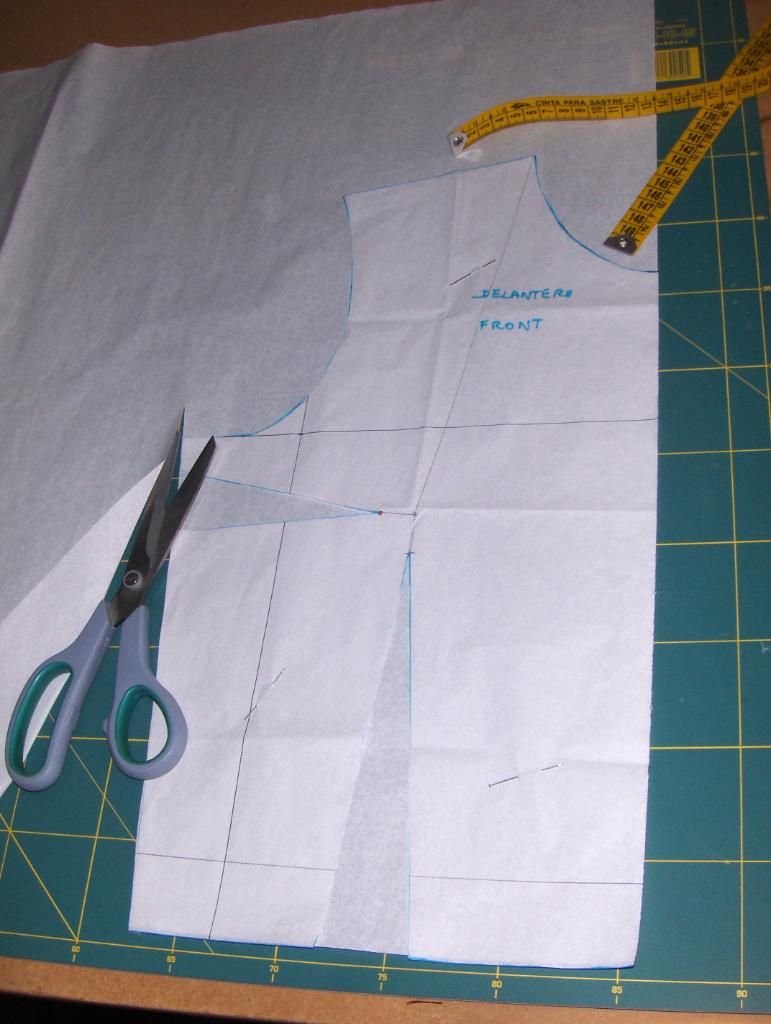 The first thing you need is to copy on paper other basic patterns of our front and back, remember that we will always save original after use to follow Sew Alongs successive copying in other clothes and keep getting the patterns we need for each dress or coat .
Lo primero que necesitamos es copiar en otro papel nuestros patrones básicos de delantero y espalda, recuerda que los originales siempre vamos a guardarlos después de usarlos para seguir copiándolos en sucesivos Sew Alongs de otras prendas y seguir consiguiendo los patrones que necesitamos para cada vestido o abrigo.
Well, considering that this time we will sew a coat, let's do a little trap ... usually a coat is a garment we wear over other clothes, so we need a larger size pattern for this, that if we were to sew a dress by ejm.
But we will make up a new pattern for a size ... so what you do is draw two lines in each pattern piece, a vertical line must be parallel to the back edge of the center (in the case of the pattern back) and the front pattern, that line should run parallel with the center front, that way we make sure that these lines are not twisted.
For horizontal lines, parallel to the lower edge will our patterns, ie the waist ... the easiest way is to use a ruler square and use the center edges of the patterns to draw these horizontal lines at 90 °. So they will be completely horizontal.
Bien, teniendo en cuenta que esta vez vamos a cosernos un abrigo, vamos a hacer una pequeña trampa... normalmente un abrigo es una prenda que usamos encima de otras prendas, así que necesitaremos una talla más grande de patrón para esto, que si fuesemos a coser un vestido por ejm.
Pero no vamos a hacer un patrón nuevo para subir una talla... así que lo que haremos es trazar dos lineas en cada pieza de patrón, una linea vertical que debe ir paralela al borde del centro de espalda (en el caso del patrón espalda) y en el patrón delantero, esa linea debe ir paralela con el centro delantero, de esa forma nos aseguramos que estas lineas no están torcidas.
En el caso de las lineas horizontales, las haremos paralelas al borde inferior de nuestros patrones, es decir a la cintura... lo más fácil es usar una regla escuadra y usar los bordes de centro de los patrones para dibujar estas lineas horizontales en ángulo de 90º. Así estarán completamente horizontales.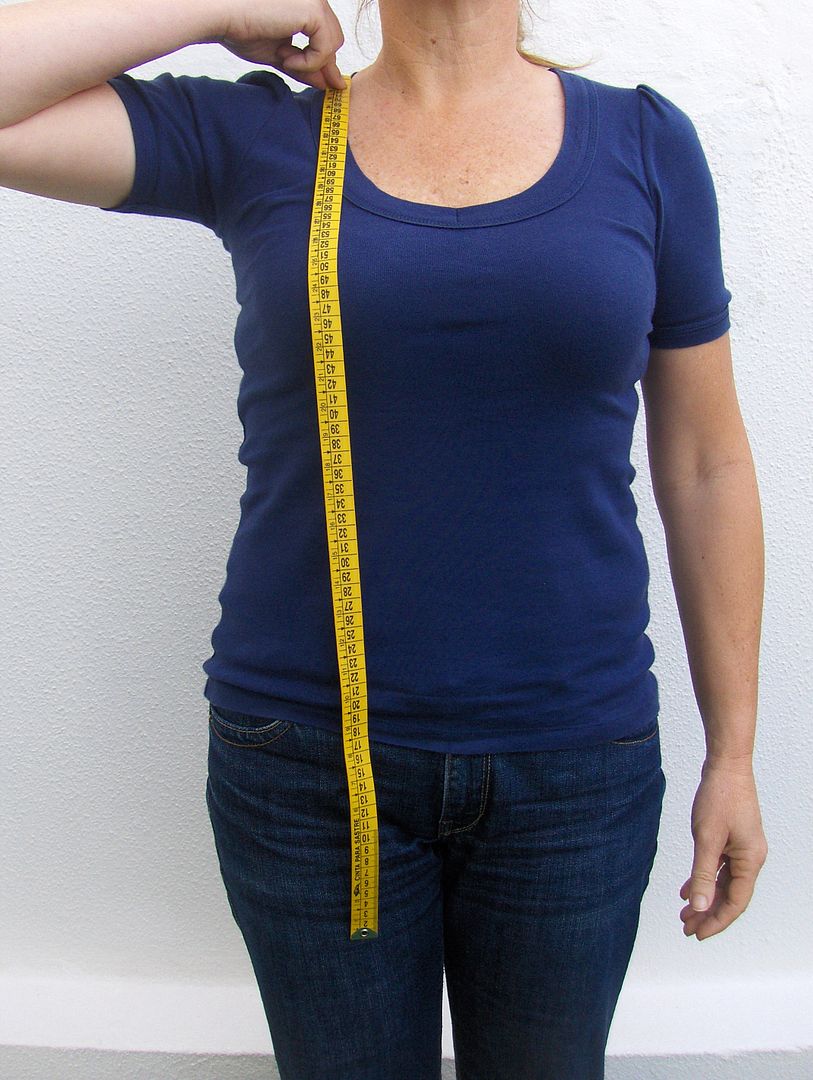 We have to cut where we have drawn these lines, for it put front pattern over another larger paper and secured with pins as shown in the photo, that is one centimeter separated the pieces that we cut. Look at the picture to understand what I mean, so so .... "dumb", we enlarged our front pattern a size ...
Now we need to determine how long our shelter, I'm going to sew a short coat, I need to get in the car and drive smoothly, without the need to put on and take off my coat constantly and I do not relish the idea of ​​driving with the seat belt and end with a wrinkles coat ... so I'll make the coat just below my ass.
The easiest way to measure ourselves against ourselves throughout our coat the unaided is situate in front of a mirror and take the tape from the bottom up, I mean ... the beginning of the tape where would the hem of her coat, stepping over our chest, the tape ends of our fingers up to our neck, there .. where we grabbed the tape measure will give us the highest total of our coat, point it in the pattern ... in my pattern, I pointed initially 75 centimeters, but finally decided to do it in 77 centimeters.
Por donde hemos dibujado estas lineas tenemos que cortar, para ello colocamos el patrón delantero sobre otro papel más grande y aseguramos con alfileres como muestra la foto, es decir que separamos un centímetro las piezas que hemos cortado. Fíjate en la foto para comprender lo que quiero decir, de esta forma tan .... "tonta" , hemos agrandado nuestro patrón delantero una talla...
Ahora necesitamos determinar cuan largo queremos nuestro abrigo, yo voy a coserme un abrigo corto, necesito poder subir al coche y conducir sin problemas, sin la necesidad de ponerme y quitarme el abrigo constantemente y tampoco me seduce la idea de conducir con el cinturón de seguridad abrochado y terminar con un abrigo arrugado como un churro... así que voy a hacer el abrigo justo por debajo del trasero.
La forma más fácil de medirnos nosotras mismas el largo de nuestro abrigo sin necesidad de ayuda es situarnos delante de un espejo y tomar la cinta métrica desde abajo hacia arriba, me explico... el principio de la cinta métrica en donde iría el dobladillo del abrigo, pasando por encima de nuestro pecho, la cinta termina entre nuestros dedos a la altura de nuestro cuello, ahí.. donde tenemos agarrada la cinta métrica nos dará la medida total del alto de nuestro abrigo, apúntala en el patrón... en mi patrón, yo apunté en un principio 75 centímetros, pero finalmente decidí hacerlo de 77 centímetros.
So now we go to that extent of paper over your coat and placing the tape measure from the top of the neck in the pattern that we have taken the long (in my case, 77 centimeters). We make a mark where comes this measure and lengthened in the front center of the pattern down to reach that mark.
Así que ahora nos vamos al papel con esa medida de largo de nuestro abrigo y colocando la cinta métrica desde el inicio del cuello en el patrón damos el largo que hemos tomado (en mi caso, 77 centímetros). Hacemos una marca donde llega esta medida y alargamos en el centro delantero del patrón hacia abajo hasta llegar a esa marca.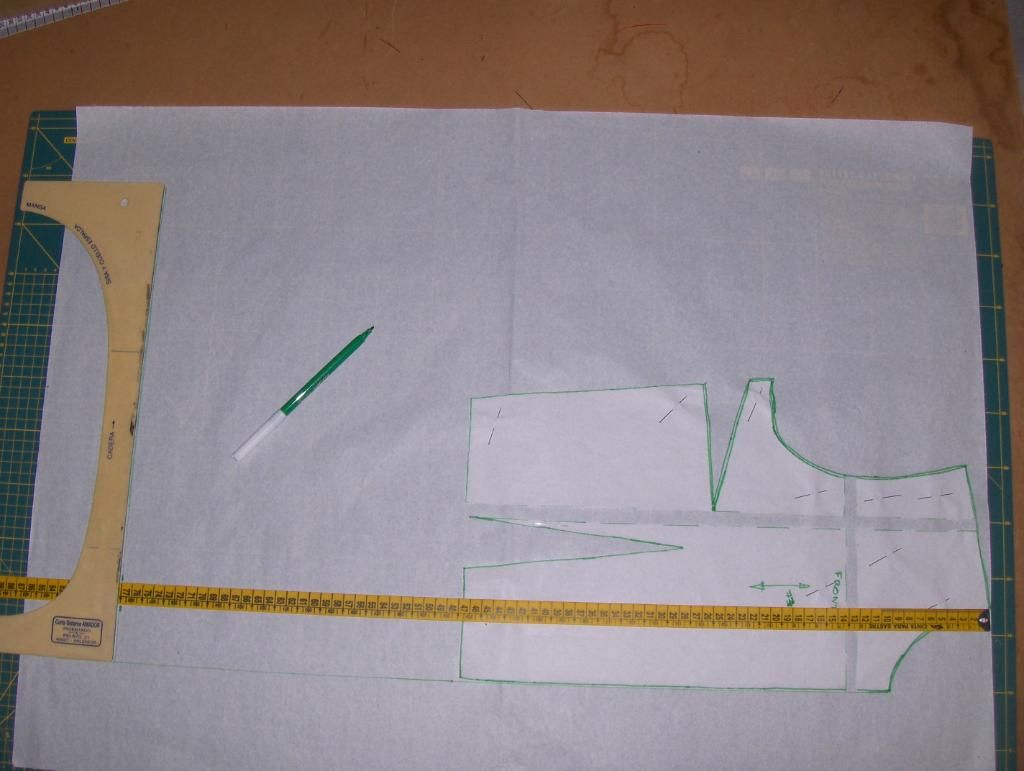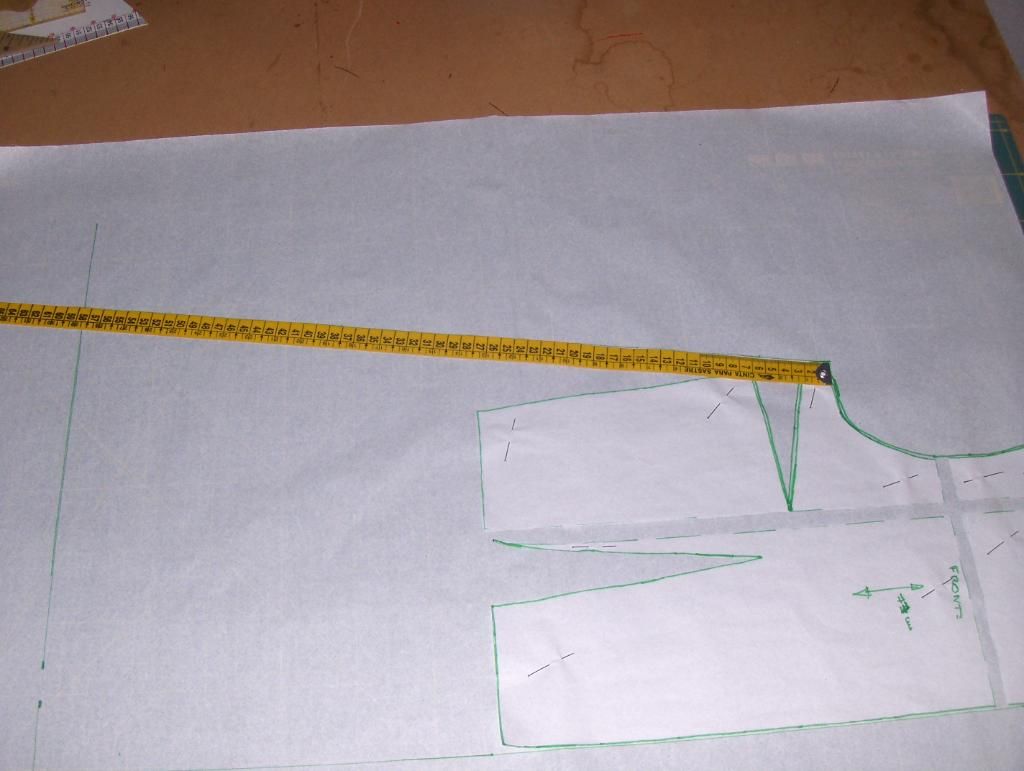 Now we need to draw on our pattern, so with a ruler square, draw a line that will be the hem of your coat by a line squared at right angles to the center of the pattern, ie 90 °, we have drawn on under our coat.
The next photo shows how to extend the pattern on the side, so this line only need to draw a line from the armhole of the pattern to the lowest we've drawn before. This line does not fall into vertically but we opened a little (How many? That's your personal choice, I did it where me well).
Ahora necesitamos dibujar el bajo de nuestro patrón, así que con una regla escuadra, dibujamos una linea que será el dobladillo de nuestro abrigo haciendo una linea escuadrada en ángulo recto con el centro del patrón, es decir 90º, ya tenemos dibujado el bajo de nuestro abrigo.
La siguiente foto muestra la forma de alargar el patrón en el costado, para esta linea solamente necesitamos trazar una recta desde la sisa del patrón hasta el bajo que hemos dibujado antes. Esta linea no baja en vertical, sino que la abrimos un poco (cuanto? esa es elección personal, yo lo hice "a ojo", donde me pareció bien ).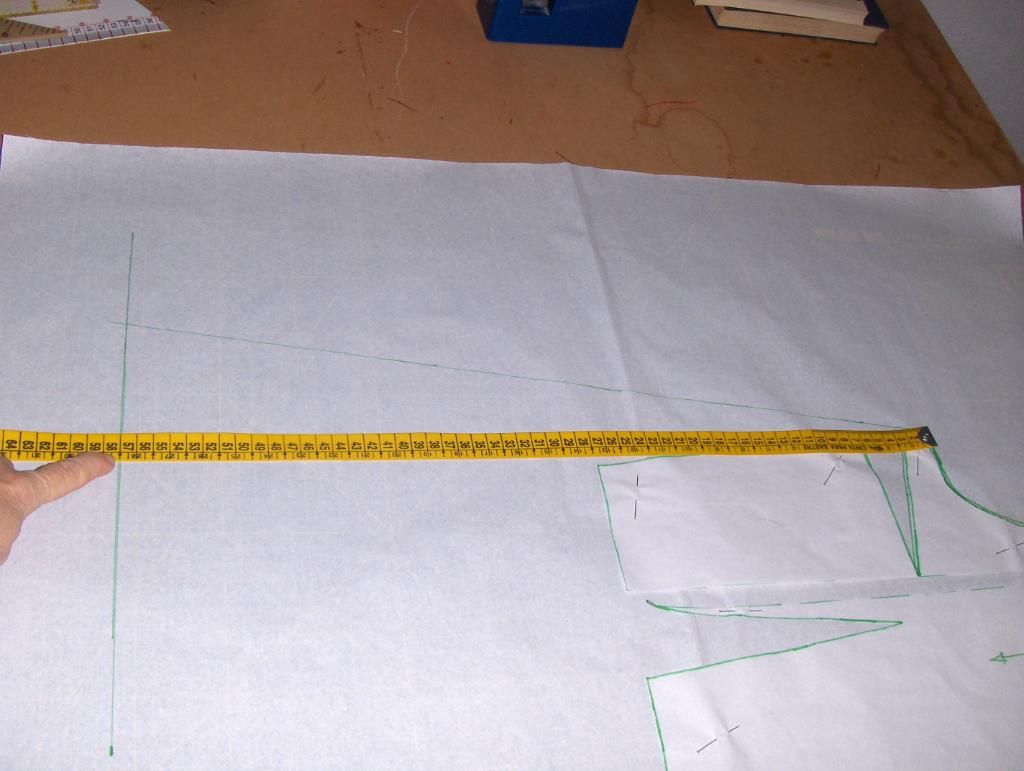 For this pattern area do not "peak" on the fabric after, what we need is to measure from armhole to hem (first photo) and notes centimeters measured there, mine is 57 cmt. then measured again from the same point of the armhole, until the end but this time on the side of the sloping line you drew finally, where is 57 ctm. make a mark in the second picture ... where I'm pointing.
Para que esta zona del patrón no haga "picos" después en la tela, lo que necesitamos es medir desde la sisa hasta el dobladillo (en la primera foto) y toma nota de cuantos centímetros mide ahí, la mía es 57 cmt. entonces vuelve a medir desde el mismo punto de la sisa, hasta el final pero esta vez en la linea inclinada del costado que has dibujado por último, en donde llega a 57 ctm. haz una marca, en la segunda foto... donde estoy señalando
.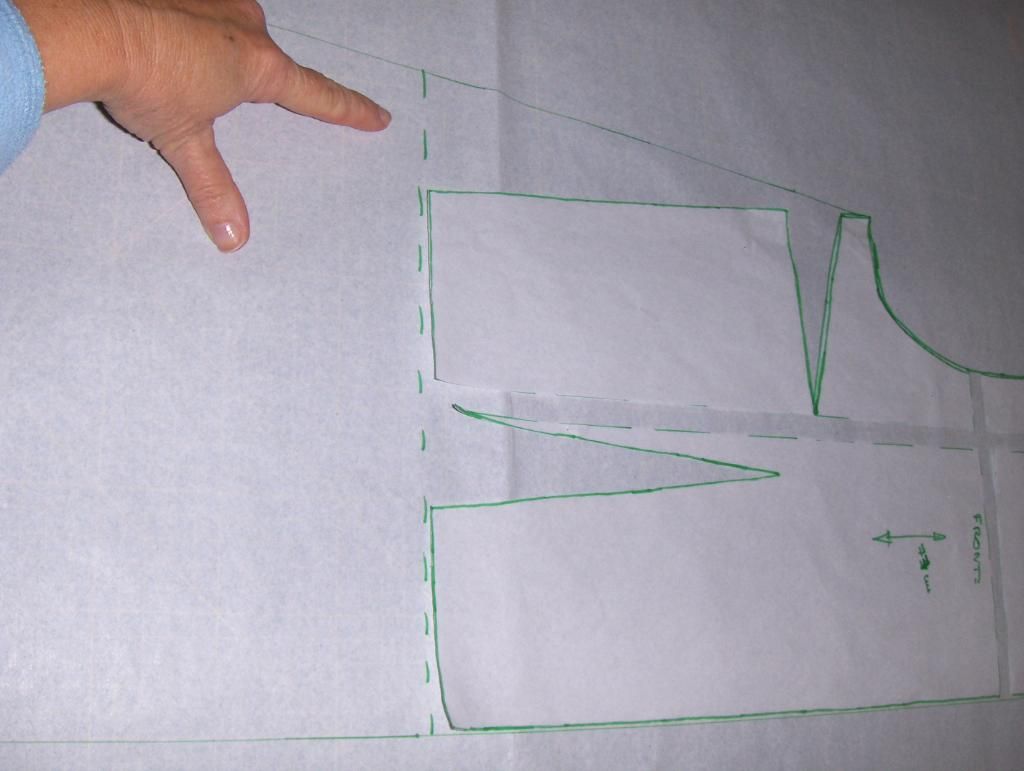 Then make a slightly curved line to remove the corner, so the pattern is matched across the low.
Now look at the second picture, move the belt line to the pattern that we're drawing too for future reference. Remember also draw large role in the chest dart.
Entonces haz una linea ligeramente curvada para eliminar esa esquina, así el patrón estará igualado en todo el bajo.
Ahora fíjate en la segunda foto, traslada la linea de cintura al patrón que estamos dibujando también para futuras referencias. Recuerda también dibujar en el papel grande la pinza de pecho.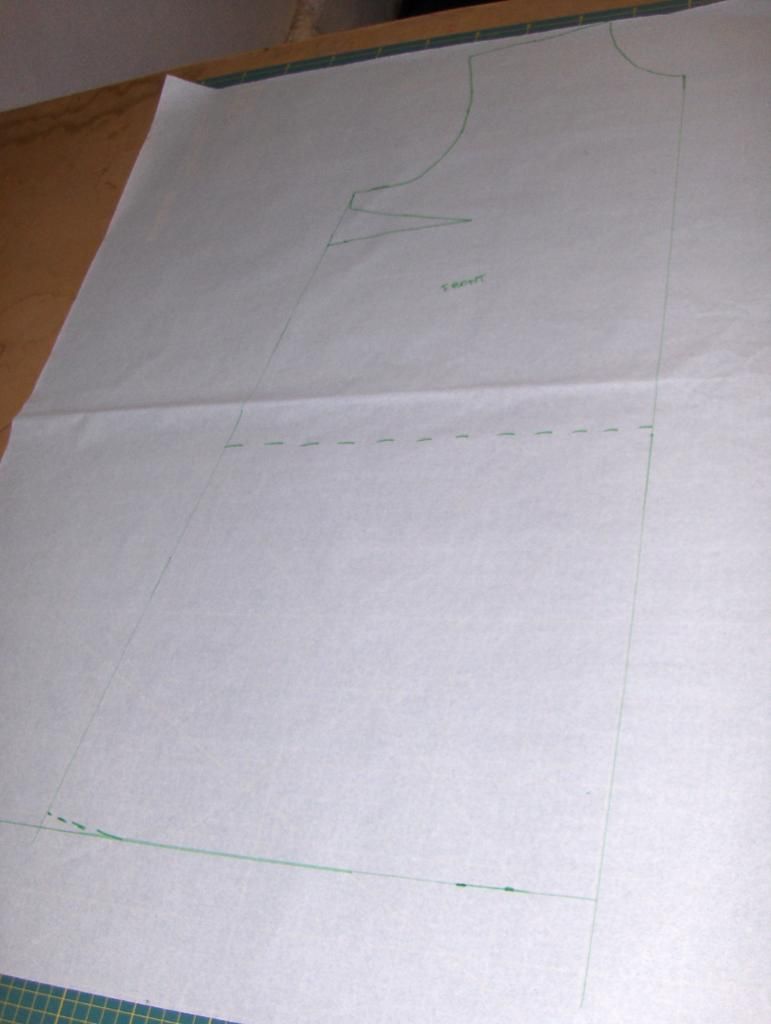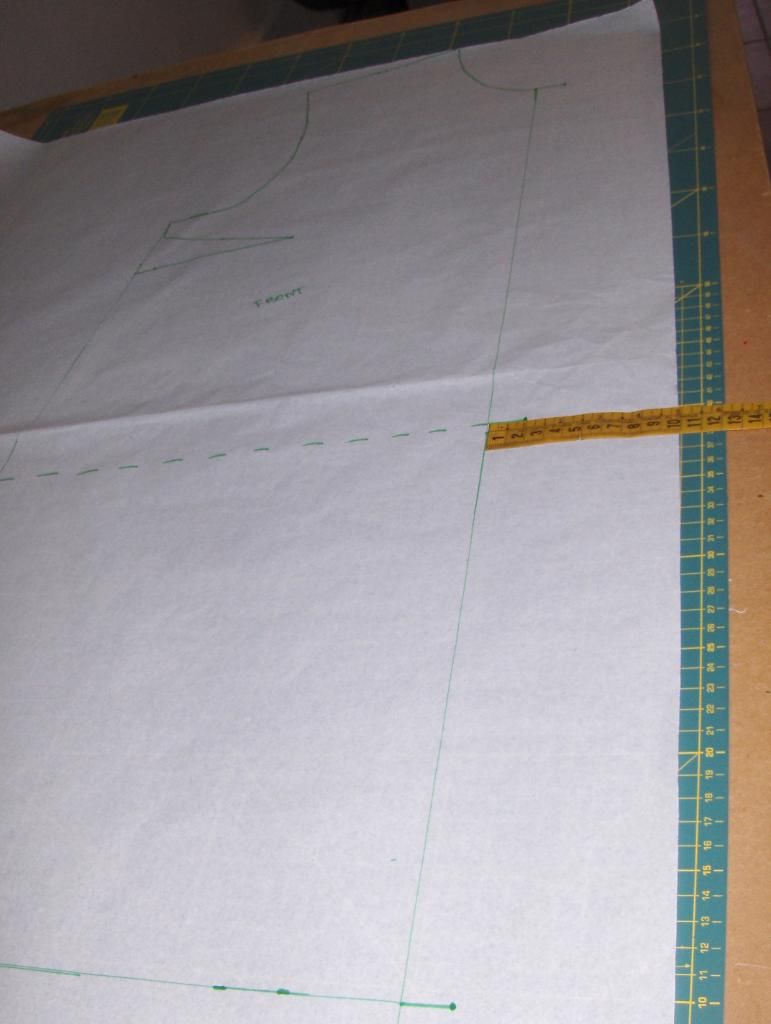 At this point, we can remove the pattern we had stuck with pins, and we do not need it, so we'll have something like the first picture ... encouragement! Since we need very little to end the front transformation pattern!.
In the second photo, we'll add the crossroads of the coat, are those ctm. we need for buttonholes and buttons, I have added two centimeters crossover, I do so ... I measure two ctm. in the neck outward, waistline and hem ...
Llegados a este punto, ya podemos quitar el patrón que teníamos clavado con alfileres, ya no nos hace falta, así que tendremos algo como la primera foto... ánimo!! Ya nos falta muy poquito para acabar con la tranformación del patrón delantero!!.
En la segunda foto, vamos a añadir el cruce del abrigo, son esos ctm. que necesitamos para ojales y botones, yo he añadido dos centímetros de cruce, lo hago así... mido dos ctm. en el cuello hacia afuera, en la linea de cintura y en el bajo...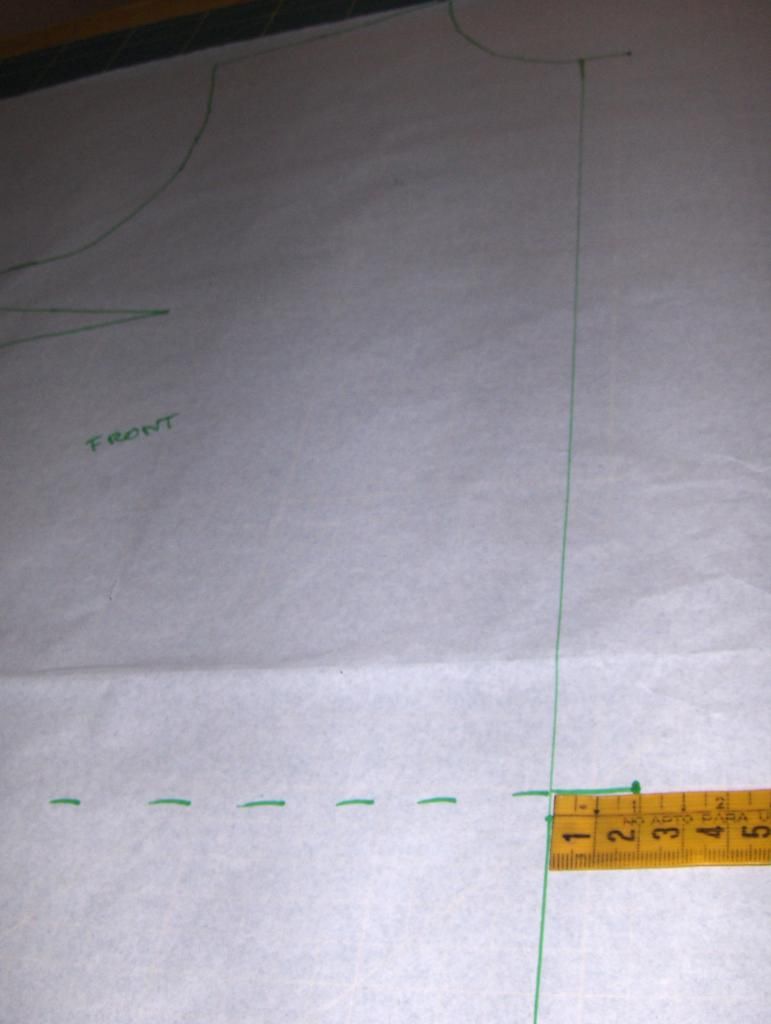 Then you just have to draw a line parallel to the center of the crossing pattern and have drawn it.
In the second photo, we will extend a bit towards the center of the chest dart, since we have enlarged the pattern to the beginning of this post, that dart far behind us, so I've lengthened to about twelve centimeters from the center.
Después solamente tienes que dibujar una linea paralela al centro del patrón y tenemos el cruce dibujado.
En la segunda foto, vamos a alargar un poco hacia el centro la pinza de pecho, puesto que hemos agrandado el patrón al principio de este post, esa pinza nos queda muy atrás, así que yo la he alargado hasta unos doce centímetros del centro.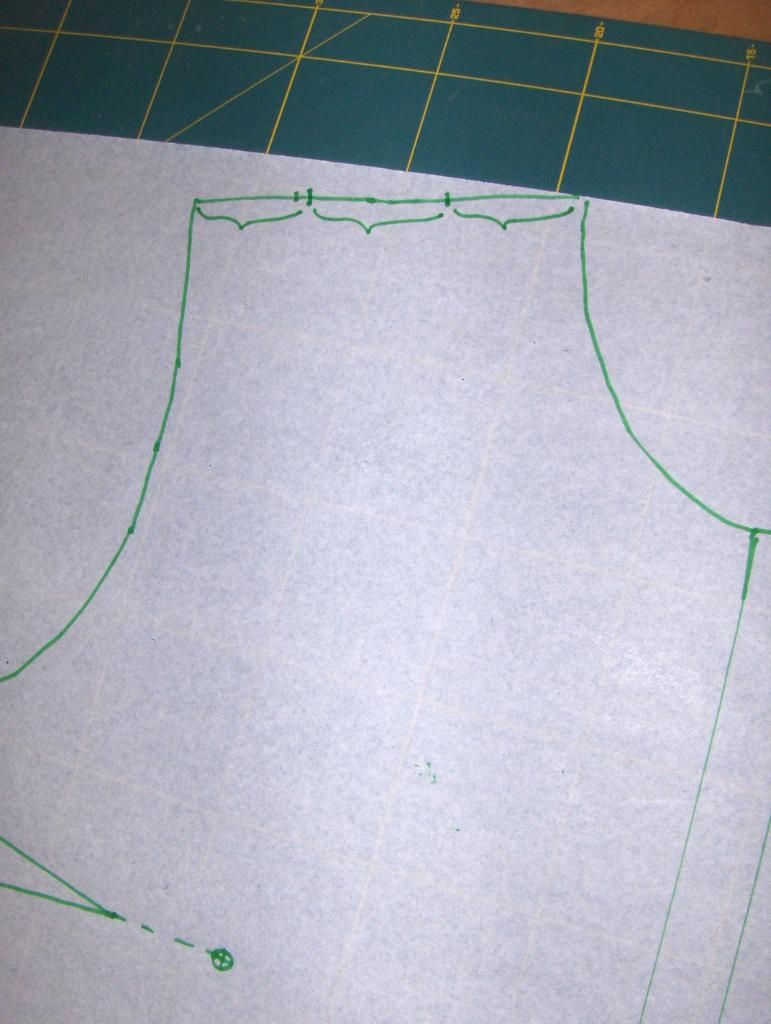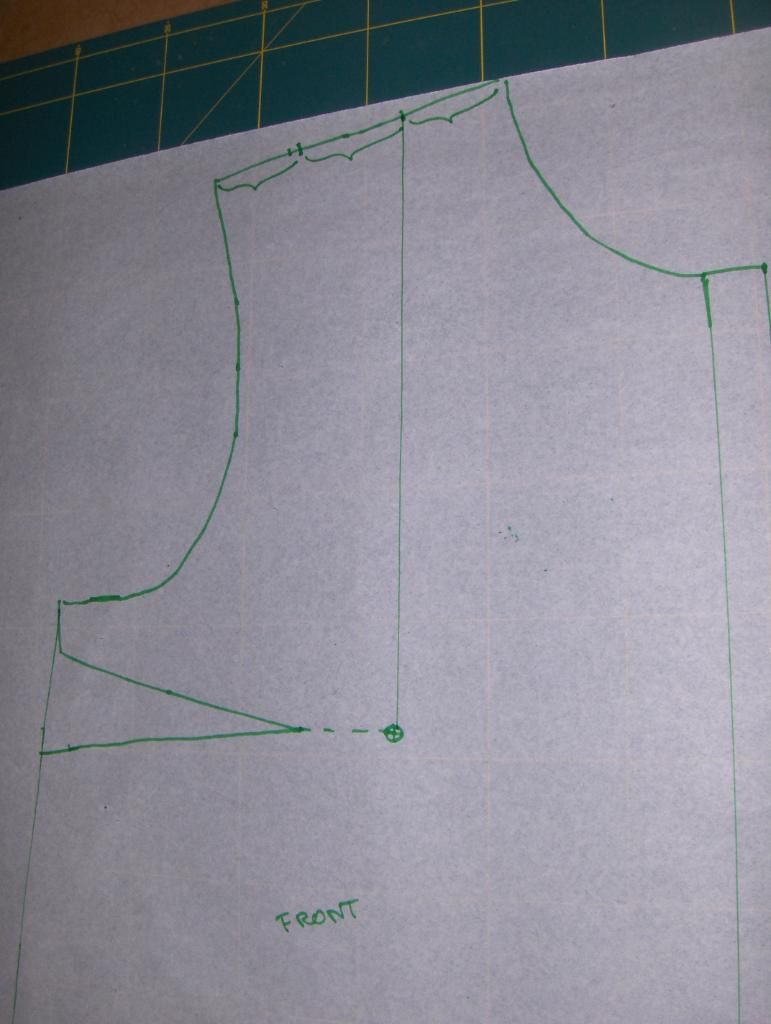 We´re almost ... let's play hide and seek! Let's hide breast dart and move the shoulder ... it's easy! We just need to divide the line shoulder of our pattern into three equal parts, then draw a line that goes from the first division (the closer to the neck) to the point of the dart chest.
Mira que ya casi estamos... vamos a jugar al escondite!! Vamos a esconder la pinza del pecho y trasladarla al hombro... es muy fácil! Solamente necesitamos dividir la linea del hombro de nuestro patrón en tres partes iguales, entonces dibuja una linea que vaya desde la primera división (la más cerca del cuello) hasta el punto de la pinza de pecho.
After that, we will open a bit the neck of your coat for it not be overwhelming, so we redraw the neckline two centimeters more open ... Y. .. Presto! We can cut the pattern!
Después de esto, vamos a abrir un poco el cuello de nuestro abrigo para que no resulte agobiante, así que volvemos a dibujar la linea de cuello dos centímetros más abierta... Y... Tachán!! Ya podemos recortar el patrón!!
We continue with the last step to play hide our chest dart .. only need to cut along the line we have drawn before, which goes from the shoulder to the point of the dart ... and also get a cut from the bottom line of the chest dart to the same point without reaching the end, leaving half a centimeter uncut ... well you can hide dart, as shown in the picture ... paste a bit of tape connecting the two lines of the original breast dart, you'll see that the pattern is cut open in the shoulder ... this is now the new dart chest! The original one is completely hidden and deleted!
Seguimos con el último paso para jugar al escondite de nuestra pinza de pecho.. solamente necesitas recortar por la linea que hemos dibujado antes, la que va desde el hombro hasta el punto de la pinza... y también hacemos un corte desde la linea inferior de la pinza de pecho hasta el mismo punto sin llegar al final, deja medio centímetro sin cortar... así puedes esconder la pinza, como muestra la foto... pega un poco de celo uniendo las dos lineas de la pinza de pecho original, verás que el patrón se abre en el corte del hombro... esa es ahora la nueva pinza de pecho! La original está completamente escondida y eliminada!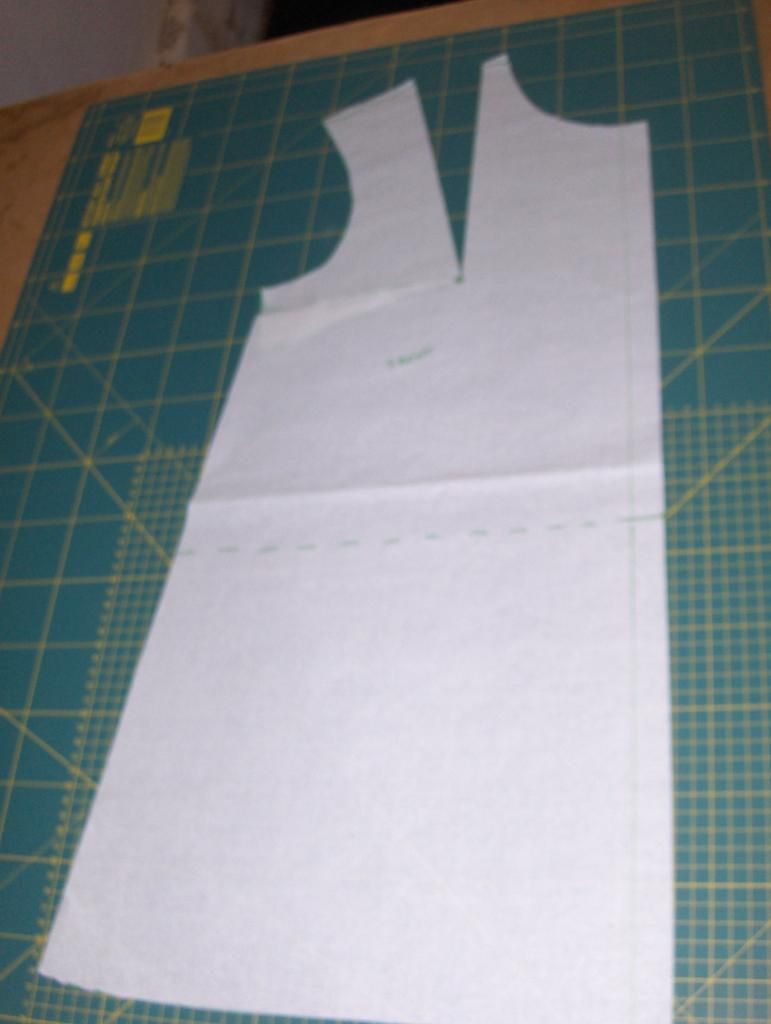 If you have come to the end of this post without yawning ... you have my admiration! You will also have something like the first picture, sorry for the blurry photo, impossible to take it again, but you can get an idea of ​​the final result ... it was not hard, right?
The fabric showing the second photo is a scrap of curtain fabric that I use to make a muslin, I think taking on the table a wool fabric that it will cost us a kidney, not very nice spoil it for any neglect , so let's look at fabric scraps sewing our respective sewing-caves to use them to make a muslin of this coat, I want you all get to the end of this third Sew Along entirely sure what we do and we do it right ... proud that we can finally wear a beautiful coat on the streets of our city ... that we look suspicious neighbors that coat again and wonder where the hell we get our clothes and turns green with envy when you show them your coat inside and tell them that we have done ourselves!
Si has llegado hasta el final de este post sin bostezar... tienes toda mi admiración! También tendrás algo parecido a la primera foto, sorry por la foto borrosa, imposible volver a tomarla de nuevo, pero te puedes hacer una idea del resultado final... no ha sido nada difícil, verdad??
La tela que muestra la segunda foto es un retal de tela de cortina que voy a usar para hacer una muselina, creo que teniendo sobre la mesa una tela de lana que probablemente nos habrá costado un riñón, no es muy agradable pifiarla por cualquier descuido, así que vamos a buscar restos de tela en nuestras respectivas cuevas de costura para usarlas para hacer una muselina de este abrigo, quiero que todas lleguemos al final de este tercer Sew Along completamente seguras de lo que hacemos y lo hagamos bien... que finalmente podamos lucir orgullosas un hermoso abrigo por las calles de nuestra ciudad... que las vecinas nos miren recelosas ese abrigo nuevo y se pregunten de donde diantres sacamos nuestro vestuario y que se ponga verde de envidia cuando les mostremos el abrigo por dentro y les digamos que lo hemos hecho nosotras mismas!!
El siguiente post será la transformación del patrón de espalda... si tienes cualquier duda, ya sabes... en los comentarios o por email (la dirección en la barra lateral), y recuerda que aunque tarde algo, siempre os voy a contestar. Un besote, mis queridas locas de la costura!!