My dress for the challenge of "Sew for Victory" is finished! It has been five days of intense work and many hours invested in it, but really worth it ....
The original idea of the dress came from a 1943 magazine-catalog called "National Bella Hess" and as my eyes fell on it , I knew I had to have it in my wardrobe , whatever the cost ... if we consider that it´s a catalog of that year to buy clothes, obviously had no pattern ... so after carefully observing every detail of that picture, I began to transform the pattern with my measures to reach the final result ... also the added bonus of a few hours of hand embroidery ...
Mi vestido para el desafío de "Sew for Victory" está terminado!!! Han sido cinco días de intenso trabajo y muchas horas invertidas en él, pero realmente valió la pena....
La idea original del vestido venía de una revista del año 1943 llamada "National Bella Hess" y en cuanto mis ojos se posaron en él, yo sabía que tenía que tenerlo en mi armario, costase lo que costase... si tenemos en cuenta que es un catálogo de ese año para comprar ropa, es obvio que no había patrón ... así que después de observar cuidadosamente todos los detalles de esa foto , me dediqué a transformar el patrón con mis medidas para llegar al resultado final... además del extra añadido de algunas horas de bordado a mano...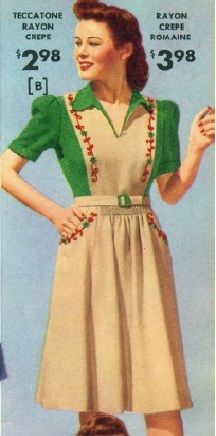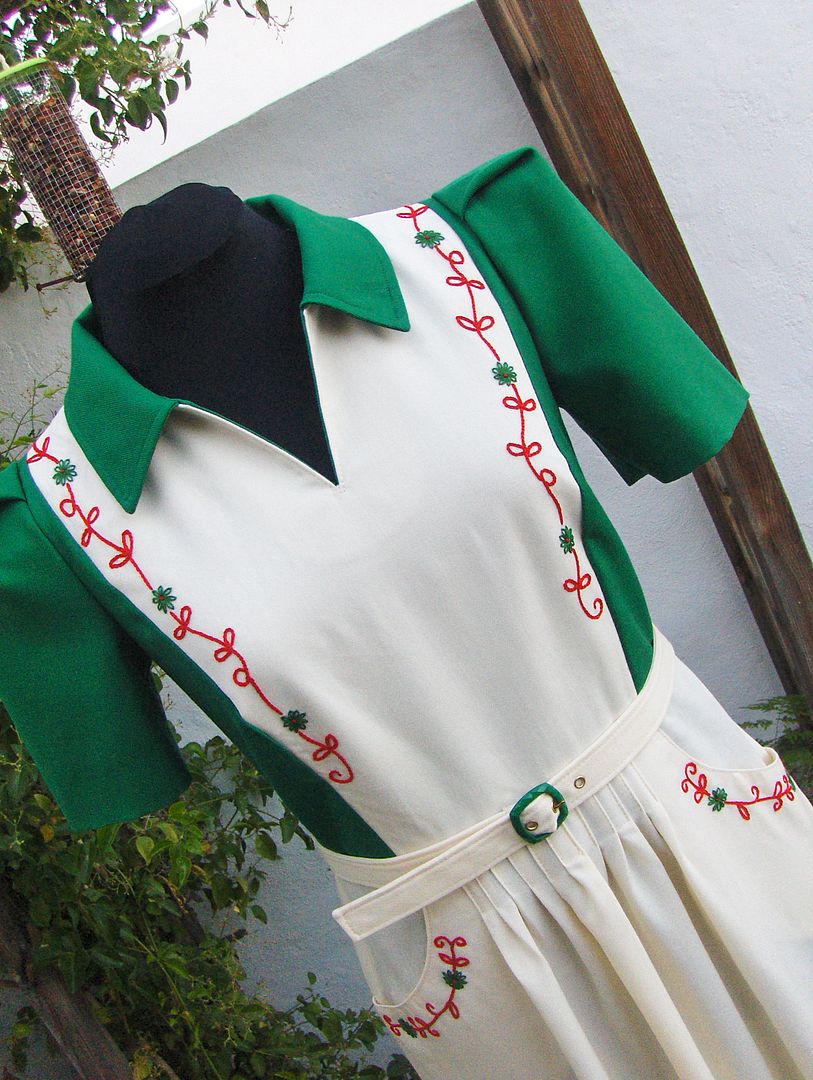 I love the end result! I was always a woman of the 50s, or perhaps some extras from the 60s ... so my foray into the 40s is very recent, but let me tell you the comfort and the exquisite details of the pattern making of this decade have come to love me completely ...
After dissecting of the pattern I drew freehand embroidery path that crosses the bodice of the dress trying to get as close as possible to the picture in the magazine and then I embroidered everything thoroughly.
El resultado final me encanta!! Siempre fuí una mujer de los 50s , o quizá algunos extras de los 60s... así que mi incursión en los 40s es muy reciente, pero déjame contarte que la comodidad y los detalles exquisitos del patronaje de esta década han terminado por enamorarme completamente...
Después de seccionar el patrón yo dibujé a mano alzada el dibujo de bordado que recorre el vestido en el cuerpo intentando acercarme lo más posible a la foto de la revista y entonces bordé todo minuciosamente, el bordado en color rojo está hecho con punto de cadeneta y las flores verdes a punto de margarita... el centro de las flores a punto de nudo.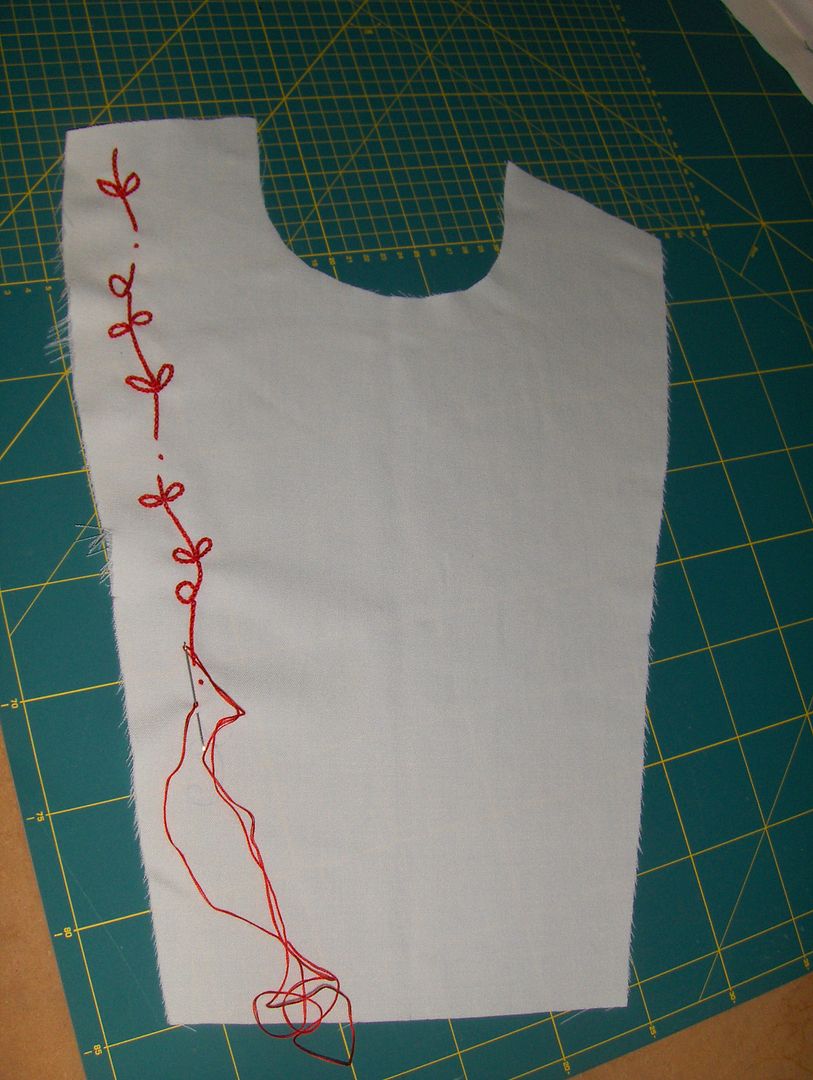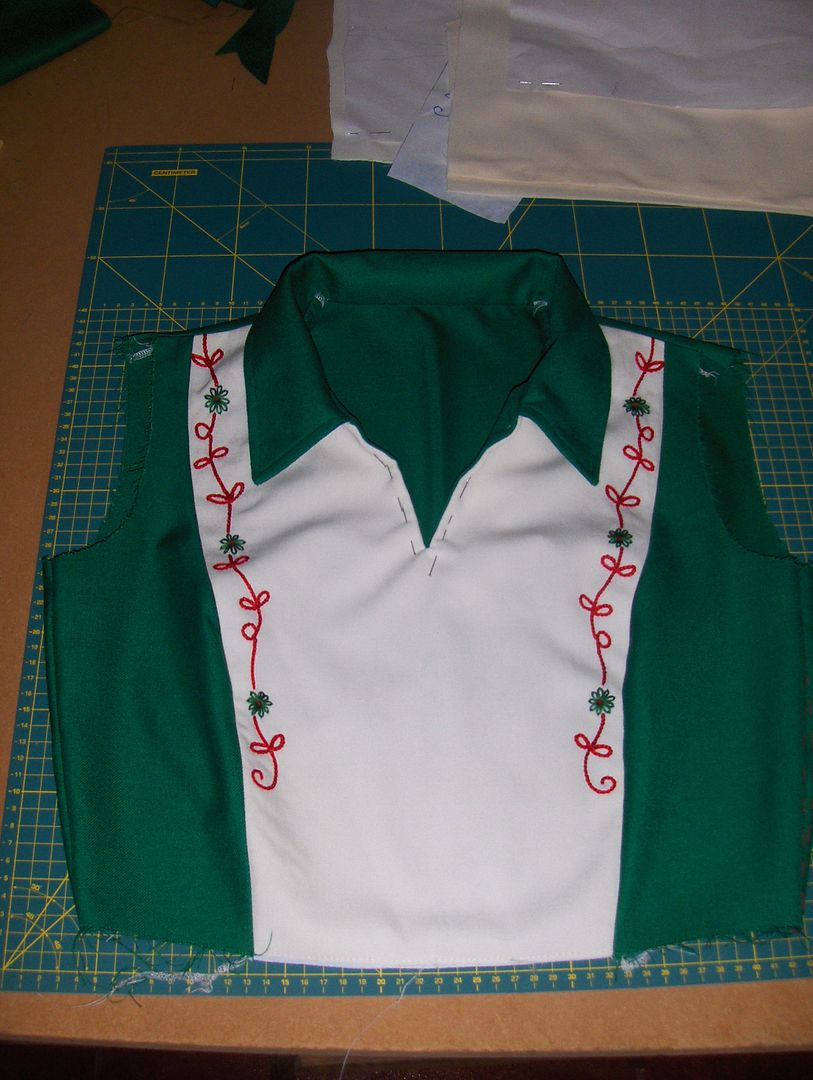 Then began the process of tailoring and the various obstacles that were appearing on the way .. I wanted to protect the embroidery on the inside to give the possibility to wear this dress, without fear that the embroidery began to resent .. so I lined only the central part of the bodice for this purpose ..
Entonces comenzó el proceso de confección y los diversos obstáculos que iban apareciendo en el camino.. yo quería proteger el bordado por el interior para dar la posibilidad de usar mucho este vestido sin miedo a que el bordado se comenzara a resentir.. así que forré solamente la parte central del cuerpo con esta finalidad...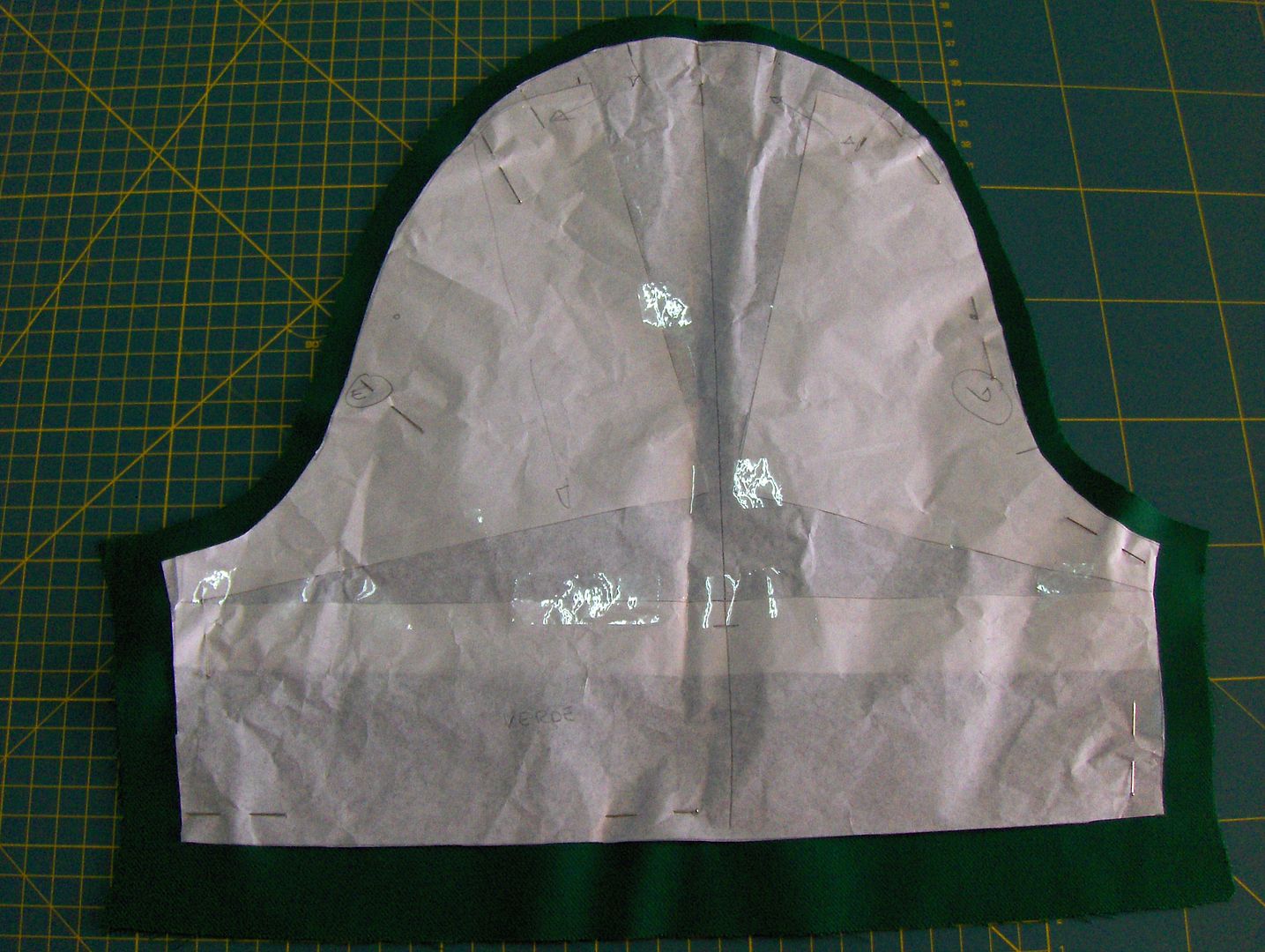 The sleeve has a few secrets ... alteration of the sleeve to achieve the folds in the shoulder area and then a shoulder pad made ​​of fabric cutting a filled circle wadding and in a fan shapefolded to maintain the shape of the "sleeve ham" (this type of sleeve)
La manga tiene algunos secretos guardados, para comenzar la transformación para conseguir los pliegues en la zona del hombro y después una hombrera hecha cortando un círculo de tela rellena de guata y plegada en forma de abanico para mantener la forma de la "manga jamón" (así es como se conoce a este tipo de manga)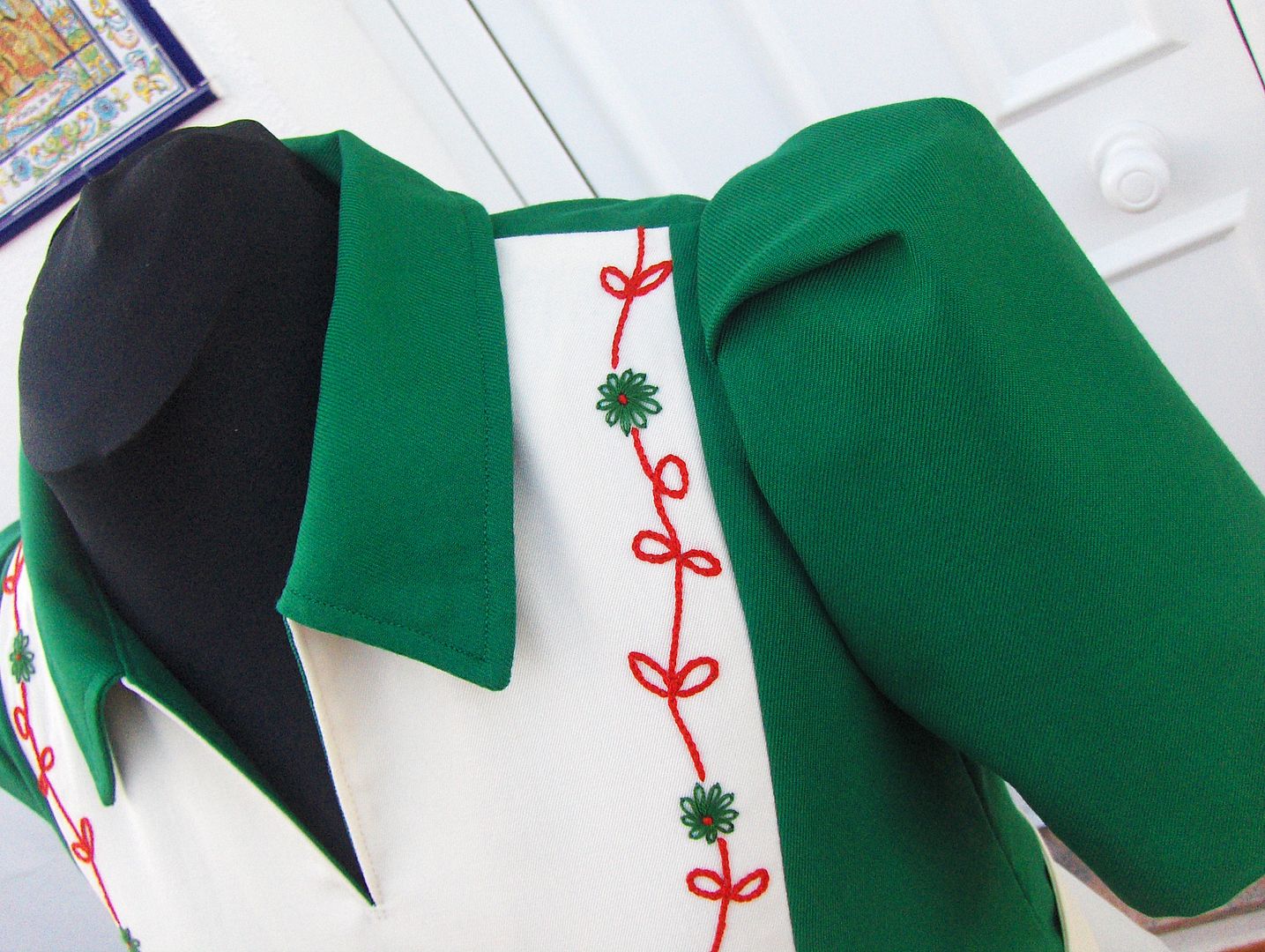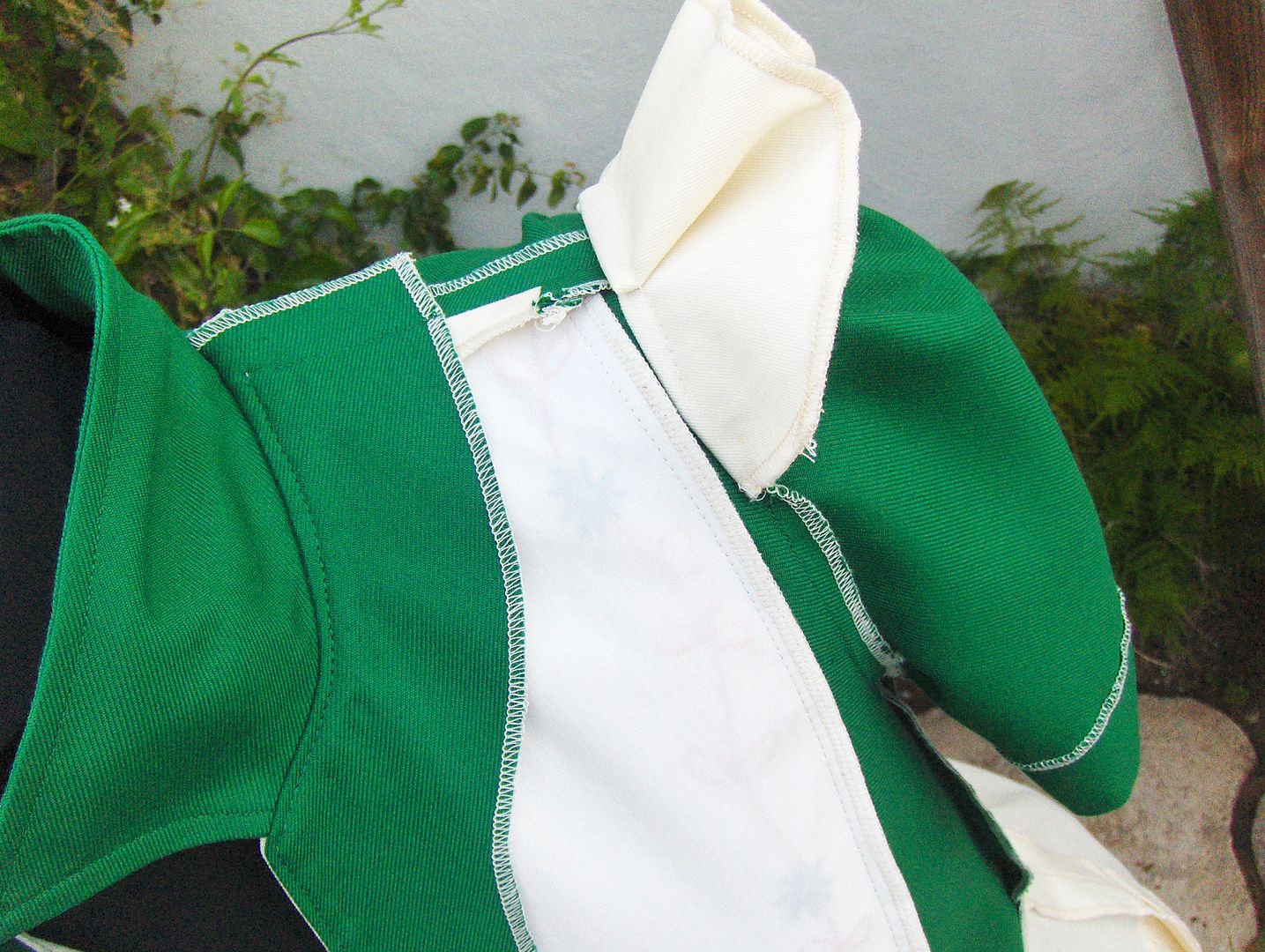 A before and after of the belt that accompanying to dress ... I was a long time trying to decide as I devise to the folds of the skirt on the belly , for they don´t bulge on this area of the body too ... the original dress suggest me something like "honeycomb", but I know that this type of fold bulky enough, so in the end I decided to distribute the folds and sew over them until about five ctm. below the waist, I think it´s a wise decision because it keeps the essence of the original dress while not bulky absolutely nothing in this section as "problematic" of our body.
Un antes y un después del cinturón que acompaña al vestido... estuve largo rato intentando decidir como ingeniármelas para hacer los pliegues de la falda en la zona de la barriga de forma que no abultara demasiado esta zona del cuerpo... el vestido original me sugiere algo parecido al "nido de abeja", pero yo se que este tipo de pliegue abulta bastante, así que al final me decidí por distribuir los pliegues y coser encima de ellos hasta unos cinco ctm. más abajo de la cintura, creo que es una decisión acertada porque mantiene la esencia del vestido original mientras que no abulta absolutamente nada en esta parte tan "problemática" de nuestro cuerpo.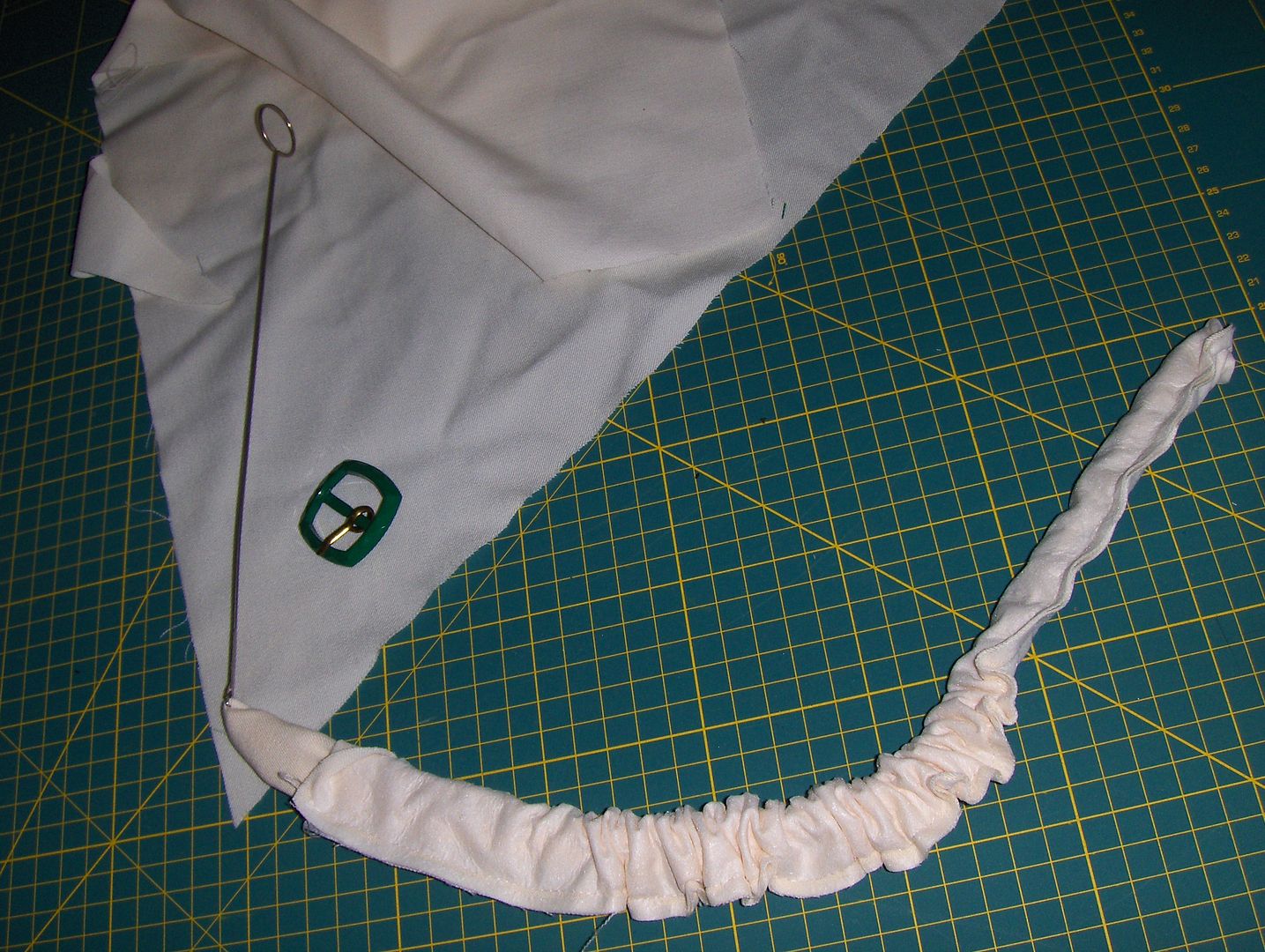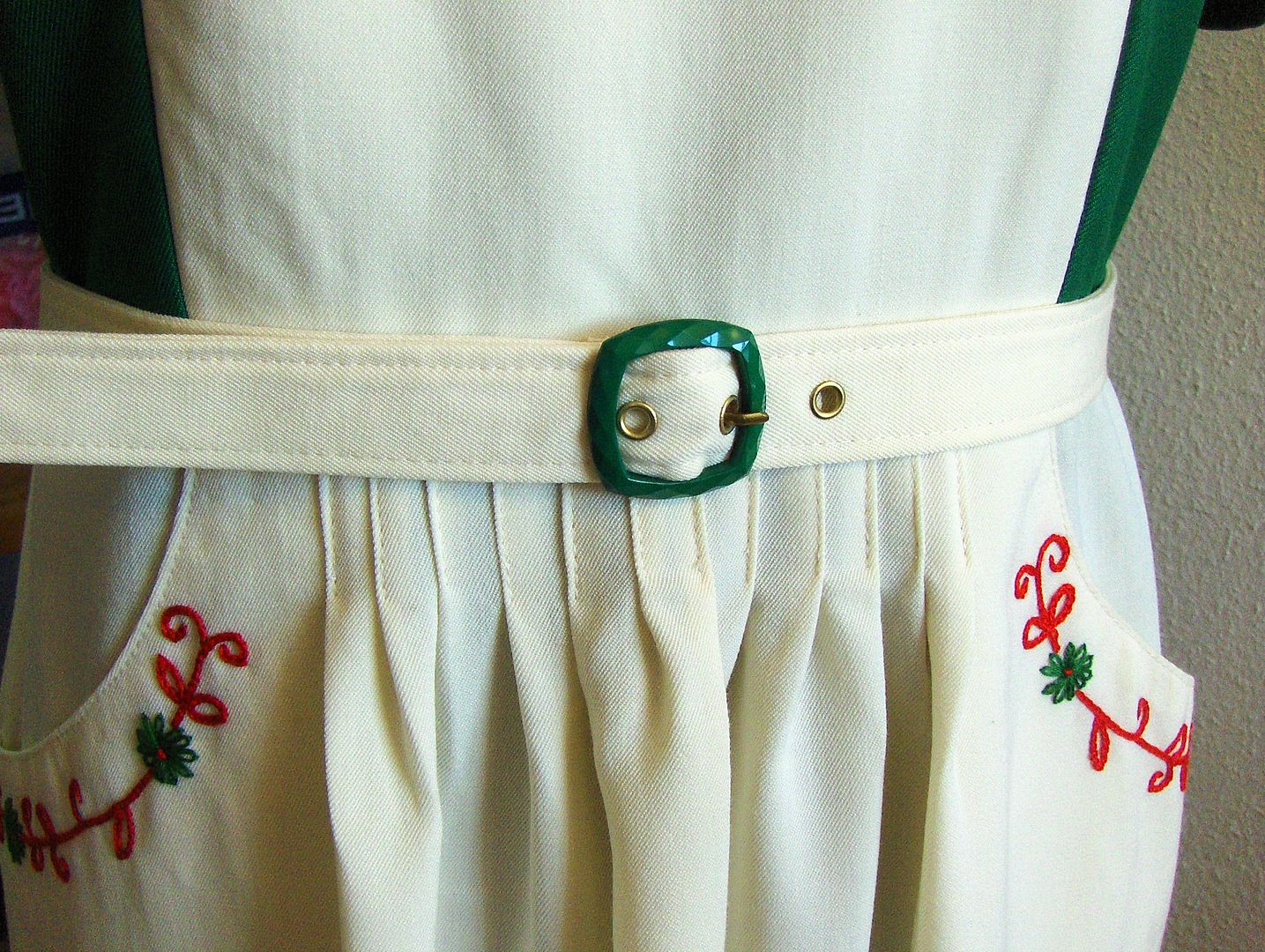 Another obstacle in the way was how to solve the dilemma of the zipper ... if you look at the bodice of the dress is green and the skirt in color vanilla ... What color is assumed that the rack should be???
The truth is to choose the color you chose to ... it would be a problem when the zipper comes in different color fabric to it ... so I solved it by sewing two zippers of color equal to the respective fabrics to come and "meet" at the waist .. since the zipper handles would be hidden under the belt in this area ... I have also protected the end of the zipper with fabric on the armpit area preventing chafing and irritation uncomfortable there ...
If .... I know what you're thinking .... invisible zipper in a dress imitation of 1943 .... You can be horrifying ... but I'm no purist ...
Otro obstáculo que me encontré en el camino fué como resolver el dilema de la cremallera... si nos fijamos en que el cuerpo del vestido es de color verde y la falda en color vainilla... De qué color se supone que hay que poner la cremallera???
La verdad es que eligiera el color que eligiera... iba a ser un problema cuando la cremallera entra en la tela del color diferente a ella... así que lo solucioné cosiendo dos cremalleras del color igual a las respectivas telas que viniesen a "encontrarse" en la cintura.. puesto que los tiradores de las cremalleras iban a quedar escondidos bajo el cinturón en esta zona... También he protegido el final de la cremallera en la zona de la axila con tela para evitar rozaduras incómodas allí...
Si.... sé lo que estás pensando.... cremalleras invisibles en un vestido imitación de 1943.... puedes horrorizarte... pero yo no soy purista...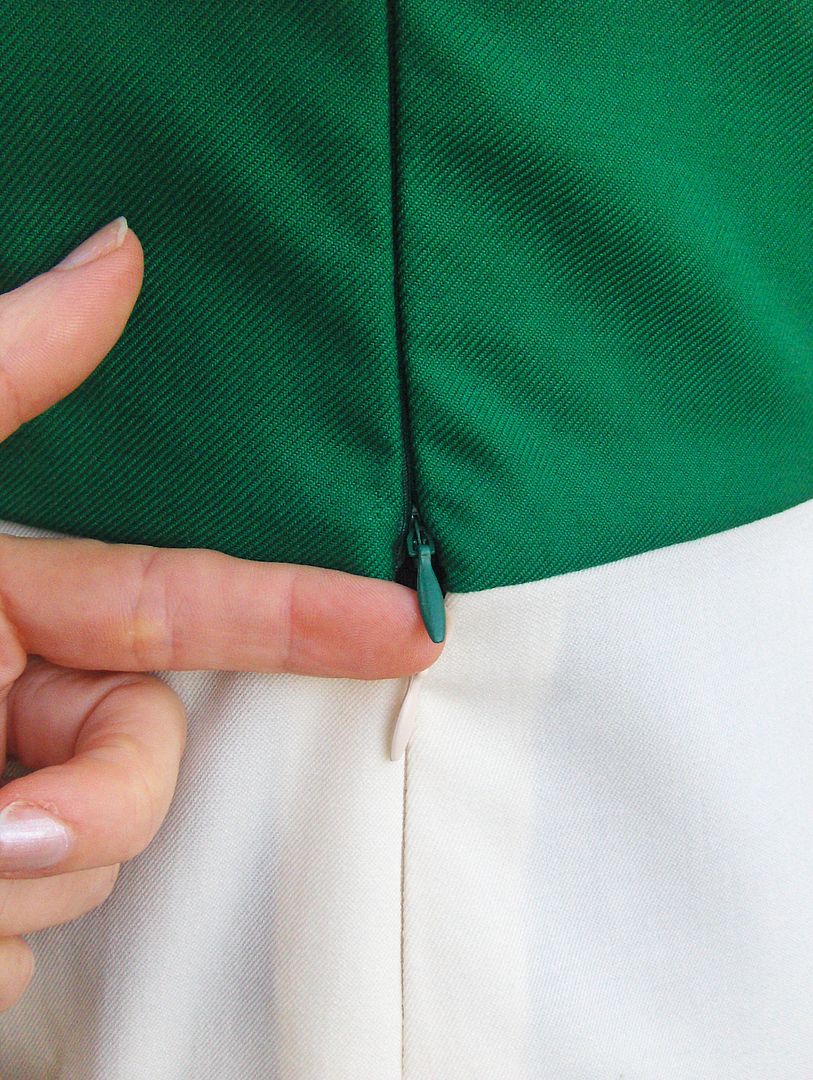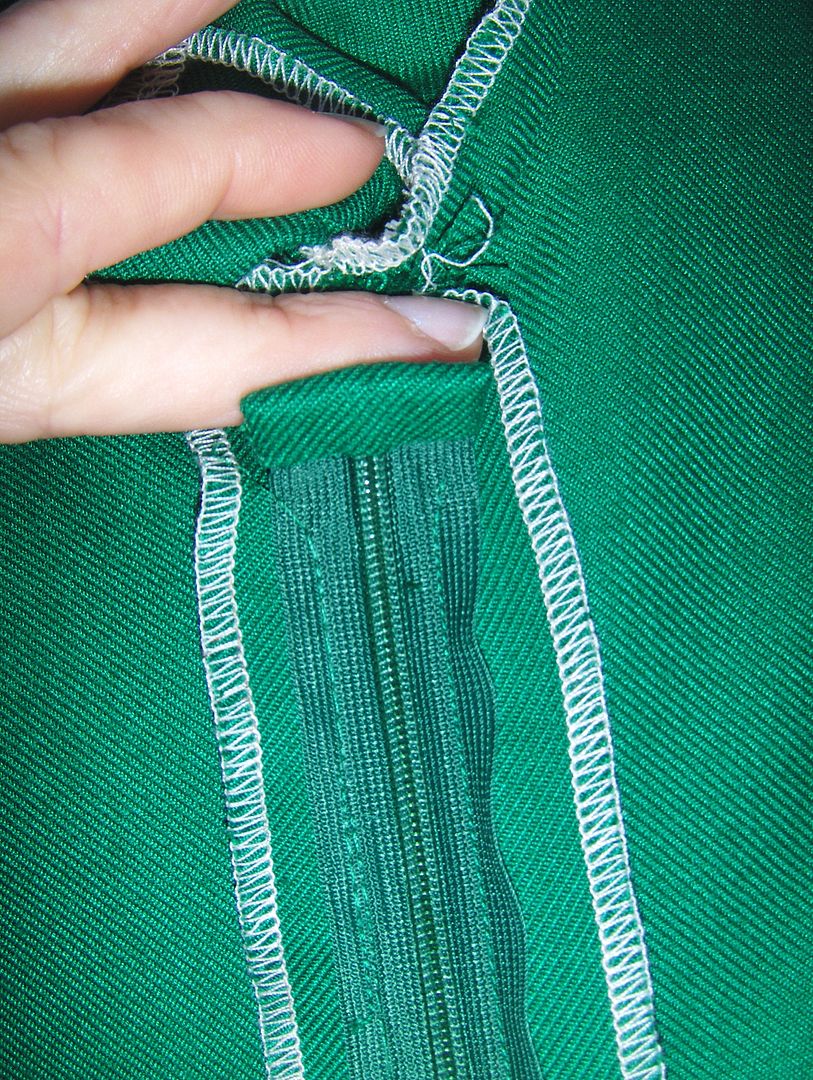 And finally .. let me share some details of the dress that I absolutely love .... Tomorrow, If everything works out as planned there will be photos of the outfit ... Meanwhile, let me dream with my new dress ....
Y finalmente.. déjame compartir algunos detalles del vestido que me tienen enamoradita perdida.... Mañana, si todo sale según lo previsto habrá fotos del outfit... mientras tanto, déjame soñar con mi vestido nuevo....