Sometimes it happens that I want to do so many things while I finish stuck ... this is what happened to me with the last challenge that I joined, the Mad Men challenge organized by Julia ... only a few days left to the end and I´m not decided that I wanted to do for that dress ... and it´s not because I not like any of them ... just the opposite ... this time I have self-imposed as a condition added to this challenge, the dress had to be made ​​with fabric from my stash ... buy anything ... So to start I have to rule out this dress ...
A veces suele pasarme que quiero hacer tantas cosas a la vez que termino atascada... esto es lo que me ha pasado con el último desafío al que me había apuntado, el desafío Mad Men que organiza Julia... solamente quedan algunos días para que finalice y yo no me decidía por cual vestido quería hacer... y no porque no me gustara ninguno... justamente lo contrario... esta vez me he auto-impuesto como condición añadida a este desafío, que el vestido tenía que ser hecho con tela procedente de mi stash... nada de ir a comprar... así que para comenzar tengo que descartar este vestido...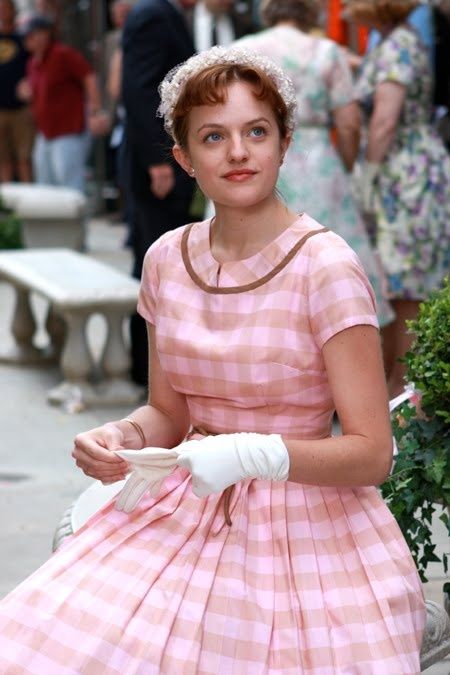 That is precisely the dress I have desperately in love with it ... but although
there´s nothing in my stash of fabrics that even remotely resembles it ... I have not seen anything like it in fabric stores on the island, so that it´s remains ...
Que es justamente , el vestido que me tiene enamorada perdida... pero aparte de que no hay nada en mi alijo de telas que se le parezca ni remotamente... tampoco he podido ver nada parecido en las tiendas de telas de la isla, así que queda pendiente...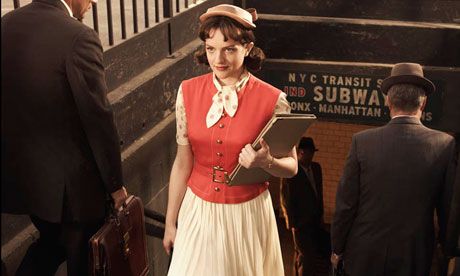 The same thing goes with this dress too .... because although it looks like a suit of skirt, blouse and vest ... believe me ... It´s a dress, I know because I spied it ... on a chapter in which Peggy uses this dress, she goes to bed with a man and you can see the image of the dress on the floor ...
Lo mismo sucede con este vestido también.... porque aunque luce como si fuese un equipo de falda, blusa y chaleco... créeme... es un vestido, lo se porque lo he espiado... en un capítulo en que Peggy usa este vestido, ella se va a la cama con un señor y se puede ver la imagen del vestido tirado en el suelo...

Another dress that I love ... It also excluded for not having the appropriate fabric in my stash right now ... but I'm sure this dress will be in my closet shortly ...
Otro vestido que me tiene enamorada... también descartado por no tener la tela apropiada en mi stash ahora mismo... pero yo estoy segura que este vestido terminará en mi armario dentro de poco tiempo...
............................................................................................................................................................................................................................................................................................................................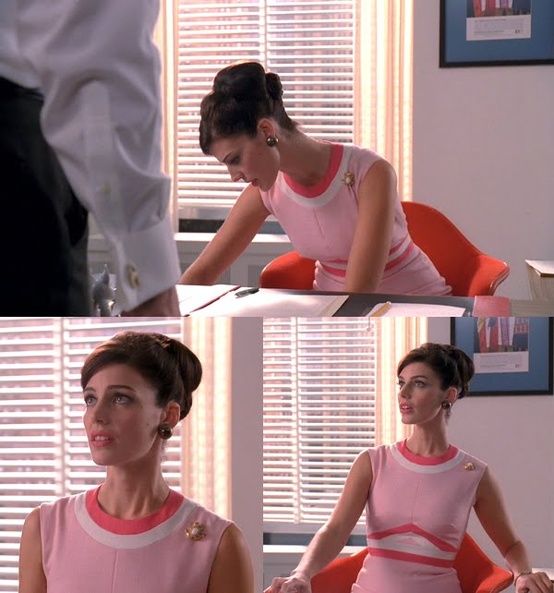 And after the disappointment of the dresses that I can´t have, now let's take a look at that right now what I could sew and are valid options because I have the fabric available to make them ... the first one that caught my eye was this beautiful pink dress that Megan uses ... I have all these fabrics and it would be option # 1
Y después del desconsuelo de los vestidos que no puedo tener, ahora vamos a hacer un repaso a los que si podría coser ahora mismo y que son opciones válidas porque tengo la tela disponible para hacerlos... el primero que captó mi atención fué este precioso vestido rosa que usa Megan... tengo todas esas telas y sería la opción nº 1
Option # 2 would be this plaid dress that is wearing Betty, I have the appropriate fabric for it, though my fabric has paids in red and gray ... it would be nice ...
La opción nº 2 sería este vestido de cuadros que usa Betty, yo tengo la tela apropiada para él, aunque mi tela tiene los cuadros en rojo y gris... sería muy bonito...
The third option is the light blue dress that is wearing the secretary (I do not remember her name ...), but the fabric is in my stash is a bit bluer than this, that tie at the collar is lovely! .. .
La tercera opción sería el vestido celeste que lleva la secretaria (yo no recuerdo su nombre...), aunque la tela que hay en mi alijo es un poco más azul que este, pero me vuelve loca ese lazo en el cuello...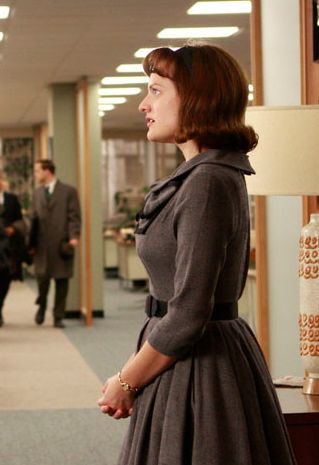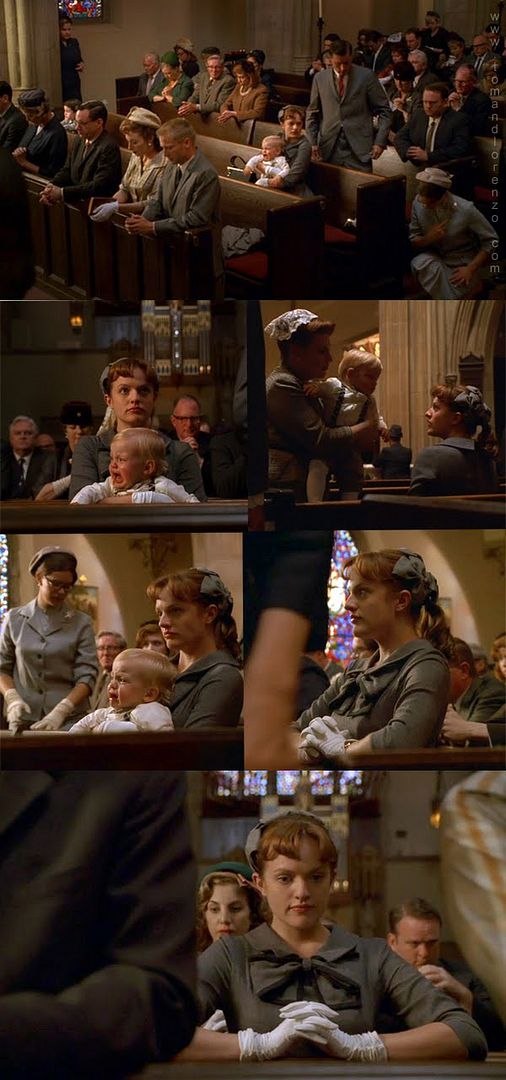 And by the end I left this beautiful dress that Peggy used a couple of times on the show ... I have the perfect fabric for it, neck tie captivated me completely ..., I love the little pleated of the skirt ... I thought even make me the hat that looks Peggy when wearing this dress to church ...
And these are the ramblings that torment me lately when I try to relax ... And you, which one do would you choose?
Y para el final he dejado este precioso vestido que usa Peggy en un par de ocasiones en la serie... tengo la tela perfecta para él, el lazo del cuello me ha cautivado completamente..., la falda con pequeños pliegues me tiene enamorada perdida..., he pensado incluso en hacerme el sombrerito que luce Peggy cuando lleva este vestido a la iglesia...
Y estas son las divagaciones que me atormentan ultimamente cuando intento descansar... Y tú, con cual te quedarías??