Although a day late, I wanted to share with you all the pictures of this past weekend was pretty full ...
This is also a good way to re-exposing dresses and clothes I've sewn on all those years ago, but they are being relegated at the beginning of this blog about pictures of them, however, I'm using them because I love them....
Aunque con un día de retraso, yo queria compartir con todas vosotras las imágenes de este pasado fin de semana que ha sido bastante completo...
Esto es también una buena forma de volver a sacar a la luz vestidos y prendas que he cosido en todos estos años atrás, pero que van quedando relegados al principio de este blog en cuanto a imágenes de ellos, sin embargo, yo sigo usándolos porque me encantan....
Saturday started with a trip to one of the cities of the center of the island, Arucas .... a city with a great history, charming old buildings and beautiful streets to miss us ...
This day I decided that I wanted to feel glamorous and I chose this dress that I had sewn in 2011, wear dresses so feminine is a morale booster always ...
El sábado comenzó con un paseo a una de las ciudades del centro de la isla, Arucas.... una ciudad con una gran historia, preciosos edificios antíguos y hermosas calles para perderse...
Este día yo decidí que quería sentirme glamurosa y elegí este vestido que había cosido en 2011, siempre me levanta la moral usar vestidos tan femeninos...
In this city there is a great park for walking where you can find curiosities like these, a tree completely carved with a snake and what looks like a primitive man hanging from the tree ... stroll along the many other surprises, but it's good to go investigating and discovering each ... so funny ...
En esta misma ciudad hay un gran parque para pasear donde se pueden encontrar curiosidades como estas, un árbol completamente tallado con una serpiente y lo que parece ser un hombre primitivo colgando del árbol... a lo largo del paseo hay muchas otras sorpresas , pero es bueno ir investigando y descubriendo cada una de ellas... tan divertido...
It is a pleasure to wander through its streets and enjoy the stately old houses converted into restaurants, ideal to recharge your batteries and have a drink ...
On Sunday we ended up in another village in the center of the island I didn´t know until now ..
.
Es un placer perderse por sus calles y disfrutar de las señoriales casas antíguas reconvertidas en restaurantes, ideal para reponer fuerzas y tomar algo...
El domingo fuimos a parar a otro pueblo en el centro de la isla que no conocía hasta ahora...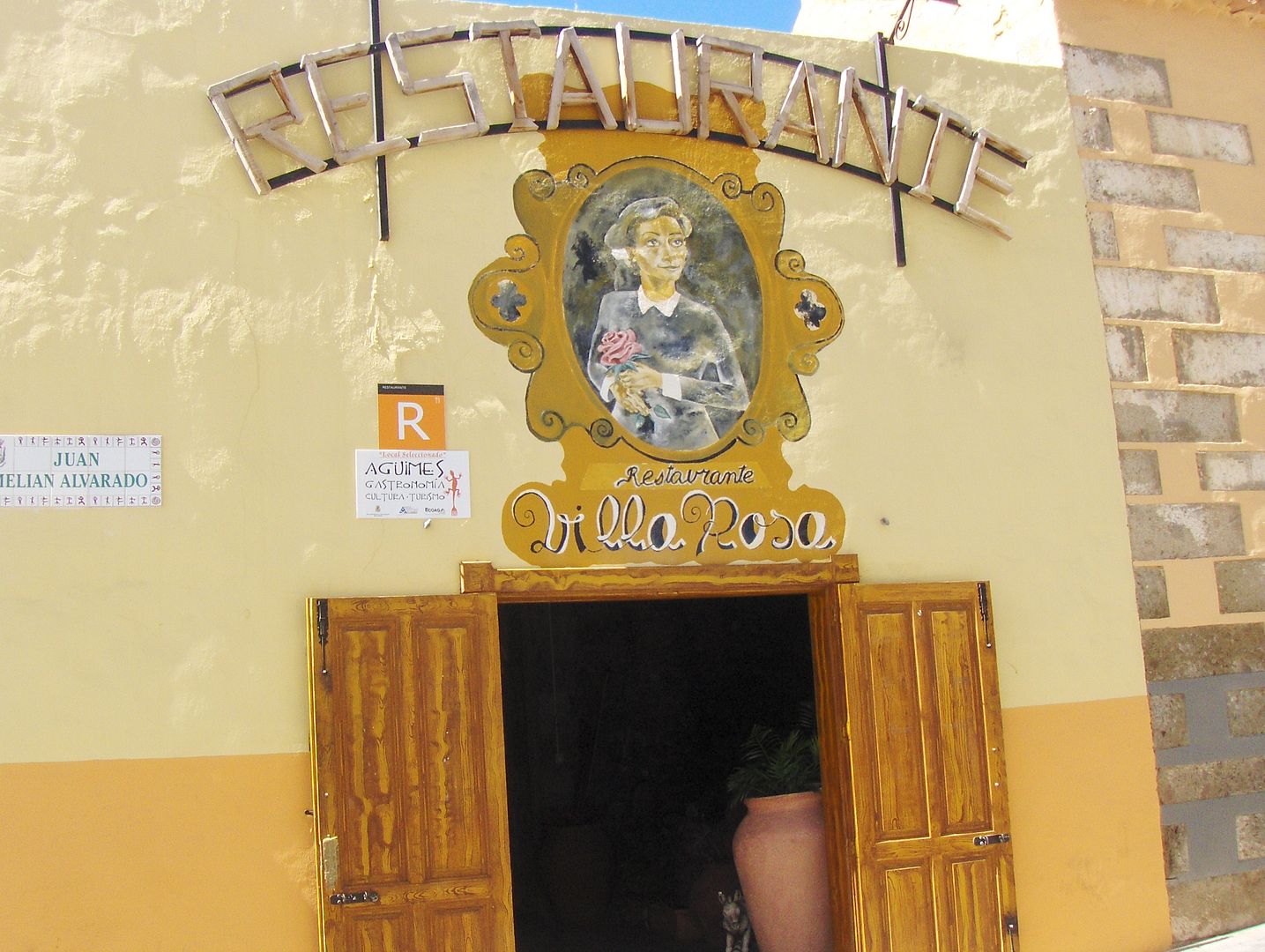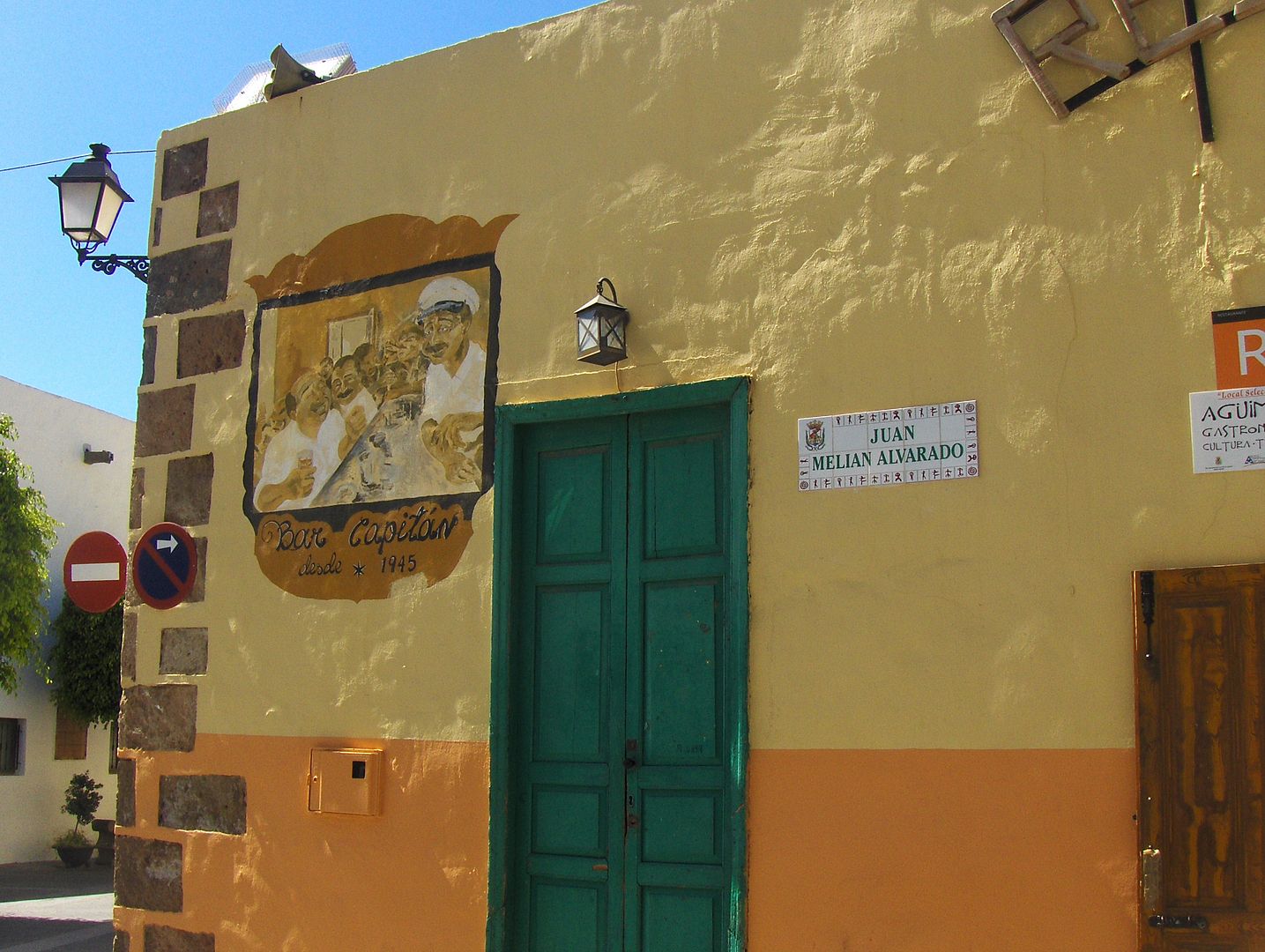 The villa Aguimes ... was the first time I set foot the town and met its streets, it really is a beautiful town, its streets are filled small statues of animals and in reference to the agricultural origins of the people themselves ...
For this visit, I used the skirt I sewed just the beginning of this blog, a few years ago and ...
I love the print of the fabric, I love it ..
La villa de Aguimes... era la primera vez que yo pisaba este pueblo y conocimos sus calles, realmente es un pueblo hermoso, sus calles están llenas de pequeñas estátuas de animales y en referencia a los orígenes agrícolas del propio pueblo...
Para esta visita, yo usé la falda que cosía justamente al comienzo de este blog, hace algunos años ya...
me encanta el espampado de la tela, me tiene enamorada..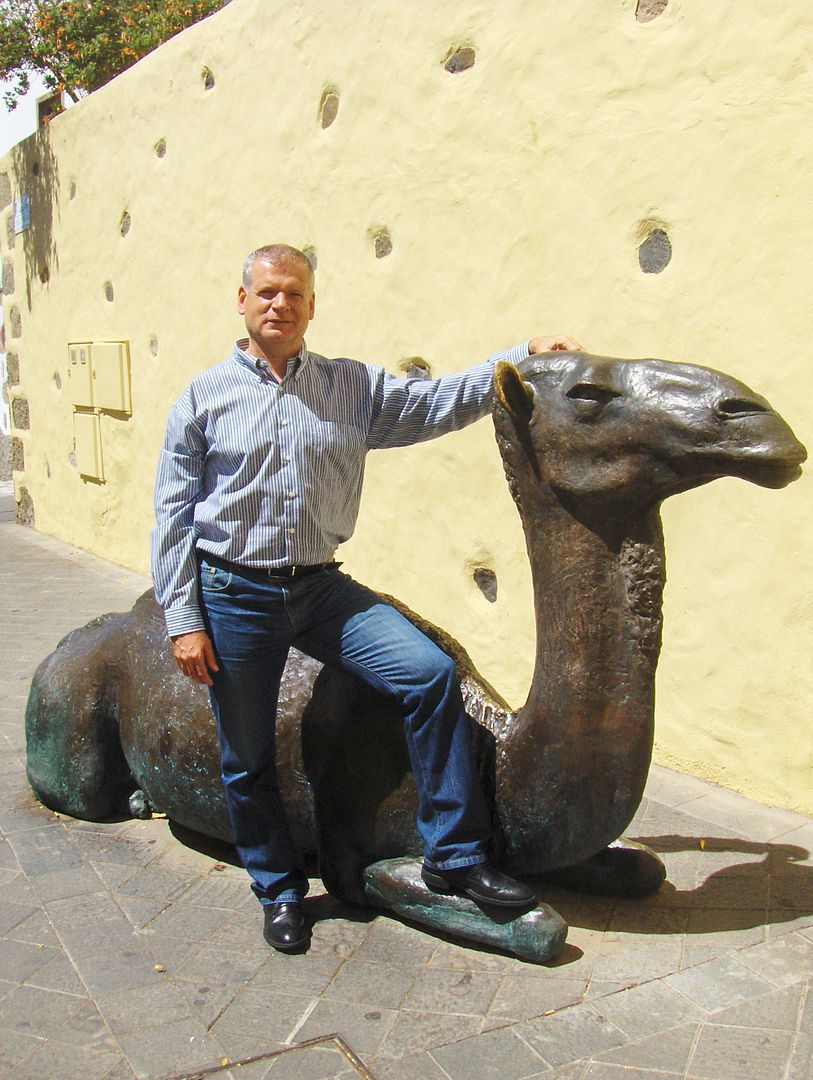 I knew for facebook that was to hold a contest of hats in the center of town, so I decided that I needed to be appropriate to the situation and took my little headdress that I made some time ago, if you want to try something, the tutorial is here ...
Yo había conocido por Facebook que se iba a celebrar un concurso de sombreros en el centro del pueblo, así que yo decidí que necesitaba estar acorde con la situación y llevé mi pequeño tocado que yo hice tiempo atrás, si quieres intentar algo así, el tuto está aquí...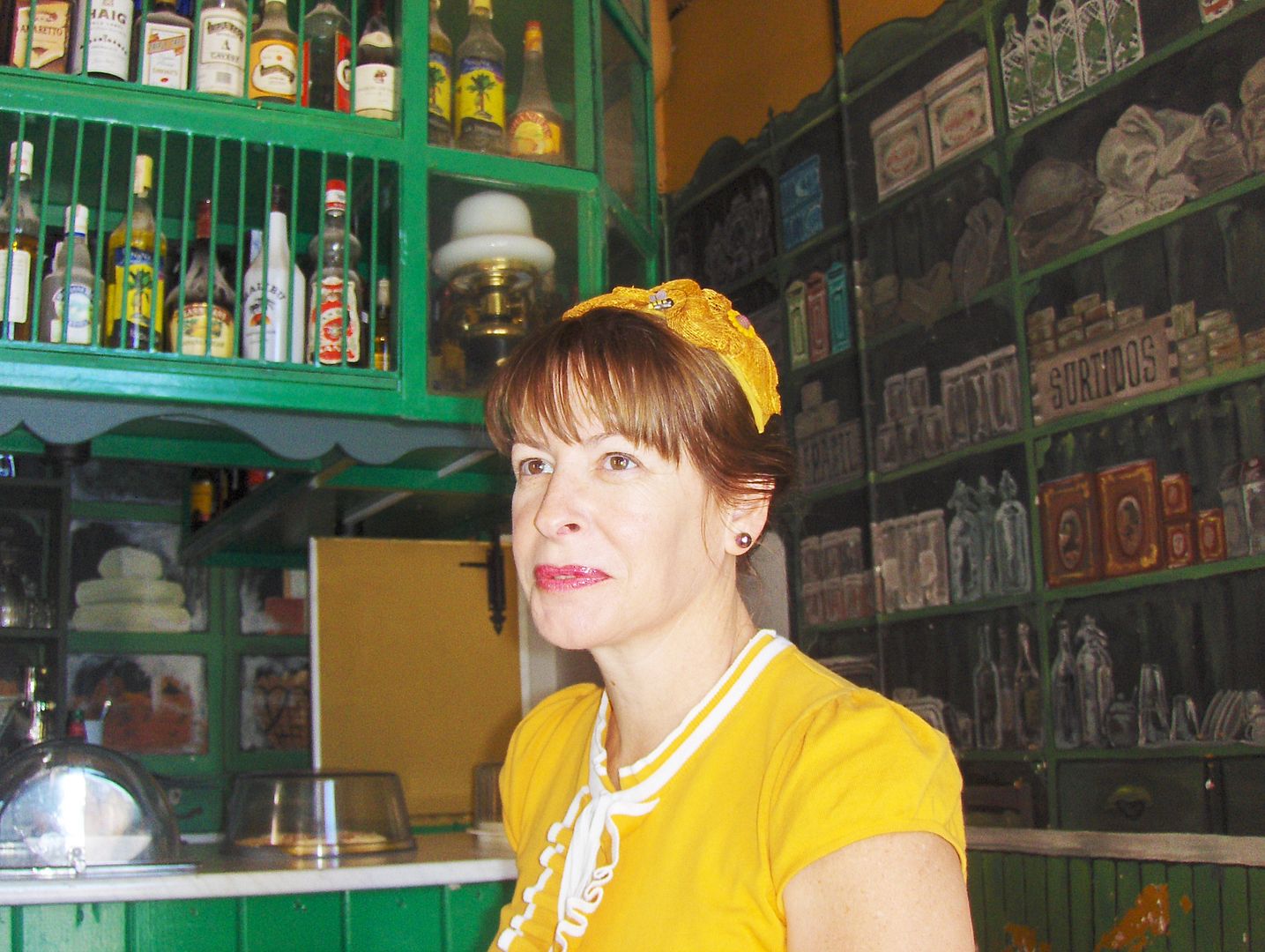 Certainly, the camera flash doesn´t help much, but I wanted to share a nostalgic cafe that I found along the way ... according to her owner, previously this was an "oil and vinegar store", which was like known as the small village shops, which sold all, the original store was opened in 1933 and is still there, delighting visitors with kindness already ...
Ciertamente, el flash de la cámara no ayuda mucho, pero yo quería compartir un nostálgico bar que encontré en el camino... según cuenta su dueña, anteriormente esto era una "tienda de aceite y vinagre", que era como se conocía a las pequeñas tiendas de los pueblos, donde se vendía de todo, la tienda original se abrió en 1933 y sigue ahí, deleitando a los visitantes con su amabilidad...
This is a completely hand painted wall to recreate the old store, all a waste of imagination!
Esto es una pared completamente pintada a mano, para recrear la antigua tienda, todo un derroche de imaginación!!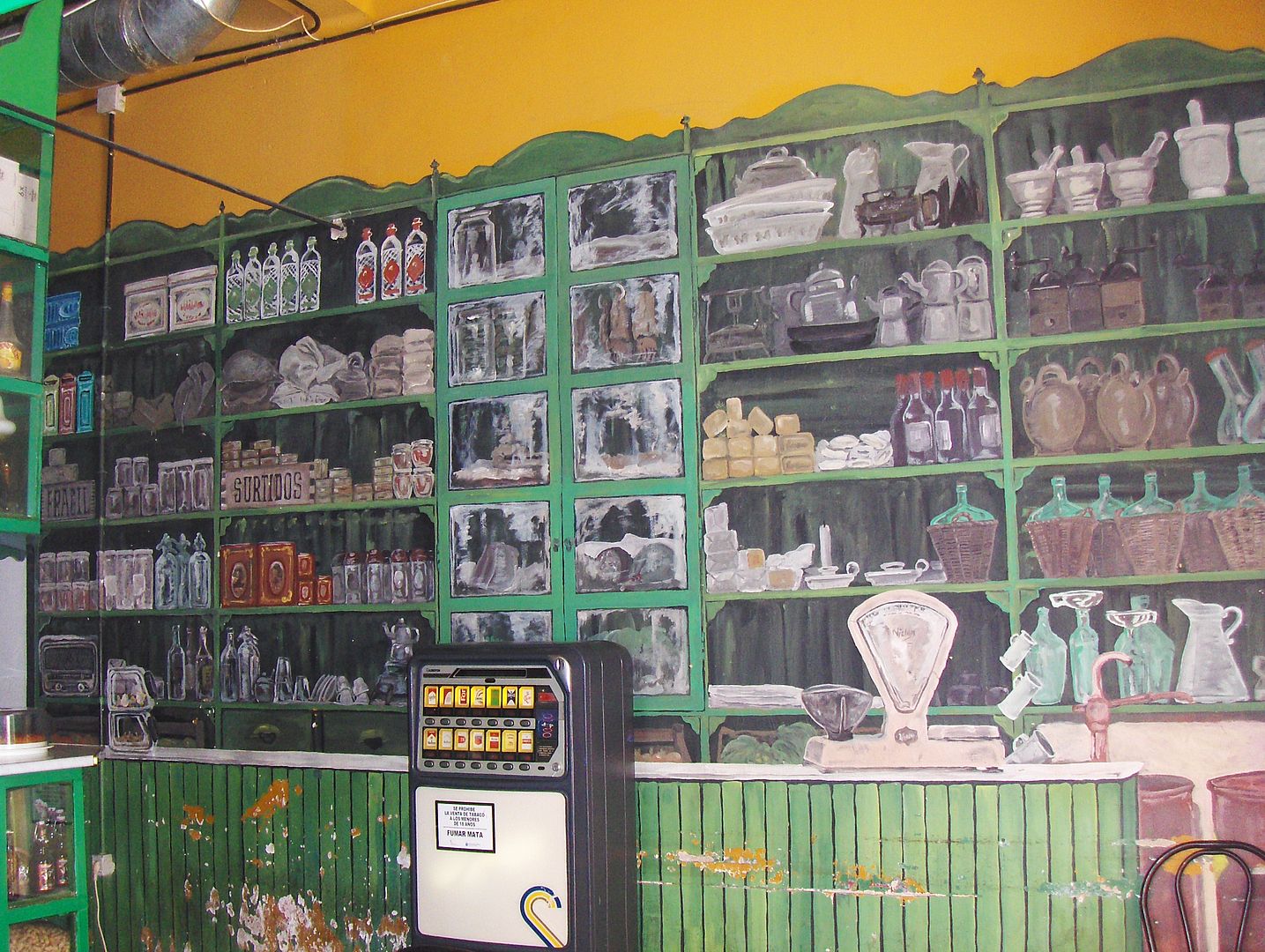 Actually, back in time ...
Meanwhile, outside in the square lived another creative type with equal waste of imagination ...
Realmente, transporta en el tiempo...
Mientras, afuera en la plaza se vivía otro tipo de creatividad con igual derroche de imaginación...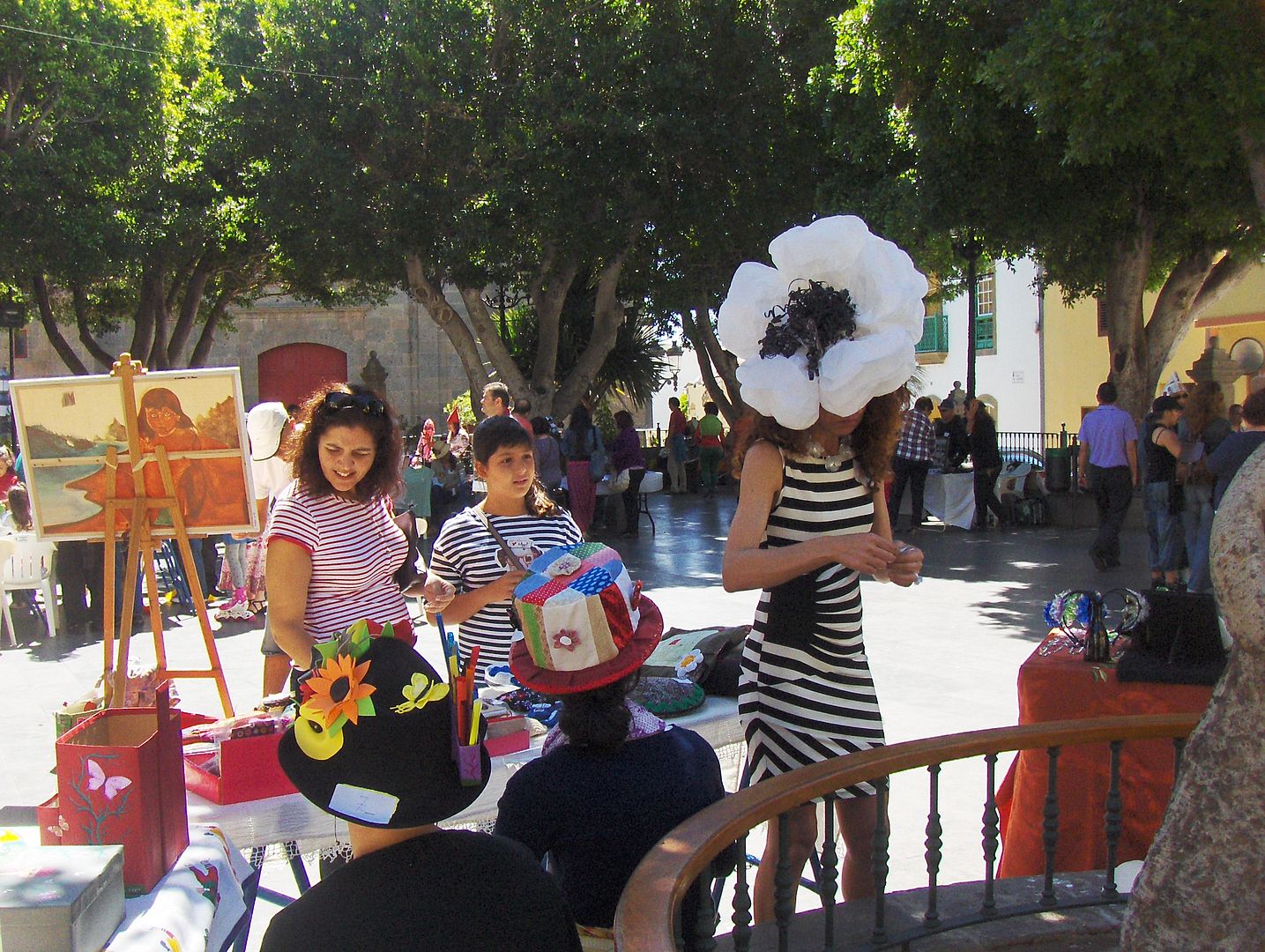 It was a feast of competitions of all kinds, from painting outdoors to a delicious contest hats! My favorite one was that girl with a huge flower on her head ... Can anyone tell me what flower is it?
Se celebraba una fiesta de concursos de todo tipo, desde pintura al aire libre hasta un delicioso concurso de sombreros!! Mi preferida era esa chica con una enorme flor en la cabeza... alguíen puede decirme qué flor es ??
Of course, the weekend left me emotionally satisfied, just look at this last hat where a rabbit tries to catch a beer bottle through the bars ...
Although something exciting happened to me on Monday! I had a meeting with a girl absolutely exquisite! Ruth! ... She leaves comments on this blog for some time and finally decided it was time to meet in person on Monday afternoon, I have to say she´s a wonderful person, kind and friendliest that I've ever met in my life! Furthermore, the fact that appeared with some gifts for me, made me feel very special, as without knowing me personally, she can know such .... we spent two hours talking and enjoyed every second sharing the exciting world of sewing ..
She has participated in two Sew Alongs of New Girl , red dress and coat fuchsia, the most impressive of all is that she only has sewn a couple of garments before ... she made the top with peplum that looks in the picture well!
Por supuesto, el fin de semana me dejó satisfecha emocionalmente, solemente fíjate en este último sombrero donde un conejo intenta pillar una botella de cerveza a través de las rejas...
Aunque algo muy emocionante me sucedió el lunes!! Tuve una reunión que me supo a poco con una chica totalmente exquisita!! Ruth!... Ella deja comentarios en este blog desde hace tiempo y finalmente decidimos que era hora de conocernos en persona el lunes por la tarde, tengo que decir que es una persona espléndida, amable y lo más simpático que he conocido en la vida! Además, el hecho de que apareciera con algunos regalos para mi, me hizo sentir muy especial, como sin conocerme en persona, alguien puede conocerme tanto.... pasamos dos horas hablando sin darnos cuenta y disfrutamos hasta el último segundo hablando del apasionante mundo de la costura...
Ella ha participado en dos Sew Alongs de New Girl, el vestido rojo y el abrigo fucsia, lo más impresionante de todo es que solamente ha cosido un par de prendas antes... el top con peplum que luce en la fotografía lo hizo ella también!!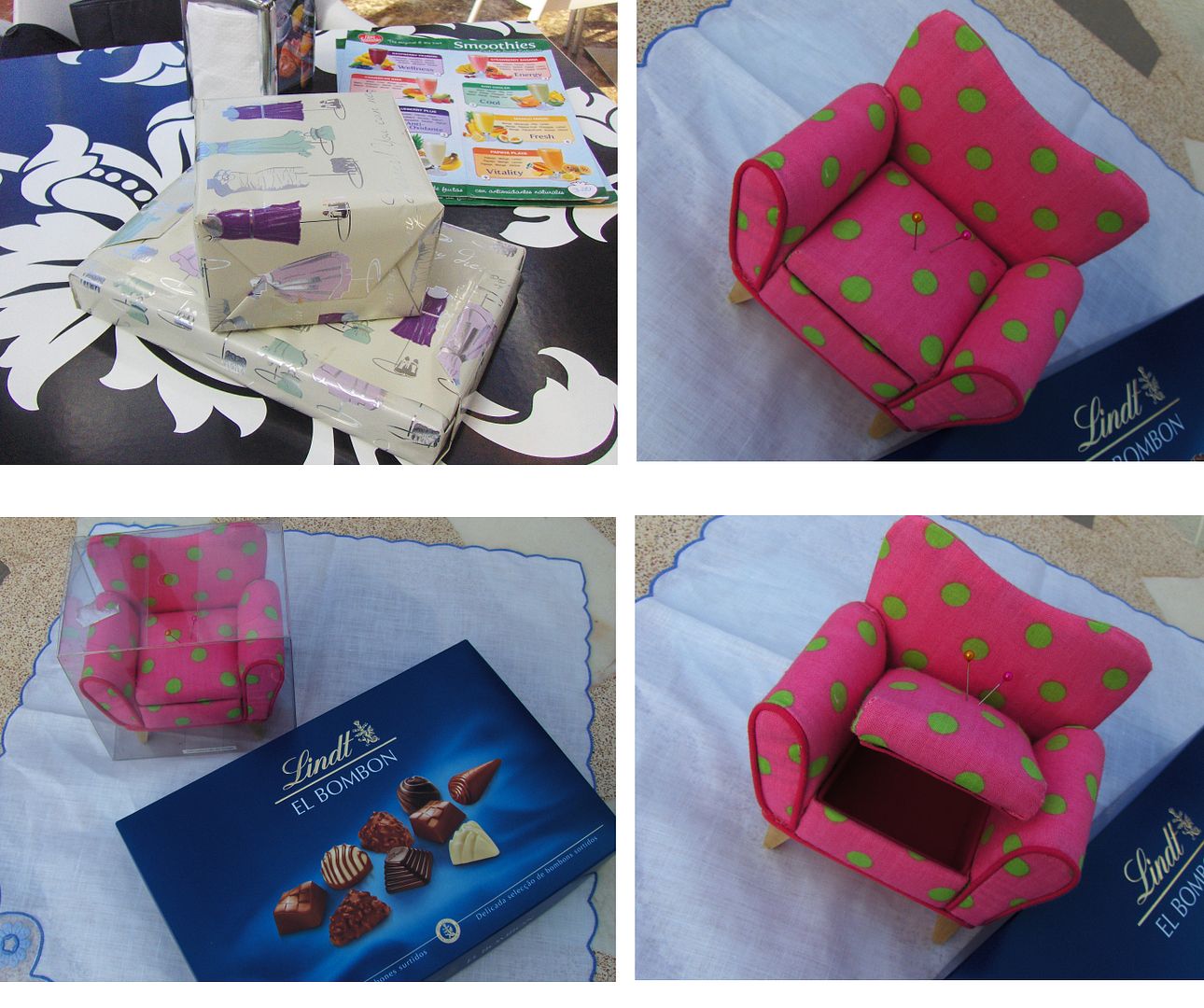 Thank you, Ruth! By enter in my life ...
Gracias, Ruth! Por entrar en mi vida....