No time for long, but I wanted to make a quick post because I have some outstanding things I wanted to tell ...
A few days ago, I was very surprised, so nice ... Mr. Postman knocked on my door to leave a package and I was very surprised because I did not get any orders pending ... so when I opened it I took the greatest joy that I had in a few weeks ... my dear friend M ª José had given me two meters of the most spectacular stretch lace that I've seen in a while ...
This pretty girl made her fuchsia coat version of our latest Sew Along and she wanted to thank all that she had learned in sewing with us, so she decided that what better gift can make her to a passionate person about sewing that some meters fabric. Let me tell you, Maria Jose you have fully successful, it's me who is grateful with your because I never thought find such wonderful people in this virtual environment and your words really got to my heart. You're sweet person!
If you want to put a face to M ª José, go here and look for the girl who left us all in love with a gray coat with pink flowers ...
No hay tiempo para mucho, pero yo quería hacer un post rápido porque tengo algunas cosas pendientes que quería contarte...
Hace algunos días, me llevé una gran sorpresa, muy agradable... el cartero tocó a mi puerta para dejar un paquete y yo me soprendí mucho porque no tenía pendiente de llegar ningún pedido... así que cuando lo abrí me llevé la alegría más grande que había tenido en unas cuantas semanas... mi querida amiga Mª José me había regalado dos metros del más espectacular encaje elástico que he visto en mucho tiempo...
Esta guapa valenciana hizo su versión del abrigo fucsia de nuestro último Sew Along y ella quería agradecer lo que había aprendido en costura junto a nosotras, así que decidió que qué mejor regalo se le puede hacer a una apasionada de la costura que algunos metros de tela. Déjame decirte, Mª José que has acertado de pleno, que soy yo la que te está agradecida porque jamás pensé que se pudiesen encontrar personas tan magníficas en este medio virtual y que tus palabras me llegaron de verdad al corazón. Eres un cielo de persona!
Si quieres ponerle cara a Mª José, entra aquí
y busca a la chica que nos dejó a todas enamoradas de un abrigo gris con flores fucsia...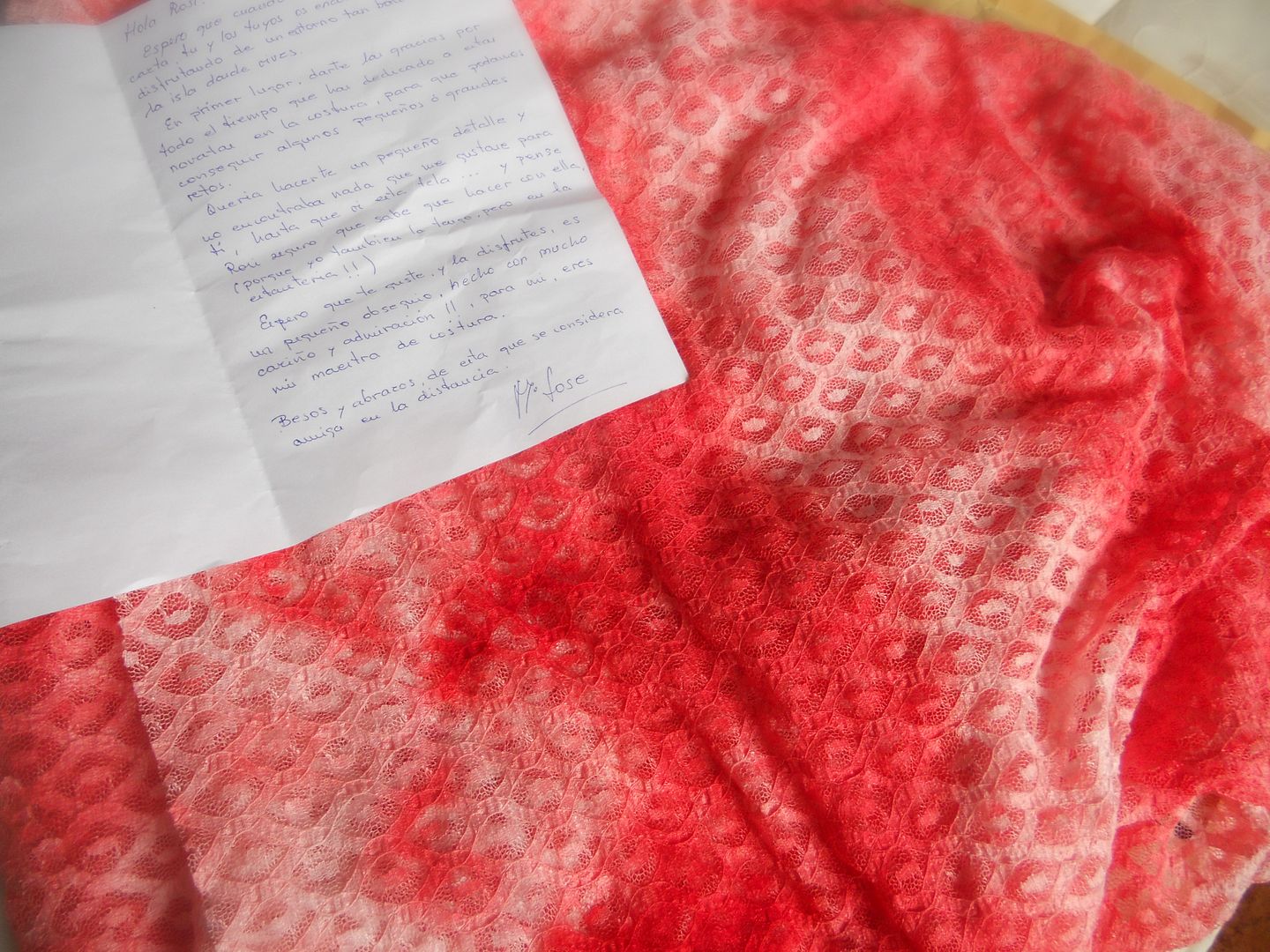 On the other hand I wanted to tell you that I will not be able to update and show what I have on my sewing table still ... but I'm very concentrated because right now I have three projects at a time and I'm juggling with time ... probably next weekend I can tell you more
...
Y por otro lado quería contarte que no voy a poder actualizar ni mostrar lo que tengo en mi mesa de costura todavía... pero que estoy muy concentrada porque ahora mismo tengo tres proyectos a la vez y estoy haciendo malabares con el tiempo... seguramente el fin de semana te podré contar algo más...
And to top ... I have an idea that excites me for some days ... I tell something about it soon ... you know that projects can´t be told until they begin to come true ...
Only say I am very excited about it and need some time for the idea to mature ... until then ... I will keep visiting you and continue active in facebook and Twiter ... if you find me there, say hello ...
Y para rematar... tengo una idea que me está quitando el sueño desde hace algunos días... en cuanto tenga forma te lo cuento... ya sabes que los proyectos no se pueden contar hasta que comienzan a hacerse realidad...
Solamente decir que estoy muy ilusionada con él y necesito algo de tiempo para que la idea madure... hasta entonces... seguiré visitándote y seguiré activada en
el facebook
y en
Twiter
... dime hola si me encuentras por allí...