I finished it!! Yesss, it's mine ...
You have to forgive this outburst of joy, but I am full of joy and satisfaction for having this new garment in my closet!
For some time hovered in my mind the idea of ​​a bomber fully customized and different from what we are accustomed to find in stores ... I tried to get a garment with own design and with a slight rockabilly style to go slowly introducing this style into my everyday wardrobe.
When I started this little adventure of opening a clothing line with own design, I knew I had to get genuine items, that they could not buy in any store and contain fully customized details so that they can completely unmarked. Well, this is the second article that is to be introduced in this little adventure. If you like, we will see all these details that make it different from a more nearby ...
Ya la terminé!!!!! Siiii, es míaaaaaa...
Tienes que perdonarme este arranque de alegría, pero es que no quepo en mí de completo gozo y satisfación por tener esta nueva prenda en mi armario!!
Desde hace algún tiempo rondaba en mi mente la idea de una bomber totalmente personalizada y diferente a lo que estamos acostumbradas a encontrar en las tiendas... he intentado conseguir una prenda con diseño propio y con un ligero estilo Rockabilly para ir introduciendo poco a poco este estilo en mi vestuario diario.
Cuando inicié esta pequeña aventura de abrir una linea de ropa con diseño propio , sabía que tenía que conseguir prendas auténticas, que no se pudiesen comprar en cualquier tienda y que contengas detalles totalmente personalizados para que puedan desmarcarse completamente. Bien, esta es la segunda prenda que viene a introducirse en esta pequeña aventura. Si te apetece , vamos a ver todos estos detalles que la hacen diferentes de un modo más cercano...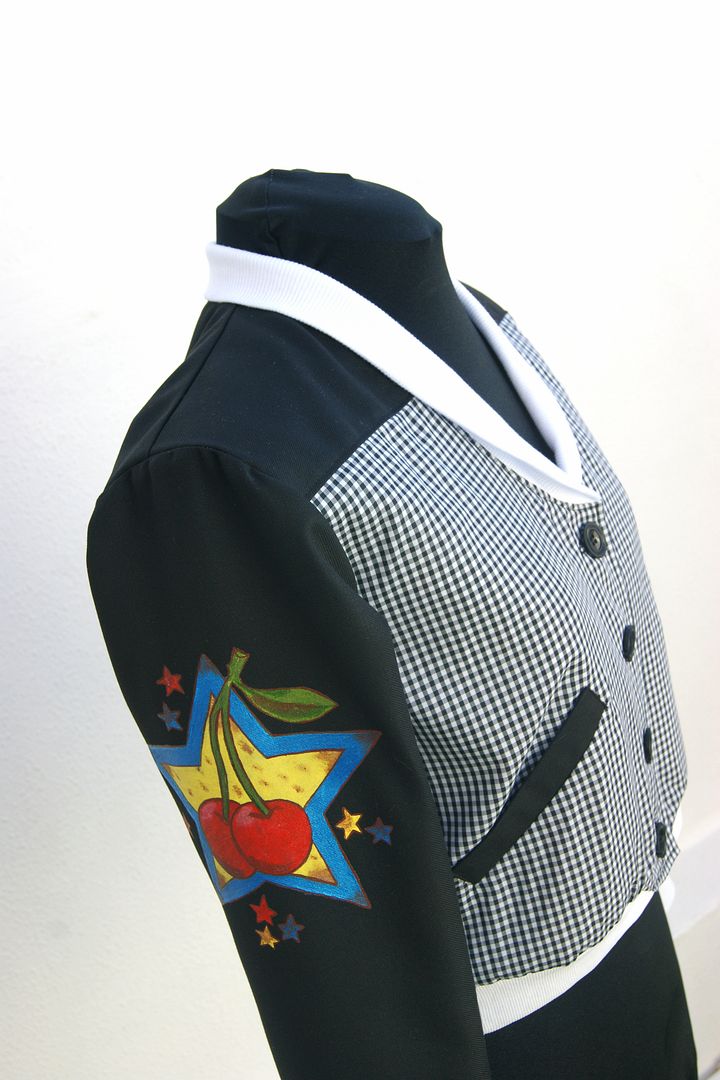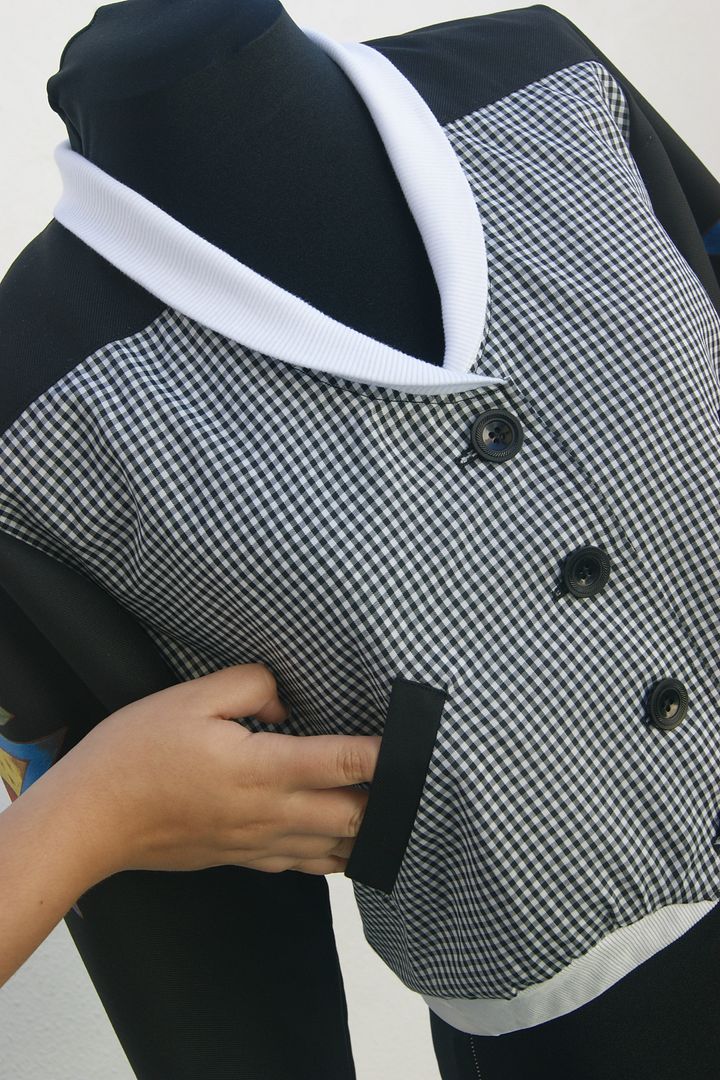 Many different details to get a special and unique garment. The attraction point they put handpainted sleeves ... to get it on black fabric, I first gave it a coat of white paint and let dry completely to continue painting all the details of the cherries .... that had to be painted in several steps to let the paint dry between them ... the same pattern is repeated in both sleeves ...
Muchos detalles diferentes para conseguir una prenda única y especial. El punto de atracción lo ponen las mangas pintadas a mano... para conseguir esto sobre tela negra , primero dí una capa de pintura blanca y dejé secar totalmente para continuar pintando todos los detalles de las cerezas.... que se tuvo que pintar en varios pasos para dejar secar la pintura entre ellos... el mismo dibujo se repite en las dos mangas...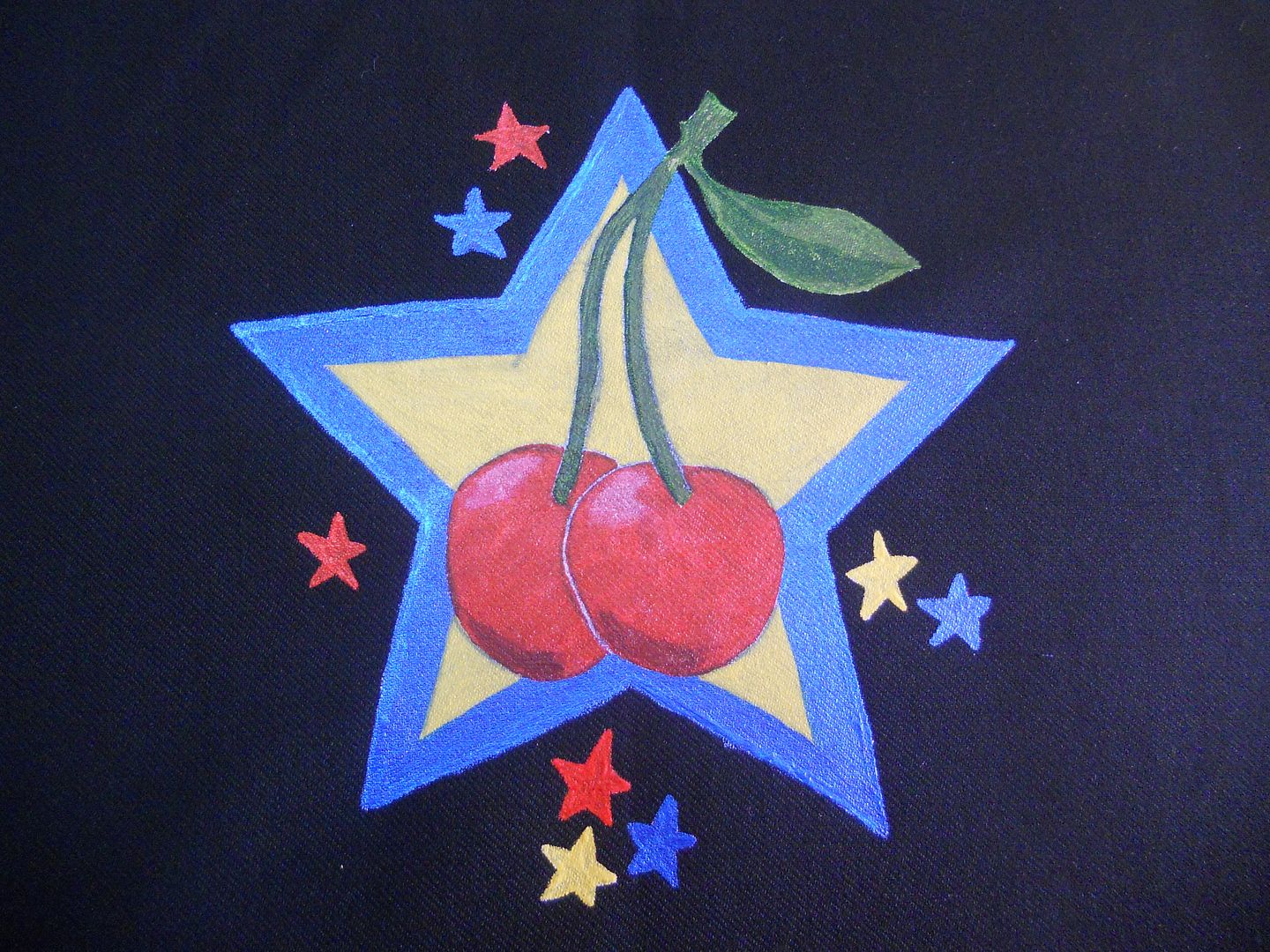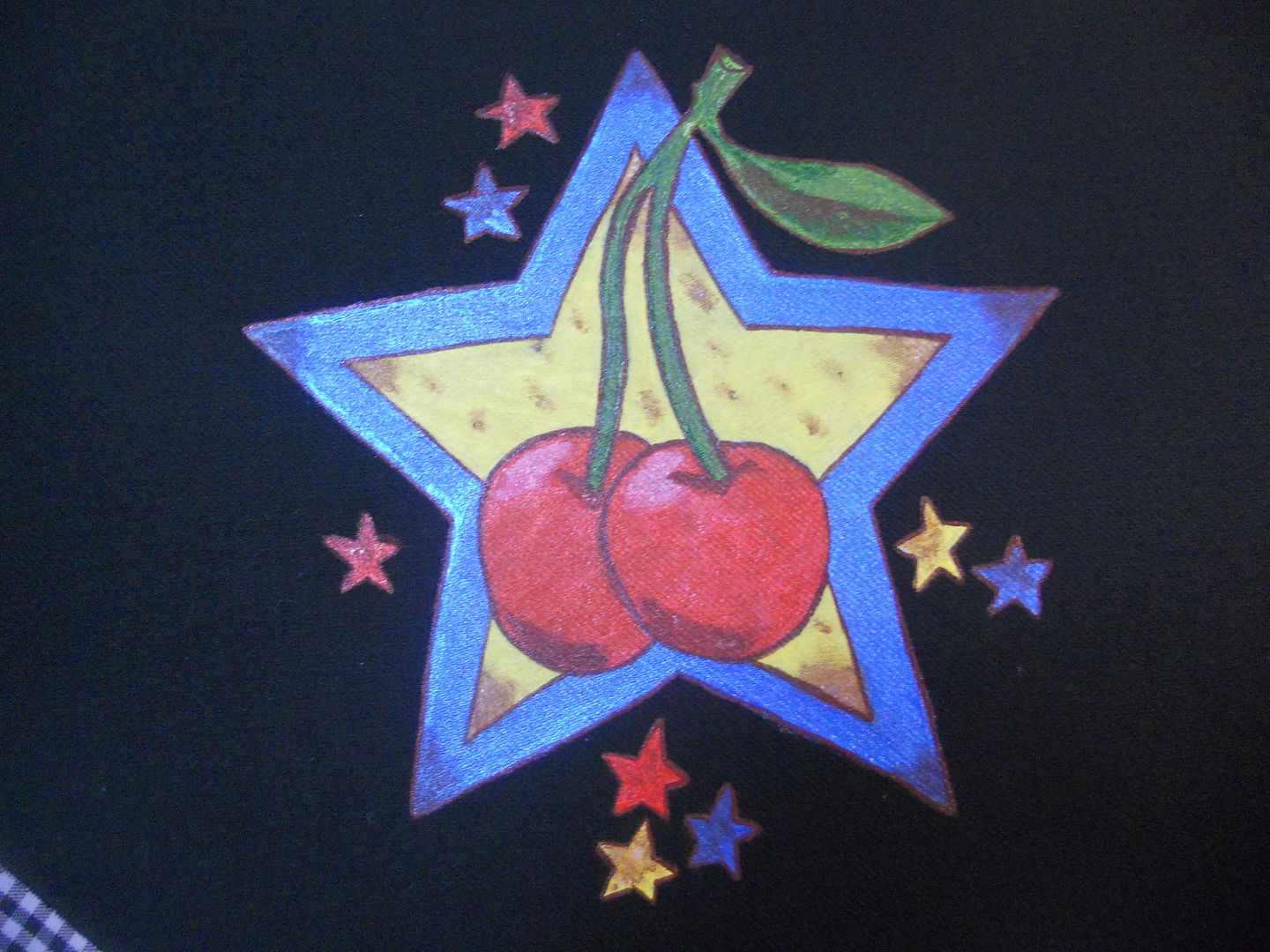 Of course, a bomber just like this one, go directly to the store that is a speck of being open, only missing some details. So you know, if you want a bomber like this, but in your size, just send me an email to coutureatelier23@gmail.com and speak ... the price of this jacket summer is 72 $.
Por supuesto, una bomber exactamente igual que esta irá directamente a la tienda que está a puntito de ser abierta, solamente faltan algunos detalles. Así que ya sabes, si quieres una bomber igual que esta, pero en tu talla, solamente tienes que enviarme un email a coutureatelier23@gmail.com y hablamos... el precio de esta chaquetilla de verano es de 55 €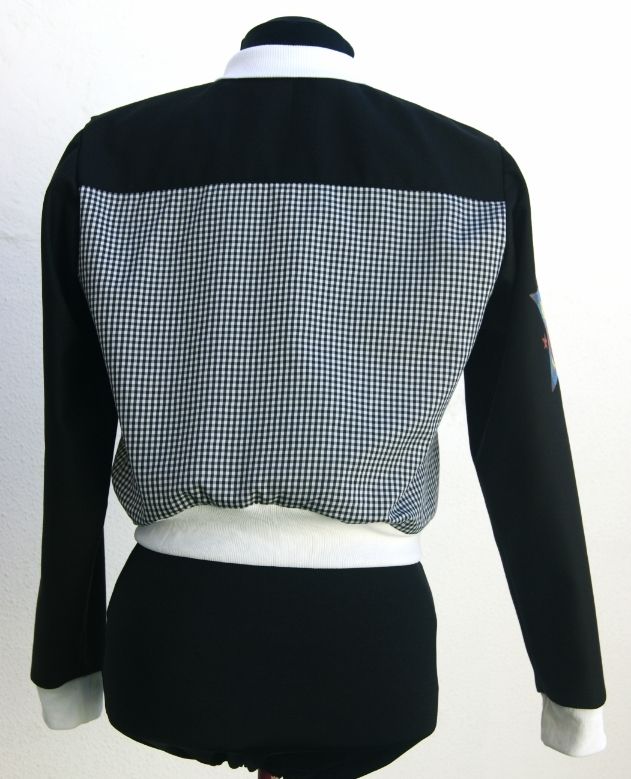 And there is nothing better than a classic renovated to include in the closet and combined with hundreds of items to get new looks and reinvent us every day. This bomber is made of black fabric and gingham fabric, the bodice is completely lined with soft white cotton and sleeves are not lined as it´s a lightweight for summer , cherries drawing is repeated in both sleeves, it has two slant pockets on the front and closes with buttons and buttonholes to keep that aspect of my beloved decade of the 50s.
The white band that gathers the waist is a little wavy effect in the middle of the back for a more elegant effect.
Y es que no hay nada mejor que un clásico renovado para incluir en el armario y combinar con cientos de prendas para conseguir nuevos looks y reinventar cada día. Esta bomber está hecha con tela negra y tela de cuadros vichy, el cuerpo está completamente forrado de suave algodón blanco y las mangas no están forradas puesto que es una prenda ligera para el verano, el dibujo de las cerezas se repite en las dos mangas , tiene dos bolsillos inclinados en el delantero y se cierra con botones y ojales para conservar ese aspecto de mi adorada década de los 50s.
La banda blanca que recoge la cintura tiene un pequeño efecto ondulado en el centro de la espalda para conseguir un efecto más elegante.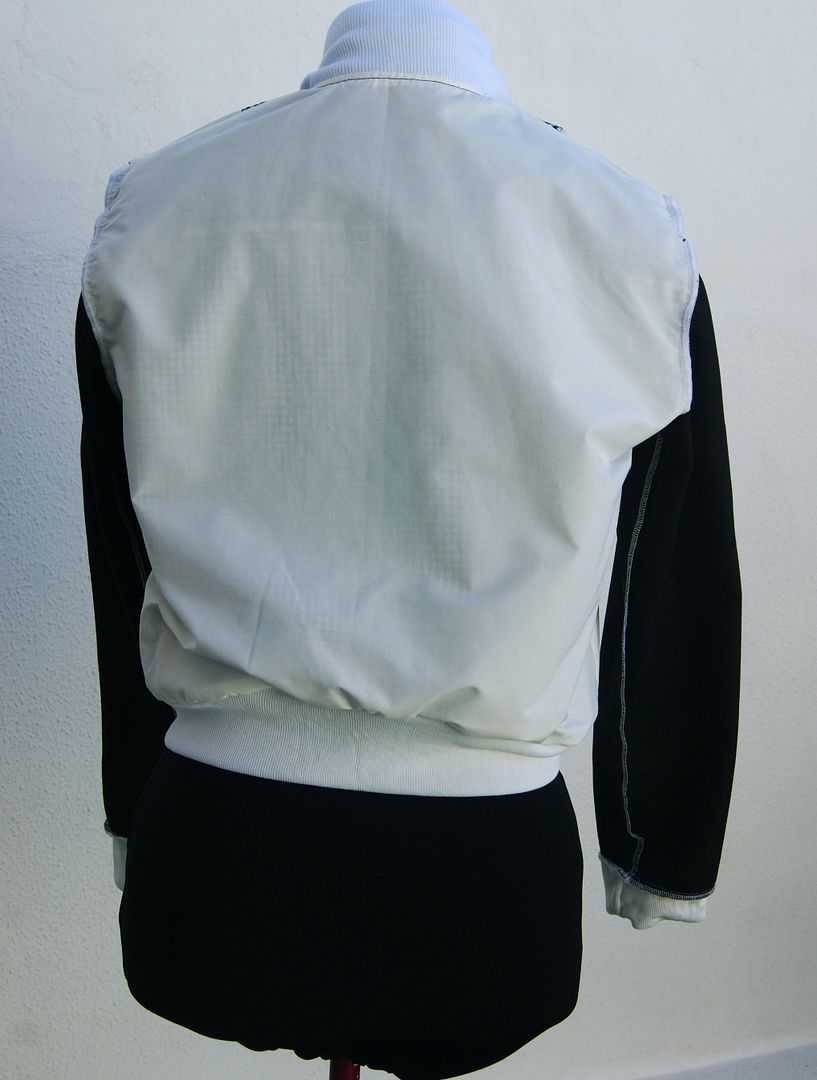 Looming a small avalanche of fun photos to show you two different looks with this garment, you can already guess that will come something as fun as a good girl look and other bad girl look as I did a few posts back ....
Do you dare with it?? How do would you use this garment??
Se avecina una pequeña avalancha de divertidas fotos para mostrarte dos diferentes looks con esta prenda, ya puedes adivinar que vendrá algo tan divertido como un look de chica buena y otro de bad girl como hice algunos posts atrás....
Te atreverías con ella?? Cómo la combinarías??