When my beloved Sacramento invited me to be her partner in the series of "Share-in ..." that she takes from a few weeks ago, I immediately accepted her invitation and I knew what I wanted to share with .... "Stripes"!!
If you don´t know her blog, it must be because you just got out of a long confinement ... or maybe you were abducted by a spaceship .... or maybe you lived so far on a desert island with only the company of an old volleyball ball and you were talking with it ... I don´t know .. it´s impossible not to meet to Sacramento!!
And also wearing stripes today... Jean, Juan, Aminta, Señora Allnut, Johanna,
Cuando mi adorada Sacramento me invitó a ser su pareja en la serie de "Share-in..." que ella lleva desde hace algunas semanas, yo enseguida acepté su invitación y ya sabía lo que quería compartir con ella.... "Rayas"!!!!
Si aún no conoces su blog, debe ser porque acabas de salir de un largo encierro... o quizá fuiste abducida por alguna nave espacial.... o quizá viviste hasta ahora en una isla desierta con la única compañía de un viejo balón de voleibol con el que hablabas... no lo sé..
es imposible que no conozcas a Sacramento!!!!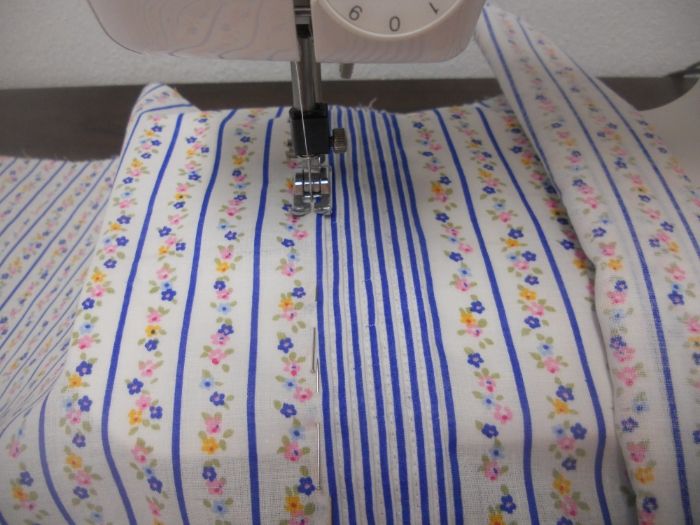 As soon as I saw this soft cotton fabrics in the store, I fell madly in love with it ... normally, fabrics speak to me when I look at them .... Yay! it´s a kind of super-power .... or perhaps hallucination ... but they talk to me .. I swear!
This fabric that combines stripes and flowers immediately told me that it wanted to become in a summer dress, I could play with their stripes to together and separate them and to play hide and seek with the bouquets of tiny flowers ....
En cuanto yo vi esta suave tela de algodón en mi tienda de tejidos, caí perdidamente enamorada de ella... normalmente, las telas me hablan cuando yo las miro.... es una especie de super-poder.... o quizá alucinación... pero me hablan.. lo juro!
Esta tela que combina rayas y florecillas enseguida me dijo que quería convertirse en vestido de verano, que podía jugar con sus rayas a juntarlas y separarlas para jugar al escondite con las ristras de pequeñas flores....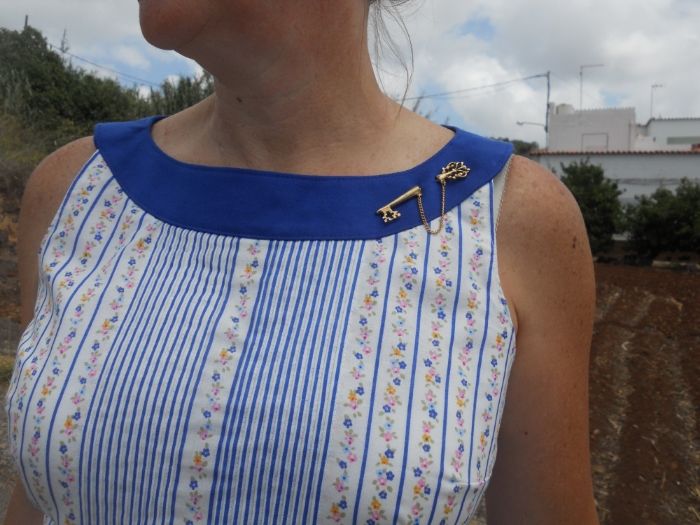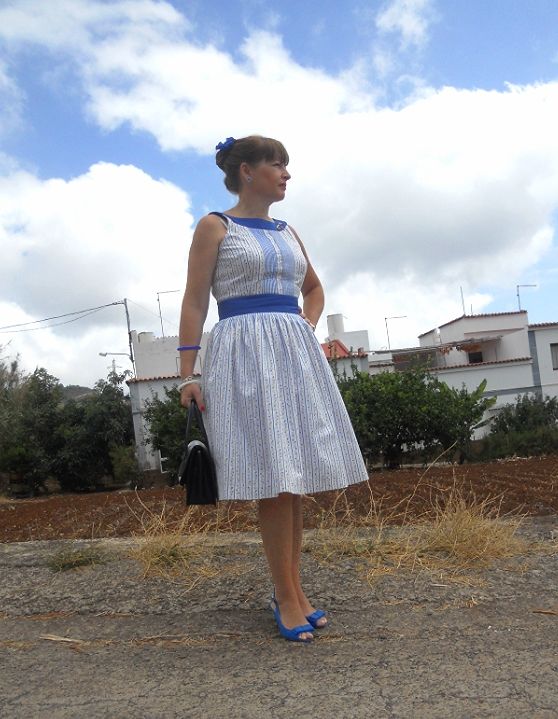 It said I could play with it to combine with white and blue accessories, that it would become in puffy skirt to play with the summer breeze and match the colors of its flowers, with the simplicity of the ochres colors of the countryside lashed by the extremes rigors of summer Canary.
Me dijo que podía jugar con ella a combinar los accesorios que yo quisiera con blanco y azul, que le gustaría transformarse en vaporosa falda para jugar con la brisa de verano y combinar los colores de sus florecillas, con la sencillez de los colores ocres del campo azotado por los rigores extremos del verano canario.
The fabric told me that it would play to double their stripes at the waist of the skirt, to get a nice effect when the flowers appear between these lines and are dropped like rain, splashing bright colors the skirt of thousands sparks of pink, yellow, green and blue ...
La tela me contó que jugaría a doblar sus rayas en la cintura de la falda, para conseguir un bonito efecto cuando aparecen las florecillas entre estas rayas y se dejan caer como lluvia de colorines salpicando la falda de miles de chispas de rosas, amarillos, verdes y azules...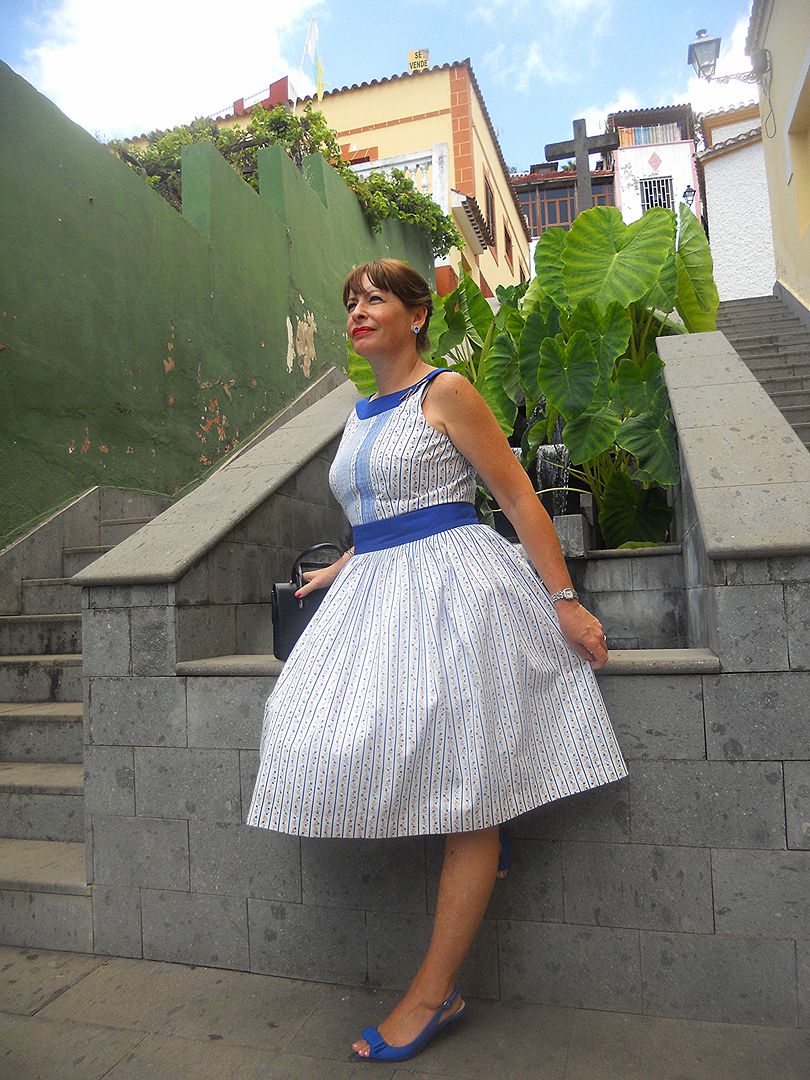 The dress is fully lined in soft white cotton batiste for comfort to friction with skin and if you like it, you can order one just like the shop that I just opened on Etsy. It will be tailored made to measure with exquisite care of every detail, it´s available in pink too!
El vestido está completamente forrado en suave batista de algodón blanco para mayor comodidad al roce con la piel y si te gusta puedes pedir uno igual a
la tienda que acabo de abrir en Etsy.
Confeccionado a tu medida y con cuidado exquisito en todos los detalles, también lo tienes disponible en rosa!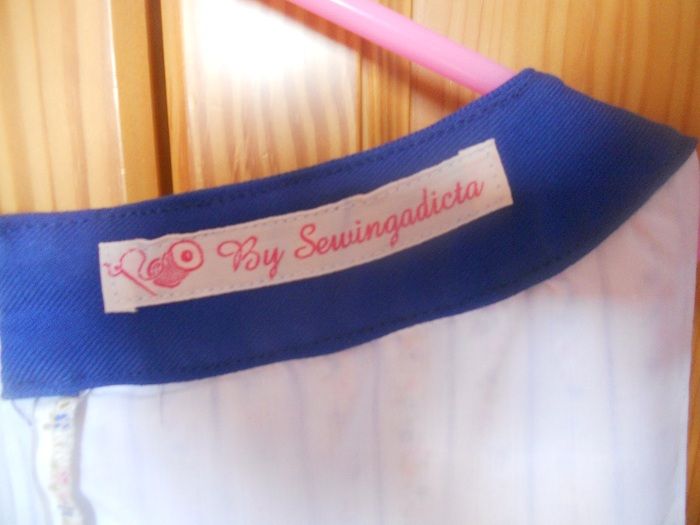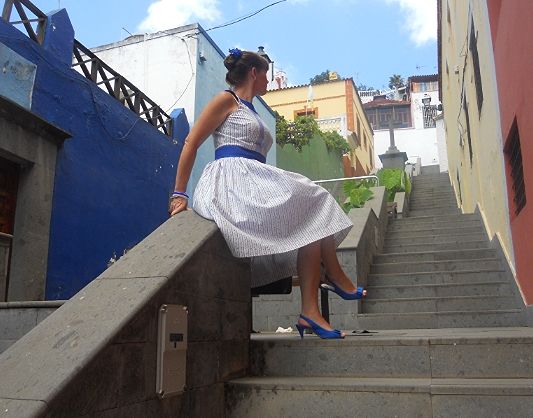 And you?? Inanimate objects talk to you too???
Y tú?? Te hablan los objetos inanimados a tí también???