Is there something more palatable in summer that a Fruit Tea Party???
This is the new project we're starting here ... I say "we", because there are five great friends, more myself ... total of six crazy adventurous that we have embarked on this new project!
If you follow this blog regularly, sometime I mentioned that there are Thursday's meeting (so far have been Cosplay) in my sewing cave. After finishing with the last group of Cosplay, the girls have decided to try another macro-project sweeten summer evenings, the end result will be a "Fruit Tea Party" ...
Hay algo más apetecible en verano que una Fiesta de Té de Frutas???
Este es el nuevo proyecto que estamos comenzando aquí... y digo "estamos", porque hay cinco grandes amigas, más yo... en total, seis locas aventureras que nos hemos embarcado en este nuevo proyecto!
Si sigues este blog habitualmente, alguna vez te he comentado que los jueves hay reunión ( hasta ahora han sido de Cosplay) en mi sewing-cueva. Después de terminar con
el último grupo de Cosplay
, las chicas hemos decidido probar con otro macro-proyecto que endulzará las tardes de verano, el resultado final será una Fiesta de Té de Frutas...
I have to start at the beginning of this story, a few months ago already .. I saw circulating on the internet a picture of a shirt with a print of a watermelon that caught my attention, so I mentioned this fact with Eli and the we went from store to store looking for two white shirts to paint ... by the result was that we not found a nice shirt, white and decent quality for paint the coveted fruit .. so I went home empty handed and thinking together ...
Tengo que comenzar por el principio de esta historia , hace algunos meses ya.. yo vi circulando por Internet una foto de una camiseta con una impresión de una sandía que me llamó mucho la atención, así que comenté este hecho con Eli y las dos nos fuimos de tienda en tienda en busca de dos camisetas blancas para pintar ... el resutado fué que no encontramos una camiseta bonita, blanca y de calidad decente para pintar la codiciada fruta.. así que volvimos a casa con las manos vacías y un pensamiento conjunto...
We would make our own blouses! and other ideas were gushing out of our heads ... if I was to choose a watermelon, she chose to paint a strawberry in her blouse ...
And if we also make us white blouse also , we complete this little adventure sewing some clothes to match the color of the fruit for a complete look? ...
And when this little idea was discussed in class on Thursdays ... all the other girls wanted to join to this adventure ... and among all thought .. And if when we all finished garments, add matching accessories? .... And the end backtack was when someone said ... And if when we have the entire project finished, we celebrated with a party with this theme?
Is not perfect a party for Fruit Teas???
And then mass hysteria!
Haríamos nuestras propias blusas! y las demás ideas fueron saliendo apretujadamente de nuestras cabezas... si yo iba a hacer una sandía, ella elegía una fresa para pintar en su blusa...
Y si además de hacernos la blusa blanca , aderezábamos esta pequeña aventura cosiendo alguna prenda a juego con el color de la fruta para conseguir un look completo?...
Y cuando comentamos esta pequeña idea en la clase de los jueves... todas las demás chicas quisieron añadirse a esta aventura... y entre todas pensamos.. Y si cuando tengamos todas las prendas acabadas añadimos accesorios a juego ?.... Y el remate final fué cuando alguien dijo... Y si cuando tengamos todo el proyecto terminado lo celebramos con una Fiesta con esta temática?
No sería perfecto una fiesta de Tés Frutales???
Y enseguida la histeria colectiva!!!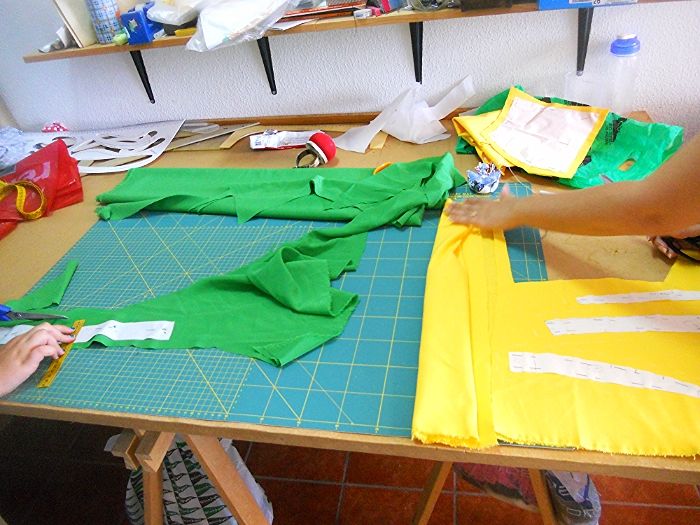 So we are a "Fun Fruit basket" of six crazy adventurous and finally we handed ...
Miss Eli chose strawberries, Miss Mey chose lemons, My Yaz chose berries, Miss Antonella chose grapes , Miss R. chose oranges and I chose watermelon ... This has resulted in all kinds of jokes during this time and the laughter taht we shared while drawing this project have been the best vitamins for our souls ...
Así que en total somos una "Divertida Cesta de Frutas" compuesta por seis locas aventureras que finalmente se repartieron así...
Miss Eli eligió fresas, Miss Mey eligió limones, Mis Yaz eligió frutos rojos, Miss Antonella eligió uvas , Miss R. eligió naranjas y yo elegí sandía... esto ha dado lugar a todo tipo de bromas durante todo este tiempo y las risas que hemos compartido mientras se dibujaba este proyecto han sido la mejor de las vitaminas para nuestras almas...
Now, I want to highlight something in big letters ...

I haven´t painted these wonderful fruits ! They were brilliant job of Miss Yaz ...

She has been commissioned to paint them while the girls and I have been sewing and it has been a huge success for the group, have the magic that this girl has hands to paint all these fruits (surely you've noticed that in the photos lack the orange .. which is still being painted)
Ahora, yo quiero resaltar algo en letras bien grandes...
estas maravillosas frutas no las he pintado yo!!! Han sido obra genial de Miss Yaz...
ella se ha encargado de pintar mientras las chicas y yo hemos estado cosiendo y ha sido un acierto enorme para el grupo, contar con la magia que tiene esta chica en las manos para pintar todas estas frutas ( seguramente te habrás dado cuenta que en las fotos , falta la naranja.. que está todavía en proceso de pintado )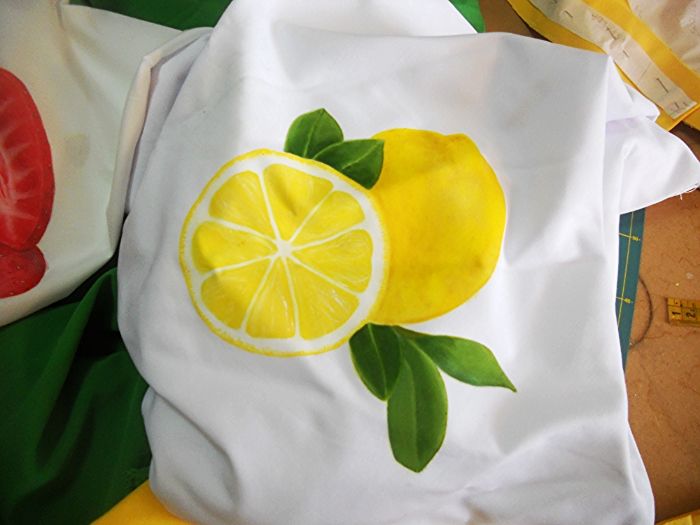 The realism that release these fruits is awesome! I watch and I can almost smell them! So since this is a collective project will come to light here on the blog as it progresses and sewing the garments will accompany each fruit, and meanwhile of it will go my projects as always, interspersed with this wonderful adventure .
El realismo que desprenden estas frutas es impresionante! Yo las miro y casi puedo olerlas!! Así que puesto que esto es un proyecto colectivo irá saliendo a la luz aquí en el blog según vaya avanzando y se vayan cosiendo las prendas que acompañan a cada fruta, y en medio de ello habrán proyectos míos como siempre intercalados con esta maravillosa aventura.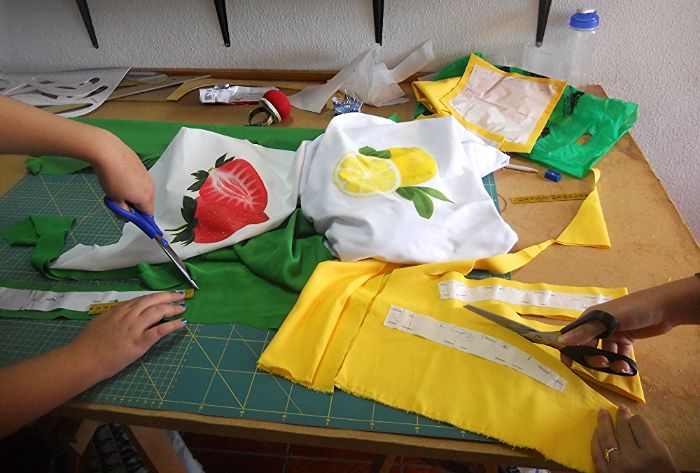 For now, I leave you with a small taste of the excitement that put the girls in sewing, with the mind set on the final party, where we will have fruit teas of all kinds and of course, cakes!
And never be enough to thank Yaz for their magical brushstrokes for this project!
Yaz, we love you!
Por ahora te dejo con una pequeña muestra del entusiasmo que ponen las chicas en la costura, con la mente puesta en la fiesta final en la que habrán Tés frutales de todo tipo y por supuesto, pasteles!
Y nunca será suficiente nuestro agradecimiento a Yaz por sus pinceladas mágicas para este proyecto!!
Yaz, te queremos!!