"Looking out to sea I dreamed ... I was next to you ..." (Lyric of Spanish song) Well, the first swimsuit with "vintage look" of this summer is finished and enjoying the sun and the sea ... more some swimsuits are to come, because they are garments that are addictive, they´re relatively fast and the effect of walking on the beach with a bathing garment made ​​with your own hands and your own taste is a wonderful feeling!
Although to make this photo shoot I had the help of Miss C. a wonderful girl who helped prevent that you had the horrible sight of "me, posing in a swimsuit"! I have to clarify that Miss C. uses less size than me and therefore there may be some feeling that the swimsuit looks a little loose on her waist, that's because bathing suit is made of my size and Miss C. has a tiny little waist than me ...
And I have to say "thank you, thank you very much" to the unconditional photographer Eli, who became so absorbed in her work that she ended up achieved by a wave treacherous, even getting wet clothing and shoes, leading to moments of laughter and fun. Nothing unusual ... all photo sessions with Eli end up the same, lot of laughter ...
"Mirando al mar soñé... que estaba junto a tí... " Y bien, el primer bañador con aspecto vintage de este verano está terminado y disfrutando del sol y el mar... hay algunos bañadores más por venir, porque son prendas que crean adicción, se hacen relativamente rápido y el efecto de pasear por la playa con una prenda de baño hecha con tus propias manos y al gusto propio es una sensación maravillosa!
Aunque para hacer esta sesión de fotos he contado con la ayuda de Miss C. una chica maravillosa que ayudó a evitar que usted tuviera la horrible visión de "yo, posando en bañador"! Tengo que aclarar que Miss C. usa menos talla que yo y por lo tanto, puede haber alguna sensación de que el traje de baño luzca un poco holgado en la zona de cintura, eso es porque el bañador es de mi talla y Miss C. tiene una pequeña cinturita que ya quisiera poseer yo...
Y también tengo que dar las gracias, muchas gracias a la incondicional fotógrafa Eli, que se absorbió tanto en su trabajo que terminó alcanzada por alguna ola traicionera , mojándose incluso la ropa y zapatos, lo que provocó momentos de risa y diversión. Nada raro... todas las sesiones de foto con Eli terminan igual, partiéndonos de risa...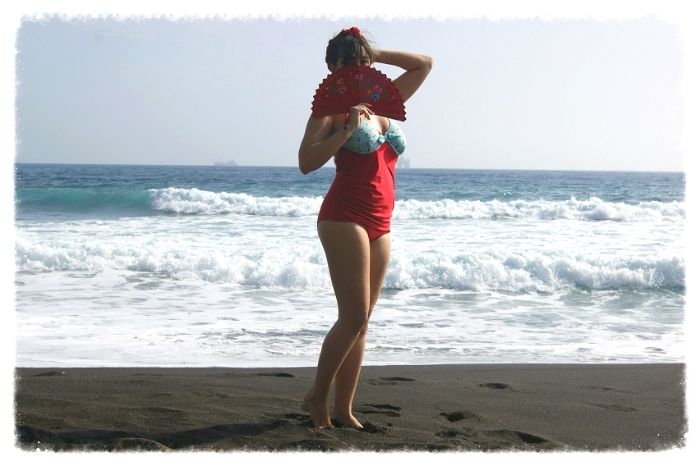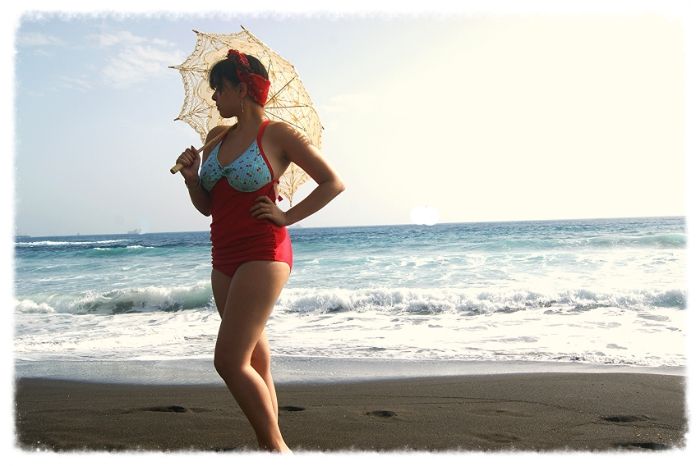 As I told you in the previous post, I have followed the dictates of my own intuition to get the final effect of the garment, playing with pencil and rules on paper and a basic body pattern, I've been following my gut feelings to get the product end. From the beginning I was very clear that this bathing suit should be quite low of "leg", and the front piece front piece on the stomach be shirred, as they sent the "aesthetic canons" of that era. With these two basic principles and the inspiration that gave me the print of itself lycra ... else was emerging only in the way.
The bra part has "underwire" to hold the breast form (Thanks, "The Garment Farmer" and Carolyn for the translation!) And I thought it would be good idea to add a small bow to get a "pin up touch".
The straps that hold the sides of the breast cross on the back and tied in the center of it, so I thought there were more "flirty".
The front is shirred front waist area until down, it gets hide tummy and hips.
Below this front piece hides the panties, so good subject and comfortable.
Como te contaba en el anterior post
, solamente he seguido los dictados de mi propia intuición para conseguir el efecto final de la prenda, jugando con lápiz y reglas sobre un papel y un patrón básico de cuerpo, he ido siguiendo mis corazonadas para llegar al producto final. Desde el principio tenía bien claro que el bañador debía ser bastante bajo de "pierna" , y con la pieza delantera fruncida en la zona de vientre, como mandaban los "cánones estéticos" de la época. Con estos dos principios básicos y la inspiración que me daba el estampado de la propia lycra... lo demás fué surgiendo solo en el camino.
La parte del sujetador lleva "aros" para mantener la forma del pecho (Gracias,
"The Garment Farmer"
y
Carolyn
por la traducción! ) y yo pensé que sería buena idea añadir un pequeño lazo para conseguir un toque pin up.
Los tirantes que sujetan los laterales del pecho se cruzan en la espalda y se atan en el centro , me pareció que así quedaban más "coquetos".
La parte frontal delantera se frunce desde la zona de la cintura hasta abajo, eso consigue disimular la barriguita y esconder las caderas.
Debajo de esta pieza frontal se esconde la braguita, todo bien sujeto y cómodo.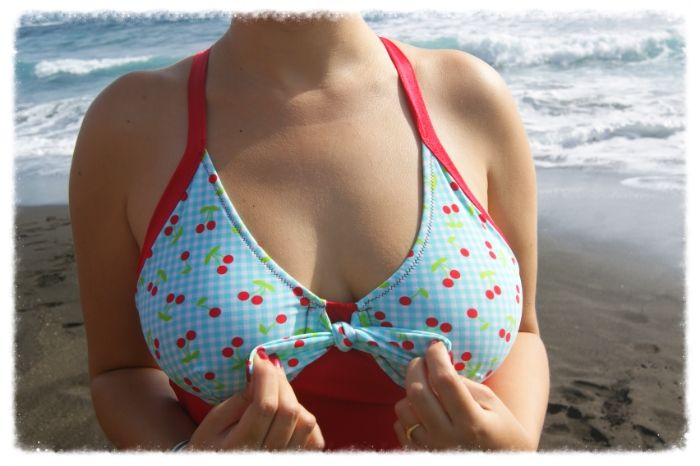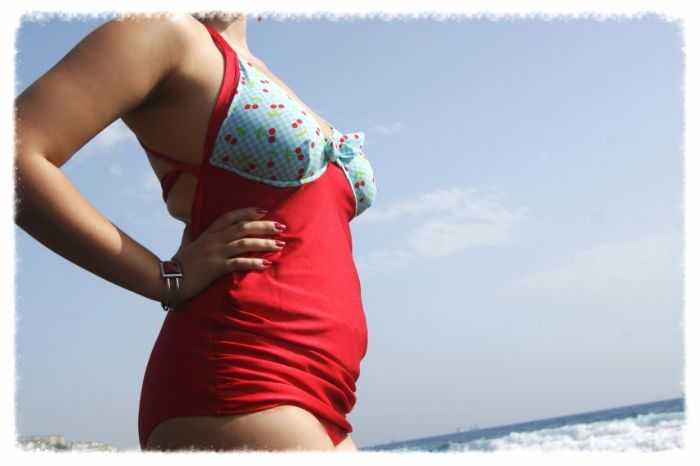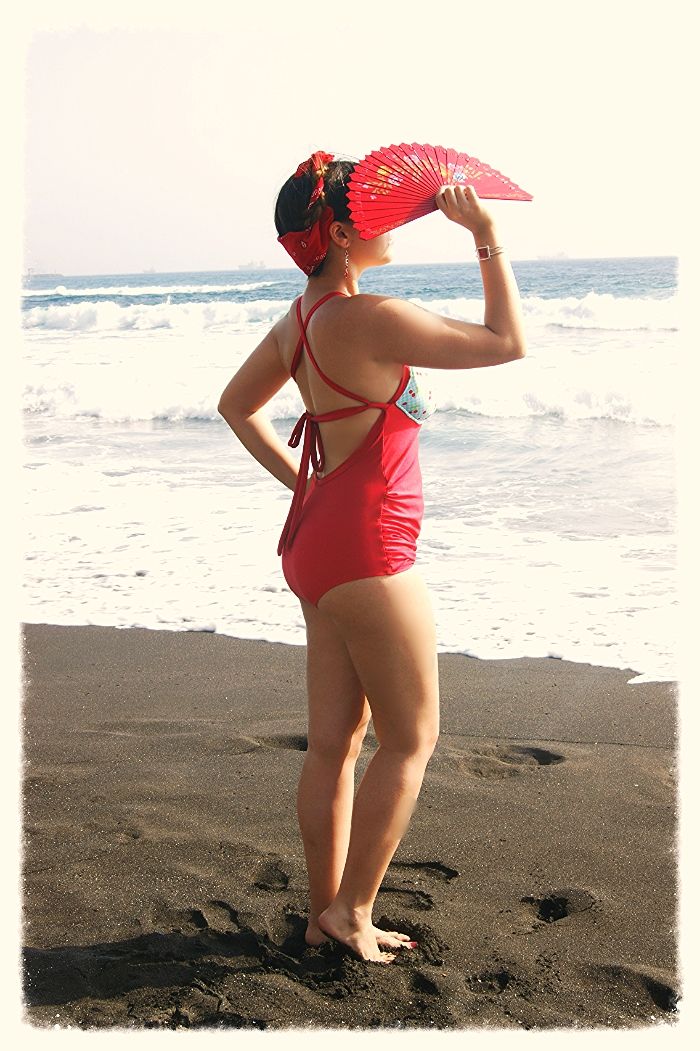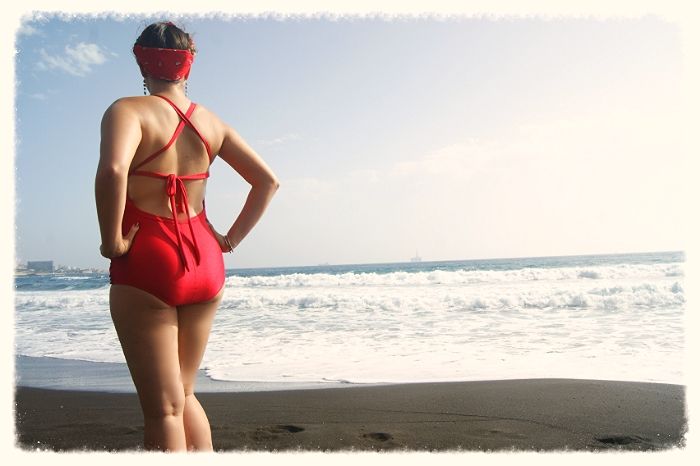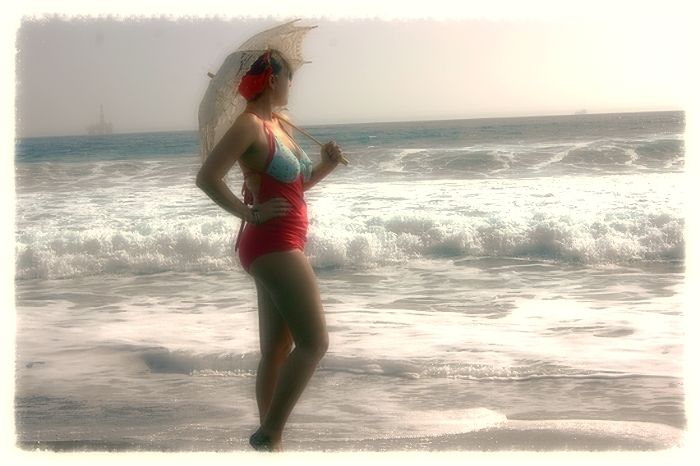 And like Jorge Sepúlveda says in his song ... I stay "Looking out to sea ..."
Y como dice Jorge Sepúlveda en su canción... yo me quedo "Mirando al mar..."