Sewing is for me, as breathing air that instills life into me ... When you add to this, that I'm sewing a garment that looks beautiful to me, for someone I admire deeply and I think that one of the most special person that I've been lucky enough to trip over in this virtual life, then the pleasure is huge ...
For some days ago, and a series of circumstances that are not now the case, I had the opportunity to sew a beautiful pinafore dress with air of the 50s, a dress that was very common in the wardrobes of the ladies of that decade, it was mainly used to dress well indoors and be presentable when they had to go out for errands, but beheld this beautiful model through the decades ... it has nothing to envy to the most elegant and romantic dresses worn today.
The idea was to sew a pinafore dress from a model found in an Etsy store that is already out of stock. Long time ago it was sold and my dear friend sighed by one like that ... combined with the desire to add some yellow to her own wardrobe ... this dress was born.
Si ya de por sí, coser para mi es como respirar el aire que me insufla vida... cuando añades a eso que estoy cosiendo una prenda que me parece preciosa para una persona que admiro profundamente y que me parece una de las personas más especiales que he tenido la suerte de tropezarme en esta vida virtual, entonces el placer es enorme...
Hace algunos días y por una serie de circunstancias que no vienen ahora al caso, se me presentó la oportunidad de coser un hermoso vestido delantal con aires de los 50s, un vestido que era muy frecuente en los armarios de las damas de esa década que se usaba principalmente para vestir bien dentro de casa y estar presentable cuando se tenía que salir a por recados, aunque mirándo este hermoso modelo a través de las décadas... no tiene nada que envidiar a los más elegantes y románticos vestidos usados actualmente.
La idea era coser un vestido-delantal a partir de un modelo encontrado en
una tienda de Etsy que ya está fuera de stock.
Hace mucho tiempo que se vendió y mi querida amiga suspiraba por uno así... combinado con el deseo de añadir un poco de color amarillo a su propio wardrobe... así nació este vestido.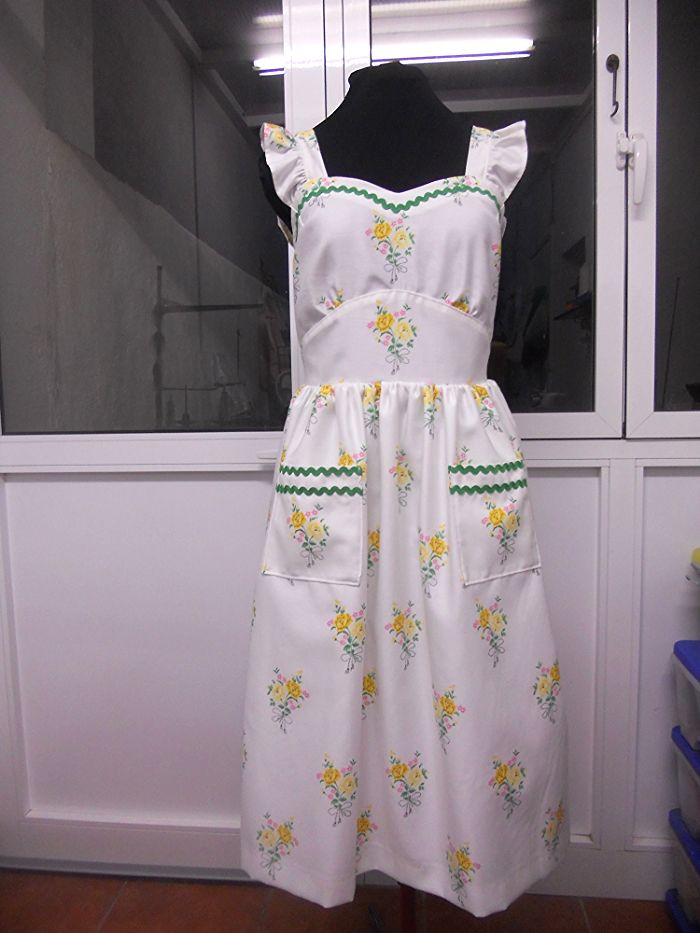 In the pictures below you can see the image that served as magic inspiration for sewing this model, a simple photo from Etsy which concluded in a dress with characteristics suited to the personal circumstances of the lady in question ...
En las fotos de abajo se puede ver la imagen que sirvió de mágica inspiración para coser este modelo, una simple foto a partir de Etsy que concluyó en un vestido con características propias adaptadas a las circunstancias personales de la dama en cuestión...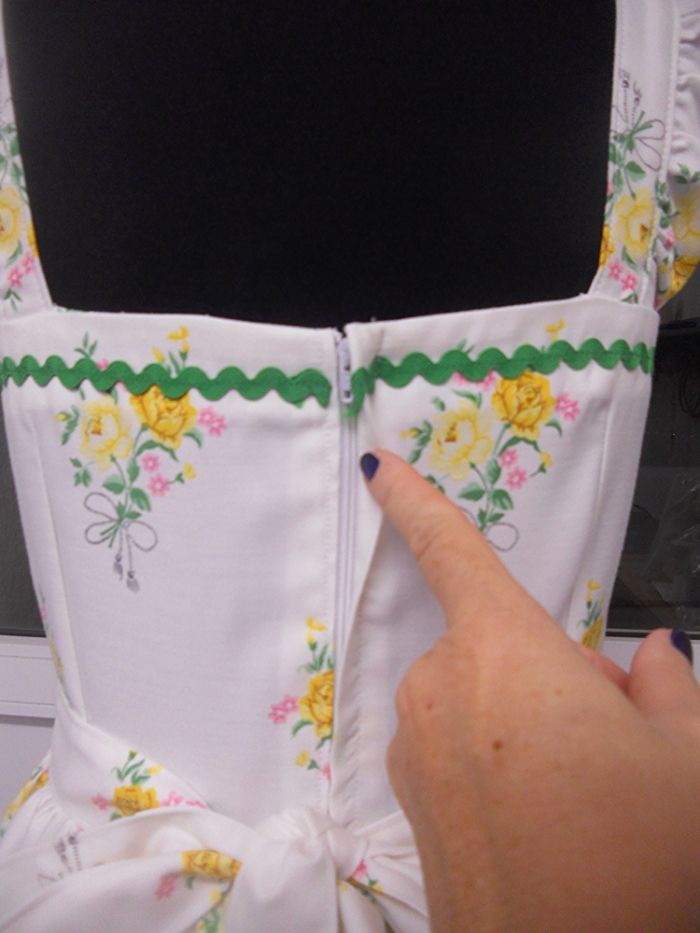 I tried by all means that this dress possess details characteristics of the dresses of the decade of the 50s, although this is not entirely possible, I tried to get a metal rack (which was usual at that time), but I was impossible to get one that it had the length to the back of the dress, so I had to settle with a nylon zipper ....
I also lined the front waist band and skirt for increased comfort and elegance.
He intentado por todos los medios que los detalles del vestido poséan características propias de los vestidos de la década de los 50s, aunque esto no es posible en su totalidad, intenté conseguir una cremallera metálica (que era lo usual en esa época), pero me fué imposible conseguir una que tuviese el largo necesario para la espalda del vestido, así que tuve que conformarme con una cremallera de nylon....
También he forrado la banda de la cintura frontal y la falda para mayor comodidad y elegancia .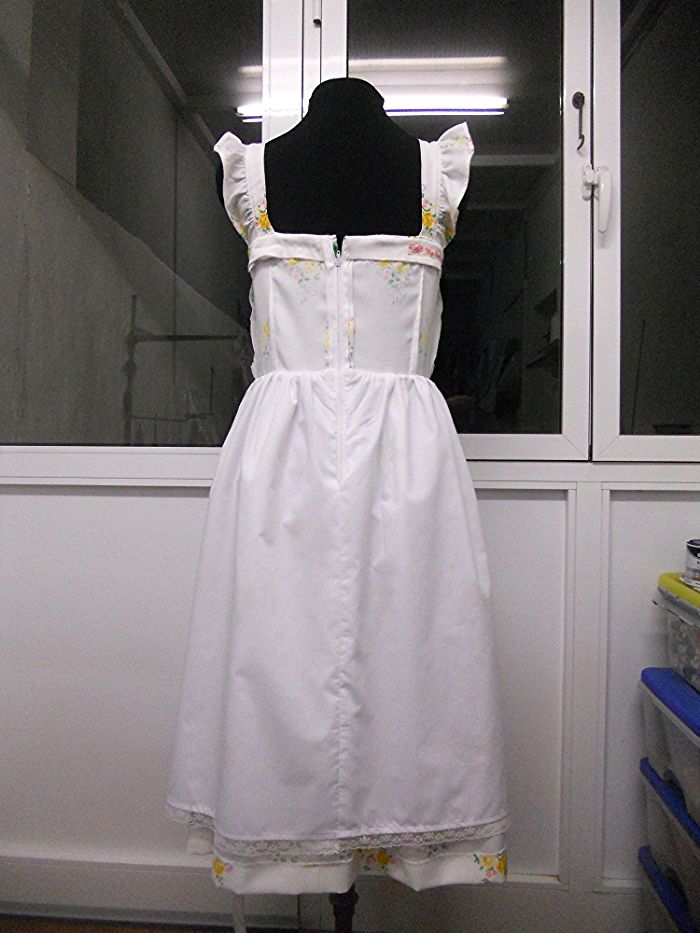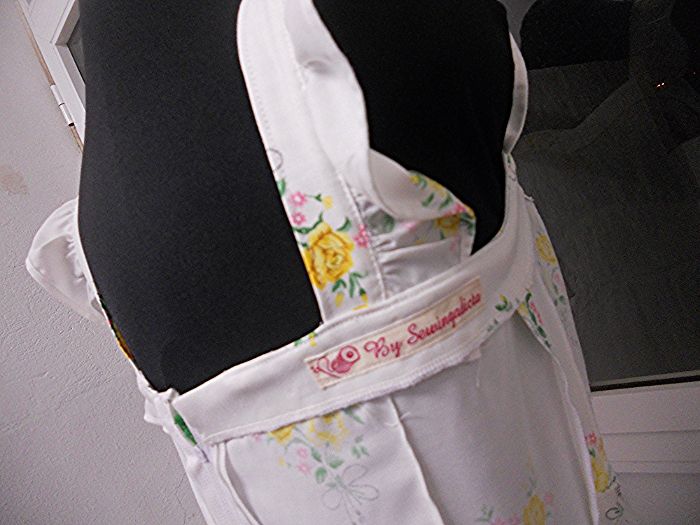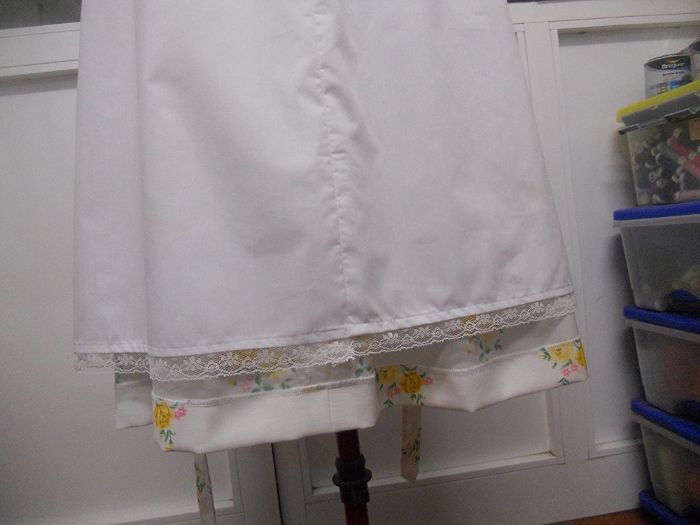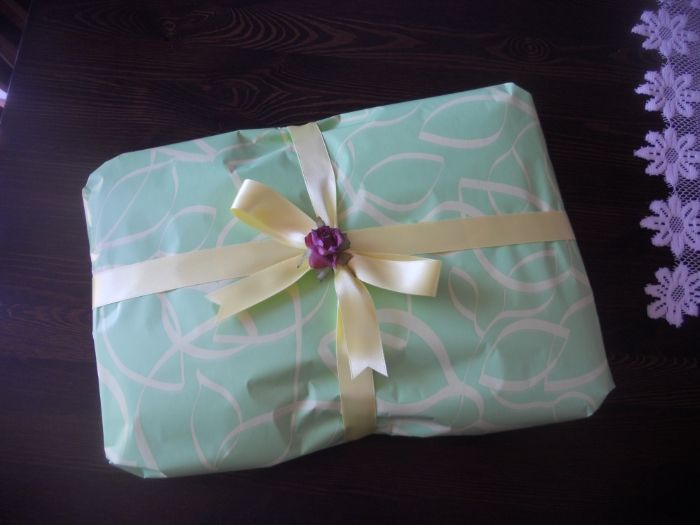 The package go out yesterday to its destination .... well away, to Canada! .... I can not wait for the owner to wear it already because this dress is made with much love ....
El paquete salió ayer hacia su destino.... bien lejos, a Canadá!.... muero de impaciencia por que su propietaria lo pueda estrenar ya , porque este vestido está hecho con mucho amor....