After the macro-project of Cosplays of the previous post, I needed something quick to satisfy my "thirst" for new clothes ... but this time, the garment will not go to my wardrobe, it´s for Antonella ...
She was in love with a beautiful fabric filled of flowers that much rejoicing sight and she wanted to get some shorts to color the hot days of summer ...
I decided that the quickest way to do it was to look in her closet one pant that will sit well to hel for copy the model and I did that ...
Después del macro-proyecto de los
Cosplays del post anterior
, yo necesitaba algo rápido para satisfacer mi sed de nuevas prendas... aunque esta vez, la prenda no irá a mi wardrobe, sino al de Antonella...
Ella se había enamorado de una hermosa tela llena de florecillas que alegran mucho la vista y quería conseguir unos shorts veraniegos para dar color a los días de calor... (juego de palabras bastante tonto )
Decidí que la forma más rápida de hacerlos era buscar en su armario un pantaloncito que le sentara bien para copiar el modelo y eso hice...
Winter shorts in cool wool plaid ... paper, pencil and pins to copy the pattern and make one pants exactly like this, but summer version.
When I unfolded the fabric flowers and watched this bright red daisy field I knew immediately that the pants model would be completely lost in the floral print, so I decided it was best to define some areas with red fabric for "break" and enhance the details of the model ... my happiness always huge when, in the middle of a project, an idea occurs to me and looking at the scraps drawer, I found a piece red fabric that was perfectly with the floral print. Get find something perfect for what I´m looking for at that time, including downloading the huge level of my stash of scraps is very rewarding ..
Unos shorts de invierno en lana fría a cuadros... papel , lápiz y alfileres para copiar el patrón del pantalón y hacer uno exactamente igual a este , pero en versión de verano.
Cuando desplegaba la tela de florecillas y miraba ese brillante campo de margaritas rojas yo sabía inmediatamente que el modelo del pantalón iba a quedar completamente perdido entre el estampado floral , así que yo decidí que lo mejor era delimitar algunas áreas con tela de color rojo para "romper" y realzar los detalles del modelo... mi felicidad siempre es inmensa cuando en medio de un proyecto , se me ocurre alguna idea y buscando en el cajón de los retales encontré un trozo de tela roja que iba perfectamente al estampado floral. Conseguir encontrar algo perfecto para lo que estás buscando en ese momento y además bajar un poco el gigantesco nivel de mi stash de retales es algo muy gratificante..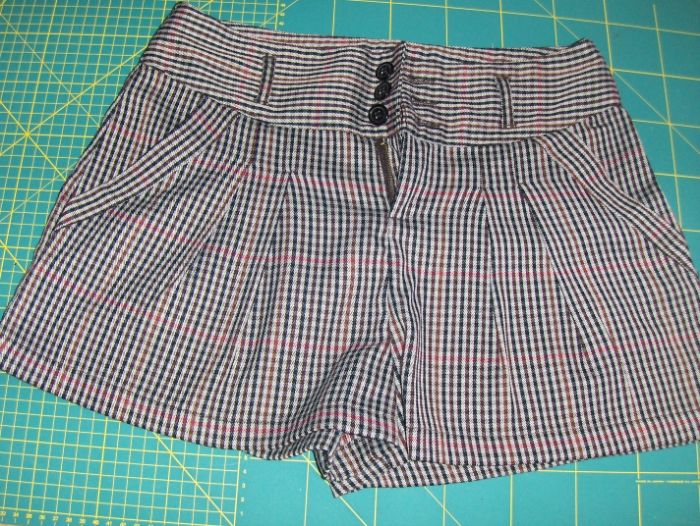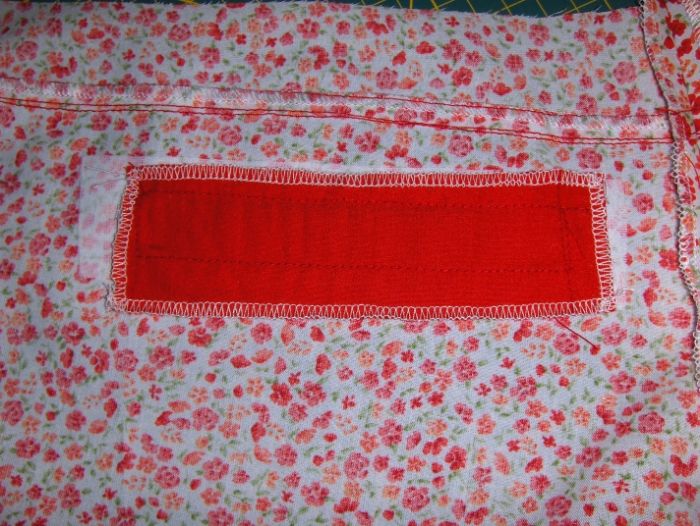 On the back, I made some fake flap pockets in red, although these pockets take all the process of a real-flap pocket, I simply dismissed the pocket sack of them and leave it closed, so them bulges less and print remains a real pocket.
En la espalda, hice unos falsos bolsillos de tapeta en color rojo , aunque los bolsillos llevan todo el proceso de un bolsillo de tapeta real, simplemente descarté el hacerles el saco del bolsillo y dejarlo cerrado, abulta menos y la impresión sigue siendo de un bolsillo real.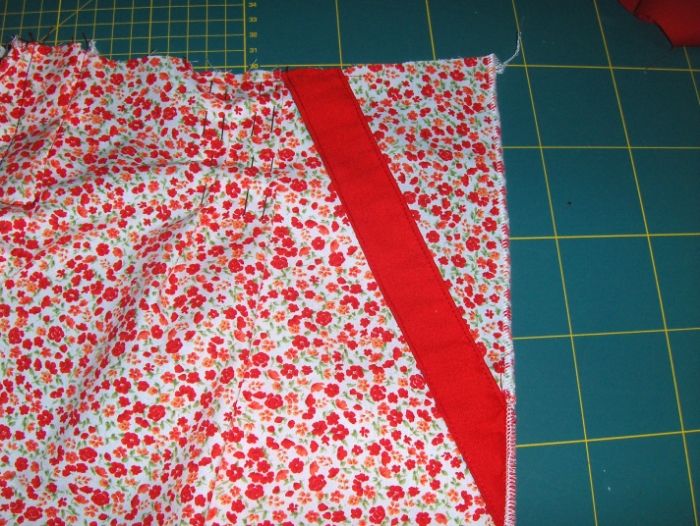 At the front, I also have differentiated with red fabric the pockets and some more details will be added along the way ... as I go looking here or there, I'll be adding touches of color to achieve from the same pattern of winter pants, another pants completely different ... and I always say that sewing is magic .... It´s no true?
En el delantero, he diferenciado también los bolsillos con la tela roja y hay algunos detalles más que se irán añadiendo en el camino... según vaya mirando aquí o allá, ire añadiendo toques de color para conseguir con el mismo patrón del pantalón de invierno , un pantalón completamente diferente... y es que siempre digo que la costura es magia.... no crees?