I was thinking of taking my winter clothes to go organize my closet when suddenly Ahhhhh! One jackets has been engaged and I don´t know where I got a thread, Horror!
I need help desperately and look who to tell the mess I just made in my favorite jacket to seek consolation ..
Estaba yo pensando en ir sacando la ropa de invierno para ir organizando mi armario cuando de repente Ahhhhh! Una de las chaquetas se ha enganchado en no sé donde y he sacado una hebra , Horror!!!
Necesito ayuda desesperadamente y busco a quien contarle el desastre que acabo de hacer en mi chaqueta favorita para buscar consuelo..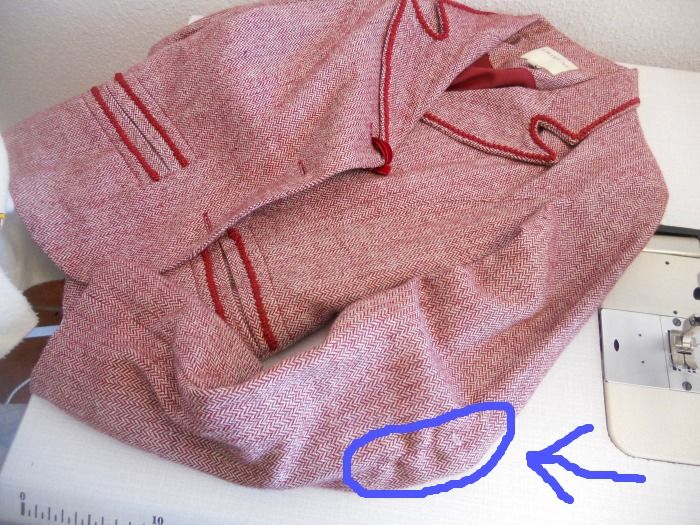 Surely you too happened something similar. without knowing how, you've found that your clothes have threads drawn by some sites and to fix it, your first temptation is to cut the damn thread ... No! Stop it!
If you cut that thread, the garment will end with a hole soon ... better do the following tip...
Seguro que a ti tambien te ha pasado algo igual, sin saber como, te has encontrada que tu ropa tiene hebras sacadas por algunos sitios y tu tentación primera para arreglarlo es cortar la hebra maldita... No!!! Detente!!!
Si cortas esa hebra, la prenda terminará con un agujero muy pronto... mejor haz lo siguiente...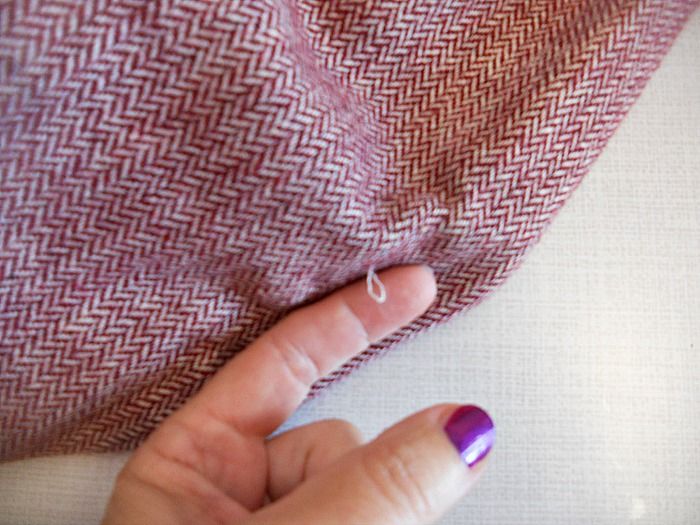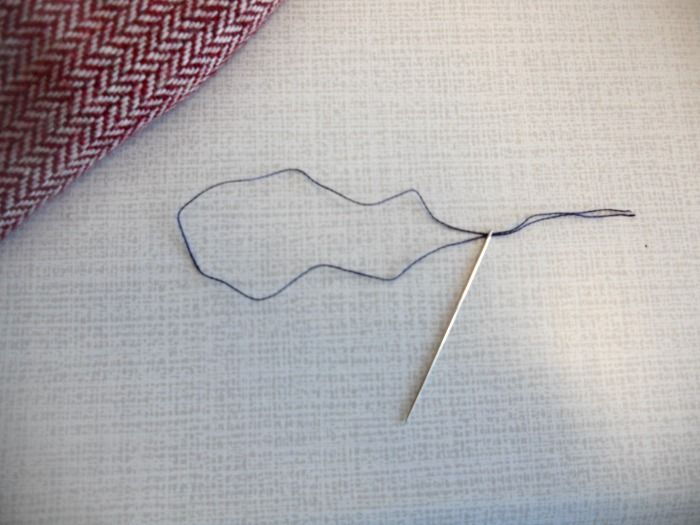 Thread a needle with a small piece of thread like shows the first photo ... no matter what color is the thread because it will be hidden at the end. You must enter two ends of the thread together through the eye of the needle.
Enhebra una aguja con un trozo de hilo pequeño de la forma que te muestra la foto... da igual de que color es el hilo porque quedará escondido al final. Tienes que enhebrar introduciendo los dos extremos del hilo juntos por el ojo de la aguja.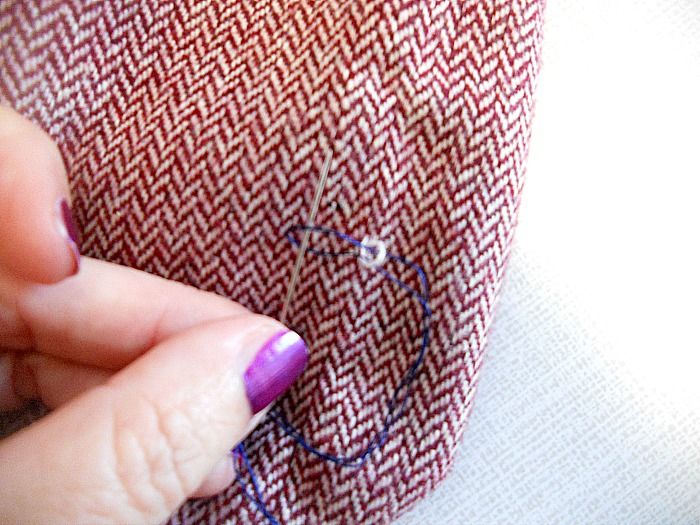 Now pass the needle carefully through the middle of the thread that you get as shown in the first photo and slide the needle without getting out the whole thread bent, you can see in the second picture as I returned to pass the needle through the loop is formed with the folded end of the thread.
Ahora pasa con cuidado la aguja por el medio de la hebra que has sacado como muestra la primera foto y desliza la aguja sin llegar a sacar todo el hilo doblado, puedes ver en la segunda foto como he vuelto a pasar la aguja por el bucle que se forma con el final del hilo doblado.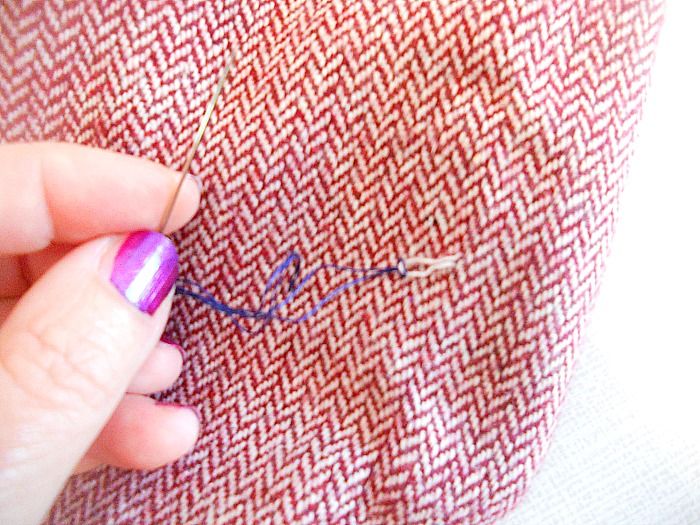 Now carefully pull the thread to get a knot in the thread that was hooked, do not pull too hard, just enough to secure the thread of the garment. So to stick the needle in the exact spot where the thread attached and slide the needle to the wrong side of the fabric.
Ahora tira del hilo con cuidado hasta conseguir hacer un nudo con la hebra que se ha enganchado, no tires demasiado fuerte, solamente lo suficiente para sujetar esa hebra de la prenda. Entonces vuelve a clavar la aguja en el punto exacto donde está la hebra enganchada y desliza la aguja hacia el revés de la tela.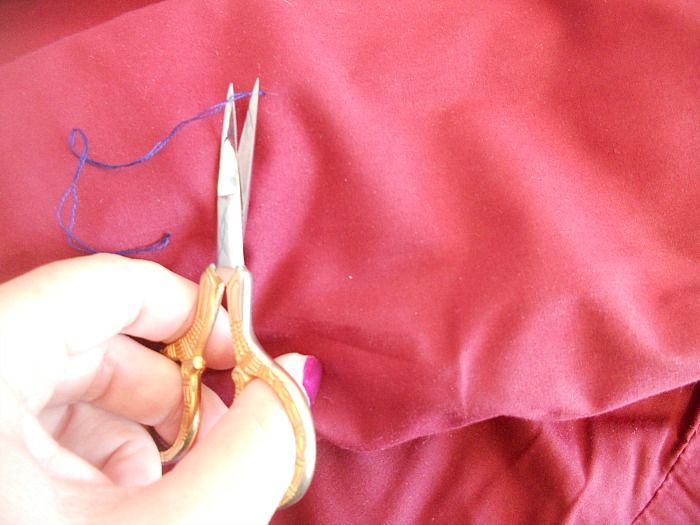 Carefully flip the garment on the wrong side, in the place where you stuck the needle, cut the needle thread, but leave a small piece of thread, do not cut it too close to the garment.
Con cuidado, dale la vuelta a la prenda por el revés , en el sitio donde has clavado la aguja, corta la hebra de hilo de la aguja, pero deja un trocito de hilo, no cortes demasiado cerca de la prenda.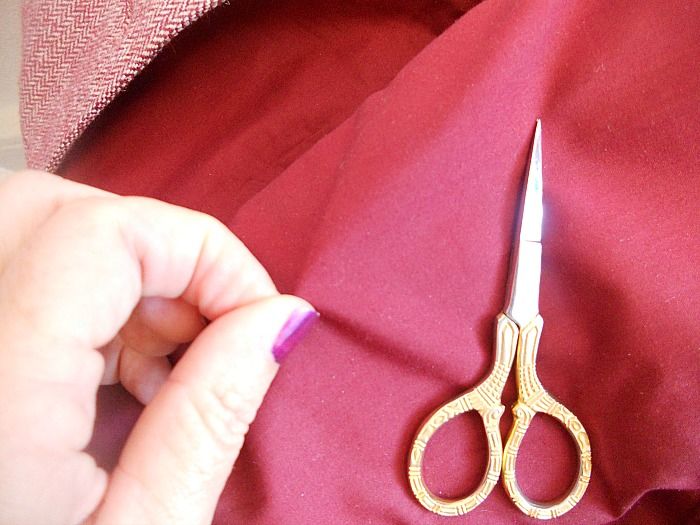 In the first picture you can see there is a small piece of thread sticking out of the garment, all you have to do now is to separate the lining of the garment a bit, stretching it towards you and the thread disappears between the two layers of fabric .. . quickly and easily without damaging the garment.
En la primera foto puedes ver que hay un trocito pequeño de hilo que sobresale de la prenda, lo único que debes hacer ahora es separar el forro de la prenda un poco estirándolo hacia tí y la hebra que has cortado desaparece entre las dos capas de tela... rápido y sencillo, sin dañar la prenda.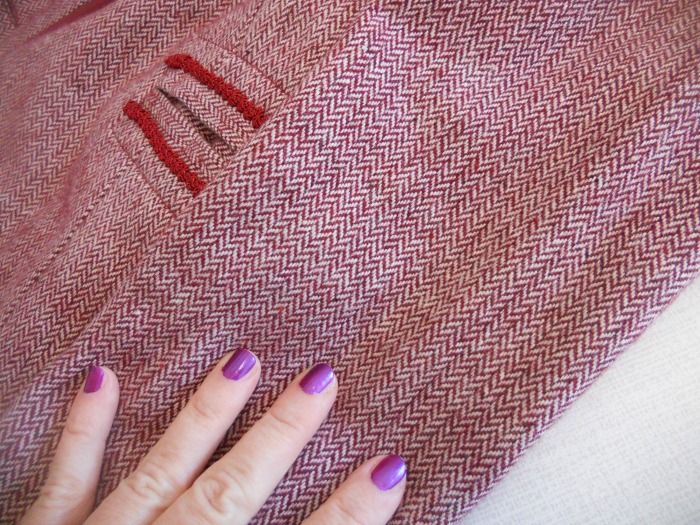 If you find the garment need it, you can iron gently where was the thread to stabilize the area.
And that's it! I hope it serves you if something happens to you as well ... many times this situation is inevitable and better to have the solution at hand is time.
I love to pamper my clothes ...
Si ves que la prenda lo necesita, puedes planchar suavemente donde antes estaba la hebra para estabilizar la zona.
Y ya está!! Espero que te sirva si te sucede alguna cosa así... muchas veces esta situación es inevitable y mejor tener la solución a mano llegado el momento.
Me gusta mimar mis prendas de ropa...