A quick post today ... only to tell you that I've gotten in a while carry forward in my pile of garments to remodel these pants, it had been waiting for something like a year ... of those projects that you decide to give it a new look and you put it on the waiting list ... As always happens, something that may take little bit time to become waits so long, and when finally you do it, ask yourself why you waited so long to give the green light ... Isn´t it truth?
Un post rápido hoy... solamente para contarte que he conseguido en un ratito llevar adelante , en mi pila de prendas para remodelar este pantalón que llevaba esperando algo así como un año... de esos proyectos que un día decides darle un cambio de look y lo colocas en lista de espera... siempre nos pasa que algo que puede tardar en hacerse un ratillo de nada se queda esperando tanto tiempo, y cuando por fin , lo haces te preguntas porqué diantres has tardado tanto en darle luz verde ... Verdad?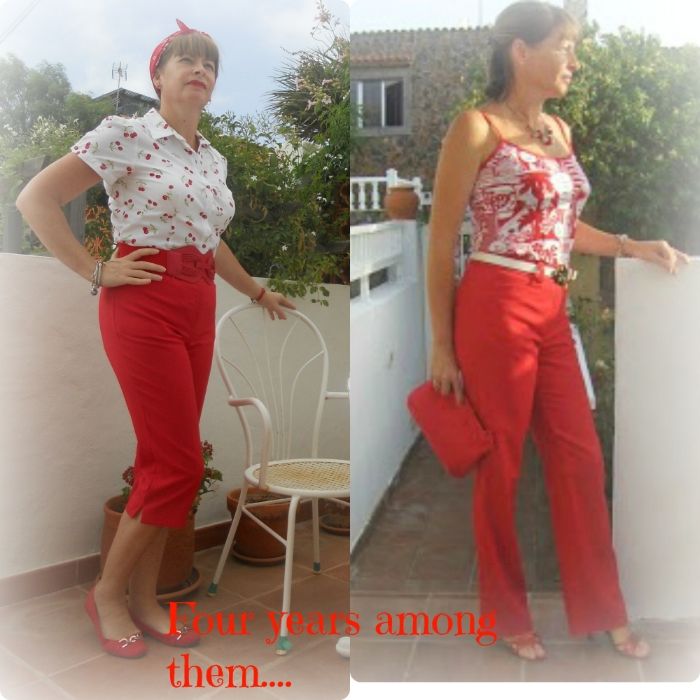 Yes, there are four years between these two pictures ... some wrinkles and a bigger size including both ...
I made these pants in 2009, and I was happy to have red pants in my closet, but there came a time when the pants were tight for me, (Oh, how sad is that ... sigh).
so it was left pending get some slack in the side seams and shorten the leg to turn it on "capri" and get more wear it in summer.
Si, hay cuatro años entre estas dos fotos... algunas arrugas y una talla más grande entre ellas dos...
Hice este pantalón en el 2009
, y yo estaba feliz de tener un pantalón rojo en mi armario, pero llegó un momento en que el pantalón no me entraba, (yo estoy a punto de llorar...) así que se quedó en espera de sacarle un poco en las costuras laterales y acortar la pernera para convertirlo en capri y así conseguirle más uso en verano.
The pants and was nice before, but now I certainly will give it more use, especially with this shirt of cherries that I kept in the wardrobe for a long time in the absence of a partner to go out. I love the cherry print! ...
El pantalón ya era bonito antes, pero sin duda ahora le daré más uso, sobretodo con esta camisa de cerezas que guardaba en el armario durante mucho tiempo a falta de un compañero para salir a la calle. Me encanta el estampado de cerezas, no puedo evitarlo...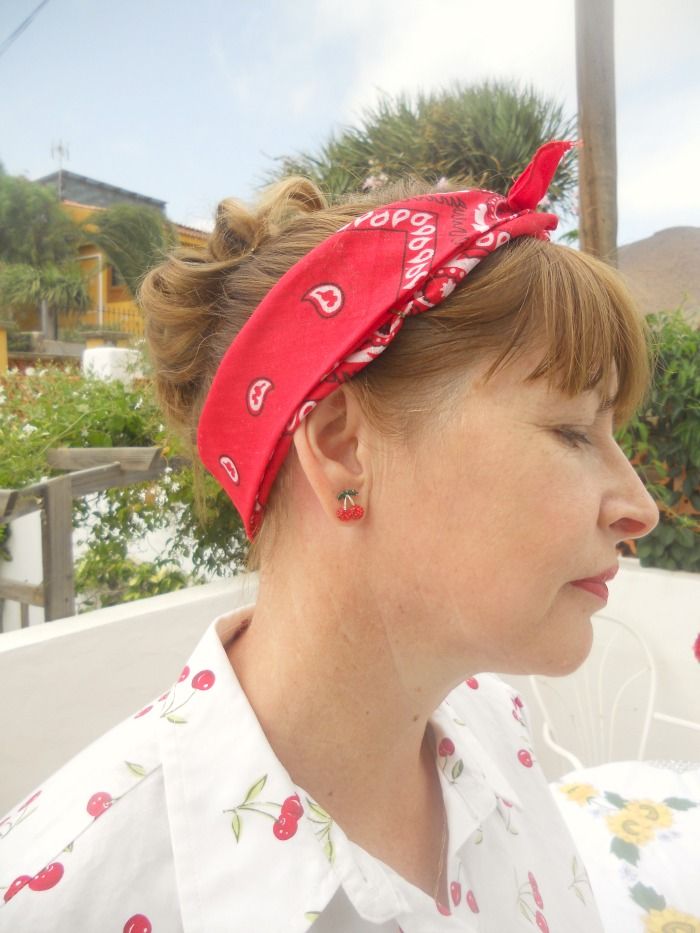 Cherries, red capris and a headband for hair ... a good match, is not it?
Cerezas, capris rojos y una bandana para el cabello... un buen equipo, no creen?