If you are one of those person that think they will never win anything in games of chance and giveaways, listen to me ....
I also thought the same until now, even though I pointed to the giveaways that were made on the net, I won anything.
But my luck changed ... from some time ago I followed a blog that gave fully in my heart for the particular style of the girl who is behind it. A bold blog of a girl with garments and colors she wears so original, I assure you thather outfits are a sweet goodie to the eye, I'm talking about Rebecca! If you don´t know her I'll give you two strong reasons for you to visit and follow in her lively looks with the most original accessories that you can find on the blogs, the first reason is obviously enjoying her outfits and second reason is that every month she does a giveaway on her blog. Powerful reasons, right??
Si eres de las que piensan que nunca ganas nada en juegos de azar y sorteos, escúchame....
Yo también pensaba lo mismo hasta ahora, por más que me apuntaba a los sorteos que se hacían por la red, no había forma de que me tocara nada.
Pero mi suerte cambió... desde hacía algún tiempo yo seguía un blog que me dió de lleno en mi corazón por el estilo tan particular de la chica que está detrás de él. Un blog de una chica audaz con los colores y con las prendas tan originales que usa, te aseguro que sus outfits son un dulce regalo para la vista,
te estoy hablando de Rebecca!!
Si no la conoces, yo te voy a dar dos poderosas razones para que la visites y la sigas en sus animados looks con los complementos más originales que puedes encontrar en los blogs, la primera razón es obviamente, disfrutar de sus looks y la segunda razón es que cada mes hace un sorteo en su blog. Poderosas razones, verdad??
So I'm the lucky winner of the giveaway of last September! I could not believe my luck when Rebecca emailed me to confirm it! My happiness was really great when the postman brought a package with this beautiful shapewear that makes a lot of wonders for a body that is far removed from the ideal measures, it´s comfortable and fully meets all these unwanted "rolls" that come out in the areas of our body. And so you can check it with your eyes, I photographed the two forms, the first photo shows a look without the shapewear that I would be unable to look it on the street, you can see perfectly that my waist is not defined, I would almost say that the three contours of my body are exactly the same measures ...
Así que resulta que yo soy la feliz ganadora de su sorteo del pasado mes de Septiembre!
! No podía creer mi suerte cuando Rebecca me envió un email para confirmarlo!! Mi felicidad fué realmente grande cuando el cartero trajo un paquete con esta preciosa faja que hace bastantes maravillas para un cuerpo que se aleja bastante de las medidas ideales, es cómoda y recoge perfectamente todos esos chichoncitos que nos van saliendo en las zonas del cuerpo más indeseadas. Y para que puedas comprobarlo con tus ojos, me he fotografiado de las dos formas, la primera foto muestra un look sin la faja que yo sería incapaz de lucir en la calle, puedes ver perfectamente que mi cintura no está definida, casi diría que los tres contornos de mi cuerpo miden exactamente lo mismo...
In the second photo, I'm wearing the same clothes and shapewear, the outline of my silhouette is more defined
En la segunda foto, yo estoy usando la faja con la misma ropa, el contorno de la silueta es más definido
So from here, I thank my dear Rebecca for making me the lucky winner of this body shaper so comfortable and you know that the next one could be you, it's so easy!!
And now let me share a photo showing the fight between the wind and I to get some decent photos to illustrate this post. The wind rebelled and there was no way to maintain composure and decency with my skirt, this was the dominant trend in almost all the photos.
Así que desde aquí, doy las gracias
a mi querida Rebecca
por hacerme la feliz ganadora de esta faja tan cómoda y ya sabes que la próxima puedes ser tú, es tan fácil!!
Y ahora déjame compartir una foto que muestra la pelea que tuve con el viento para poder obtener algunas fotos decentes para ilustrar este post. El viento se rebelaba y no había forma de mantener la compostura y la decencia con mi falda, esta fué la tónica dominante en casi todas las fotos.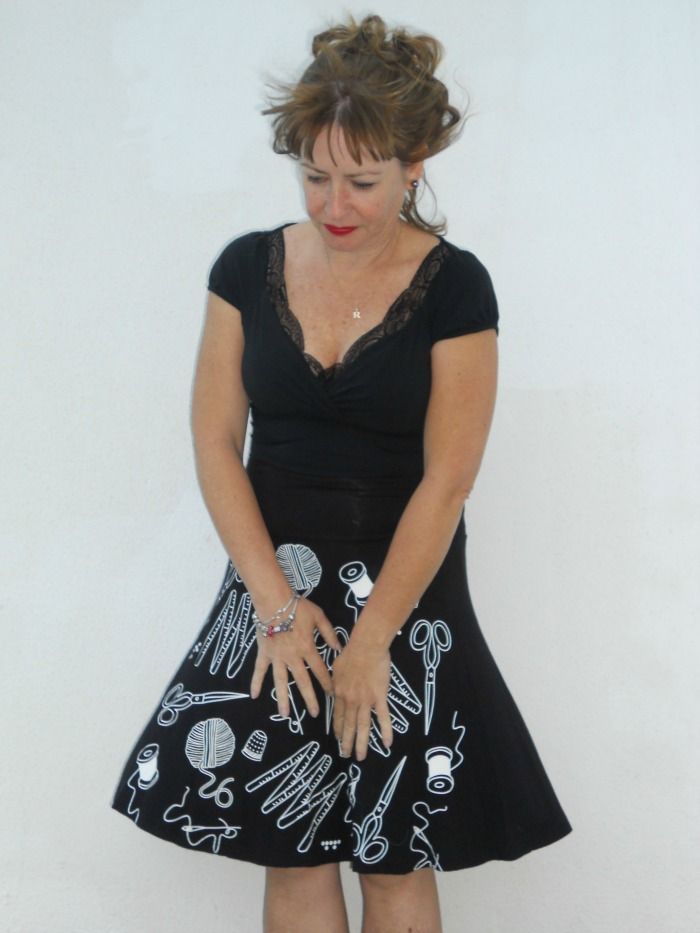 And you, Do you have been winning something ever?? What is the strangest or funny thing you've ever won?
Y tú, has sido ganadora alguna vez en algo?? Cual es la cosa más extraña o divertida que has ganado nunca?