Long time no upload anything here, but it has not been downtime ... On the contrary, the real-life occupations have been imposed on blogger life, but I'm not complaining ... I think rather, I am totally delighted with all these occupations.
For a long time I had in mind to sew a petticoat for my dresses, I've always been put off it because really, sew a project petticoat is boring ... but as necessary as you look like circular skirts dresses.
I decided it was time to have one in my closet, so I looked around the white tulle available in my sewing cave and then sew one for me, there is still enough tulle to sew another one ... I'm thinking maybe it's time for a gift in this blog .... Stay alert ....
Tanto tiempo sin subir nada aquí, pero no ha sido inactividad... al contrario, las ocupaciones de la vida real se han impuesto ante la vida blogger, aunque no me estoy quejando... creo que más bien, estoy totalmente encantada con todas esas ocupaciones.
Desde hace mucho tiempo tenía en mente volver a coser un petticoat para mis vestidos, siempre lo he ido postergando porque realmente, coser un petticoat es un proyecto aburrido... pero tan necesario cuanto te gusta lucir los vestidos de faldas circulares.
Decidí que ya era hora de tener uno más en mi armario, así que busqué todo el tul blanco disponible en mi sewing-cueva y después de coser uno para mi, aún queda suficiente tul para coser otro más... se me está ocurriendo que quizá es tiempo de un regalo en este blog.... Estate atenta....
There is something magical in the soft rustling of a petticoat ... you can see the difference in the same garment in the first photo without petticoat and in the second picture with it on ... words are unnecessary ...
Hay algo mágico en el suave fru-frú de un petticoat... puedes ver la diferencia de la misma prenda en la primera foto sin petticoat y en la segunda foto con él puesto... sobran las palabras...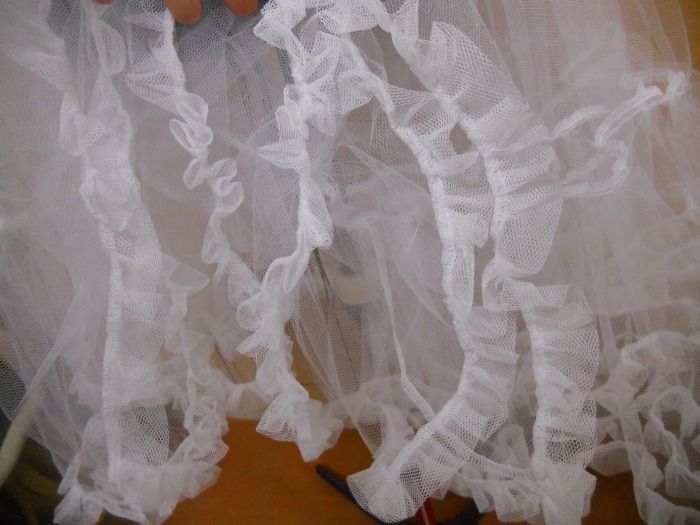 Do you want to have one like this? I will give you full details on how to get it coming soon, for now do not forget to enjoy the week and what is coming around here, this Friday will be the next Share in Style with the theme "Autumn" , Will be you participating with us??
Te apetece ganar uno como este? Dentro de unos días te daré todos los detalles sobre como conseguirlo, por ahora no te olvides de disfrutar de la semana y lo que se avecina por aquí, este próximo viernes será el siguiente Share in Style con el tema "Otoño" , estarás participando con nosotras??