Not really much to say about this dress, but it's so sweet that even though initially I thought of calling it "Eternal Spring", I've finally decided to call it "Cotton Candy" honoring its owner, our Pink Lady par excellence .
Only was missing to show the dress with sleeves and put some more details ... as I had previously called "the final touch" ...
En realidad no queda mucho por decir de este vestido, solamente que es tan dulce que aunque en un primer momento pensé en llamarlo "Eterna Primavera", finalmente he decidido llamarlo "Algodón de Azúcar" haciendo honor a su dueña,
nuestra Pink Lady por excelencia.
Solamente faltaba por mostrar el vestido con las mangas puestas y algunos detalles más... como el que yo había llamado anteriormente "el toque final"...
The final touch was two butterflies manually embroidered on organza with the most treasured machine in my sewing cave (video down). Absolutely everything about this dress is handmade, from sewing, painting and embroidery.
El toque final lo pusieron dos mariposas de organdí bordadas manualmente con la máquina más atesorada que hay en mi sewing-cueva (video abajo). Absolutamente todo en este vestido está hecho a mano, desde la costura, la pintura y el bordado.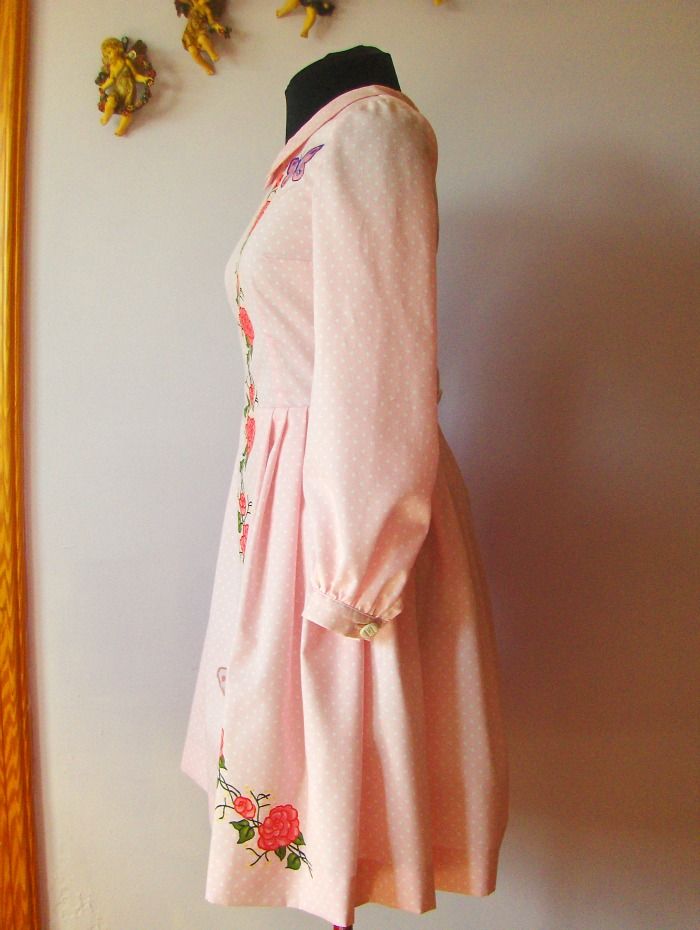 And as always, it's completely lined, except for the sleeves, although there are other details that I would like to highlight ...
.
Y como siempre , completamente forrado, a excepción de las mangas, aunque hay otro detalle que me gustaría poner en relieve....
Another delicate touches of this dress is that it is completely closed at the back with buttons, choice of its owner, so as always I am doing a new garment, not just think about the time of sewing the dress, but I think it's a dress for an adult and the likelihood of it catching a button or lost it in the area from waist down would be something really scary, I mentally put myself in the situation and then looked for a solution ... on the skirt I left a generous piece from the buttons down, so if at any time this happens, the decency of this area would be completely safe, don´t show any skin there.
Otro de los toques delicados de este vestido es que está completamente cerrado a la espalda con botones, elección
de su dueña
, así que como pasa siempre que estoy haciendo una nueva prenda, no solamente pienso en el momento de coser el vestido, sino que se me ocurre que es un vestido para una persona adulta y la probabilidad de que se enganche un botón o se pierda en la zona desde cintura hacia abajo sería algo realmente aterrador, yo me pongo en la situación mentalmente y enseguida busqué una solución... en la parte de la falda he dejado un trozo generoso desde los botones hacia adentro , así si en algún momento sucediera esto, la decencia de esta zona estaría completamente a salvo, no se mostraría nada de piel ahí.
And only as a curiosity, I improvised a little video that shows you some idea of how it embroidered on an old machine manually, the kind of sewing machine that we all have at home of our mothers and grandmothers ... just go down the conveyor teeth, remove presser foot, place the fabric in a embroidery hoop and with some practice sticking the needle go where it suits us better for doing embroidery, I mean ... we move the fabric and machine needle just sticks over and over where we want ... although I have to confess that some years ago as I didn´t embroidery with the sewing machine, so I had to practice a bit before, that's the reason that when recording the video there are some irregular butterflies on the fabric .
Y solamente como curiosidad final he improvisado un pequeño vídeo que te muestra una ligera idea de como se puede bordar manualmente en una máquina antígua, de esas que todas tenemos en casa de nuestras madres o abuelas... solamente hay que bajar los dientes transportadores, eliminar el pié prensatelas, colocar la tela en un aro de bordar y con un poco de práctica ir clavando la aguja donde nos convenga mejor para hacer un bordado, es decir... nosotras movemos la tela y la aguja de la máquina simplemente clava una y otra vez donde nosotras queremos... aunque tengo que confesar que hacía algunos años ya que no bordaba con la máquina, así que tuve que practicar un poco antes de comenzar, esa es la razón de que cuando se graba el video ya hay algunas mariposas bastante irregulares en la tela.
I also made a fascinator to matching with the dress, all Elena´s dresses always take a matching fascinator, it's a tradition we have shared since the second dress I made to her, and the tradition is that although I send she photos of her dress during the process and when it´s finished but the fascinator is always a little surprise, so this time no photos for this, because the package is on the way to her house and put pictures here would spoil the surprise.
So fascinator photos will have to wait ...
And you, do you like surprises?
También hice un tocado a juego con el vestido,
todos los vestidos de Elena
siempre llevan su tocado a juego, es una especie de tradición que hemos compartido desde el segundo vestido que le hice, y la tradición consiste en que aunque yo le envío fotos del vestido durante el proceso y cuando está acabado, el tocado siempre es una pequeña sorpresa, así que esta vez no hay fotos de esto, porque el paquete está en camino hacia su casa y poner fotos aquí sería estropear la sorpresa.
Así que las fotos del tocado tendrán que esperar...
Y a tí, te gustan las sorpresas??