No doubt, Halloween is one of my favorite holidays ... knowing that it isn´t very popular in Spain, where it is still hard living tradition of chestnut and go to the cemetery to visit loved ones who are no longer among us ... honestly, I think that the two celebrations can co-exist peacefully and in harmony.
Since a few years ago I've always wanted to hold a small family dinner for the occasion and it always has been delayed for various reasons, this time however, I was determined to celebrate a little creepy and fun food with family ... . and I got it ...
Sin duda , Halloween es una de mis fiestas preferidas... aún sabiendo que no es muy popular en España, donde todavía se vive con fuerza la tradición de la castañada y el ir al cementerio a visitar a los seres queridos que ya no están entre nosotros... sinceramente, yo creo que las dos celebraciones pueden co-existir pacíficamente y en armonía.
Desde hace algunos años atrás siempre he querido celebrar una pequeña comida familiar con este motivo y siempre se ha ido postergando por diversos motivos, esta vez sin embargo, yo estaba decidida a celebrar un poco de comida horripilante y divertida con la familia.... y lo conseguí...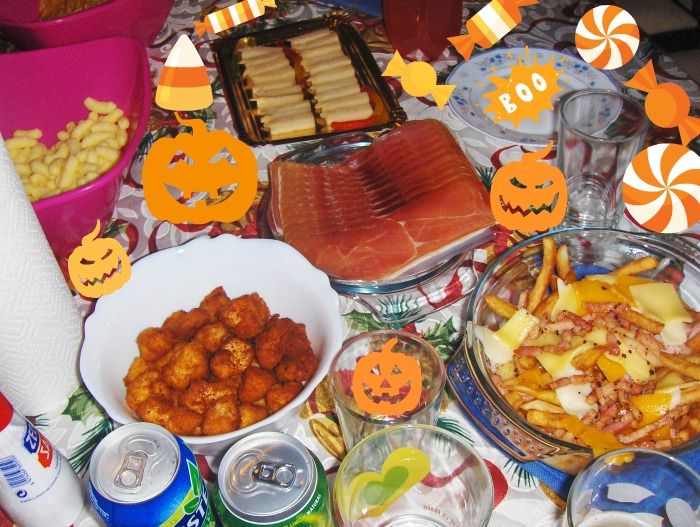 I had no time to take decent photos because I got into the kitchen at half past five p.m. thinking it would give me much time ... the reality is that we sit at the table about ten in the evening and all that time I was working, so my idea of ​​preparing a improvised costume at the end of the night had to forget for lack of time.
No tuve tiempo de sacar fotos decentes, porque me metí en la cocina a las cinco y media de la tarde pensando que me daría tiempo de mucho... la realidad es que nos sentamos a la mesa sobre las diez de la noche y estuve todo ese tiempo trabajando, así que mi idea de preparar algún disfraz improvisado al final de la noche se tuvo que olvidar por falta de tiempo.
Although I asked for help I give a little spooky atmosphere to the house, I have to admit that the whole family got involved and enjoyed putting spiders, skeletons and other decor for the home ...
Aunque si que pedí ayuda para dar un poco de ambientación fantasmagórica a la casa, tengo que admitir que toda la familia se involucró y se lo pasaron de miedo colocando arañas, esqueletos y demás decoración por la casa...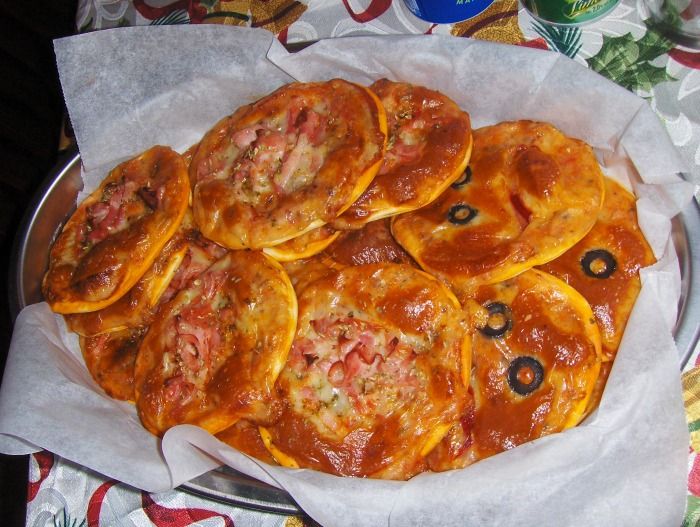 I prepared some mini-pizzas with ghostly face shape, but these are precisely those that were underneath, so no time to get decent pictures of them ...
Preparé algunas minipizzas con forma de cara fantasmal, pero estas son justamente las que quedaron debajo, así que no hubo tiempo para obtener fotos decentes de ellas...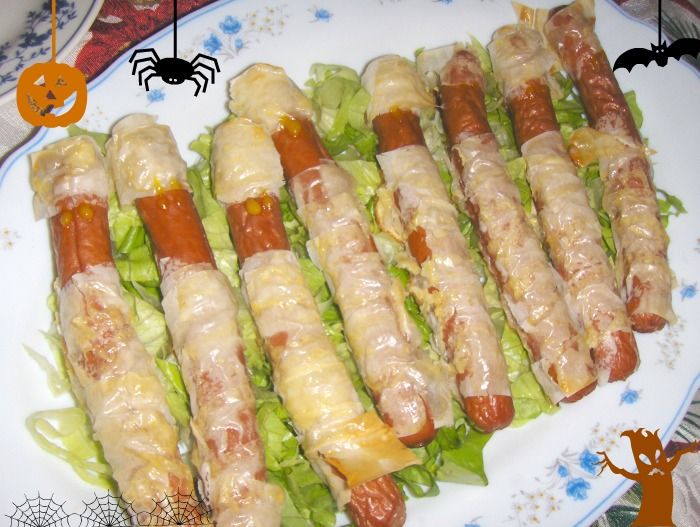 Pinterest was of great help to prepare some food inspiration acclimated with the night, like these sausage-mummies ...
And the ghostly fingers of cheese that is in the photo below, among other things ....
Pinterest
fué de gran ayuda para la inspiración de preparar algunos alimentos acordes con la noche, como estas salchichas- momias...
Y los fantasmagóricos dedos de queso que hay en la foto de abajo, entre otras cosas ....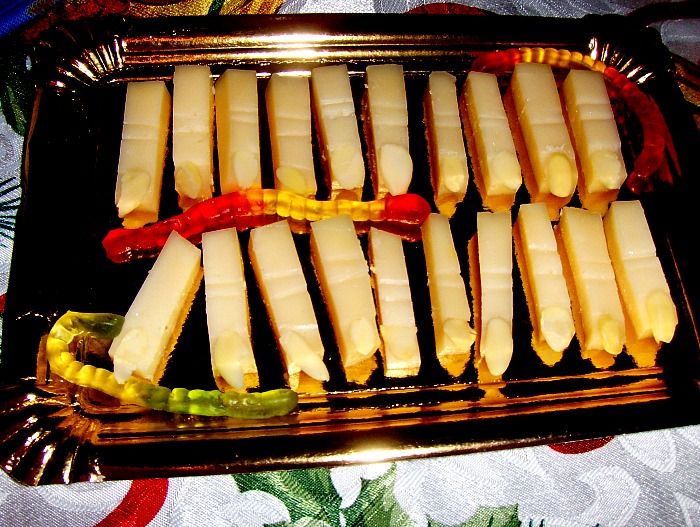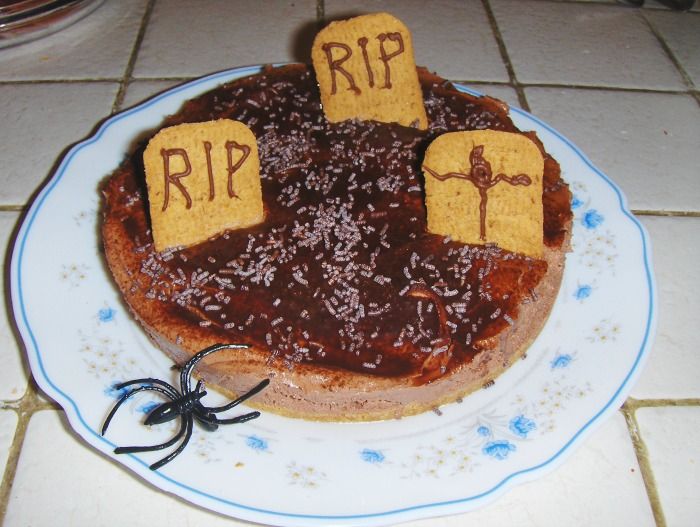 Although I admit that the most fun was devising cold chocolate cake for dessert ... a sweet cemetery ...
Aunque yo admito que lo más divertido fué idear la tarta fría de chocolate para el postre... nada más apropiado que un cementerio dulce...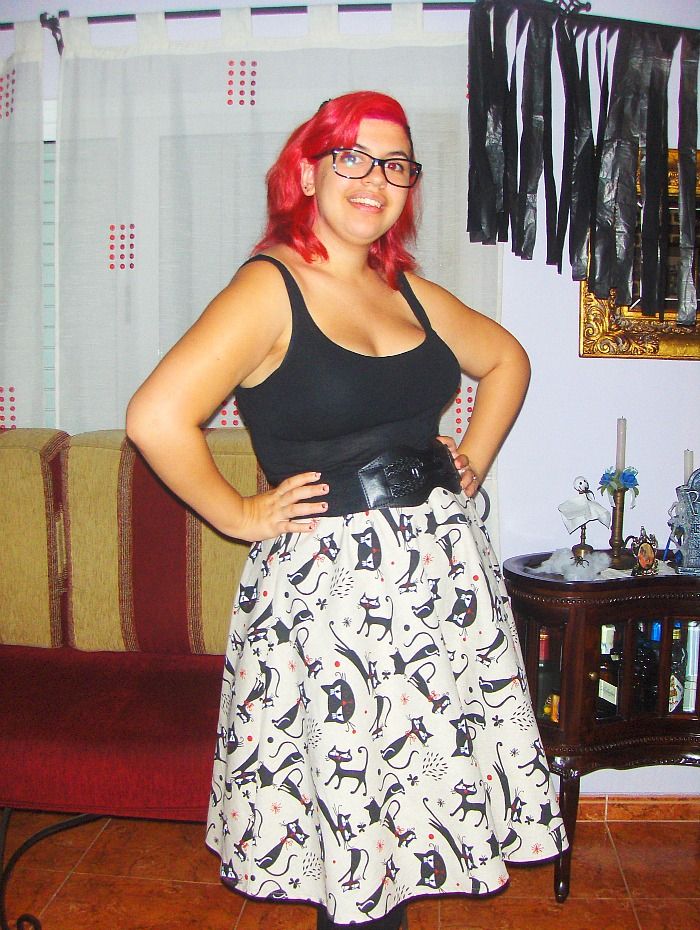 And although I did not wear anything appropriate in the night for lack of time, Eli surprised everyone when she appeared dressed in this fun black cats skirt that she had sewn for the occasion, it was fun!
Although I had been preparing a tray of candies and goodies for kids to propose if they came trick or treating, nobody showed up ... Halloween isn´t deeply rooted here yet ...
No doubt, next year I will prepare it with more time, because it was a family night and fun, we enjoyed dinner and enjoyed the film chosen for the occasion "Young Frankenstein", laughs guaranteed!
And you ... Do you enjoy Halloween with family or you will have more fun out in disguise?
Y aunque yo no tuve tiempo de vestir nada apropiado para la noche por falta de tiempo, Eli nos sorprendió a todos cuando apareció vestida con esta divertida falda de gatos negros que ella misma había cosido para la ocasión, fué muy divertido!
Aunque había estado preparando una bandeja con golosinas y chucherías por si venían críos a proponer truco o trato, nadie apareció... Halloween no está muy arraigado aquí todavía...
Sin duda, el próximo año lo voy a preparar con más tiempo, porque fué una noche familiar y divertida, disfrutamos de la cena y disfrutamos de la película elegida para la ocasión
"El jovencito Frankenstein"
, risas aseguradas!
Y tú... disfrutas de Halloween también en familia o te divierte más salir disfrazado?