Yay!!! , it´s as nice as it looks in the pics ... I absolutely in love with this dress ! I have advanced a bit in the finish, because the process of painting the bouquet of roses has been slow,I give several layers of paint and go left to dry completely between layer and layer.
First the base paint and then gradually add shadows and tweaks to give the appearance of depth in the flowers and leaves, but it worth watching as the drawing evolves.
You can see how I have not followed all the way to the original dress (here), but I've taken the main idea to give it a sinuous curve at the end of the hem of the dress, I found it so romantic.
Si, es tan bonito como parece en las fotos... este vestido me tiene completamente enamorada!! He avanzado un poco en su acabado, porque el proceso de pintar la enredadera de rosas ha sido lento , hay que dar varias capas de pintura e ir dejando secar completamente entre capa y capa.
Primero la pintura de base y luego ir añadiendo sombras y retoques para dar aspecto de profundidad en las flores y las hojas, pero vale la pena ver como el dibujo va evolucionando.
Puedes ver como no he seguido
para nada la forma del vestido original (aquí)
, solamente he tomado la idea principal para darle una curva sinuosa al final del bajo del vestido, me pareció más romántico así.
There is something that perfectly distinguishes a dress hand-painted of a industrially printed dress, and it´s that in the industrial form, the pattern repeats constantly, however, when we paint hand we realize that flowers aren´t really equal to each other
, although from afar they may seem, each one is unique and has its own lines.
Another feature is that the drawing is continuous at the seam that divides the waist... in the original dress, drawing is interrupted because flowers was in the fabric before cutting out the pattern pieces.
Hay algo que distingue perfectamente un vestido pintado a mano de un vestido imprimido industrialmente, y es que en la forma industrial el dibujo se repite constantemente, sin embargo, cuando pintamos a mano nos damos cuenta que realmente no hay dos flores exactamente iguales, aunque de lejos lo parezca, cada una es única y tiene sus propios trazos.
Otra característica es que el dibujo es contínuo en la costura que divide la cintura, en el vestido original, el dibujo es interrumpido porque ya estaba en la tela antes de cortar las piezas del patrón.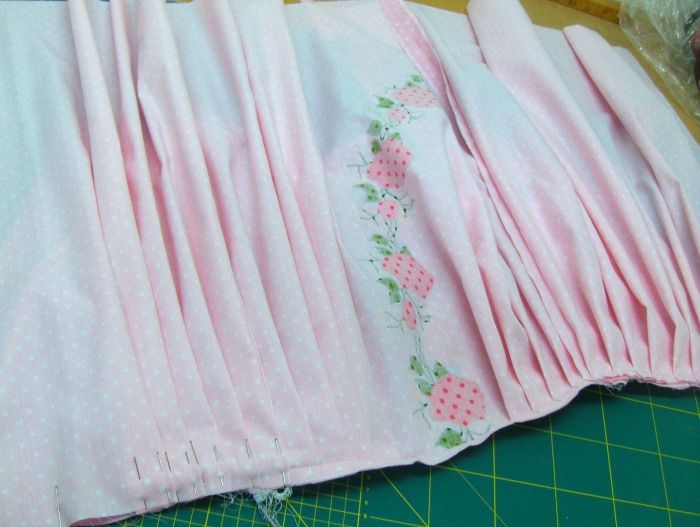 There is a very funny effect on the wrong side of the fabric where the flowers have been painted!
The continuity of the string of flowers from shoulder to hem imposed in the front center of the skirt is a piece without folds, to allow the flowers to continue its way to the hem ... the folds of the skirt starts from the darts of the bodice to the back.
Hay un efecto muy divertido en el revés de la tela por donde se han pintado las flores!!
La continuidad de la ristra de flores desde el hombro hasta el dobladillo impone que en el centro delantero de la falda hay un trozo sin pliegues, para permitir que las flores sigan su camino hacia el dobladillo... los pliegues de la falda comienzan desde las pinzas del cuerpo hacia la espalda .
Of course, the dress will fully lined, I'm in the process yet and missing the beautiful sleeves that will give a look completely different to dress ....
Por supuesto, el vestido irá completamente forrado, estoy en proceso de esto todavía y faltan las preciosas mangas que darán un aspecto totalmente distinto al vestido....
Although the final effect is another detail that is still under construction, it will be the finishing touch of the dress!

But that's Top Secret for now ....
Aunque el efecto final será otro detalle que está todavía en proceso de construcción, será el broche final del vestido!!
Pero eso es Top Secret por ahora....