And there comes a new Share in Style with this blog ... honoring the theme chosen for this occasion, can you guess where the wind took me for taking pictures???
Y llega un nuevo Share in Style a este blog... haciendo honor al tema elegido para esta ocasión, puedes adivinar dondé me llevó el viento para hacer las fotos???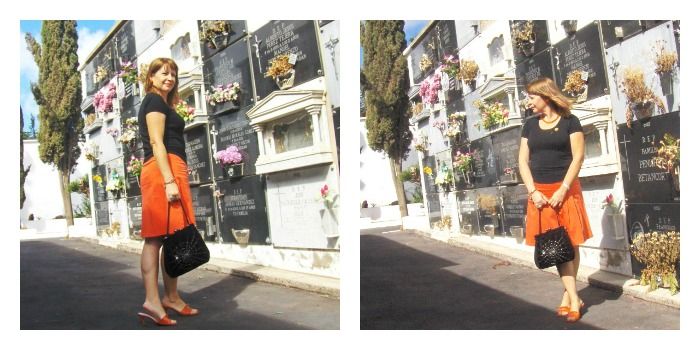 Today theme is orange / Halloween and I've decided to do a combo of both, this time I don´t wear clothes sewn by me (weird strange ....) and I let this bag I sewed two years ago to the same dates ,as the center of attention of my look. The earrings are a DIY that I made two years ago too.
El tema de hoy es naranja/Halloween y yo he decidido hacer un combo de las dos cosas, esta vez no llevo ropa cosida por mi (raro, raro....)
y he dejado que este bolso que cosí hace dos años
para estas mismas fechas sea el centro de atención de mi look.
Los pendientes
también son un DIY de hace dos años tambíén.
Since I was a little girl, cemeteries have been like a magnet to me ... they seem to me a magical and charming place, I know many people will disagree with me, like dark places ... but I can only feel its appeal, like going to visit a museum ... in a languid walk around the place I found things that caught my attention, from a very humble tomb delimited with wooden fences located very close to another one completely covered in marble and filled with offerings of flowers and fruit ... I´m intrigued think about the life those people resting there now.
Desde chiquitita, los cementerios han sido como un imán para mi... me parecen un sitio mágico y lleno de encanto, sé que habrá mucha gente en desacuerdo conmigo, que piensen que son lugares tenebrosos... pero yo solamente puedo sentir su atractivo, como ir a visitar un museo... en un lánguido paseo por el lugar he encontrado cosas que llamaron mi atención , desde una tumba muy humilde delimitada con vallas de madera hasta otra situada muy cerca completamente forrada de mármol y llena de ofrendas de flores y frutas... me intriga pensar en la vida que vivieron esas personas que descansan allí ahora.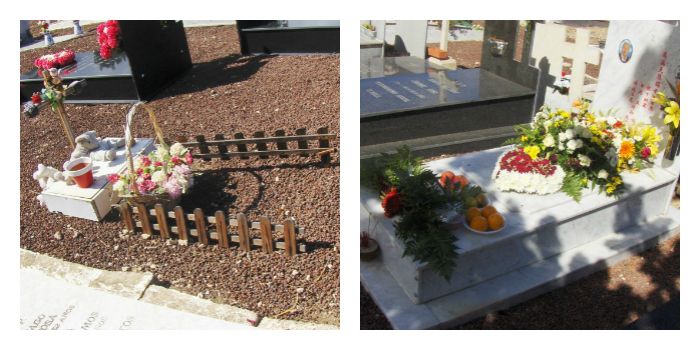 And in farewell, I could not resist a pic with phantasmagoric decorations to dismiss this Halloween, and don´t forget to leave the link to your post below, if your´e involved in this Share in Style, with Sacramento , Juan y yo .. .. I´ll love to see what it has gone out of your mind with this topic.
Y como despedida, no pude resistir la tentación de una foto con decorados fantasmagóricos para despedir este Halloween, y no te olvides de dejar el link de tu post aquí abajo, si estás participando en este Share in Style, junto a
Sacramento
,
Juan
y yo..... me encantará ver lo que ha salido de tu mente con este tema.