Yay ... it's my fault ... I'm bad ... I´m weak ...
I should be working on orders for my clients ... but surely you understand me when I tell you that I could not resist this combination of fabrics .... I know ... I´m weak.
Si... es culpa mía... soy mala... soy débil...
Debería estar trabajando en los pedidos de mis clientas... pero seguro que me entiendes cuando te digo que no pude resistirme a esta combinación de telas.... lo sé... soy débil.
I tried to pass my work, but these fabrics looked at me even when I was back to them ... and they whispered me, I resisted but they raised their voices and ended up calling my name, they had to come to my sewing table and they didn´t rest until it succeeds.
The soft colors of gingham fabric inspired me a dress with vintage look, with light and delicate lines, the color pink as pop was the perfect counterpoint ... so I looked in the most beautiful collection of vintage patterns I know, Wikia ... I was looking there something similar to what was around me mind until I found this image of a pattern of mid-50s, I printed the image and looked for a pattern I've used before to fit it to the image model.
Yo intentaba adelantar mi trabajo, pero las telas me miraban incluso cuando yo estaba de espalda a ellas... y me susurraban, yo me resistía pero ellas alzaban la voz y terminaron gritando mi nombre, tenían que venir a mi mesa de trabajo y no descansaron hasta conseguirlo.
Los suaves colores del vichy me inspiraban un vestido de aspecto vintage, con lineas suaves y delicadas, la estridencia ya la lleva incorporada el color rosa tan vivo... así que busqué en la más hermosa recopilación de patrones vintage que conozco,
Wikia..
. allí estuve buscando algo parecido a lo que me rondaba en la cabeza hasta que encontre
esta imagen de un patrón de mediados de los años 50s
, imprimí la imagen y busqué algún patrón de los que he usado antes para adaptarlo al modelo de la imagen.
I remembered this dress, the pattern has princess lines, I needed to add one and half centimeters along the front center to add buttons and buttonholes to it, and
the collar ... it was easy drawing a few inches here and a few lines there, once achieved the closest thing in my mind to the image of the pattern, only missing go to the fabric and cut it ...
Me acordé de este vestido
, el patrón ya tiene los costadillos franceses, necesité añadir un centímetro y medio en los cruces delanteros para los botones y ojales, ahora me faltaba conseguir el cuello... nada que no se pudiese lograr con unos centímetros aquí y unas lineas por allá, una vez conseguido lo más parecido en mi mente a la imagen del patrón, solamente quedaba ir a la tela y cortar...
The process is quite simple for get a lovely collar with the same technique of a tuxedo collar, sewing the center bonding of
pieces back collar and then join front shoulders pieces to the back shoulders stitching the collar piece to the back neckline.
It´s easier process to make if you give a small cut at the point where it joins the shoulder and back neckline, the next step is to incorporate the flap piece with interface . I've cut it in pink fabric.
El proceso es bastante sencillo para conseguir un cuello precioso, con la misma técnica de un cuello esmoquin, coser la unión de las piezas del cuello en la espalda y seguidamente unir los hombros de las piezas delanteras a la espalda cosiendo a la vez el cuello en la linea del escote de espalda.
Para que sea más fácil hay que dar un pequeño corte en el punto donde se unen el hombro y el escote de espalda, el siguiente paso es incorporar la pieza de solapa ya entretelada ,que yo he cortado en la tela rosa
To end the collar, It only lack inward tuck all the line of junction of the neckline with a blind stitch and the collar is finished ...
Para acabar con el cuello solamente falta remeter hacia adentro toda la linea de unión del cuello con una puntada invisible y el cuello va quedando así...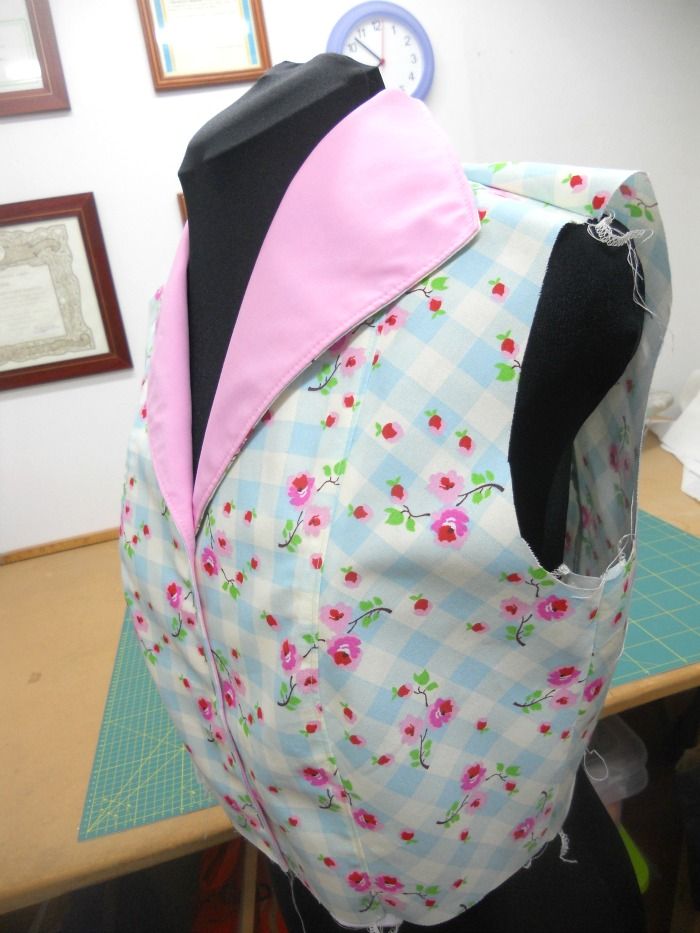 I played with the direction of plaids and lateral selvedges have placed diagonally to break the monotony of the rows of plaids ...
Well, now I'll be a good girl and continue with orders of my dear clients, now the fabric has stopped screaming me and I managed to calm them .... a bit of pampering can solved everything...
He jugado con la dirección de los cuadros y he colocado los costadillos en diagonal para romper la monotonía de las hileras de cuadros...
Bien, ahora voy a ser buena y seguir con los pedidos de mis queridas clientas, se podría decir que la tela ha dejado de gritarme y he logrado calmarla... si es que todo se puede solucionar con un poco de mimo..