This will be a very heavy, full of photos and details post because I have been unable to delete photos but I tried it when I was preparing this post.
And the dress is worth the effort!
It is a dress full of delicious details that make it an exaltation of romanticism, the opposite of what would normally be a Cowgirl dress, the contrast to the rudeness.
Esta vez me vas a permitir un post muy pesado, lleno de fotos y detalles, pero es que no he sido capaz de eliminar fotos por más que lo intentaba cuando estaba preparando este post.
Y es que el vestido lo merece!
Es un vestido lleno de deliciosos detalles que hacen de él una exaltación del romanticismo, el polo opuesto de lo que sería normalmente un vestido de Cowgirl, la contraposición a la rudeza.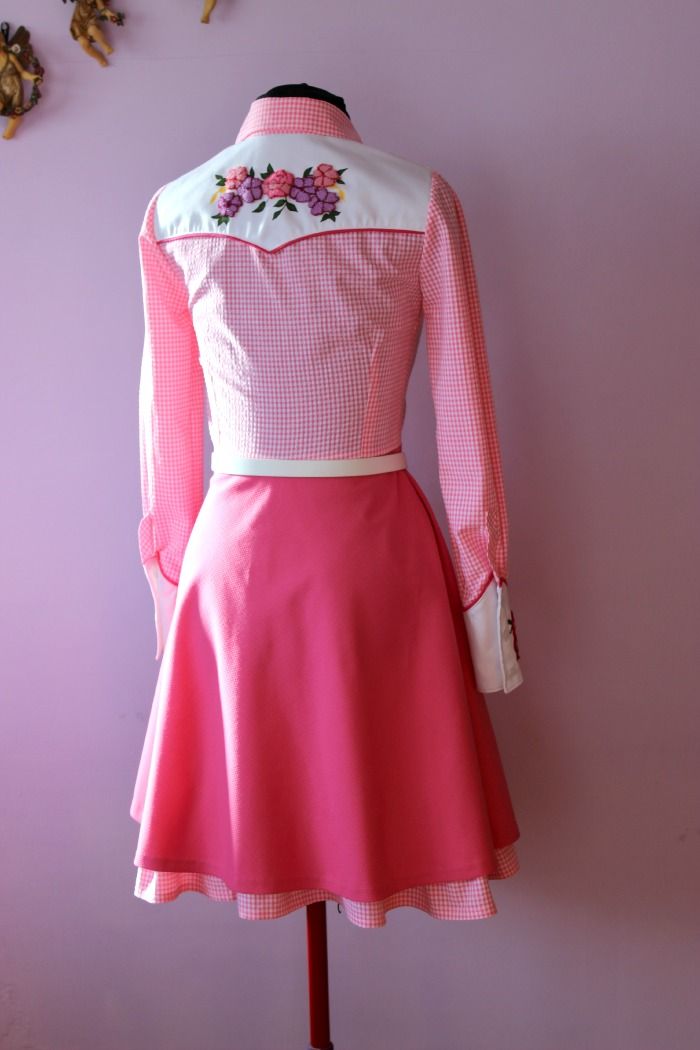 As in the past, this dress was born as a little fuzzy idea, in the beginning I thought I have seen precious few garments of this Cowgirl style transformed into a dress , I had seen them almost always as blouse and skirt, so I started develop the idea, from there, everything was a whirlwind of ideas and a combination of various techniques to achieve this end.
When my brain gave free rein to the imagination, there was such explosion of ideas that there is another dress sketch more, waiting to see the light.
Como muchas veces pasa, este vestido nació como una idea un poco difusa, en un principio se me ocurrió que pocas veces he visto una prenda de este estilo de Cowgirl transformada en vestido, casi siempre lo había visto como blusa y falda, así que comencé a desarrollar el boceto, a partir de ahí, todo fué una vorágine de ideas y una combinación de diversas técnicas para llegar a este final.
Cuando mi cerebro dió rienda suelta a la imaginación, hubo tal explosión de ideas que hay otro boceto de vestido más, esperando a ver la luz.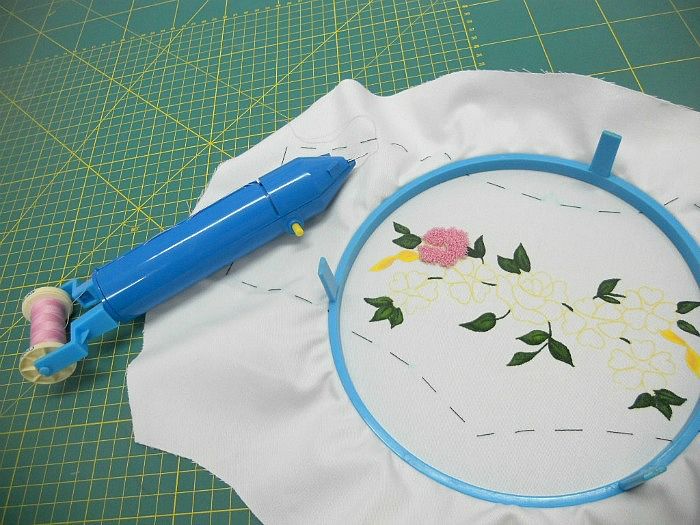 Since the beginning of this project, when the first layer of paint on the yoke of this dress was dried up..... I was beginning to love it.
Then came the Punch Needle
embroidery, made with an embroiderer pen that has faithfully served my sewing projects for 30 years now .... and I loved it even more.
Desde el comienzo de este proyecto
, cuando se secaban las primeras capas de pintura en el canesú de este vestido ... yo ya comenzaba a amarlo.
Después vino el bordado ruso , llevado a buen término con un bolígrafo bordador que ha servido fielmente en mis proyectos de costura desde hace 30 años ya .... y yo lo amaba más todavía.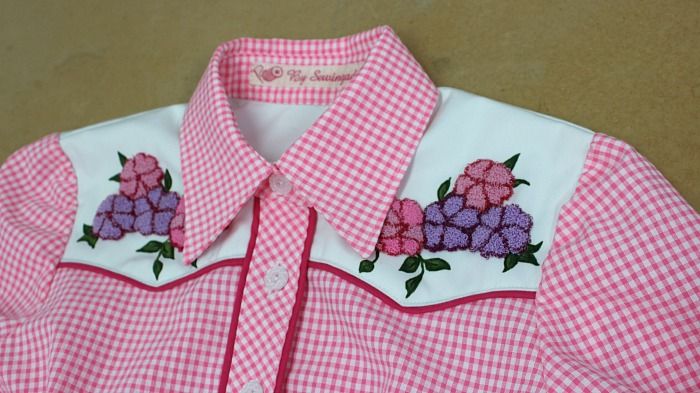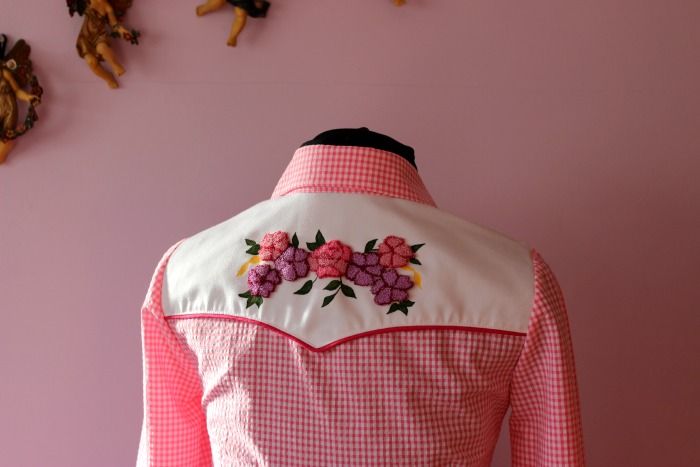 I want to repeat the same embroidery motif on the cuffs, all them topped with a hot pink piping to strengthen the separation between the white fabric (which serves as the setting for the embroidery) and the most exquisite seersucker and I've worked in many years, imitating gingam.
Did you know that "Seersucker" comes from Persian language and it means "milk and sugar"?
Yo quería repetir el mismo motivo en los puños, todo ello rematado con un cordoncillo de color rosa más oscuro para consolidar la separación entre la tela blanca, que sirve de escenario al bordado y el más exquisito seersucker que yo he trabajado en muchos años, imitando a cuadros Vichy.
Sabías que "Seersucker" viene del Persa y significa "leche y azúcar"?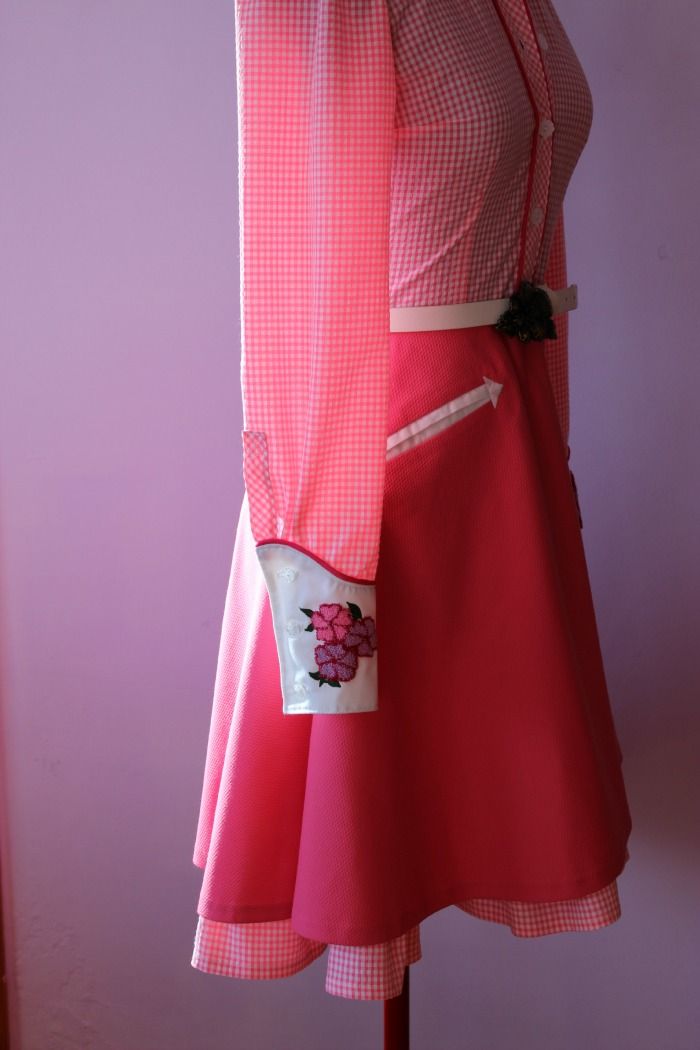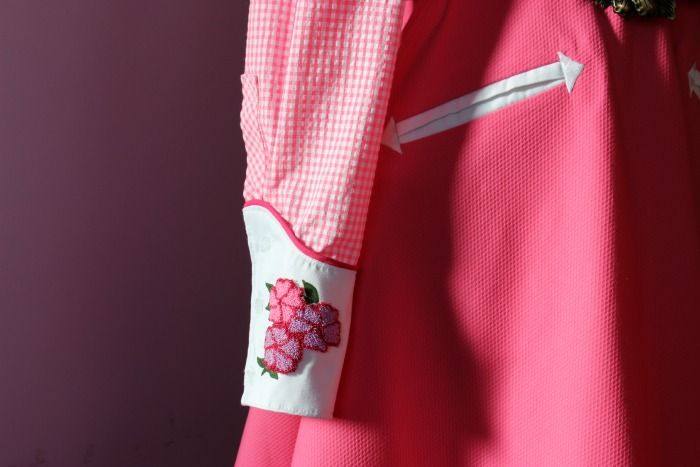 The skirt has double layer and the outer layer is cotton pique, to embroider arrowheads of pockets and for them being well defined with the texture of pique, I used the wrong side of the fabric, it´s much less structured than the right side. Arrowheads are embroidered with thick thread for sew jeans.
La falda es de doble capa y la capa exterior es piqué de algodón, para poder bordar los picos de flecha de los bolsillos y que quedasen bien delimitados y no se camuflaran con la textura del piqué, yo utilicé el lado del revés de la tela, mucho menos estructurada que el lado derecho. Las puntas de flecha están bordadas con hilo torzal.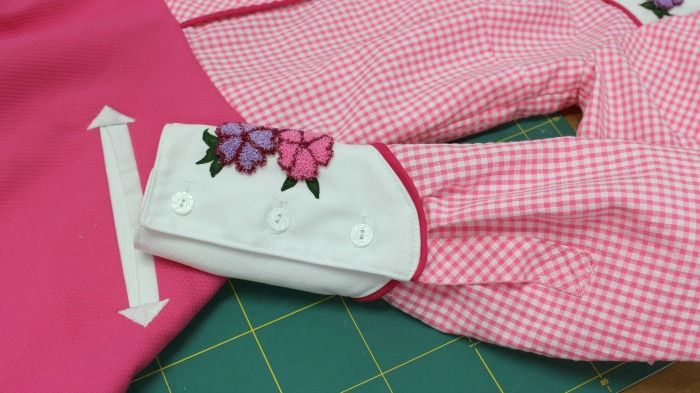 The inner layer skirt makes of petticoat for timid display a ruffle of the same Seersucker fabric of the bodice.
La capa interior de la falda hace de enagua para mostrar tímidamente un vuelo rizado de la misma tela de cuadros de la blusa.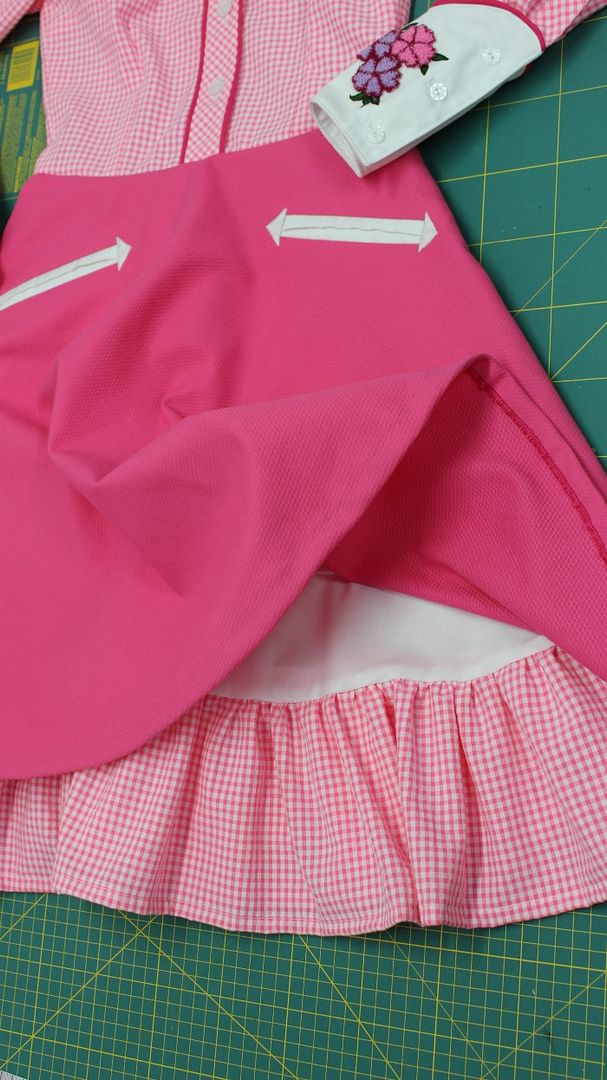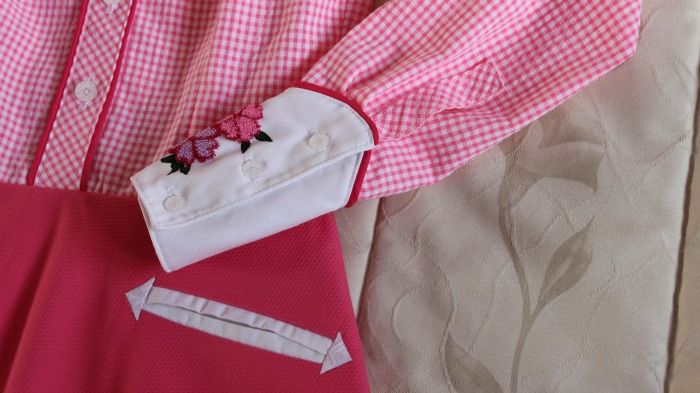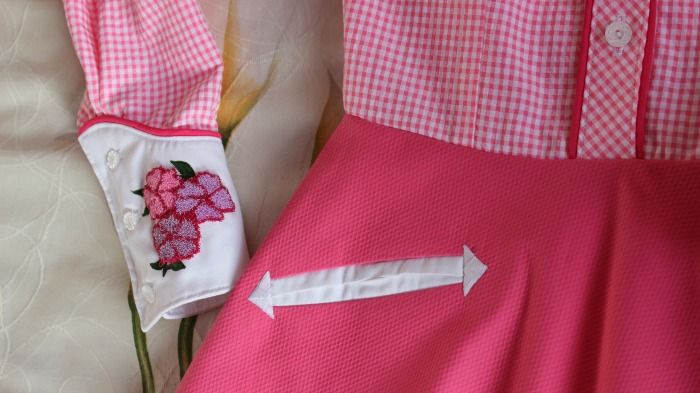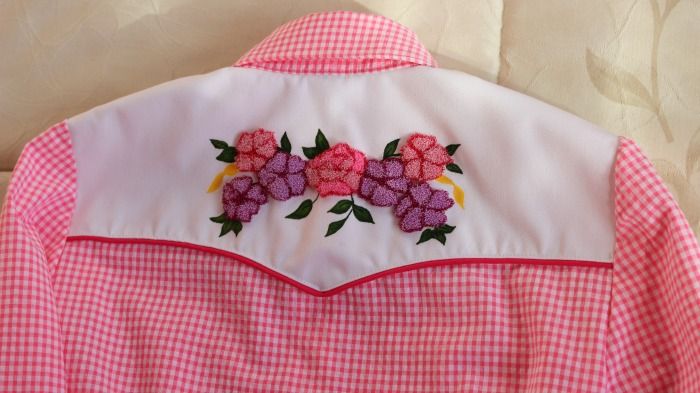 And may I repeat me constantly, but this dress has me hopelessly in love, it took many hours of work but of course it has much more visually compensation.
All of it is a feast of textures, colors, fabrics and sewing techniques, embroidery and fabric painting.
If you've reached the end of this post without yawning, my whole appreciation for you, I hope that the details have opened your sewing appetite if you like sew ...
And if you don´t like sewing , but equally you liked it, remember that you can order one with exclusive details for you in my Etsy shop.
Y puede que me repita constantemente, pero este vestido me tiene perdidamente enamorada, tomó muchas horas de trabajo, pero lógicamente tiene muchas más compensaciones visualmente.
Todo él es una fiesta de texturas, colores, tejidos y técnicas de costura, bordado y pintura textil.
Si has llegado al final de este post sin bostezar, todo mi reconocimiento para tí, espero que los detalles hayan abierto tu apetito de costura si te gusta coser...
Y si coser no es lo tuyo, pero igualmente te ha gustado, recuerda que puedes pedir uno con
detalles exclusivos para tí en mi tienda de Etsy.