It´s a fact!! I´m a very slow knitter ... started a knitting project and left it for several lapses of time ... I started this project here and I've finally finished it ... Ugh! A whole entire year to knit a sweater .... my excuse is that sewing is much faster than knitting, so I always end up sewing ... but the feeling obtained when I get to finish a beautiful sweater like this one is directly proportional to the time taken to its execution.
The pattern is from the 50s althought I made ​​some alterations to the original one, the pattern suggests the use of angora wool and I used cotton yarn to be able to wear it where I live due it´s a really hot climate.
I have also used a slightly thicker yarn than the original one, this is the reason why my "Migratory Birds" are a bit larger than the original size as well.
No te estoy contando nada nuevo si te digo que soy una tejedora muy lenta... pero solamente por el hecho de comenzar un proyecto de tejer y dejarlo "aparcado" durante varios lapsus de tiempo... y esta vez sucedió lo mismo,
comencé este proyecto aquí
y lo he acabado ahora... Uhg! Un año tejiendo un suéter.... mi excusa es que con el tiempo empleado en tejer se pueden coser varios proyectos, mucho más rápido... aunque la sensación que me invade cuando termino una preciosidad como esta es directamente proporcional al tiempo tardado en acabar su ejecución.
El patrón es de los años 50 y he hecho algunos cambios con el original, en el patrón se pide lana de angora y yo he utilizado hilo de algodón para poder disfrutarlo más acorde con el clima de donde yo vivo.
También he utilizado un hilo un poco más grueso que el original, esta es la razón por la que mis "Pájaros Migratorios" tienen un tamaño ligeramente mayor que el original también.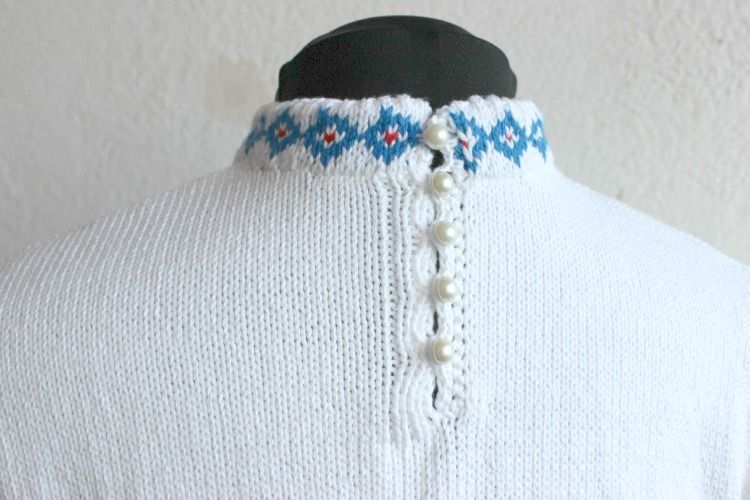 I used three small blue balls separately to knit birds, so it shows a smother look on the the wrong side , I also crossed the threads whilst knitting, therefore no yarn threads will "jump" sideways and it looks more organized.
Para tejer los pájaros he utilizado tres pequeños ovillos azules por separado para conseguir un revés más pulido, también he ido cruzando los hilos mientras tejía, de esta forma no hay hebras de hilo que "saltan" de un lado a otro, todo luce más organizado así.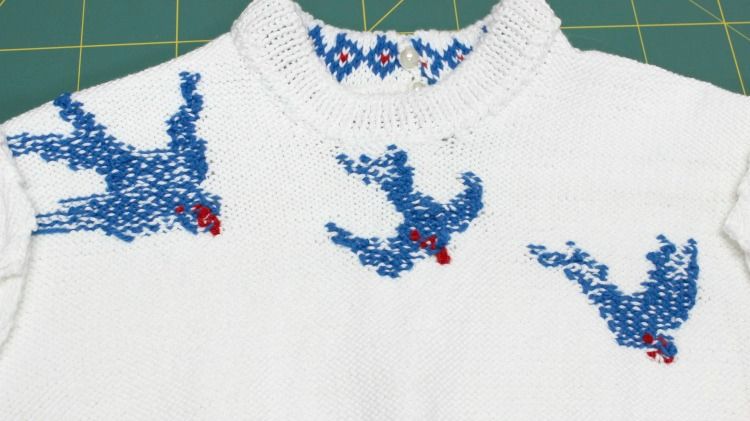 Certainly, this sweater is my new favorite garment! It brings the spring deep down in my heart.
Ciertamente, este suéter en mi nueva prenda fetiche!!! Trae la primavera a mi corazón....