I've always said I'm a very slow knitter , that's nothing new ... normally I start knitting a project in summer and it isn´t finished till winter , or vice versa ... I´m thinking about knitting my summer projects at this season just so I can wear them by summer time.
And of course, my pattern wishlist is immensely long that I´d need two lives to knit everything I´ve listed! But unfortunately I have only get to live once ....
This time I´ve decided to knit this beautiful 40s jumper, simple and elegant, you can find the pattern
on the blog 1940´s Style For You
, this blog is a must if you like vintage knitting by the way! It has the most beautiful free patterns which wil drive you crazy.
To be honest, my yarn stash is almost as long as my fabric stash, so this time I decided to use some cotton yarn balls that I had kept for many years... pink ones! I think this jumper could be very beautiful on this very feminine color, if you like to knit and have an account there, you can also find me
on Ravelry
, I would love to hear about you and your projects.
Siempre he dicho que soy una tejedora muy lenta, eso no es ninguna novedad... normalmente comienzo un proyecto de tejer en verano y lo acabo en invierno, o al revés... tengo que ir pensando en comenzar a tejer mis proyectos de verano en esta estación para poderlo usar cuando llegue el buen tiempo.
Y por supuesto, la lista de patrones en espera es inmensamente larga... necesitaría dos vidas más para poder tejer todo lo que tengo en esa lista! Pero, desgraciadamente solo tengo una vida.... o lo que queda de ella... Bueno , estoy divagando otra vez!
Esta vez me he decidido por este hermoso suéter de los años 40, sencillo y elegante, si te gusta puedes encontrar el patrón
en el blog de 1940´s Style For You
, si te gusta tejer vintage, este blog es obligado! Tiene los más hermosos patrones gratis para volverte loca de entusiasmo.
Para ser sinceras, mi stash de hilos y lanas es casi tan voluminoso como mi stash de telas, así que esta vez he decidido utilizar algunos ovillos de hilo de algodón que tenía guardados desde hace bastantes años... en rosa!! Creo que este suéter puede quedar muy bonito con ese color tan femenino, si te gusta tejer y tienes cuenta allí, puedes encontrarme también
en Ravelry
, me encantará saber de tí y de tus proyectos.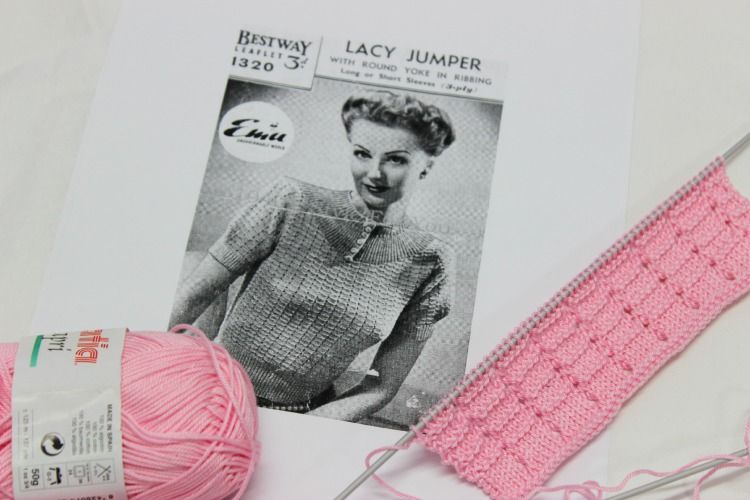 Also, I´d love to show you the last headband I made, it´s a quick, easy and great visual effect project, just some metal zippers and buttons needed.
Y por otro lado tenía pendiente mostrarte un poco más de la última diadema que hice, es un proyecto rápido, sencillo y con gran efecto visual, solamente necesitas algunas cremalleras de metal y botones.
Separate zippers, we just will use the metal teeth tape, roll up the zipper strip up in spiral shape and sew it to secure its shape, then sew a small button in the center of it to get a nice effect, the rest will just be your imagination. Make a few ones more and create a composition sewing them on a piece of felt, you can use a feather as I did to place it onto the headband, or choose anything else you have out there, anything will be fine as long as you like it.
Separa las cremalleras, solamente vamos a usar la tira con los dientes de metal, enrollamos esta tira de cremallera en forma espiral y cosemos para asegurar que no pierda su forma, luego cose en el centro un botón pequeño para conseguir ese efecto tan bonito y lo demás lo hará tu imaginación. Haz unos cuantos más y crea una composición cosiéndolo a un trozo de fieltro , puedes usar alguna pluma como yo hice para montarlo en una diadema, o elegir cualquier otra cosa que tengas por ahí, todo es aceptable si es de tu gusto.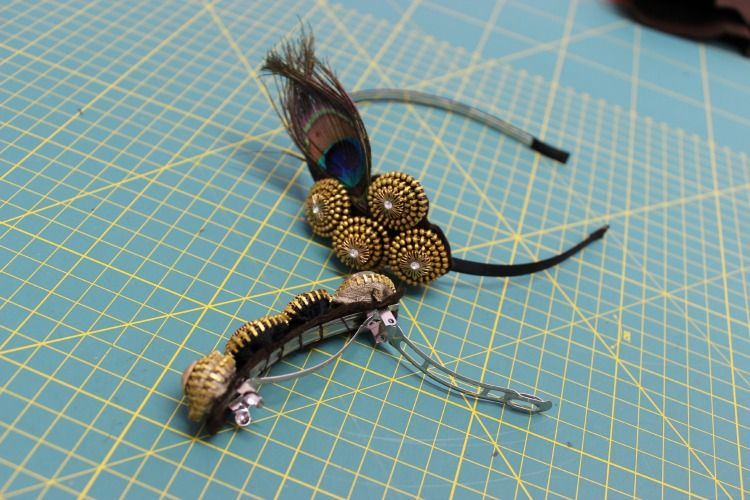 It already is Wednesday, such a relief to know that Friday is a little closer, Are you preparing anything special for Valentine's Day?
A estas alturas de semana, nos consolamos pensando que ya falta menos para el viernes, tienes algo especialmente preparado para San Valentín?