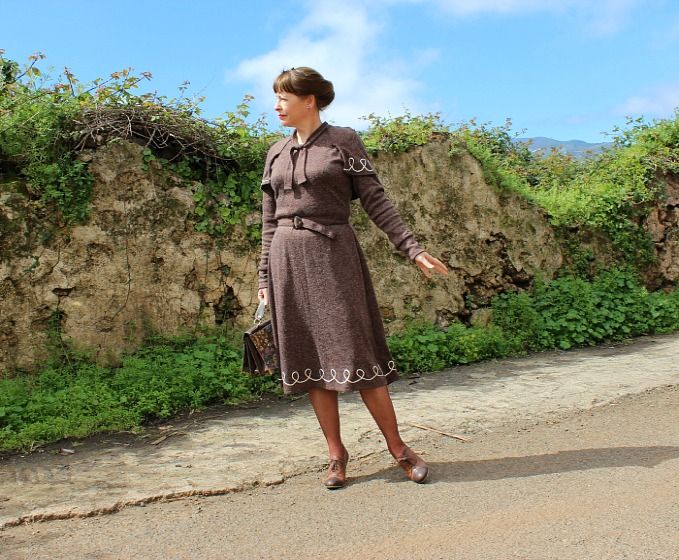 My serious face shall not intimidate you, I'm actually still learning how to smile in front of the camera (which is hard work, I always forget doing it) also I´m pulling weird faces
due to sunlight.
I just wanted to share with you that I am the happy owner of a new 30s inspired dress , my latest obsession with this fashion era began when I made this bra for Melissa, her image was so inspiring to me, I quickly decided that I needed a dress to feel like an elegant Lady and meeting (in my imagination) with Carole Lombard, Claudette Colbert or even Jean Harlow in the aisles of any theater.
Although my personal theater is here, on this blog, because I enjoy sharing my follies with you, dear reader.
No dejes que mi cara seria te intimide, en realidad todavía estoy aprendiendo a sonreir ante la cámara (lo cual es un arduo trabajo, siempre se me olvida) y yo tengo el gesto fruncido por la luz del sol.
Solamente quería compartir contigo que soy la feliz propietaria de un nuevo vestido de inspiración de los años 30, mi más reciente obsesión con la moda de esta década comenzó cuando
yo hice este sujetador para Melissa,
su imagen fué tan inspiradora que yo decidí rapidamente que necesitaba un vestido para sentirme como una elegante dama de esta década y codearme en la imaginación con
Carole Lombard
,
Claudette Colbert
o incluso con
Jean Harlow
en los pasillos de cualquier teatro.
Aunque mi teatro personal está aquí, en este blog, donde disfruto tanto compartiendo mis pequeñas locuras contigo, querida lectora.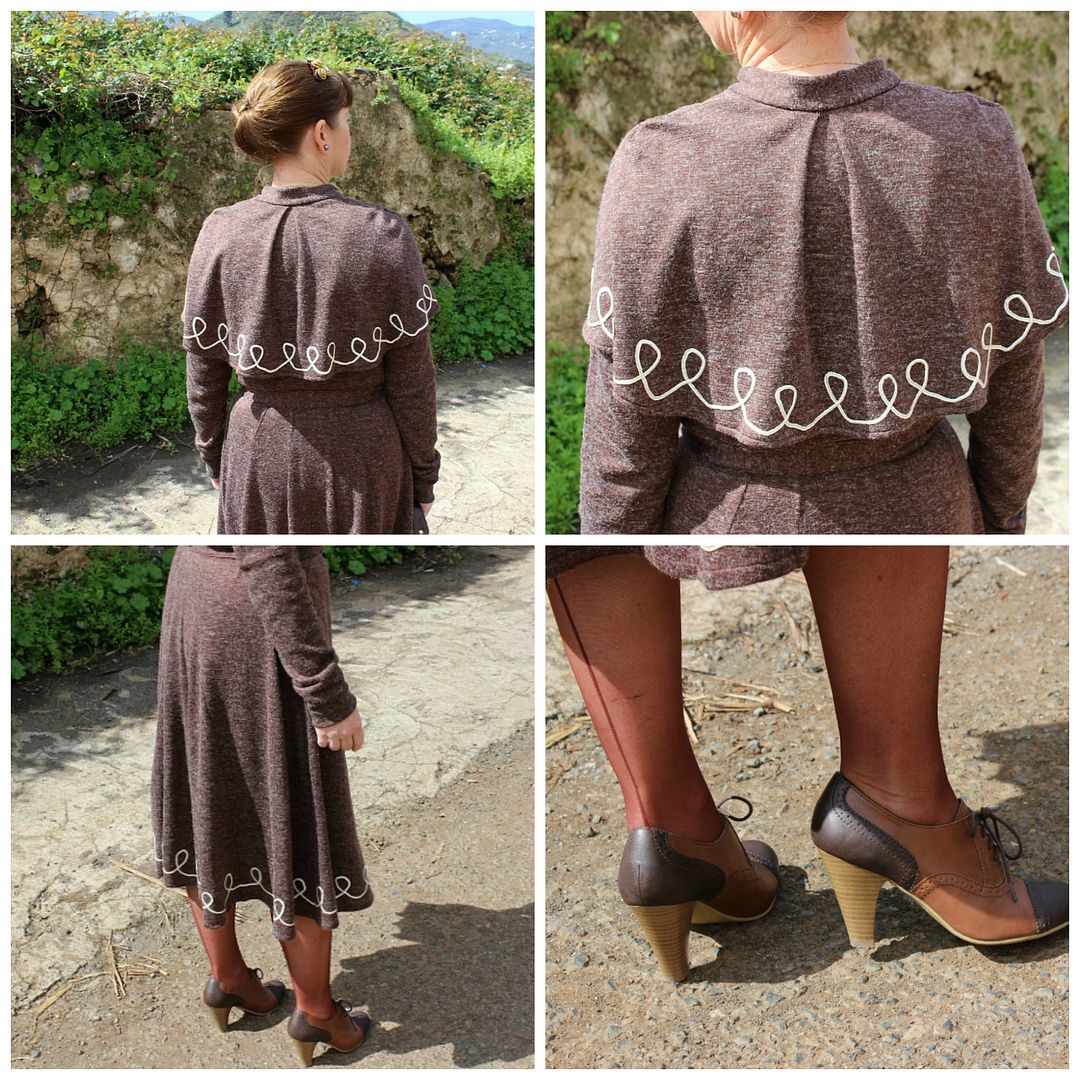 I tried to get a 30s look as close as possible without myself feeling " disguised" for it, I have adapted this style so that I can go out without feeling "observed" and I have to admit that I loved it. Yay, I love the look of a "pencil skirt" in front of the dress, it looks elegant and understated , with a inkling
of the small cape that simulates to be tied up at the neckline with a small bow ...
Although the real charm of the dress shines in all its splendor from the back, elegant and provocative at a the same time ... sober and fun with sinuous undulations on the skirt when I´m walking, it´s a pleasure to wear the comfortable knit fabric , it leaves full freedom of movement while it´s lovingly warm.
I thought a special dress needed a good partner to wear on my hair, so I made a little headband as a finishing touch to my outfit. Although this headband is coming on a separate post.
Yo intenté acercarme lo más posible al estilo de los años 30 sin sentirme "disfrazada" por ello, dentro de mis posibilidades he adaptado este estilo de forma que yo puedo salir a la calle sin sentirme demasiado "observada" y tengo que admitir que me ha encantado. El efecto de un vestido recto por delante ya me parecía elegante y sobrio, incluso con el atisbo de la pequeña capa que simula estar atada en el escote con una pequeña lazada...
Aunque el verdadero encanto del vestido luce en todo su esplendor desde la espalda, elegante y provocativo a la vez... sobrio y divertido con la falda que dibuja sinuosas ondulaciones cuando camino,
todo un placer de vestir por la comodidad de la tela de punto
que deja total libertad de movimientos y a la vez amorosamente cálida.
Así que yo pensé que un vestido tan especial necesitaba de un buen acompañante para lucir en mi pelo, yo hice una pequeña diadema a juego como toque final para mi look. Aunque esta diadema bien merece un post aparte.