Weather is getting warmer quickly and we´re already thinking about summer garments to get our wardrobe ready to enjoy the sun, so the two-piece playsuit is finished and on its way to the owner´s arms.
El clima se está volviendo más cálido bastante deprisa y no es de extrañar que ya estamos pensando en prendas de verano para tener nuestro guardaropa listo para disfrutar del sol y las buenas temperaturas, así que el playsuit de dos piezas está terminado y en camino a los brazos de su dueña.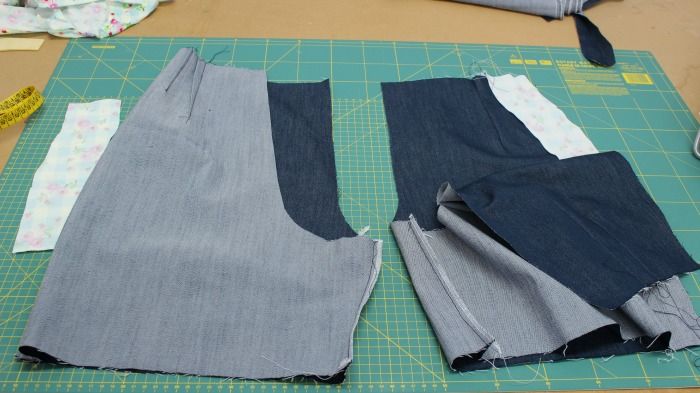 I previously showed the top and shared all the details of this two pieces item, today I´m sharing the bottoms, these shorts deserve their own post as well to see closely all the details. The pattern is quite simple, a basic pattern for trousers, I omitted the front closure and climbed the waist four centimeters.
I also lengthen the hems four centimeters and attached to them some gingham fabric to get upturned hems.
En el post anterior te mostraba el top
de este dos piezas para poder así compartir todos los detalles de la prenda, hoy te comparto la parte de abajo, los shorts que también merecen su propio post para ver de cerca todos los detalles. Esta vez el patrón es bastante sencillo, un patrón básico de un pantalón al que le he omitido el cierre delantero y he subido la cintura cuatro centímetros.
También he alargado cuatro centímetros los bajos y forrado con tela de flores para conseguir dobladillos de botín, vueltos hacia arriba.
The main detail of the shorts is the buttoned side and the high waistband which together give to it that vintage look ... although I'm undecided about whether I like the
outside ... or inside, I could say that these shorts have an interesting "inner life."
El detalle principal de los shorts es su botonadura lateral, que junto con la cintura alta le dan ese aspecto vintage... aunque aún no he decidido si me gusta más por fuera... o por dentro, se podría decir que estos shorts tienen una interesante "vida interior".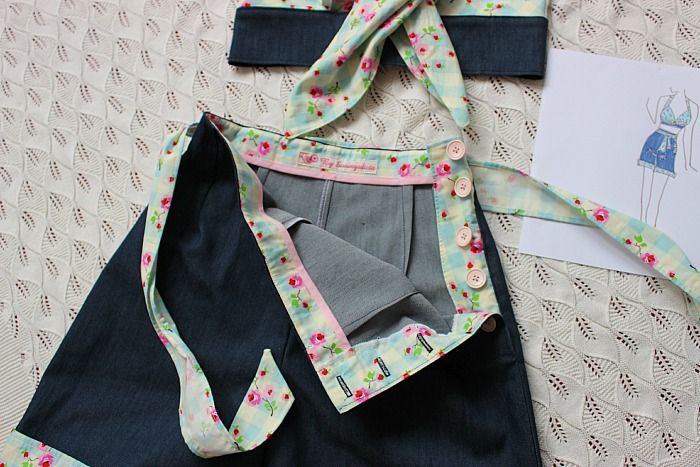 Sorry for the hasty pics, but I was in a hurry to make to the post office!. Now I´m looking foward to seeing the reaction of its owner! I hope that she really love and enjoys it .
Lo siento por las fotos apresuradas, pero no había tiempo de más antes de que cerrara la oficina de correos, ahora como siempre.. toca esperar a que su dueña lo tenga en casa y desear que le guste mucho y sobretodo que lo disfrute muchísimo .