While there is a new project on the table in my sewing cave, I thought I´d talk a little bit about the pattern of the dress I sewed last week, it's a pattern from BurdaStyle Magazine May 2013 # 125, you can check all the details here.
Mientras en mi sewing-cueva ya hay un nuevo proyecto sobre la mesa, yo había pensado en hablarte un poco de donde saqué el patrón del último
vestido que yo cosí la semana pasada
, es un patrón de la revista
Burdastyle de Mayo del 2013#125, puedes ver todos los detalles de este patrón aquí.
As soon as I saw the pattern, a little voice yelled at me subconsciously that the waist piece had to stand out somehow, making it of the same fabric the dress had been made of would make it plain, so I quickly looked for a red leftover in my fabric scraps drawer (a post about this is coming up on soon) and this is what I found to be more appropriated.
No pieces of this fabric remained there after using it to embellish this dress. Actually these scraps were used here and there to make these trousers and this dress, you I´m always happy to "eliminate " completely a fabric scrap out of my drawer.
En cuanto yo vi el patrón, una pequeña vocecilla me gritaba desde detrás de mi subconsciente que esa pieza de la cintura tenía que destacarse de algún modo, hacerla de la misma tela hubiese sido dejarla camuflada y perder un punto fuerte de vistosidad en el vestido, así que yo busqué rapidamente algún sobrante de tela en rojo en mi cajón de restos de tela (está viniendo un post sobre esto próximamente) y esto es lo que me pareció más acertado.
Unos restos que han servido a su propósito de embellecer el vestido, de hecho, no queda nada de estos retales, se usaron absolutamente todos aquí y antes sirvieron para hacer
este pantalón
y luego
este vestido
, ya sabes lo feliz que soy cuando consigo "eliminar" completamente un retal de este cajón de sobrantes.
And when I put the bodice on the table I swear that the little voice yell at me again that I needed a nice collar for that bodice ... and I took notice of it ...
Y cuando yo puse el cuerpo sobre la mesa te juro que la vocecilla me volvió a gritar que ese cuerpo necesitaba un cuello bonito... y yo le hice caso...
So I continued working on the dress and sewed the semicircle skirt leaving some folds on the sides and placing the dress on my dressform to see the effect .... then one more time that little voice came back and it told me that this dress would need sleeves a bit more ... fun! So I left some centimeters of separation between the two parts of this sleeve and this half shirred sleeve come out.
Así que seguí trabajando en el vestido y coloqué la falda en semicírculo dejando algunos pliegues encontrados en los lados por pura coquetería y coloqué el vestido sobre el maniquí para ver el efecto .... entonces te juro que la vocecilla volvió a pronunciarse y me dijo que este vestido necesitaría una manga un poco más... divertida , así que dejé algunos centímetros de separación entre las dos piezas de esta manga y de ahí salió esta media manga fruncida.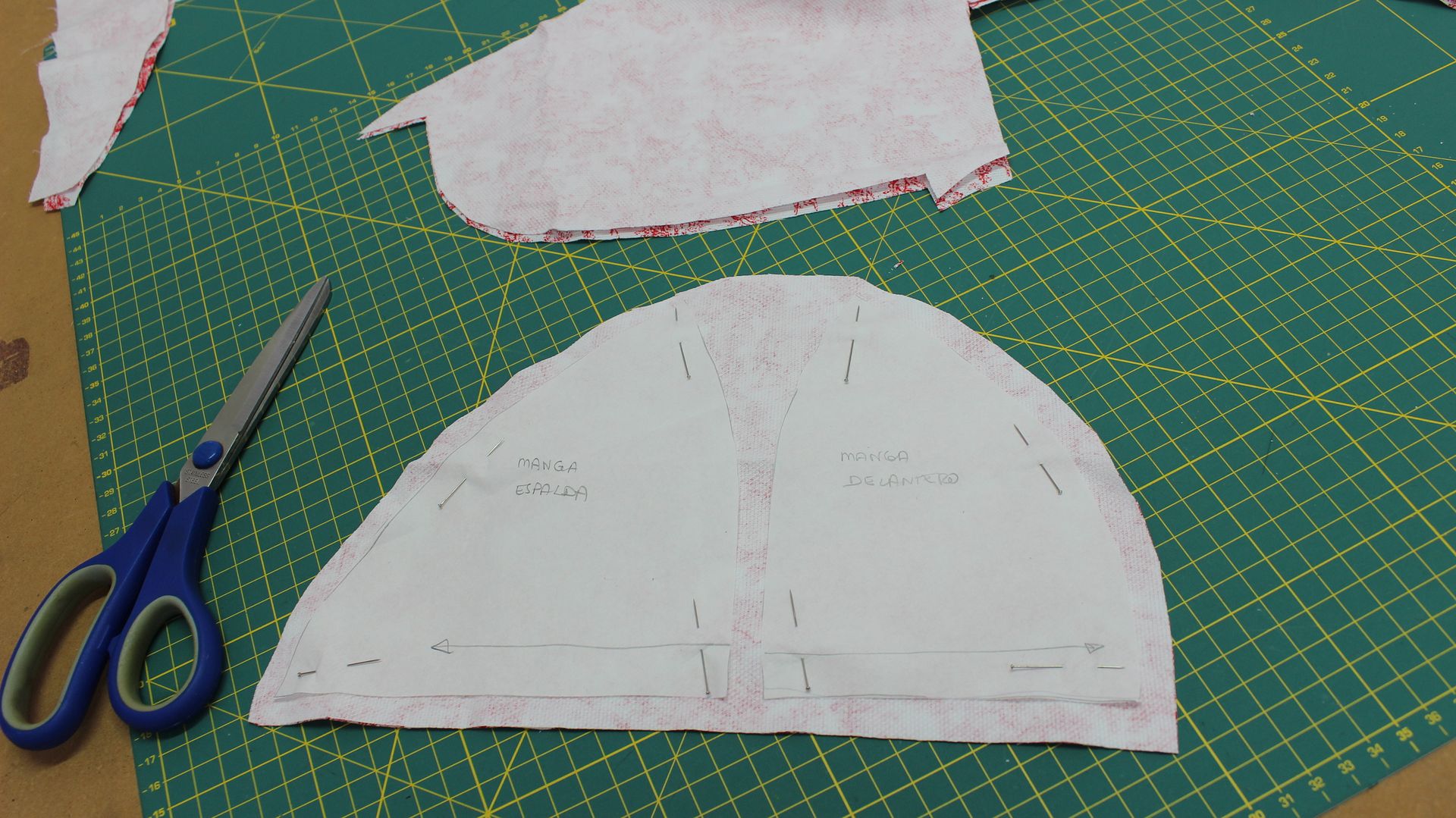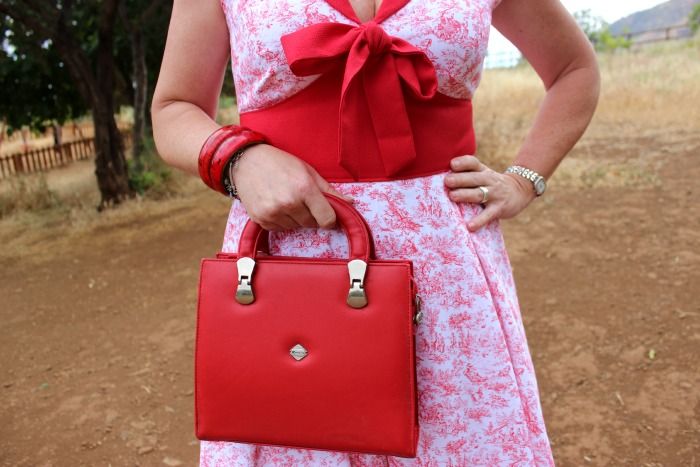 The bow was the final touch. The red fabric was such small amount that the lower collar was made of the fabric this dress had been made of too ... and then the little voice told me that it was happy with the result and it was going to leave me alone for a while.
El toque final fué un lazo hecho con la misma tela roja que era tan poca cantidad que incluso la parte inferior del cuello la tuve que hacer con tejido del vestido ... y entonces la vocecilla me dijo que estaba contenta con el resultado y que se iba a descansar.
So this is the result and now I'm here, in my sewing room with a new project on the table and I´m waiting for that little voice to come back and guide me through the steps to make my sewing proyect better .... I just don´t know whether it will come back or not...
Maybe the little voice is visiting all seamstresses and I have to wait for my turn again??
Is it with you now??
(Just so you know, I´m not nutsy.... Lol!)
Así que ese fué el resultado y ahora estoy aquí, en mi cuarto de costura con un nuevo proyecto sobre la mesa esperando a que esa vocecilla vuelva a aparecer para guiarme los pasos y soplarme al oído como quedará mejor esto que estoy cosiendo .... no sé si volverá a aparecer...
Quizá es que la vocecilla va visitando a todas las costureras sucesivamente y tengo que esperar a que vuelva a ser mi turno???
Está contigo ahora???