It´s time to start a new sweater, I need keep my hands busy at those moments when my brain is too tired to sew.
This time I chose a nice pattern that I had in my knitting waiting list, it´s free and can be found here.
This jumper is called "Your Victory Jumper" and it´s been knitted with the patriotic colors of the English flag, it was published on June 2, 1945, I imagine that holding to end of the World War II in Europe on May 8, alongside the Allies.
Ever since First World War , government authorities encouraged knitting to keep the soldiers warm at the front, this practice became popular in World War II, you have much information on this, here.
Ya era tiempo de comenzar un nuevo suéter, echaba de menos mantener mis manos ocupadas en los pequeños ratos cuando el cerebro está demasiado cansado para coser.
Esta vez elegí un bonito patrón que llevaba algún tiempo en mi lista de espera de tejer,
es gratuíto y puedes encontrarlo aquí.
En realidad, este suéter se llama "Your Victory Jumper" y está tejido con los colores patrióticos de la bandera inglesa, un patrón que se publicó el 2 de Junio de 1945, imagino que en celebración de dar por terminada la Segunda Guerra Mundial en Europa, el día 8 de Mayo, junto a los aliados.
Ya desde la Primera Guerra Mundial , las autoridades fomentaba que se tejieran prendas de abrigo para mantener calientes a los soldados que estaban en el frente, esta práctica volvió a ser popular en la Segunda Guerra Mundial,
tienes mucha información sobre esto, aquí.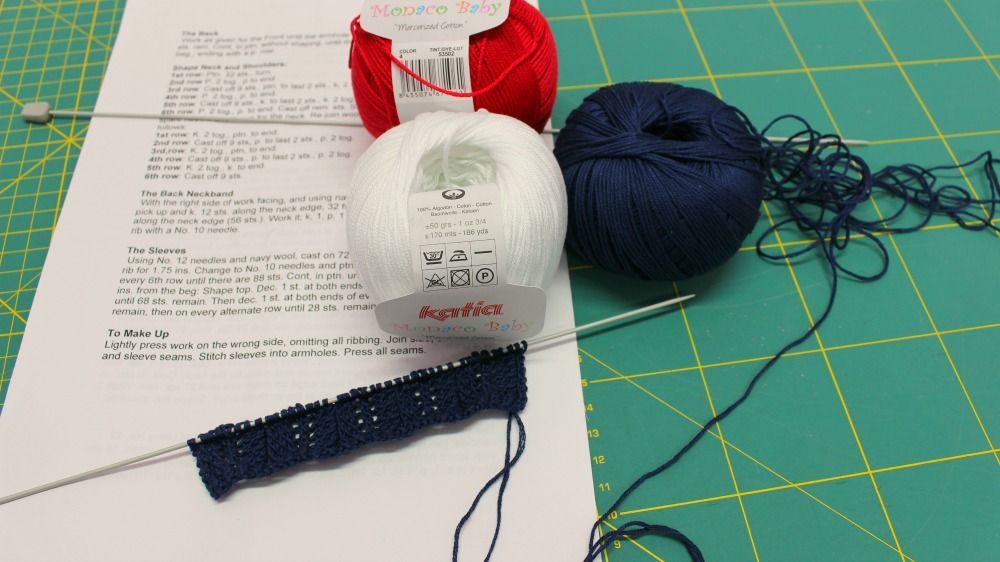 I made some alterations on the pattern, while on the instructions said nº 10 needles to knit the bodice, I´m using nº 11 needles , this implies a variation in the number of stitches on the needle, so I a little sample to fit it to my measurements. Actually I chose a thinner cotton thread, I´m considering it to be a summery jumper.
Hice algunos cambios en el patrón , mientras que en las instrucciones piden unas agujas del nº 3 para tejer el cuerpo, yo estoy usando agujas del nº 2,5, eso implica una variación en la cantidad de puntos en la aguja, así que hice una pequeña muestra para adaptarlo a mis medidas. En realidad yo elegí un hilo de algodón bastate delgado pensando en un suéter de verano.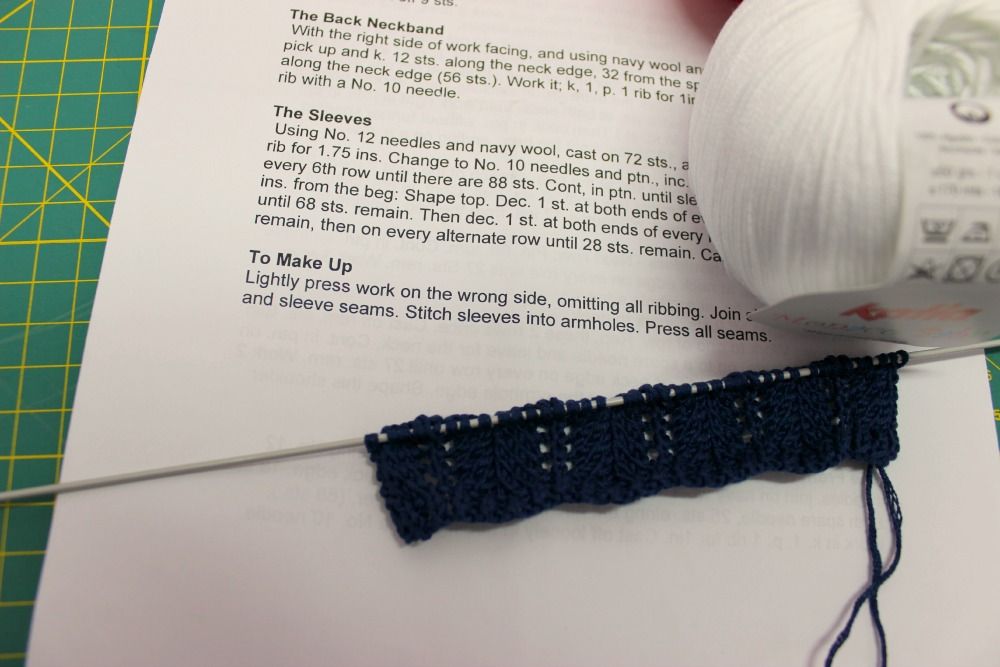 For now I'm enjoying a lot with the results, I think it will be a lightweight jumper with pretty colors and matching with the garments I have in my wardrobe, I believe even a nautical inspiration jumper that may be the perfect match for these trousers.
Por ahora me está gustando mucho el resultado, pienso que será un suéter ligero y con colores bastante combinables con las prendas que tengo en mi armario, a mi entender incluso un suéter de inspiración nautica que puede ser
la pareja perfecta para estos pantalones
.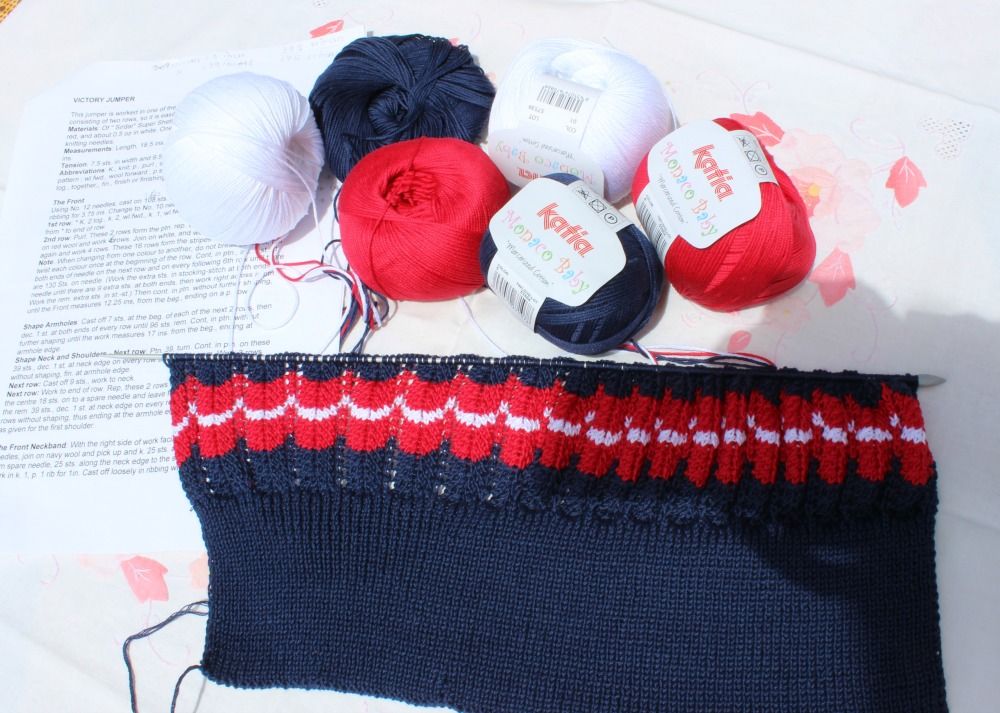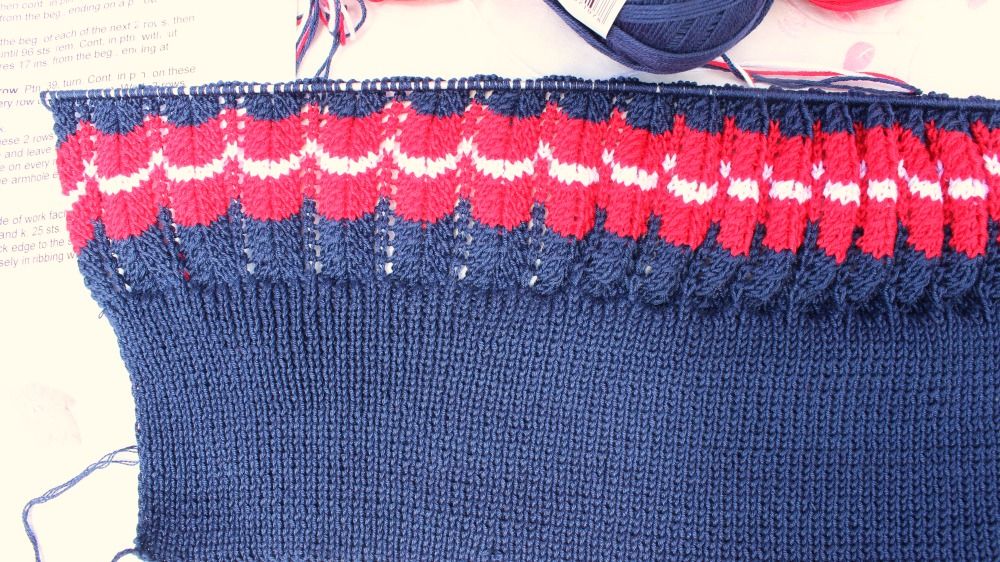 A simple pattern, easy to memorize, it´s perfect to distract my mind imagining what will be the next garment to sew.... while I'm knitting. Does it happens to you too ?
Un patrón sencillo de memorizar, perfecto para distraer la mente imaginando cual es la siguiente prenda que voy a coser.... mientras estoy tejiendo. Te ocurre a tí lo mismo??