I love things to come out right...
Melissa asked me for a nautical themed bikini so I looked through my stash and found this beautiful striped fabric and thought I'd make out a retro inspired bikini.
Por supuesto que me encanta que las cosas salgan bien...
Melissa me había pedido un bikini con aires nauticos, así que yo busqué en mi stash de lycras y encontré esta preciosidad en rayas con aires marineros y me propuse llevar a la realidad lo que yo tenía en mi mente, un bikini totalmente retro.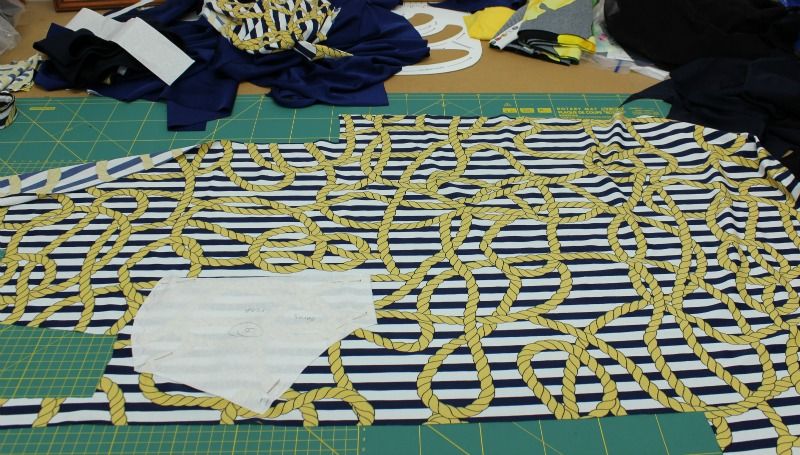 I made an alteration of this top for the bra and finally managed to start my project. I had on my mind a clear design mixing the striped fabric with a plain navy blue colour one to soften the design, thought so many stripes could be stressful, so went to the shop and got some navy blue lycra to complete this bikini.
Para el sujetador hice una variación de esta camiseta
y con algunos ajustes aquí y allá conseguí llevar a la realidad mi proyecto, en todo momento tenía claro que quería mezclar el diseño de rayas con lycra en color liso para "suavizar" el modelo, pensé que tanta raya sería un poco agobiante, así que fuí a la tienda a buscar lycra en azul marino para complementar el bikini.
First I sewed full set with a cute culotte just as I'd imagined, I was quite pleased with the result of it and decided to keep on sewing with the fabric left.
Finally managed to sew two bras, two knickers, a culotte and a little bag to keep the set. All these out of 20 inches of striped fabric and another 20 inches of navy blue one.
I kept a bra and one pair of knickers for me, and sent the rest of it to Melissa, a bra, culotte and the other pair of knickers, all of it inside its bag.
I think it's been the better invested pieces of fabric of my life, there was nothing left!
En principio cosí un bikini completo con un pequeño culotte, tal y como yo lo había imaginado, estaba bastante satisfecha con el resultado y decidí seguir creando con la lycra que quedaba sobre mi mesa de costura.
En total conseguí hacer con medio metro de lycra azul marino y medio metro de lycra de rayas un total de dos sujetadores, dos braguitas, un culotte y una pequeña bolsa para guardar todo el conjunto.
Finalmente me guardé para mí un sujetador y una braguita. A Melissa le envié el resto, es decir, un sujetador, un culotte, una braguita y la bolsa. Creo sinceramente que han sido los dos trozos de lycra más bien aprovechados de mi vida, no sobró absolutamente nada de ella!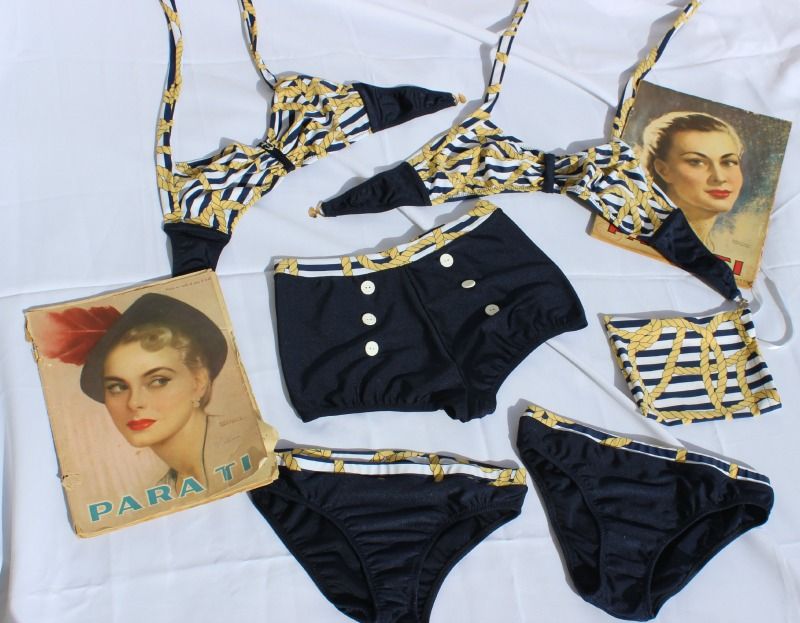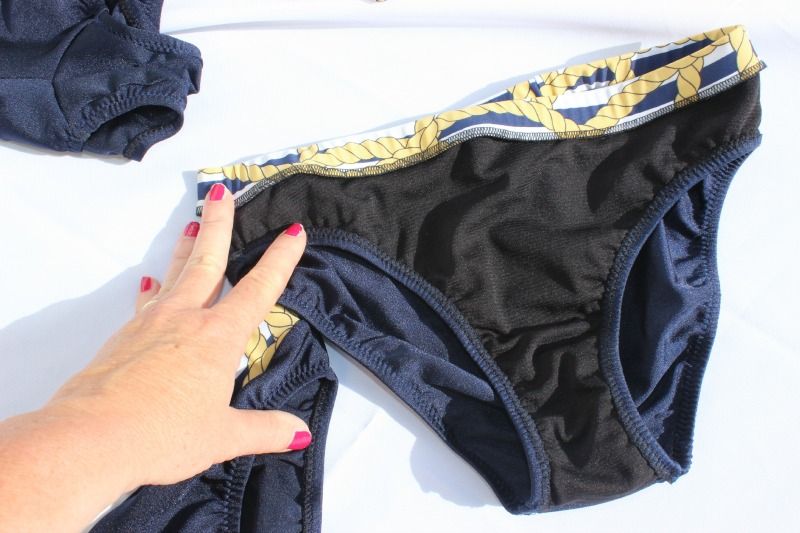 Melissa got her parcel and she kindly strikes a pose for us all! Just as if she had just been taken out of a 50's pin up magazine.
Feels so nice to know that something you've sewed is being enjoyed somewhere else around the world even though you've never met in person.
Y cuando Melissa recibió su paquete fué tan amable de posar como una auténtica pin up salida de una revista de los años 50s. Siempre es un pequeño regocijo ver que las prendas que coses le sientan tan bien a alguien que vive a miles de kilómetros de distancia y que nunca has visto en persona.
I'll rejoice in the lovely feeling of wearing the same bikini as someone that lives so far away, it feels like some sort of connection in the distance.
Y yo seguiré regocijándome un poco cada vez que yo use el bikini que me quedé para mí sabiendo que ella tiene otro igual y que lo está disfrutando tan lejos, es algo así como una conexión a distancia....