This post is slightly different than the ones I usually post ... because this time I´ve been spoilt by my online friends ...
This reminds me of the movie
The Postman Always Rings Twice
and that's what happened last week.
The first time the postman knocked my door he have me a small parcel from Arizona, sent by Nicole from
The retro Housewife Life
, she did a giveaway on her blog and I was one of the three lucky winners , so this small box with delicate toilet petals is mine now ...
Este post es ligeramente diferente a los demás... y es que esta vez me han mimado mis amigas de la blogosfera...
Decía el título de una película que
"El cartero siempre llama dos veces"
y eso es lo que sucedió la pasada semana.
La primera vez que el cartero llamó a mi puerta fué para darme un pequeño paquete, venía desde Arizona, de parte
de Nicole, "The Retro Housewife Life"
, ella había hecho un sorteo en su blog y yo fuí una de las tres afortunadas y esta delicada caja de pétalos para el baño es mía ahora...
Thanks Nicole for this beauty!
And the following day, the postman knocked my door again, this time it was a surprise ... I didn´t expect anything and yet the wonderful Diane, from "Marguerite Designs" decided to spoil me a bit more by sending another parcel from England.
Gracias Nicole por esta preciosidad!!
Y al día siguiente, el cartero volvió a llamar a mi puerta , esta vez fué una auténtica sorpresa... porque no esperaba nada y sin embargo
la maravillosa Diane, del blog "Marguerite Designs"
decidió mimarme un poco más enviando este paquete desde Inglaterra.
It was a surprise, because as I say, I wasn´t expecting anything at all, so imagine what my face was like and the quickening of my heart when I opened the package and I find these "goodies" for my sewing cave ...
A sewing box with everything you need for this addiction, including a beautiful pincushion with a totally retro print.
And a pink envelope, a very chic notebook for my sewing notes ... a blister pack for cross stitch with two elegant ladies and beautiful card with handwritten words dedicate to me .
Fué una auténtica sorpresa, porque como digo, yo no esperaba nada , así que imaginaréis mi cara de sorpresa y el aceleramiento de mi corazón cuando abrí el paquete y me encuentro estas "golosinas" para mi cueva de costura...
Una caja de costura con todo lo necesario para este vicio, incluyendo un hermoso alfiletero con un estampado totalmente retro.
Y en un sobre rosa, un cuaderno muy chic para mis apuntes... un blister de punto de cruz con dos elegantes damas y una tarjeta escrita a mano con hermosas palabras para mí.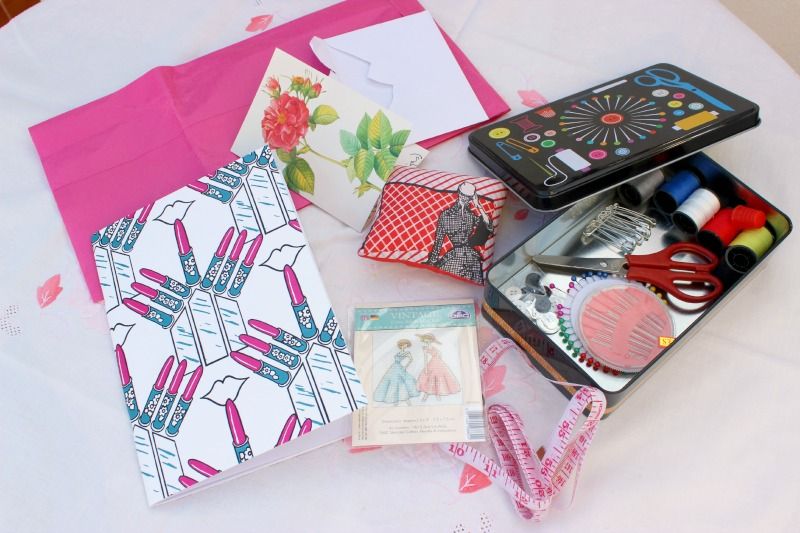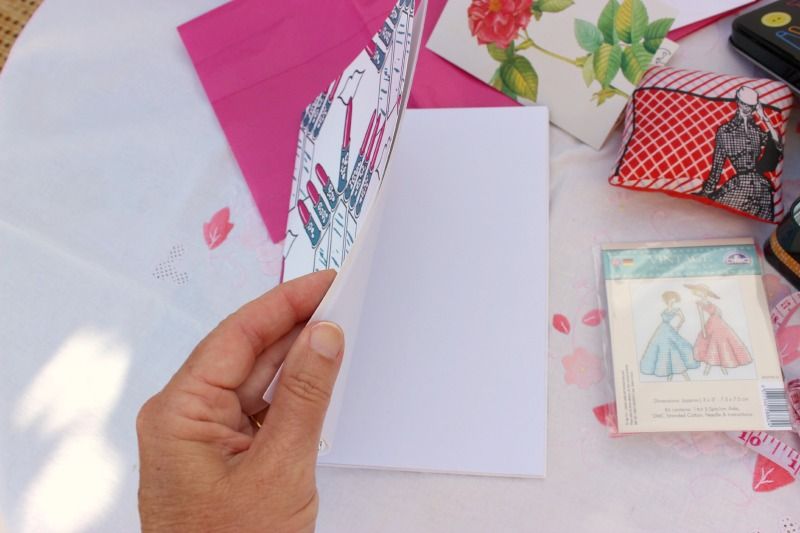 I know I keep saying the same, but I just can do anything but thanking the wonderful ladies I´ve met online, so far all I´ve found has been friendship, kindness and amazing people running each blog.
By the way, Diane is through a rough time now, if you have a minute for write some comforting words on her last post, it´d be highly appreciated...
Ya sé que me repito siempre, pero es que no puedo decir otra cosa que dar las gracias a las maravillosas damas que me voy encontrando en este camino de la blogosfera, hasta hoy solamente he encontrado amistad, amabilidad y personas sorprendentes detrás de cada blog.
Por cierto, Diane está pasando ahora mismo por un mal momento, si teneis un minuto sería muy agradable que dejarais unas palabras de consuelo en su último post.