Autumn always brings to my mind warm colors, leaves fallen and of course, pumpkin ...
I'm welcoming the autumn with this recipe for pumpkin muffins with chocolate chips .... You can be secure that this simple and easy recipe, you will get up some delicious muffins and you can't eat just one, they will disappear quickly!
Otoño siempre trae a mi mente colores cálidos, hojas secas y por supuesto calabaza...
Estoy dando la bienvenida al otoño con esta receta de Muffins de calabaza con chips de chocolate.... te puedo asegurar que de esta receta tan simple y sencilla te saldrán unos muffins de los que no podrás comer uno solo, verás que rápidamente desaparecen !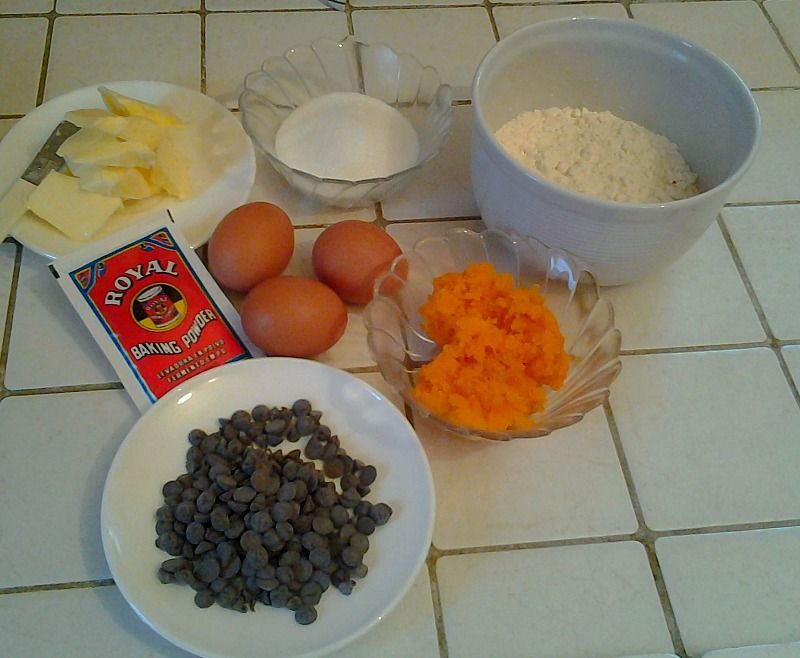 Ingredients .

..
-3.53 oz. softened butter
-3.53 oz. sugar
-3 Eggs at room temperature.
-5.29 oz. of sifted flour
-0.35 oz. baking powder
-3.53 oz. Pumpkin cooked with a dash of salt and crushed.
-3.17 oz. chocolate chips.
Ingredientes...
-100 gr. de mantequilla a temperatura ambiente
-100 gr. de azúcar
-3 huevos a temperatura ambiente.
-150 gr. de harina tamizada
-10 gr. de levadura en polvo
-100 gr. de calabaza cocida con una pizca de sal y triturada.
-90 gr. de pepitas de chocolate.
- Preheat the oven to 320ºF
- Start beating the sugar and butter until forms forms a whitish mixture.
- Add eggs one at a time, mixing well before adding the next one.
- Add half of the sifted flour and pumpkin puree and continue beating.
- Add the other half of the flour and baking powder.
- Add most of the chocolate chips (leaving a quarter for garnish) and mix it with a spatula (don't beat).
- Precalentamos el horno a 160ºC
- Comenzamos batiendo el azúcar y la mantequilla hasta que se forme una mezcla blanquecina.
- Añadimos los huevos de uno en uno mezclando bien antes de añadir el siguiente.
- Añadimos la mitad de la harina tamizada y el puré de calabaza y seguimos batiendo.
- Añadimos la otra mitad de la harina y los polvos de levadura.
- Añadimos la mayor parte de las pepitas de chocolate (dejar una cuarta parte para decorar) y mezclamos con ayuda de una espátula (no batir).
- Now place the paper pod on the mould muffins and filling them three-quarters full.
- Hit gently to empty any air bubbles and scatter over them the remaining of chocolate chips.
- Baking them for about 13 minutes, watching until them are done.
- Ahora colocamos cápsulas de papel en el molde de los muffins y las llenamos hasta tres cuartos de su capacidad.
- Damos pequeños golpecitos para vaciar las posibles burbujas de aire y esparcimos por encima el resto de las pepitas de chocolate.
- Llevamos al horno durante unos 13 minutos, vigilando hasta que estén hechas.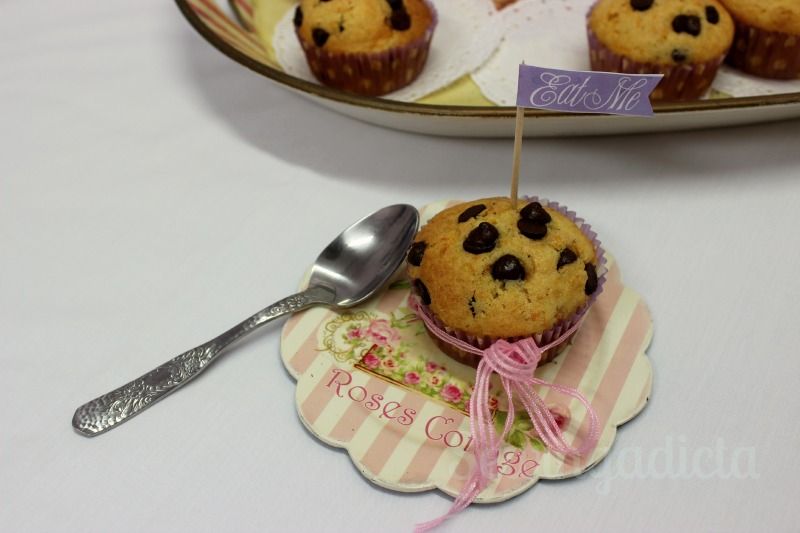 And just need prepare a cup of tea and "attack" them , I assure you that they´re a huge success!
Y ya solamente nos queda esperar a que se enfríen sobre una rejilla para atacarlas, te aseguro que son un éxito total!