I promised you (on the previous post) some closer pics of this jacket , the original pattern and the resulting jacket doesn't look as the same garment because I made some alterations in it .. I used New Look 6226, Simplicity .
Te prometí en el anterior post que iba a mostrarte la chaqueta más de cerca, con unos pocos cambios el patrón original y la chaqueta resultante no parecen el mismo. Usé el patrón
New Look, 6226 de Simplicity.
How did this story begin? because I wanted to make something with this flowery knit fabric I kept in my sewing cave from about three years ago , a scrap knit fabric quite warm, perfect for winter , the only problem is that there was just 0.65 meters of fabric, so I had to put on my brain on it for to make a warm garment.
I used a my son´s hoodie, it was useless and its cuffs was quite deteriorated. I cut the sleeves pattern into two parts and joined a piece of white sweatshirt sleeve to complete it because the flowery fabric was not enough. The result did not displease me. I didn´t lined the jacket because the fabrics used were warm enough for the weather here.
Toda la historia empezó porque yo quería hacer algo con esta tela de punto floreada que guardaba en mi cueva desde hace unos tres años, un retal de punto bastante abrigado, perfecto para animar el invierno, el único problema es que solamente había 0,65 centímetros de tela, así que tuve que tirar de la imaginación para hacer algo de abrigo.
Usé una sudadera de mi hijo que ya estaba en desuso, con los puños bastantes deteriorados. Como no había suficiente tela para todas las piezas en la tela floreada, corté el patrón de las mangas en dos partes y uní un trozo de la manga de la sudadera blanca para completarla. El resultado no me desagradó. Tampoco forré la chaqueta puesto que las telas utilizadas ya eran lo suficientemente cálidas para el clima de aquí.
I also eliminated the fold that brings the original pattern at the center of the back and cut up the bellow bodice five centimeters for a more vintage look ... the final touch was to use buttons and buttonholes ... separable zipper not get the 50s look (which is the aspect that I like in my clothes).
También eliminé el pliegue que trae el patrón original en el centro de la espalda y acorté el bajo del cuerpo unos cinco centímetros para conseguir un aspecto algo más vintage... el toque final fue utilizar botones y ojales para el cierre... una cremallera separable no consigue el look de los años 50s que es el aspecto que me gusta en mi ropa.
Como esta decisión fue tomada en el último momento, me aseguré primero que la chaqueta era lo suficientemente ancha para poder cruzar las tapetas delanteras y cerrar cómodamente, el resultado me encantó!
The garment gets the final look for the white ribbed fabric used for cuffs, collar and waistband, it´s by the shop "The Pantigana" that fabric is perfect !! (this is not a sponsored post, it is my personal view of a product that I used)
No hubiese podido conseguir este bonito aspecto sin la tela acanalada blanca utilizada para los puños, el cuello y la banda de la cintura,
de la tienda de "La Pantigana
", la tela es perfecta!! tiene una elasticidad impresionante y vuelve a su medida normal sin problemas, excelente calidad (y conste que esto no es un mensaje patrocinado, es mi opinión personal de un producto que he usado)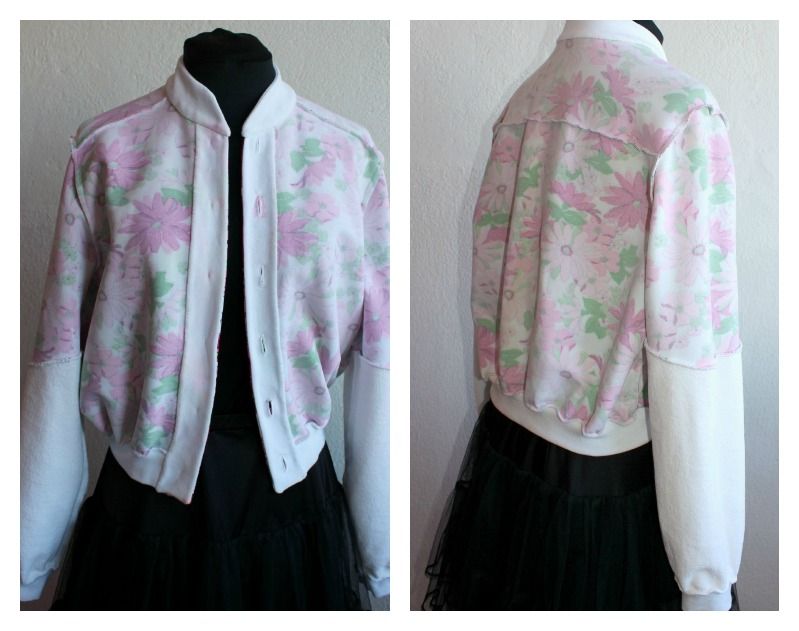 Summarizing, a jacket that looks like a 50s cardigan , with a very cheerful print to draw a smile to the winter, obtained (with a few alterations) from a contemporary casual jacket pattern .... Love it !!
Resumiendo, una chaqueta con aspecto de cardigan de los 50s, con estampado muy alegre para dibujarle una sonrisa al invierno obtenida (con unos pocos cambios) de un patrón contemporáneo de chaqueta casual.... Me encanta!!