I'm a bit sad because this is the last edition of Share in Style for while; we took a little break until to get everything back to normal.
Perhaps you know that my dear Sacramento is going through a difficult moment because her husband takes a long time in the hospital and so she couldn't be with us in the last two SIS, which is as if this project was crippled because Sacramento is the undisputed soul of this baby called SIS.
Sacramento, We love you and you know that our thoughts are with you at all hours of the day, accompanying you in your distress
Estoy un poco triste porque esta es la última edición del Share in Style por ahora, nos tomamos un pequeño descanso hasta que todo vuelva a la normalidad.
Seguramente sabes que
mi querida Sacramento
está pasando por un momento difícil, su marido lleva bastante tiempo en el hospital y por eso no ha podido estar con nosotras en los dos últimos Share, es como si este proyecto estuviera cojo porque Sacramento es el alma indiscutible de este bebé llamado SIS. Te queremos Sacramento y sabes que nuestros pensamientos están contigo en todas las horas del día, acompañándote en tu angustia.
I have a very special (for me) partner on this post, she is Lola and her blog "Tess-Soap" and we met long time ago when I was doing the Sew-along of New Girl, she quickly earned a place in my heart because she is one of the sweetest and tender girl that I meet, well she is now in a very special moment of her life, expecting her second child and if you notice, we are sharing a piece of our wardrobe, the cape! She with her style and I with mine one.
Thanks for making me the honor of being my partner today, Lola!
And if you do not know her, go say hello to her blog!
Y es esta edición tengo una pareja muy especial para mi,
ella es Lola y su blog "Tess-Soap"
y nos conocimos hace mucho tiempo, cuando
yo estaba haciendo el Sew-along de New Girl
y enseguida se ganó un hueco en mi corazón porque es una de las personas más dulces y tiernas que conozco, además ahora está en un momento muy especial de su vida, esperando su segundo hijo y si te fijas estamos compartiendo una prenda de nuestro vestuario, la capa! Ella con su estilo y yo con el mío.
Gracias por hacerme el honor de ser mi pareja hoy, Lola!
Y si no la conoces, ya estás tardando en ir a decir hola a su blog!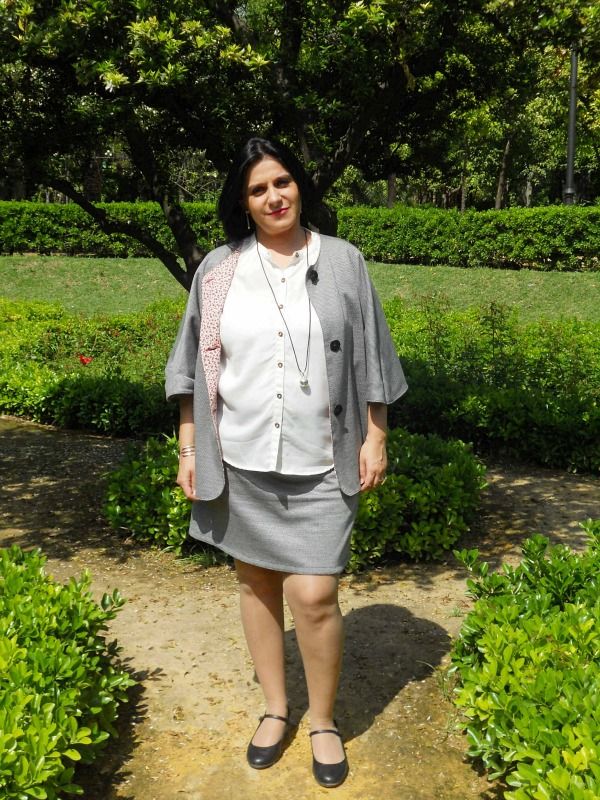 For this occasion I sewed the cape from the same pattern as Lola, but I gave it a little personal touch embroidering it, the fabric is an Australian lightweight flannel which makes it very suitable for spring.
If you are following me on Instagram, you have seen advances at the embroidery or the back while I was doing it, the first step was to fill the leaves with wool and felting technique.
The second phase was to embroider the flowers petals with ribbon embroidery technique.
The third step was to fill the center of the flowers with knot stitch with traditional embroidery technique and the fourth step was filling the stems of the flowers with chain stitch and crochet technique.
The result is a embroidery that combines different crafts and is the focal point of the cape.
Para esta ocasión yo cosí la capa desde el mismo patrón que Lola, aunque le di un pequeño toque personal añadiendo un bordado, la tela es una delgada franela australiana que la hace muy apropiada para entretiempo, cuando necesitas algo de abrigo pero que no sea muy abrigado... ya me entiendes.
Si me sigues en Instagram
, habrás visto los avances en el bordado principal de la espalda mientras yo lo iba haciendo, el primer paso era rellenar las hojas con lana y la técnica del afieltrado.
La segunda fase fue bordar los pétalos de las flores con la técnica del bordado con cintas.
La tercera fue rellenar el centro de las flores con punto de nudo y la técnica del bordado tradicional y la cuarta fue rellenar los tallos de las flores con punto de cadeneta y técnica de crochet.
El resultado es un bordado diferente que combina varias técnicas y es el centro de atención de la capa.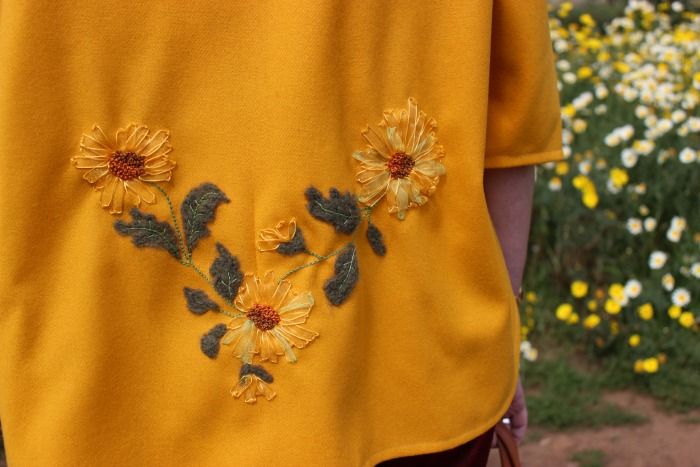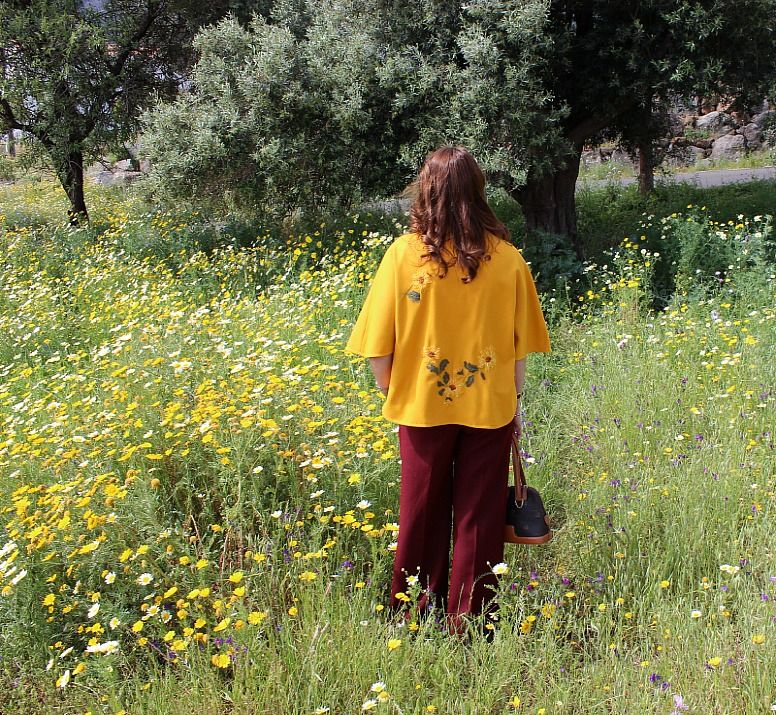 Finally I add another flower on one side of the back and a very small in front, only by whim .
Finalmente añadí otra flor en un lado de la espalda y una muy pequeña en un delantero, solamente por capricho y con la intención de no llenar demasiado el diseño.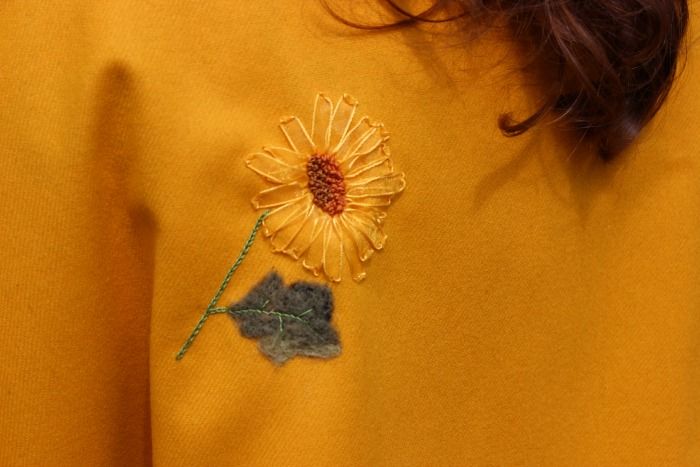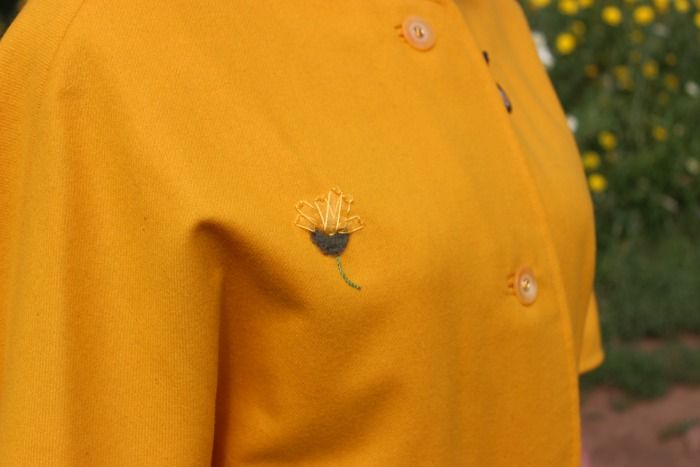 I had to find a place full of small wildflowers to accompany me!
I sewed these trousers about two years ago and they was part of suit, but the jacket remained a project and I never made it ...
Y para la localización tenía que buscar un lugar lleno de pequeñas florecillas silvestres que me acompañaran!
El pantalón lo hice unos dos años atrá
s y era parte de un equipo, pero la chaqueta se quedó en proyecto y nunca la hice, creo que no tardará mucho....
I decided to line the cape with a so funny vintage fabric, I found this fabric at a fleamarket last year and it cost two euros a piece of two meters, it's a pretty lightweight rayon and although I washed it retains yellow dots in some areas, but that adds charm to the pinecones print, it´s so appropriate for this cape !!
The pattern is Lies + Co and I did a alteration on it to make bound buttonholes, I added facing to the front piece too, that the original pattern does not bring.
Decidí forrar la capa con una tela vintage bastante divertida, encontré esta tela en un mercadillo el año pasado y me costó dos euros el trozo de dos metros, es un rayón bastante fino y aunque la lavé aún conserva puntitos amarillos en algunas zonas, pero eso le añade encanto al estampado de las piñas, me pareció tan apropiada para esta capa!!
El patrón es de Lies + Co
y le hice una modificación, para poder hacer ojales ribeteados, le añadí una vista a los delanteros también, que el patrón original no trae,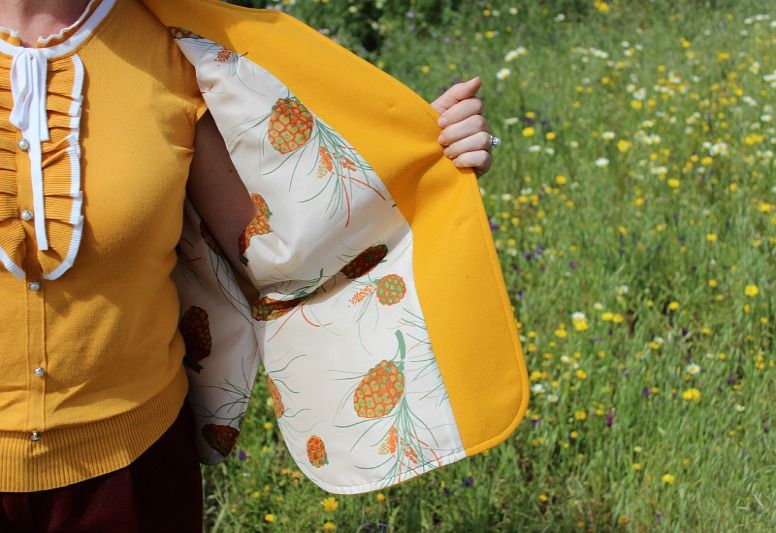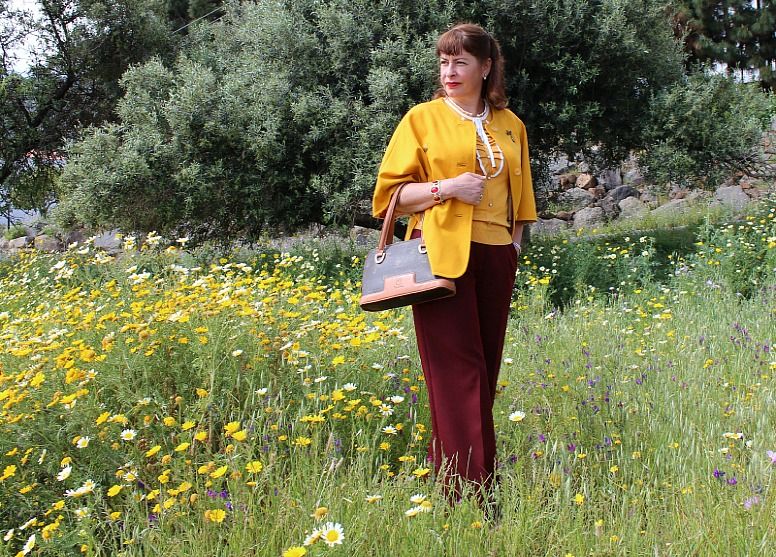 T
his is all for now, many new projects in my mind for this spring that is beginning ...
What's on your sewing table?
Y esto es todo por ahora, en mi mente muchos proyectos nuevos para esta primavera que está comenzando...
Qué hay en tu mesa de costura?