There is a new challenge on my sewing table, there are few things motivate me as much as a challenge.
I can't tell you much (for now), just that I have a scrap of fabric of 150 x 50 cm. between my hands and complete freedom to create something with it, the mysterious Lady who sent me the fabric panel said me ... "The sky is the limit".
And I searched in my particular "heaven" (ie, images of vintage fashion) to find the perfect inspiration, these three pics ...
Estoy metida de cabeza en un nuevo "sarao", soy incorregible y pocas cosas me motivan tanto como un desafío.
No puedo contar mucho por ahora, solamente que tengo un trozo de tela de 150 x 50 ctm. en mis manos y libertad completa para crear algo con ella, como dijo la misteriosa (por ahora) persona que me envió el panel de tela... "El cielo es el límite".
Y yo no tuve más que buscar un poquito en mi "cielo particular" (léase, imágenes de moda vintage) para encontrar la inspiración perfecta, estas tres imágenes...
Hooded suit, 1956
Model Geneviève in a Pierre Balmain Dress, 1954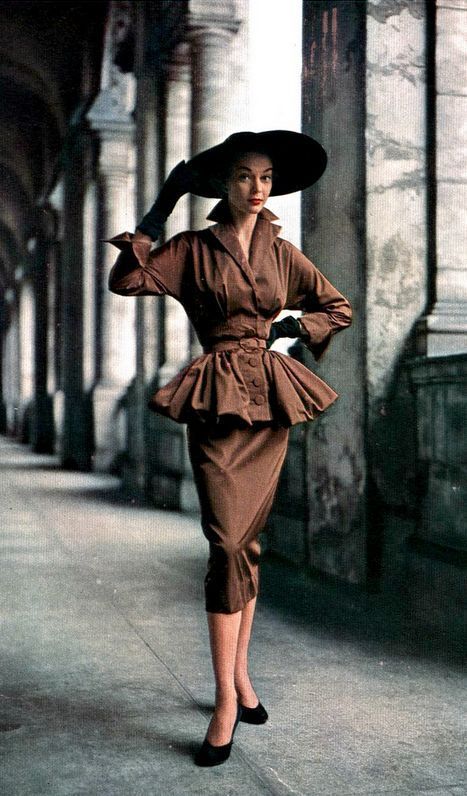 1950, Jean Patchett in a suit with peplum jacket.
I can't reveal more for now, the mystery will be solved if things go well (fingers crossed) at end of this week.
And you ... Challenges does motivate you??
Y como dirían en un antiguo concurso televisivo ... "Hasta aquí puedo leer..." , el misterio se resolverá si todo sale bien (dedos cruzados) a final de semana.
Y a ti... te motivan los desafíos??