These little pastries are a delicious sin, when I saw them on this French blog I needed to prepare them at home, but I did some small variation of the original recipe ... the amounts in this recipe get enough servings so you can always do it with half of ingredients ... but I assure you they disappear quickly, because they really are delicacy.
Tenía pensado compartir esta receta durante algún momento de esta mañana, pero las cosas se torcieron un poco por aquí y por eso lo hago ahora.
Estos pequeños pastelitos son un delicioso pecado, cuando los vi en
este blog francés
quedé en estado de shock y no paré hasta prepararlos en casa, aunque hice alguna pequeña variación de la original ... tengo que decir que con las cantidades de esta receta sale bastante cantidad, siempre puedes prepararlo con la mitad de los ingredientes... pero te aseguro que desaparecen enseguida, porque de verdad que son una exquisitez.
Ingredients:
For the chocolate cake.
-5 eggs
-100 Gr. sugar
-50 Gr Cocoa (pure, unsweetened)
-50 Gr. flour
-A Teaspoon baking powder
-A Pinch of salt.
For the syrup
-300 Gr. of sugar and 250 ml. water
For the vanilla frosting.
-1 Liters of milk
-200 Gr. sugar
Two teaspoons of powdered vanilla
-150 Gr. corn starch
-250 Gr. butter at room temperature
For glaze
-150 Gr. chocolate, I used 100 gr. milk chocolate and 50 gr. of black chocolate
-40 Ml. soft oil
Ingredientes:
Para el bizcocho de chocolate.
-5 huevos
-100 gr. de azúcar
-50 gr de cacao (puro, sin azúcar)
-50 gr. de harina
-Una cucharadita de polvos de hornear (levadura Royal)
-Una pizca de sal.
Para el almíbar
-300 gr. de azúcar y 250 ml. de agua
Para la crema de vainilla.
-1 litro de leche
-200 gr. de azúcar
-Dos cucharaditas de vainilla en polvo
-150 gr. de almidón de maiz
-250 gr. de mantequilla a temperatura ambiente
Para el glaseado
-150 gr. de chocolate, yo usé 100 gr. de chocolate con leche y 50 gr. de chocolate negro
-40 ml. de aceite suave
On the one hand mix the flour, cocoa, baking powder and salt in a small bowl.
In another bowl beat the egg whites until stiff peaks form with the sugar, then add the egg yolks one at a time, integrate well each before adding the next and incorporate all the above mix dry ingredients.
When everything is well mixed, pour the mixture into a baking pan 25 x 35 cm. well greased and with a piece of parchment paper on the bottom. Bake it at 180° C for about 15 minutes.
While the cake is baking, prepare the syrup; just boil the water with sugar for about ten minutes.
When the cake is cold, bathe it with the syrup even hot.
Por un lado, en un tazón pequeño mezclamos la harina, cacao, polvo de hornear y la sal.
En otro cuenco batir las claras a punto de nieve junto con el azúcar, una vez que están montadas añadir las yemas de huevo una por una, integrar bien cada una antes de añadir la siguiente e incorporar todos los ingredientes secos que mezclamos anteriormente.
Cuando está todo bien mezclado, verter la mezcla en un molde para hornear de 25 x 35 cm. al que habremos engrasado bien y colocado un trozo de papel de horno en el fondo. Hornear a 180º C durante unos 15 minutos.
Mientras el bizcocho se está horneando, preparamos el almíbar llevando a ebullición durante unos diez minutos el agua con el azúcar.
Cuando el bizcocho está frío, bañar con el almíbar aún caliente.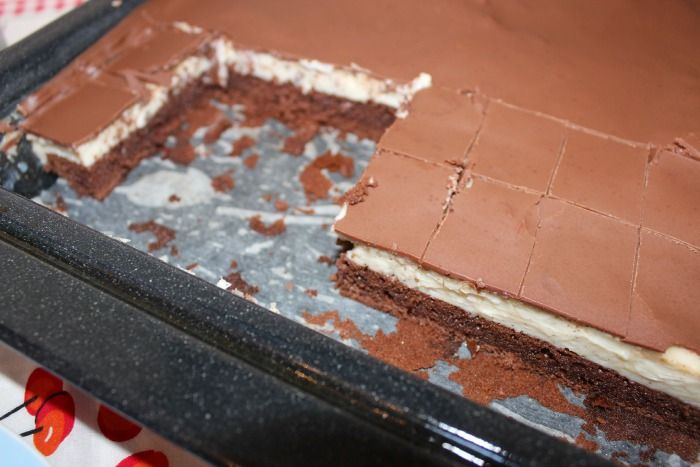 For to prepare the frosting, you mix well the cornstarch with 150 ml. milk in a bowl until completely dissolved.
In a saucepan put the remaining milk with the sugar and vanilla to over low heat and when it begins to boil add the mixture of milk and cornstarch, beat it well and when it boil again, cook for two more minutes and then remove from heat.
Wait until it's slightly cool and cover with climgfilm
, when it is cold (at room temperature) add the butter into pieces and beat the mixture until everything is fully integrated and we have a thin cream.
Carefully, we spread the cream over the cake and using a silicone spatula flatten the entire surface to leave it as level as possible and brought to the fridge for a while.
Es hora de preparar la crema de vainilla, así que mezclamos bien la maicena con 150 ml. de leche hasta su completa disolución en un tazón. En un cazo ponemos el resto de la leche junto con el azúcar y la vainilla, llevamos a fuego lento y cuando comience a hervir añadimos mezcla de la leche y la maicena y batimos bien mientras vuelve a hervir nuevamente, cocinar durante dos minutos más y luego apartar del fuego.
Dejar enfriar un poco y cubrir con film transparente a temperatura ambiente, cuando ya esté fría le añadimos la mantequilla a trozos y batimos la mezcla hasta que todo esté completamente integrado y tengamos una crema fina.
Con ayuda de una espátula de silicona, esparcimos con cuidado esta crema encima del bizcocho y aplanamos toda la superficie para dejarla lo más nivelada posible y llevamos a la nevera un rato.
When the cake is cool, we melt the chocolate with the oil in the microwave and let it temper a bit and then pour it carefully on the frosting and take it to the fridge again until solid chocolate.
We break it into small pieces and keep in the fridge, it'll be most delicious
the next day ...
And we can to pray that our waistlines not grow too ...
Cuando el pastel esté frío derretimos el chocolate con el aceite al baño maría o al microondas y lo dejamos templar un poco para luego verterlo con cuidado sobre la crema de vainilla y lo llevamos a la nevera nuevamente hasta que el chocolate solidifique.
Lo partimos en trocitos pequeños, lo mantenemos en la nevera, estarán mejor al día siguiente...
Y ya podemos rezar para que nuestra cintura no crezca demasiado...