And this is the result of a cold, windy and rainy weekend...
The most pleasurable in these cases is to enjoy the knitting needles and once I started, I just couldn't stop
...
The pattern chosen this time is a sweater from 1953 I bought on Etsy last year and was on my waiting list since then, of course I made some changes ....
Y esto es lo que ha dado de si un fin de semana frío, ventoso y lluvioso...
Lo más agradable en estos casos es disfrutar de las agujas de tejer y una vez que empecé yo no podía parar...
El patrón elegido esta vez es un suéter del año 1953, lo compré en
Etsy
el año pasado y estaba en mi lista de espera desde entonces, por supuesto hice algunos cambios....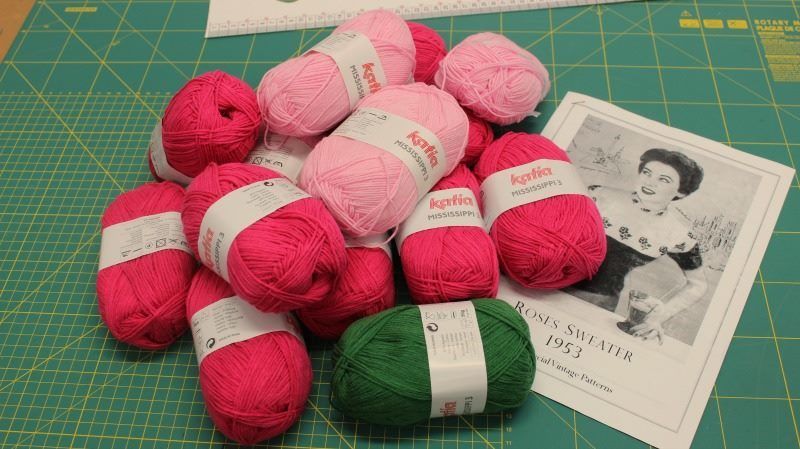 This will be a long sleeve sweater, to use before the warm days there and obviously I changed the color, dark pink for the bodice and long sleeves and light pink for the yoke.
Before I made a gauge (small sample) to ensure the number of stitches on my needle is correct for the pattern, it was perfect and I think it's the first time I don't have to adjust the number of stitches in a knitting pattern, which is always a little pain.
Esto va a ser un suéter de manga larga, más propio de usar antes que lleguen los días cálidos y obviamente cambié el color, rosa oscuro para el cuerpo y las mangas largas y rosa claro para el canesú.
Antes de comenzar hice una galga (pequeña muestra) para asegurarme de la cantidad de puntos en mi aguja es la correcta para el patrón, resultó perfecta y creo que es la primera vez que yo no tengo que ajustar el número de puntos en un patrón de tejer, que es siempre un pequeño dolor.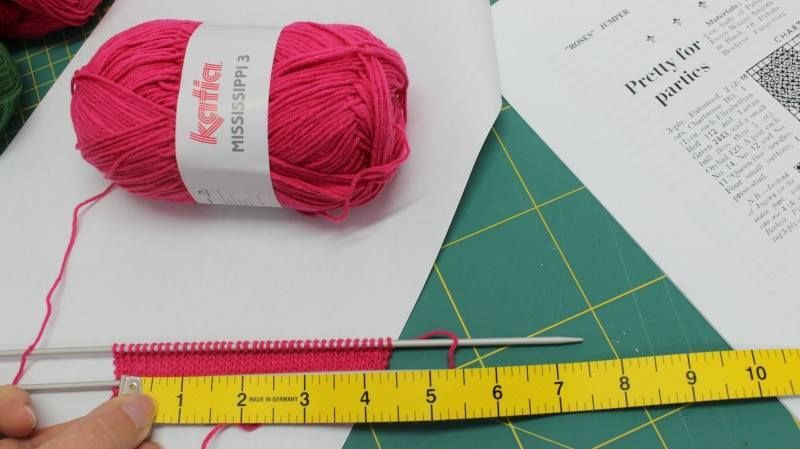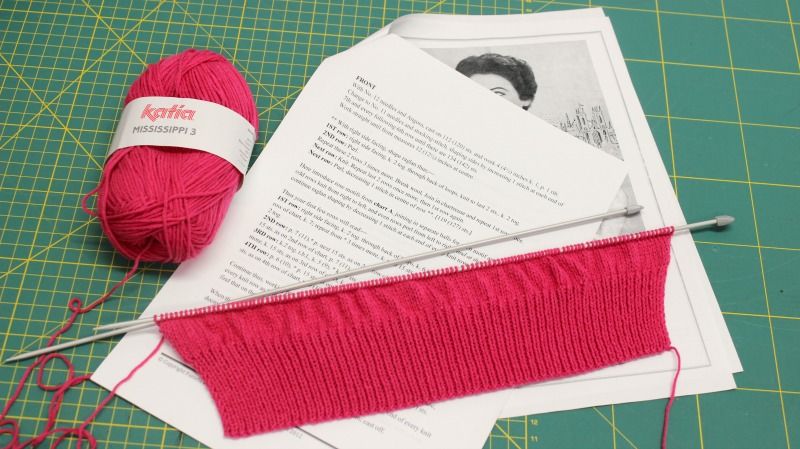 Another change I made was leaving a waistband of only five centimeters, the pattern features a ten centimeters waistband and then go adding stitches on the sides to widen the piece, I wanted to take a closer look at a long-sleeved sweater, so I knitted five centimeters waistband and I changed to stocking-stitch and added all the stitches that the pattern needs, so I'll get that slightly puffed look of a sweater.
I suspect it will be quite quick to knit, the only worry will be roses yoke ...
And now I'm going to give you two clues ...
- The sweater is not for me ....
- The sweater is pink ....
Otro cambio que hice fue dejar una patente de solamente cinco centímetros, el patrón pide pide una de diez centímetros y luego ir añadiendo puntos en los laterales para ensanchar la pieza, yo quería darle un aspecto más cercano a un suéter de manga larga, por lo que a los cinco centímetros de patente cambié a punto jersey y añadí de golpe y porrazo todos los puntos que necesita el patrón, así conseguiré ese aspecto ligeramente abullonado de un suéter.
Sospecho que será bastante rápido de tejer, sin más preocupación que las rosas del canesú...
Y ahora te voy a dar dos pistas...
- El suéter no es para mí....
- El suéter es rosa....