I'm so happy that this jumper is coming to an end, I always remember you that I'm a very slow knitter, basically because sewing is my main activity and knitting times are very short.
Yo estoy tan feliz que
este suéter
está llegando a su fin, siempre te recuerdo que yo no soy una tejedora muy rápida, básicamente porque mi actividad principal es la costura y los ratos para tejer son muy cortos.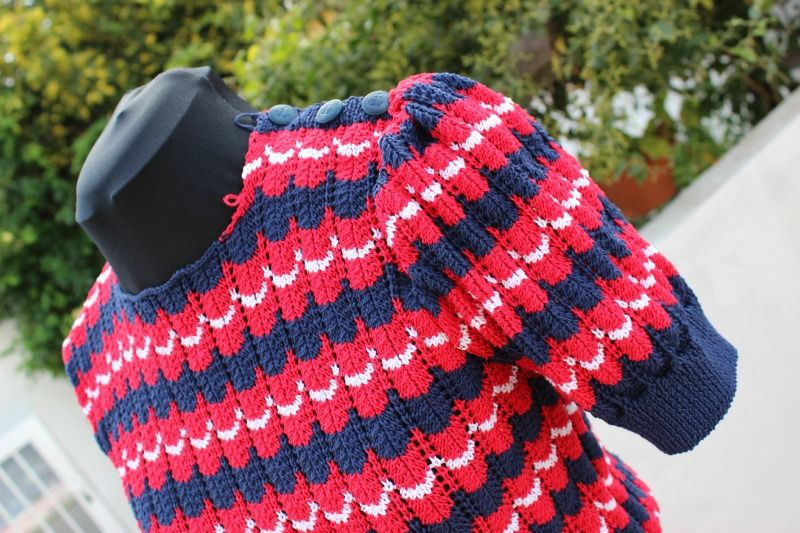 I love this jumper from the first time I saw it. The first problem was the yarn chosen by me, it difficult the progress since it opened in strands in each stitch and the second problem is that I wanted the sweater was thin, so I chose a thin thread and therefore the pattern didn't coincided with the number of stitches on the needle to knit it in my size ... the result ... a pattern made for myself based on knitting and undo to be adapted to my size.
Siempre he estado enamorada
de este suéter,
desde la primera vez que lo vi. El primer problema fue que el hilo que elegí me dificultó bastante el avance porque se abría en cabos en cada punto tejido y el segundo problema es que yo quería que el suéter fuese fino, así que elegí un hilo delgado y por lo tanto el patrón no coincidía con el nº de puntos que yo necesito en la aguja para tejerlo a mi medida... el resultado... hacer un patrón por mí misma a base de tejer y deshacer bastante para ir adaptándolo a mis necesidades.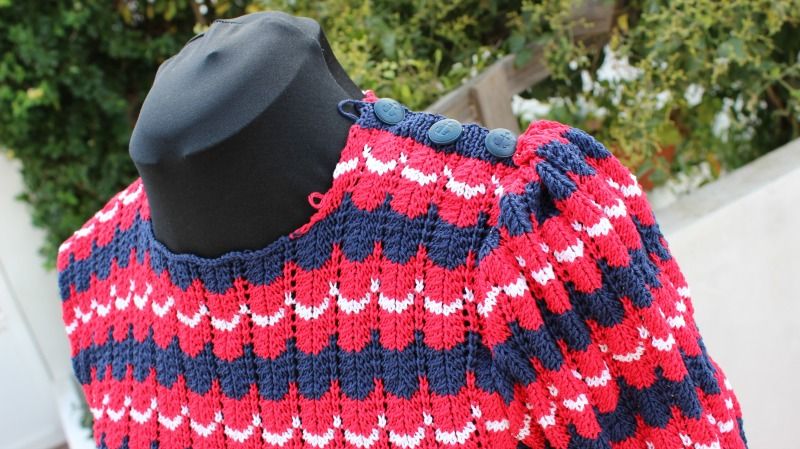 I also made some small changes to the original pattern, I though that the original collar is tricky to slide it through the head ... especially if you've spent any time with your hair and makeup, so I leaved an shoulder open and a patent with three eyelets, so it will be easier to use.
I also shortened the length of the sleeve and have left a gathered on the top sleeve after I see it at this girl, I really liked the result ...
También hice algunos pequeños cambios sobre el patrón original, me parecía que el cuello original es algo complicado para pasarlo por la cabeza... sobretodo si has pasado algún tiempo en peinarte y maquillarte, así que se me ocurrió dejar un hombro abierto y en su lugar tejer una patente con tres ojales, así será más fácil de usar.
También he acortado el largo de la manga y he dejado un fruncido en la copa de la manga después de verlo en
el de esta chica,
me gustó mucho el resultado...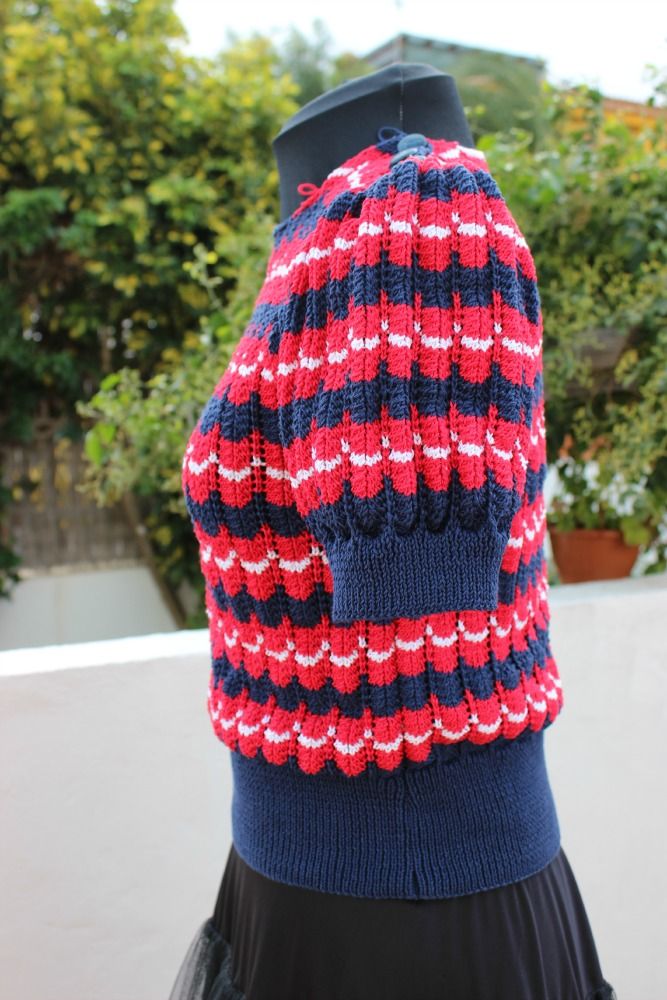 I need knit a sleeve and around the neckline to finish it and be a happy woman!
I want to premiere it this weekend if all is well. Fingers crossed !!
I also want to thank all the generous ladies who have voted for me on the Rhonda's challenge, if you didn't already and liked my proposal, you're in time to vote until day 9 February !!
Me falta una manga y tejer alrededor del cuello para acabarlo del todo y ser una mujer feliz!
Yo quiero estrenarlo este fin de semana si todo sale bien. Dedos cruzados!!
También quiero dar las gracias a todas las generosas Damas que han votado por mi en
el desafío de Rhonda,
si aún no lo has hecho y
te gustó mi propuesta,
estás a tiempo para votar hasta el día 9 de Febrero!!