I thought posting this recipe a few hours ago, but life has been crossed and I could not. I will translate this recipe to English tomorrow, when I have some free time, sorry for this setback.
Tenía pensado compartir esta receta durante algún momento de esta mañana, pero las cosas se torcieron un poco por aquí y por eso lo hago ahora.
Estos pequeños pastelitos son un delicioso pecado, cuando los vi en
este blog francés
quedé en estado de shock y no paré hasta prepararlos en casa, aunque hice alguna pequeña variación de la original ... tengo que decir que con las cantidades de esta receta sale bastante cantidad, siempre puedes prepararlo con la mitad de los ingredientes... pero te aseguro que desaparecen enseguida, porque de verdad que son una exquisitez.
Ingredientes:
Para el bizcocho de chocolate.
-5 huevos
-100 gr. de azúcar
-50 gr de cacao (puro, sin azúcar)
-50 gr. de harina
-Una cucharadita de polvos de hornear (levadura Royal)
-Una pizca de sal.
Para el almíbar
-300 gr. de azúcar y 250 ml. de agua
Para la crema de vainilla.
-1 litro de leche
-200 gr. de azúcar
-Dos cucharaditas de vainilla en polvo
-150 gr. de almidón de maiz
-250 gr. de mantequilla a temperatura ambiente
Para el glaseado
-150 gr. de chocolate, yo usé 100 gr. de chocolate con leche y 50 gr. de chocolate negro
-40 ml. de aceite suave
Por un lado, en un tazón pequeño mezclamos la harina, cacao, polvo de hornear y la sal.
En otro cuenco batir las claras a punto de nieve junto con el azúcar, una vez que están montadas añadir las yemas de huevo una por una, integrar bien cada una antes de añadir la siguiente e incorporar todos los ingredientes secos que mezclamos anteriormente.
Cuando está todo bien mezclado, verter la mezcla en un molde para hornear de 25 x 35 cm. al que habremos engrasado bien y colocado un trozo de papel de horno en el fondo. Hornear a 180º C durante unos 15 minutos.
Mientras el bizcocho se está horneando, preparamos el almíbar llevando a ebullición durante unos diez minutos el agua con el azúcar.
Cuando el bizcocho está frío, bañar con el almíbar aún caliente.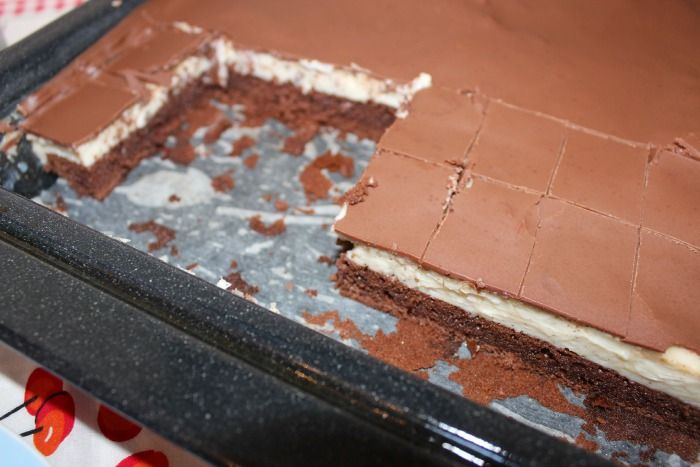 Es hora de preparar la crema de vainilla, así que mezclamos bien la maicena con 150 ml. de leche hasta su completa disolución en un tazón. En un cazo ponemos el resto de la leche junto con el azúcar y la vainilla, llevamos a fuego lento y cuando comience a hervir añadimos mezcla de la leche y la maicena y batimos bien mientras vuelve a hervir nuevamente, cocinar durante dos minutos más y luego apartar del fuego.
Dejar enfriar un poco y cubrir con film transparente a temperatura ambiente, cuando ya esté fría le añadimos la mantequilla a trozos y batimos la mezcla hasta que todo esté completamente integrado y tengamos una crema fina.
Con ayuda de una espátula de silicona, esparcimos con cuidado esta crema encima del bizcocho y aplanamos toda la superficie para dejarla lo más nivelada posible y llevamos a la nevera un rato.
Cuando el pastel esté frío derretimos el chocolate con el aceite al baño maría o al microondas y lo dejamos templar un poco para luego verterlo con cuidado sobre la crema de vainilla y lo llevamos a la nevera nuevamente hasta que el chocolate solidifique.
Lo partimos en trocitos pequeños, lo mantenemos en la nevera, estarán mejor al día siguiente...
Y ya podemos rezar para que nuestra cintura no crezca demasiado...