When I began to sew my clothes, one of the first frustrations I had was the collars. There was no way that they remain well finished, sometimes they were completely flattened ... lifeless, were sometimes uneven, sometimes with the ends totally defying gravity upturned ... Over time I discovered some tips that helped me to improve them and after much practice I've gotten dominate them, so I thought I'd share with you a tutorial for drawing the pattern, cut and make a Peter Pan collar perfectly plumb from scratch. Although in general this tutorial is useful for all kinds of collars. Here we go ...
Cuando yo empezaba a coser mi ropa, una de las primeras frustraciones que tuve fue los cuellos. No había forma de que quedaran bien acabados, unas veces quedaban totalmente aplanados... sin vida, otras veces quedaban desiguales, otras con las puntas desafiando a la gravedad totalmente giradas hacia arriba... con el tiempo he descubierto algunos truquillos que me ayudaron a mejorarlos y después de mucha práctica de coserlos y volverlos a deshacer he conseguido dominarlos, así que yo pensé en compartir contigo un tutorial para patronar, cortar y confeccionar un cuello bebé perfectamente aplomado desde cero. Aunque en lineas generales este tutorial sirve para todo tipo de cuellos. Vamos allá...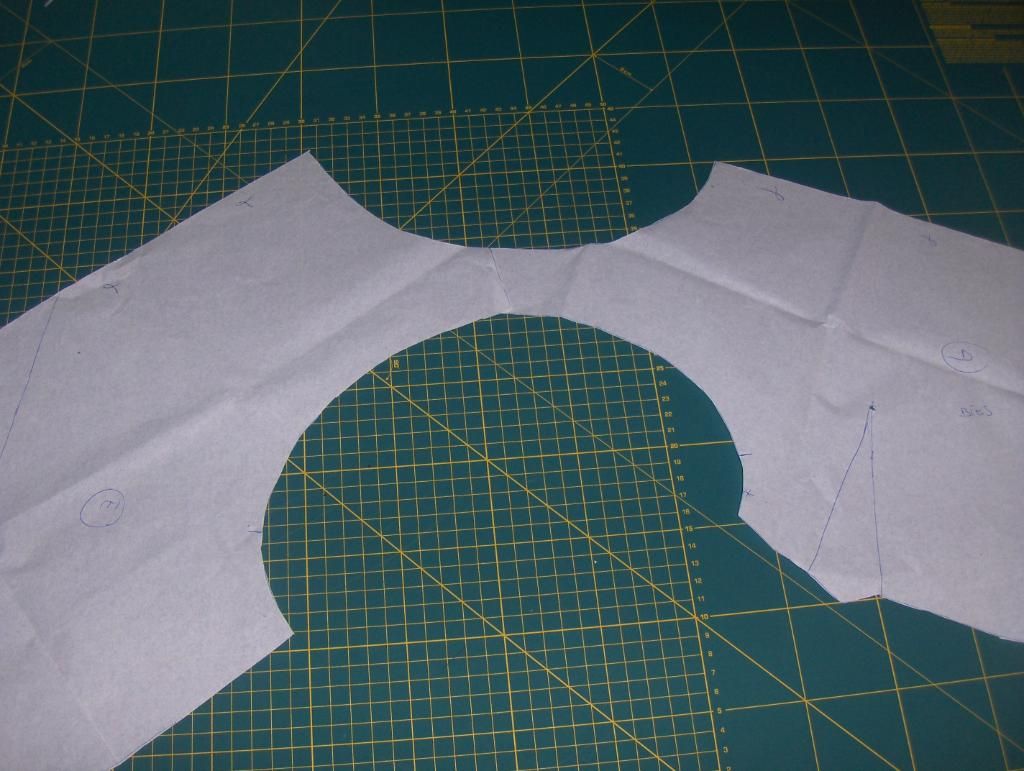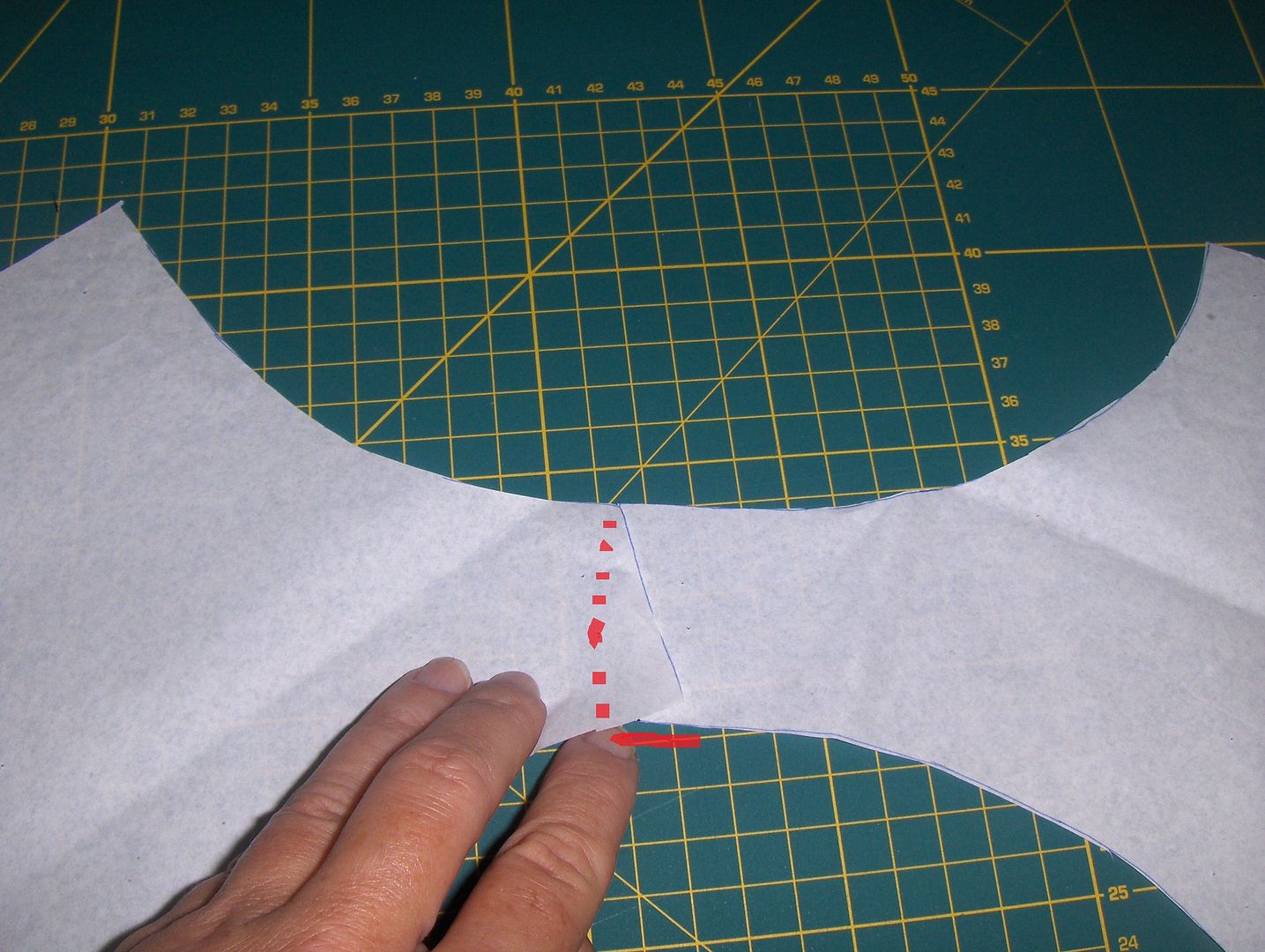 The first step is to place the patterns of the body to which we add a collar, in the position shown in the first picture, the shoulders together. in the second photo shows how we superimpose about three centimeters sleeve vertices, ie, keeping the initial position of the neck line, pattern pieces mounted in the sleeve about three centimeters.
El primer paso es colocar los patrones del cuerpo al que queremos añadir un cuello en la posición que muestra la primera foto, con los hombros juntos, en la segunda foto se muestra como debemos superponer unos tres centímetros los vértices de la manga, es decir, manteniendo la posición inicial en el área del cuello, montar las piezas del patrón en la zona de la manga unos tres centímetros.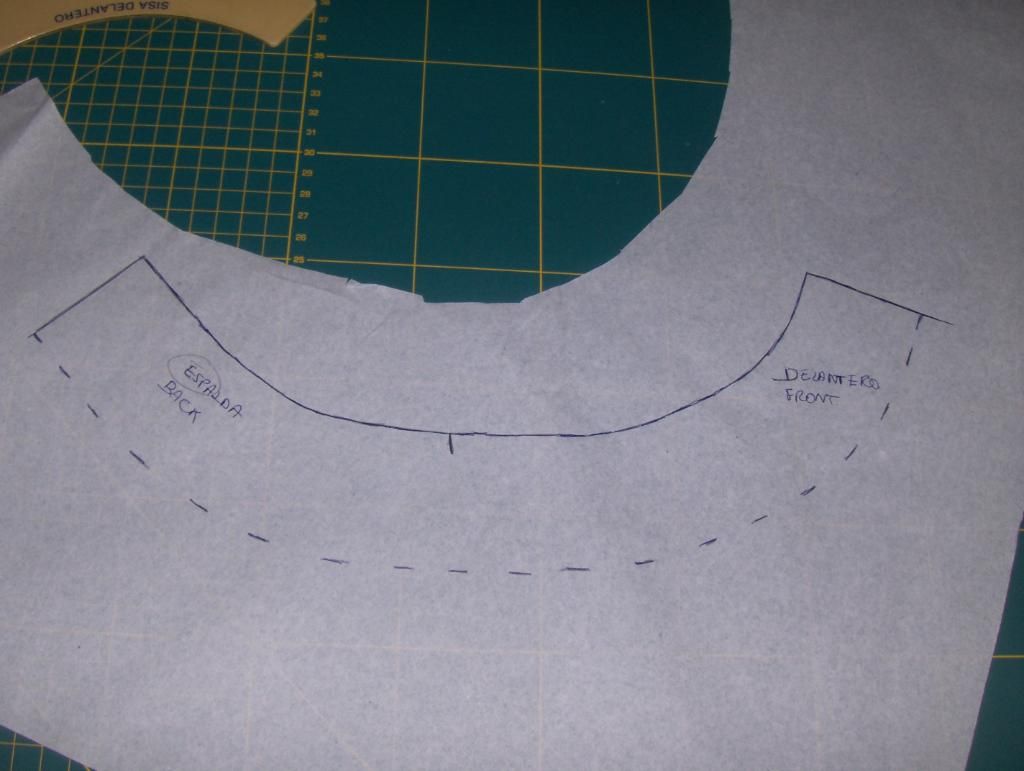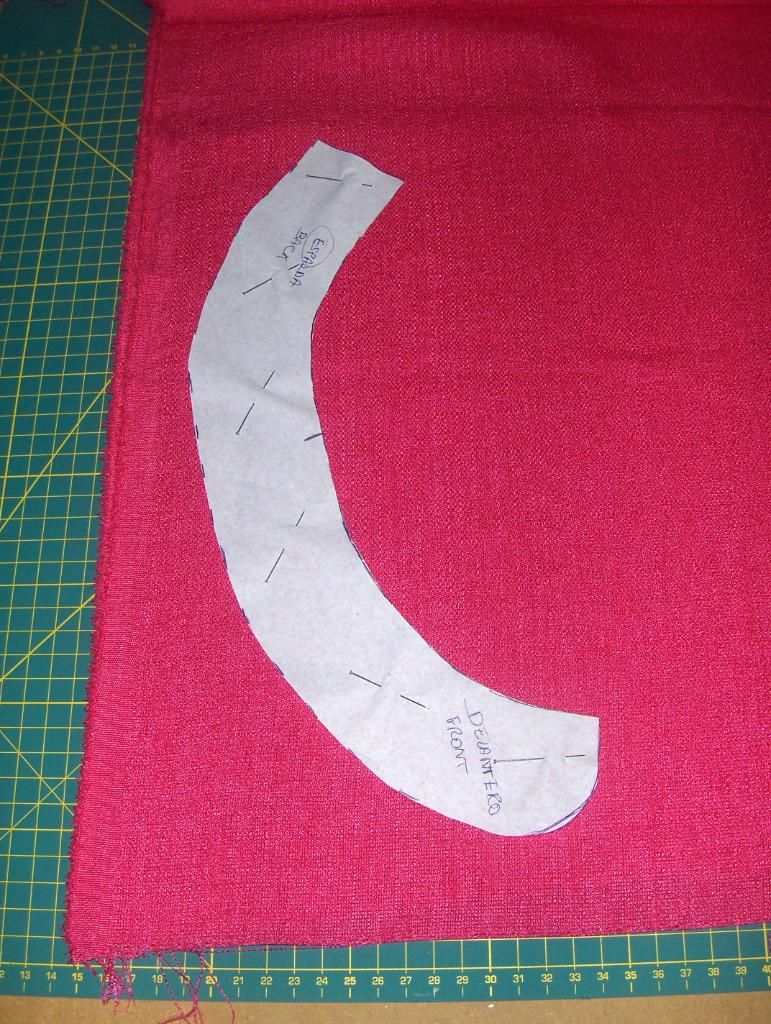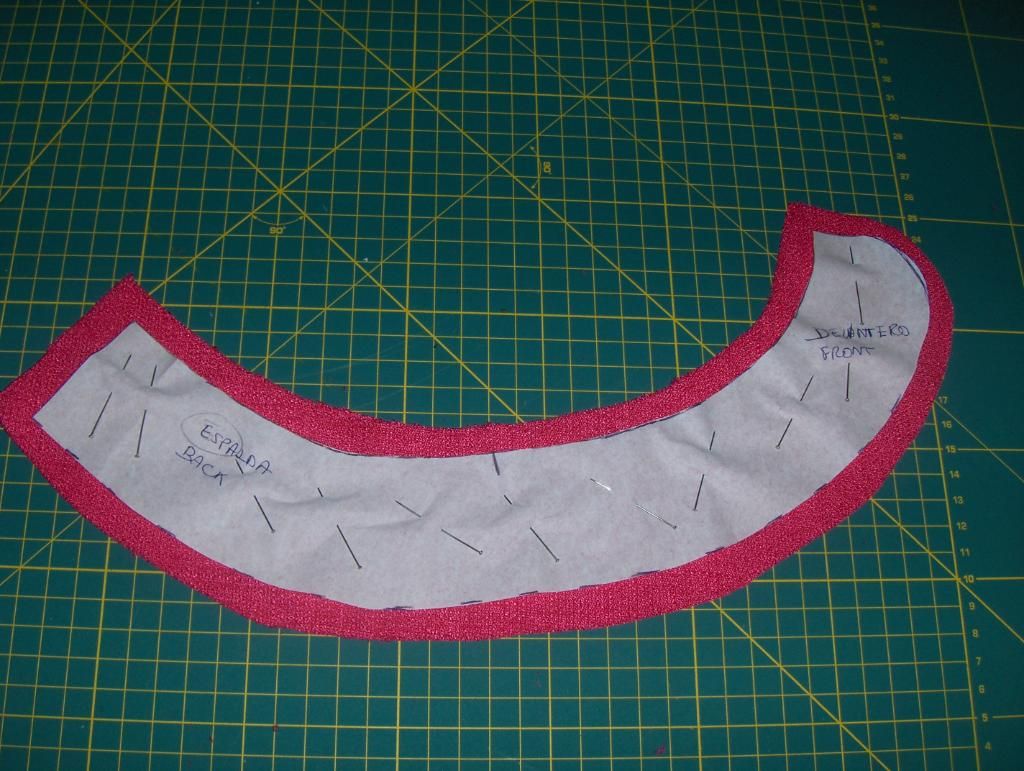 Keeping the previous position of the patterns of the body, placed under a piece of paper and draw around the outline of cleavage patterns, marking also the site of the shoulder seam to have it for reference, I have decided that my collar will have about six centimeters wide, but you can adapt the size of your choosing, marking also the pattern in which side of the back and the front. I also decided that I wanted my collar ends in a gentle wave in the front and in the back corner, but of course that is optional.
Then place the pattern on the fabric and cut twice leaving one centimeter around the pattern, this will be one side of the collar, so I cut the other side also.
Manteniendo la posición anterior de los patrones del cuerpo, colocar debajo un trozo de papel y dibujar todo el contorno de escote de los patrones, marcar también el sitio de la costura de hombro para tenerlo de referencia, yo he decidido que mi cuello va a tener unos seis centímetros de ancho, pero tú puedes adaptar este tamaño a tu gusto, asimismo marcar en el patrón cual es el lado de la espalda y del delantero. Yo decidí tambien que quería que mi cuello termina en una suave onda en el delantero y en esquina en la espalda, pero por supuesto, eso es opcional.
Seguidamente colocar el patrón del cuello sobre la tela doble y cortar dejando un centímetro alrededor de todo el patrón, esto será un lado del cuello, así que cortar el otro lado igualmente.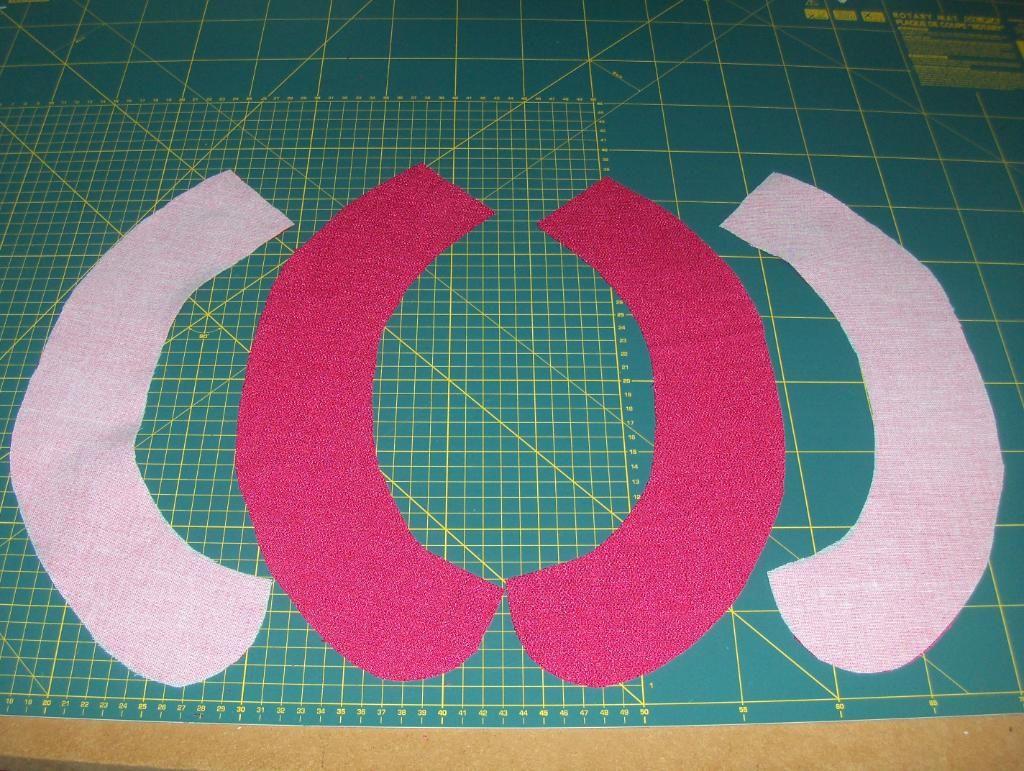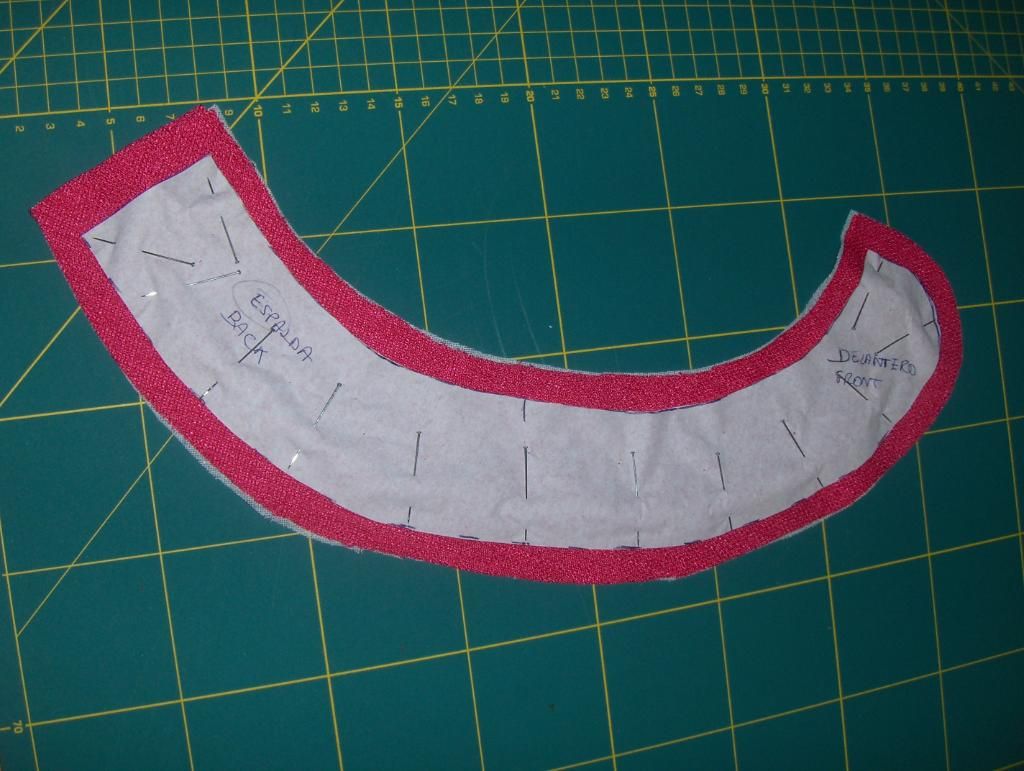 Now we have four pieces of the collar in the arrangement of the first picture, interfacing with the iron to two parts, these parts with interlining are the underside of the collar, the bellow layer. No interlining layers are parts above the collar.
We approached the two pieces of one side of the neck by placing the fabric right sides and put pins, above this, we put the adjusting collar pattern in the same position as when cut on the fabric, ie, leaving one centimeter all around
Ahora tendremos cuatro piezas del cuello en la disposición de la primera foto, pegamos entretela con la plancha a dos de las piezas, estas piezas entreteladas son la parte inferior del cuello,es decir la capa que queda debajo; las que no tienen entretela son las piezas de arriba del cuello.
Encaramos las dos piezas de un lado del cuello colocando la tela derecho contra derecho y ponemos alfileres, encima de esta volvemos a colocar el patrón del cuello ajustándolo en la misma posición que cuando lo cortamos sobre la tela, es decir, dejando un centímetro todo alrededor.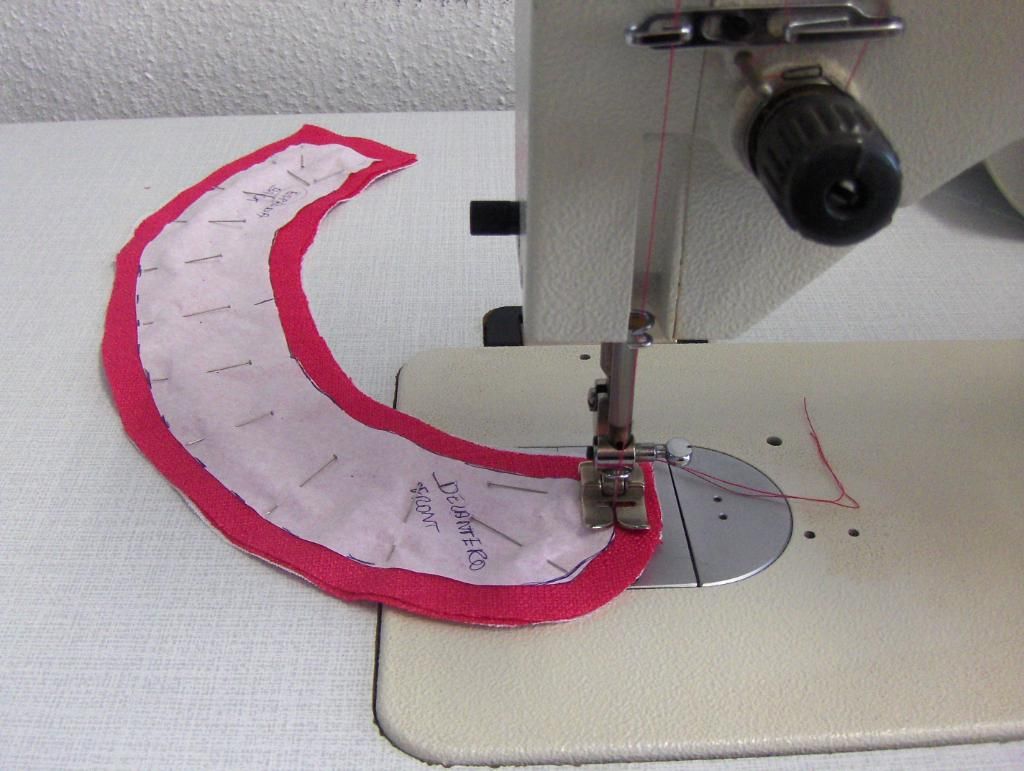 A little tip for the two side of the collar are exactly alike is sew along the edge line of the pattern, sew one when we finished, we pulled the pins and put the pattern on the other side of the neck and back to do the same, this ensures that the two sides of the collar are identical.
Un pequeño truco para que los dos lado del cuello queden exactamente iguales es coserlos siguiendo la linea del borde del patrón, cuando terminamos de coser uno, sacamos los alfileres y colocamos el patrón sobre el otro lado del cuello y volvemos a hacer lo mismo, esto garantiza que los dos lados del cuello serán exactamente iguales.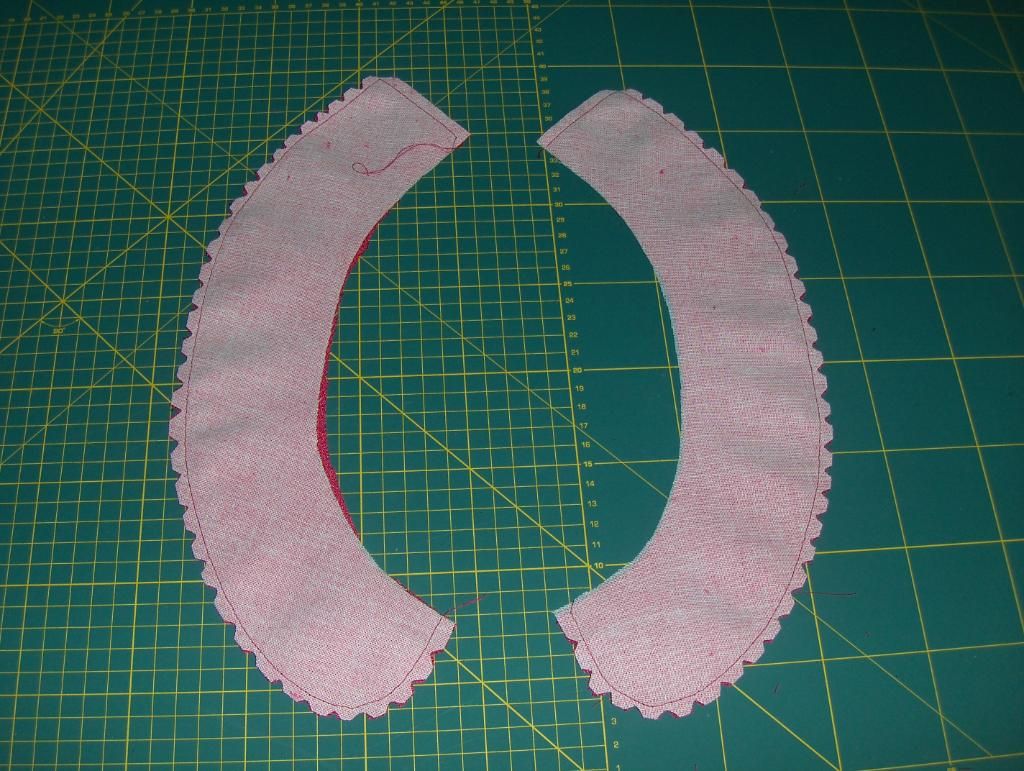 Once we have sewn the two sides of the collar, trim seam allowances and giving emptying pickets around, turn around the collars and sew a seam along the edge, this step can be replaced by a good ironing, that depends your fabric and your taste.
Una vez hemos cosido los dos lados del cuello, recortar los márgenes de costura y dar piquetes alrededor para vaciar, dar la vuelta a los cuellos y coser un pespunte por el borde, este paso puede sustituirse por un buen planchado, eso depende de tu tela y de tu gusto.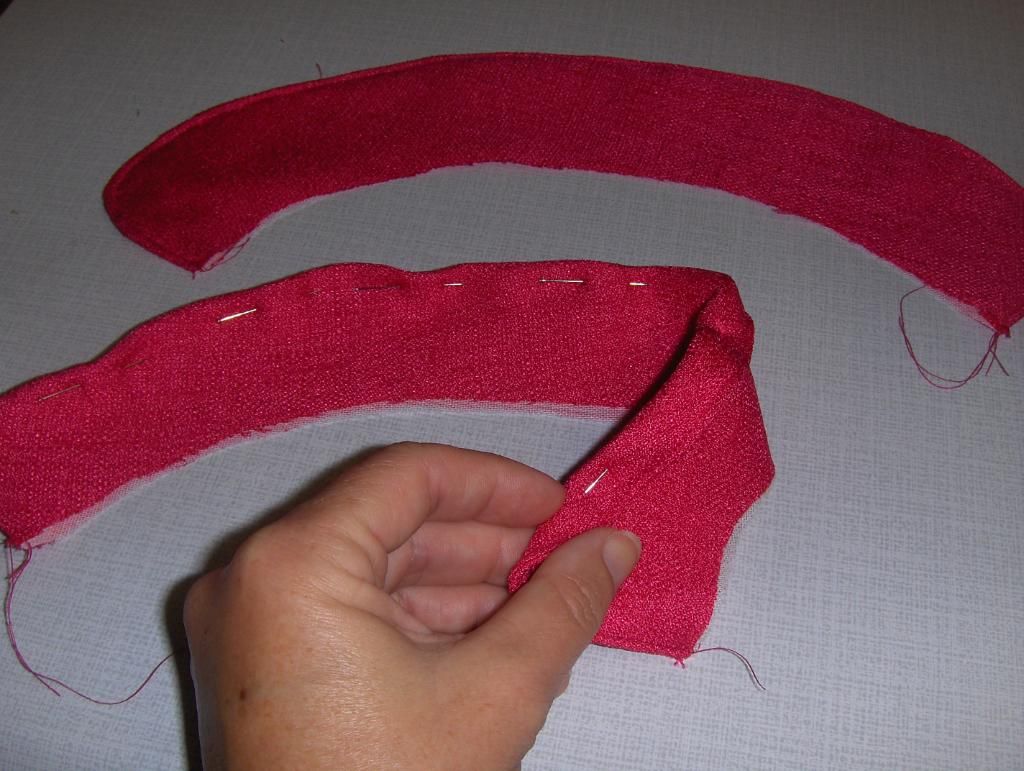 This step is the trick to get the Collar gently curled on the finished garment and have that beautiful appearance, folding the top edge of the collar put back pins to hold it as shown in the first picture, remember that the underlayer is which carries the interlining, so after bending see that there is a small excess undercoat looming.
En este paso está el truquillo para conseguir que el cuello se ondule suavemente sobre la prenda terminada y tenga esa hermosa apariencia, doblando el borde superior del cuello hacia atrás colocamos alfileres para sujetarlo como se observa en la primera foto, recuerde que la capa inferior es la que lleva la entretela, así que después de doblarlo veremos que hay un pequeño exceso de capa inferior que asoma .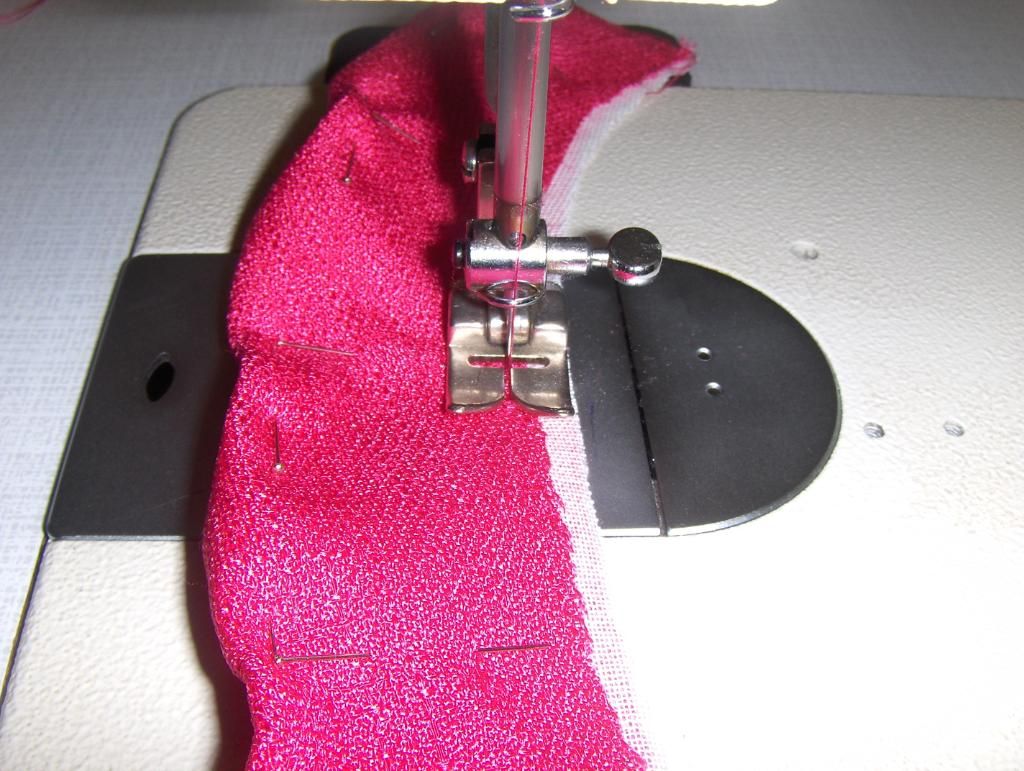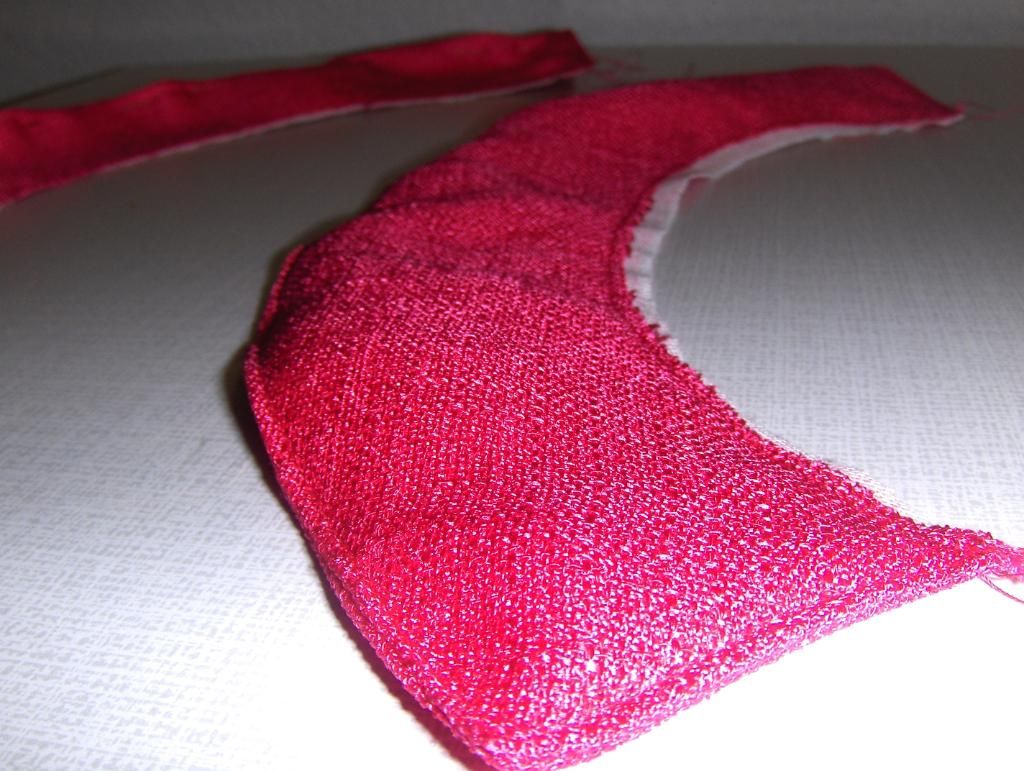 Without removing the pins and holding the collar, have a stitch on the edge where the collar will be attached to the bodice to hold the two layers of fabric in that position at the end and remove the pins have a collar like the second picture, notes that the upper fabric layer is smoothly curved while the underlayer remains flat on the table. Do the same on the other side of the collar.
Sin quitar los alfileres y manteniendo el cuello doblado, pasar un pespunte en el borde donde el cuello irá unido a la blusa para sujetar las dos capas de tela en esa posición, al terminar y quitar los alfileres tendremos un cuello como en la segunda foto, observa que la capa superior de la tela está suavemente arqueada mientras la capa inferior permanece plana sobre la mesa. Hacer lo mismo en el otro lado del cuello.
Cut off excess material protruding from the underlayer of the collar and let's ride it on the bodice, we need a piece of bias that is slightly longer than the contour of the collar, I have cut this bias from the same fabric of my blouse and it´s about three centimeters and a half after , then I've ironed bending it in half.
Cortar el exceso de tela que sobresale de la capa inferior del cuello y vamos a montarlo sobre la blusa, para ello necesitamos un trozo de bies que sea un poco más largo que el contorno del cuello, este bies lo he cortado de la misma tela de mi blusa y tiene de ancho aproximadamente unos tres centímetros y medio, después lo he planchado doblando por la mitad.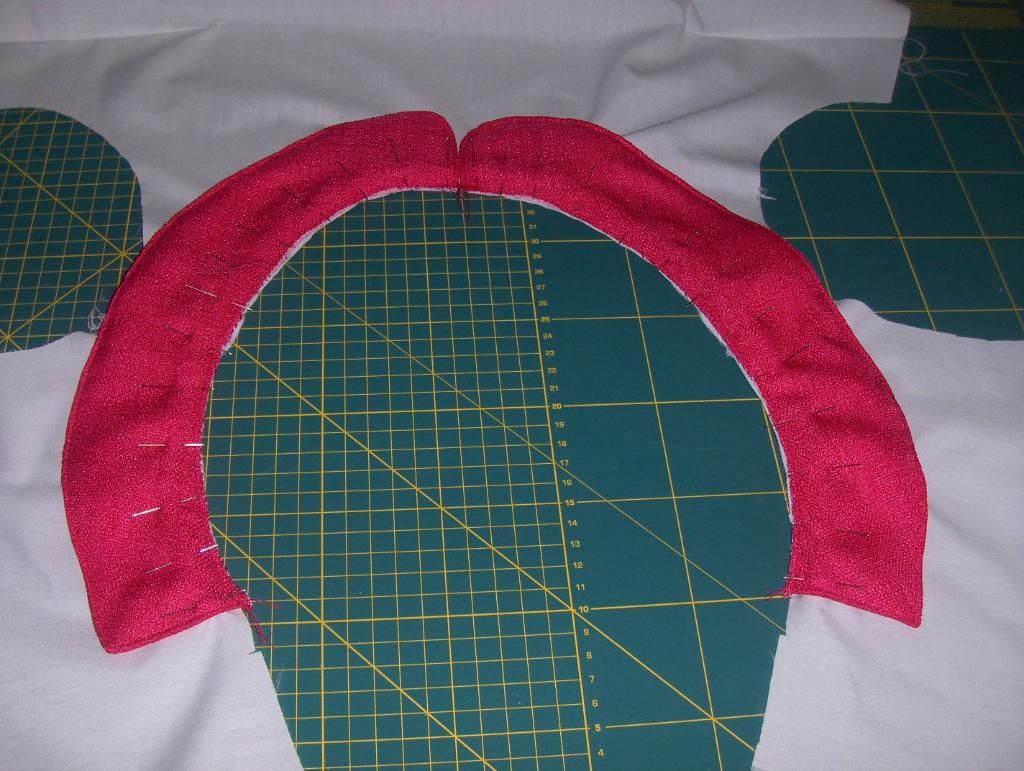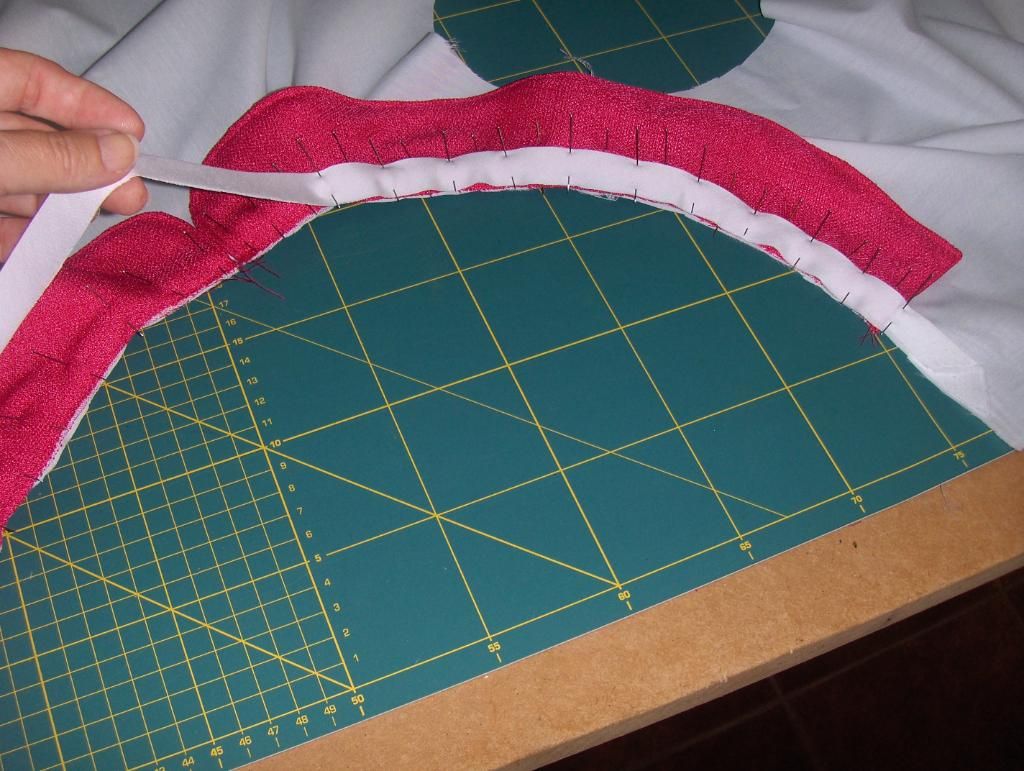 Place the two sides of the blouse collar over this way: edges first place with pins, then place on the shoulder seam and split the rest. Above it place with pins bias strip we've done before.
Colocar los dos lados de cuello sobre la blusa de esta forma: colocar primero los bordes con alfileres , después colocar sobre la costura del hombro y repartir el resto. encima colocar con alfileres la tira de bies que hemos hecho antes.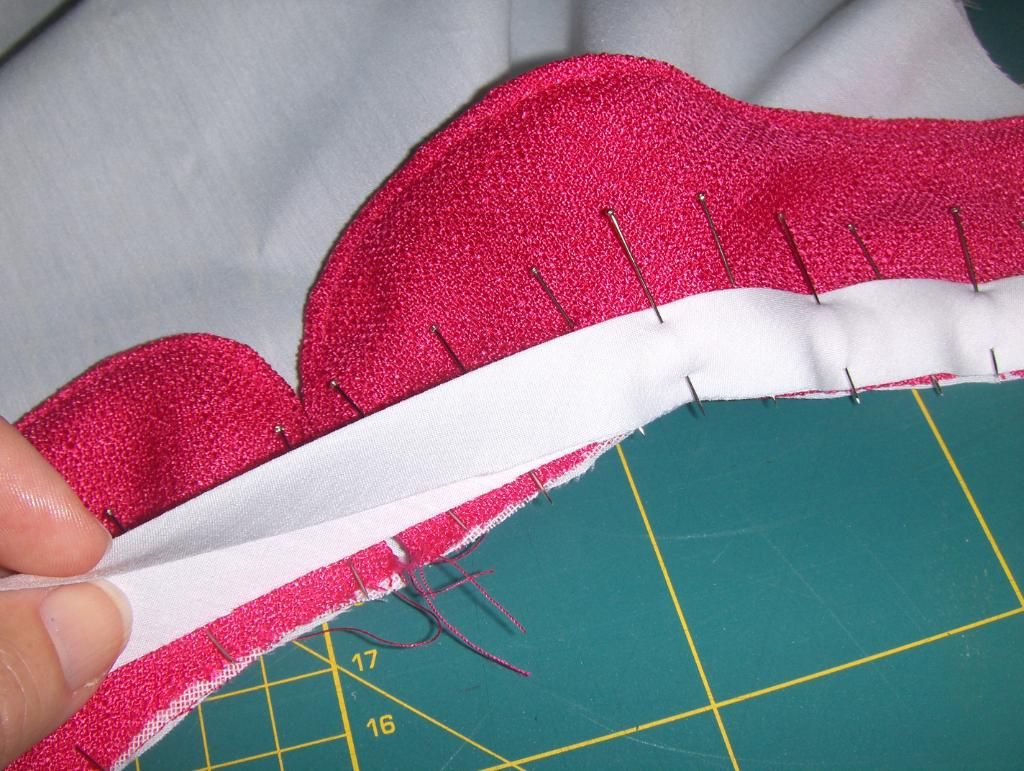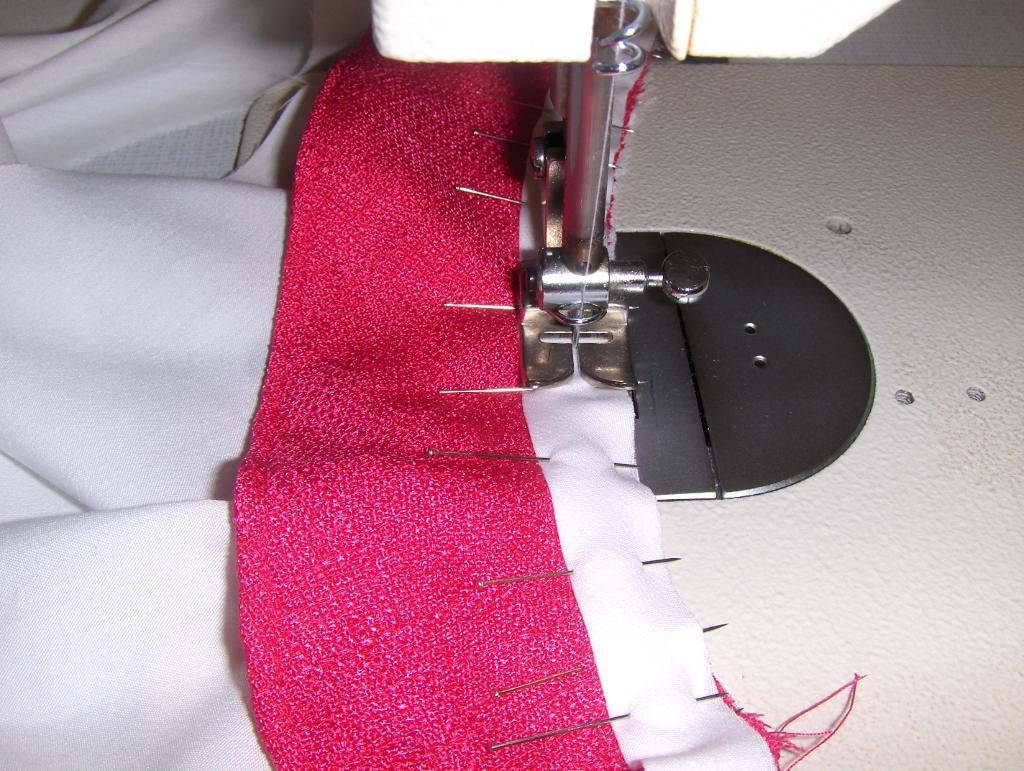 The first photo shows how it should be placed bias strip, sew it uniting all layers of fabric.
En la primera foto se ve la forma en que debe ir colocada la tira de bies, coser uniendo todas las capas de tela.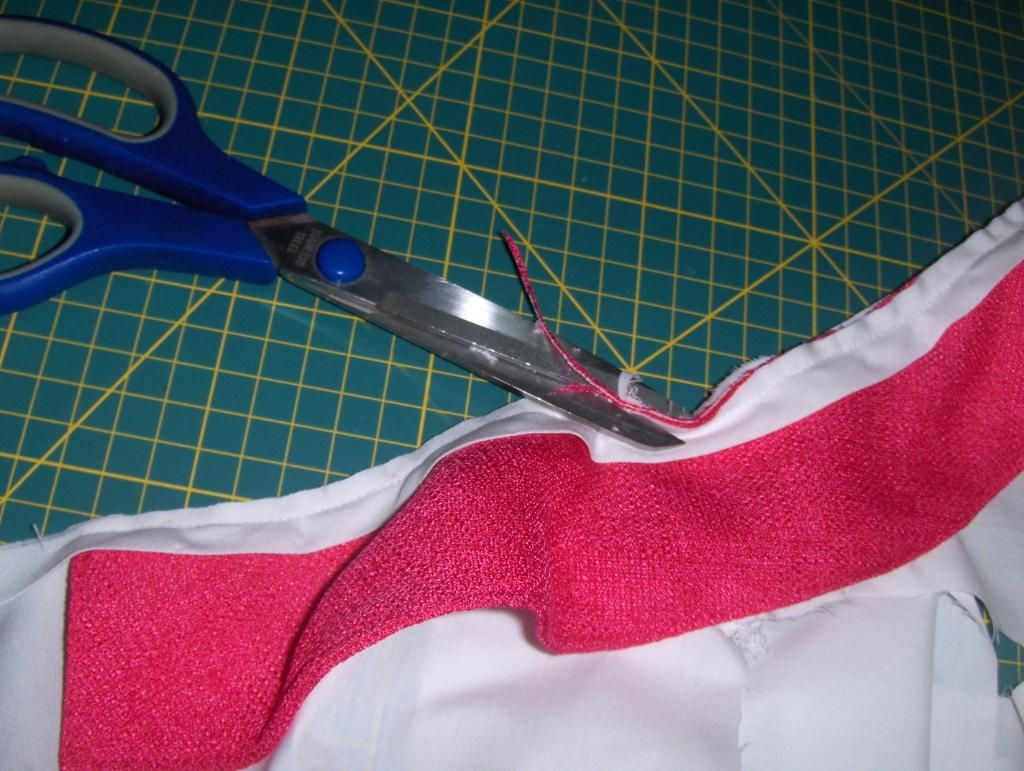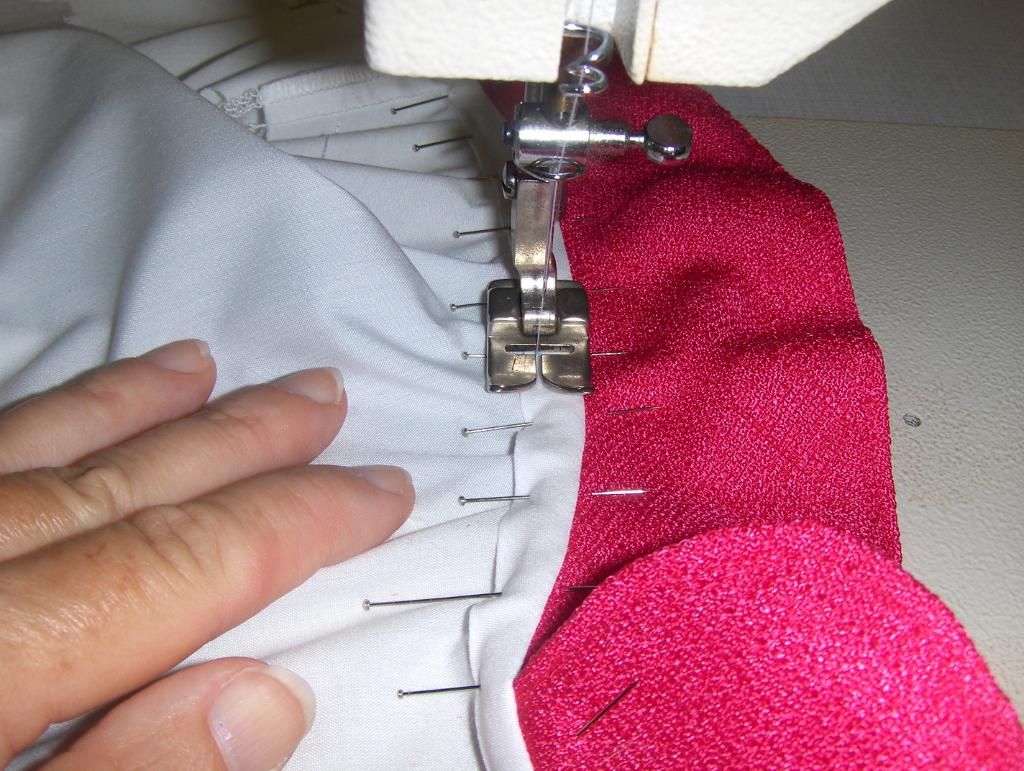 Trim excess seam allowance to match everything and fold bias strip to the blouse, making sure that there are no wrinkles or pinching, sew all the bias strip folded edge
Recortar el exceso de margen de costura para igualar todo y doblar la tira de bies hacia la blusa, teniendo cuidado que no queden arrugas ni pellizcos, coser toda la tira de bies por el borde doblado.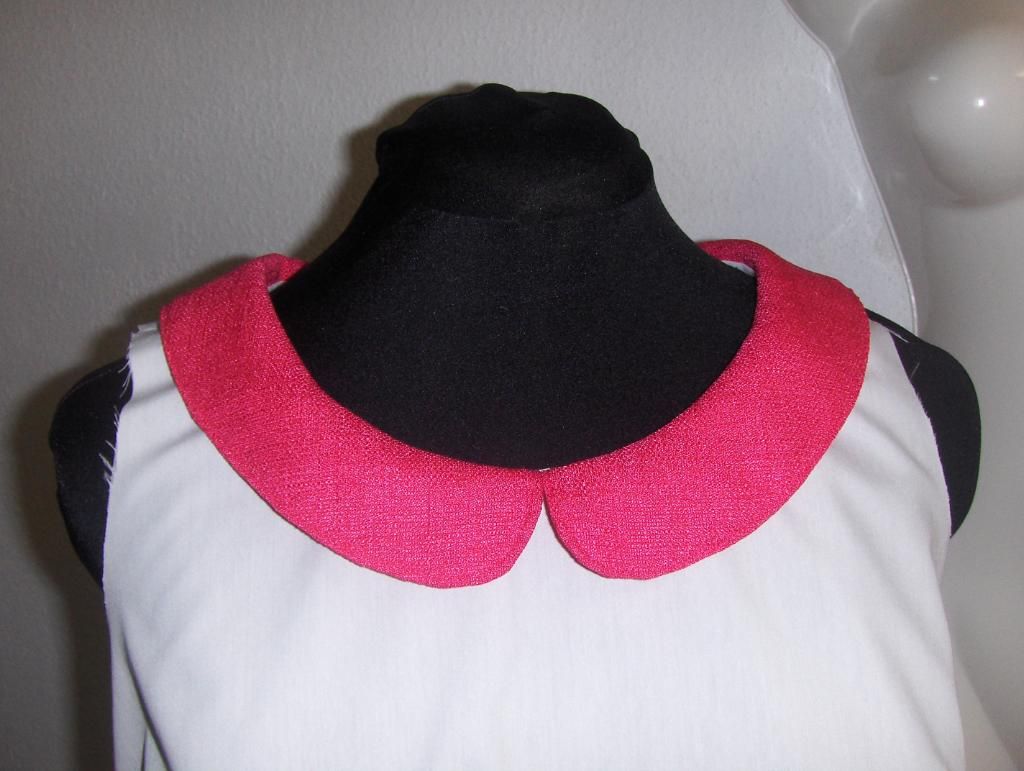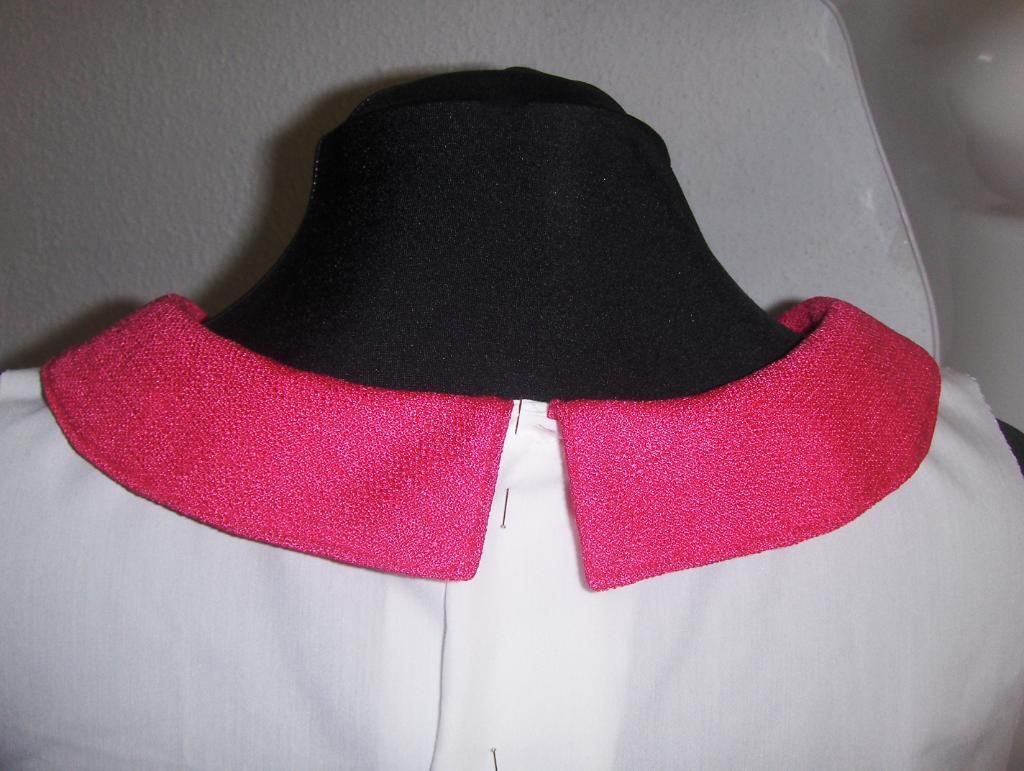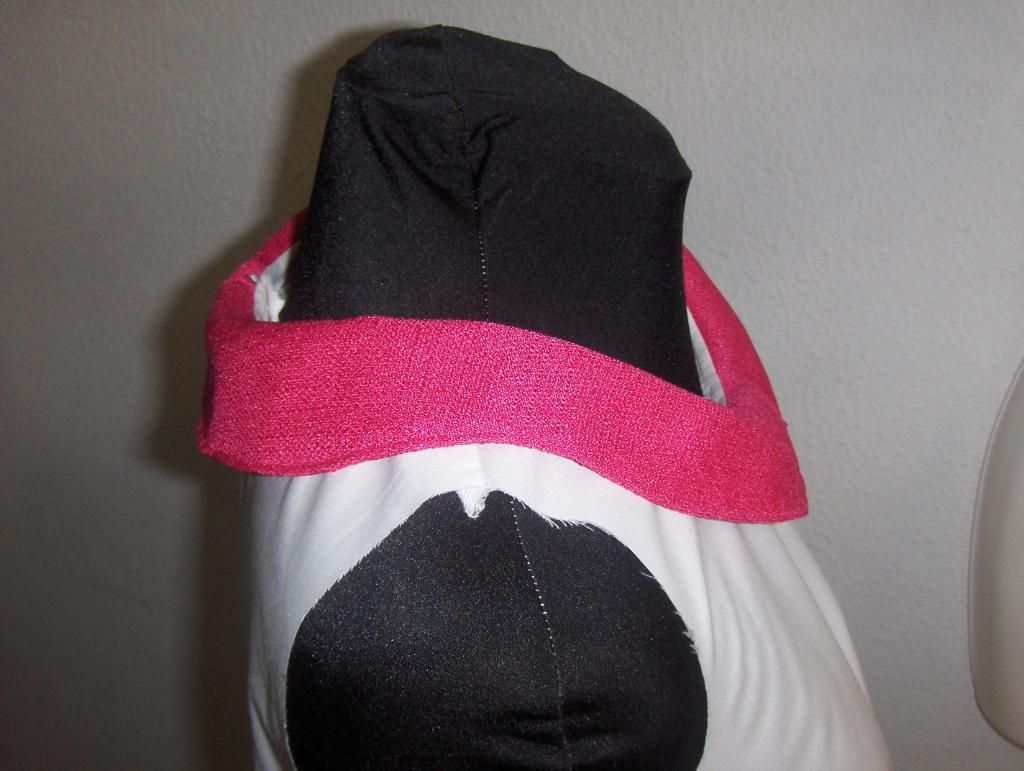 And that's our finished Collar, watch as it´s poised on the body without ironing it, the collar goes from the junction of the bodice and gently arching back down on itself forming a gentle curve that gives it an aspect beautiful.
Hope I did not bored much with this post, and if you have any questions, leave comments, I'll try to help.
In any case, Happy Sewing!
Y ya está nuestro cuello terminado, observa como queda aplomado sobre el cuerpo sin necesidad de planchar, el cuello sube desde la unión de la blusa y se arquea suavemente para volver a bajar sobre si mismo formando una suave curva que le da un aspecto hermoso.
Espero no haberte aburrido mucho con este post y si tienes cualquier duda, dejar en los comentarios, yo voy a tratar de ayudarte.
En cualquier caso, Feliz Costura!