Finally, I've launched into the adventure of "plagiarizing" blatantly some of the dresses that Jess looks in the show "New Girl".
To keep order, I thought it would be a good way to sew the clothes that I like them in the same order as they appear in subsequent chapters of the show, I'm going to try within my means to be adding photos of different outfits Jess is showing in each chapter, of course, some dismissed them because I do not really like, or do not fall within my style, or simply they are not appropriate for me, but also put photos of them.
Finalmente, me he lanzado a la aventura de "plagiar" descaradamente algunos de los vestidos que luce Jess en la serie New Girl.
Para no liarme, he pensado que sería una buena manera ir cosiendo las prendas que me van gustando por orden tal y como aparecen en los sucesivos capítulos de la serie, yo voy a intentar dentro de mis posibilidades ir añadiendo fotos de los distintos outfits que Jess va mostrándonos en cada capítulo, por supuesto, algunos los descarto porque no me gustan mucho, o no entran dentro de mi estilo , o simplemente no son apropiados para mi, pero igualmente pondré fotos de ellos.
This is the second dress chosen to sew, if you followed this blog before, you know that I already sewed the first dress that appeared in the pilot episode, the red dress, here ...
Well, although I have not seen the whole show yet, I have understood that this dress does not appear in any chapter really, but a dress for promotional photos of the show.
El segundo vestido elegido para coserlo es este, si has seguido este blog anteriormente, sabrás que ya cosí el primer vestido que aparecía en el capítulo piloto, el vestido rojo, aquí...
Bien, aunque no he visto la serie completa aún, tengo entendido que este vestido no aparece en ningún capítulo realmente, sino que es un vestido para las fotos promocionales de la serie.
So far, this is all I could get pictures of this beautiful dress, I especially like this dress for fall, because although it has no sleeves (I can always add a cardigan), has a small turtle neck that does not reach be such, it is a strip with rounded.
I love the detail on the waist with gold buttons ... and as there are not many photos of this dress, the rest have to invent it ...
Hasta ahora, esto son todas las imágenes que he podido conseguir de este hermoso vestido, me gusta especialmente para este otoño, porque aunque no tiene mangas (siempre se puede añadir un cárdigan), tiene un pequeño cuello cisne que no llega a ser tal, sino que es una tira con forma redondeada .
Me encanta el detalle de la cintura con los botones dorados... y como no hay más fotos de este vestido, el resto tendré que inventarlo...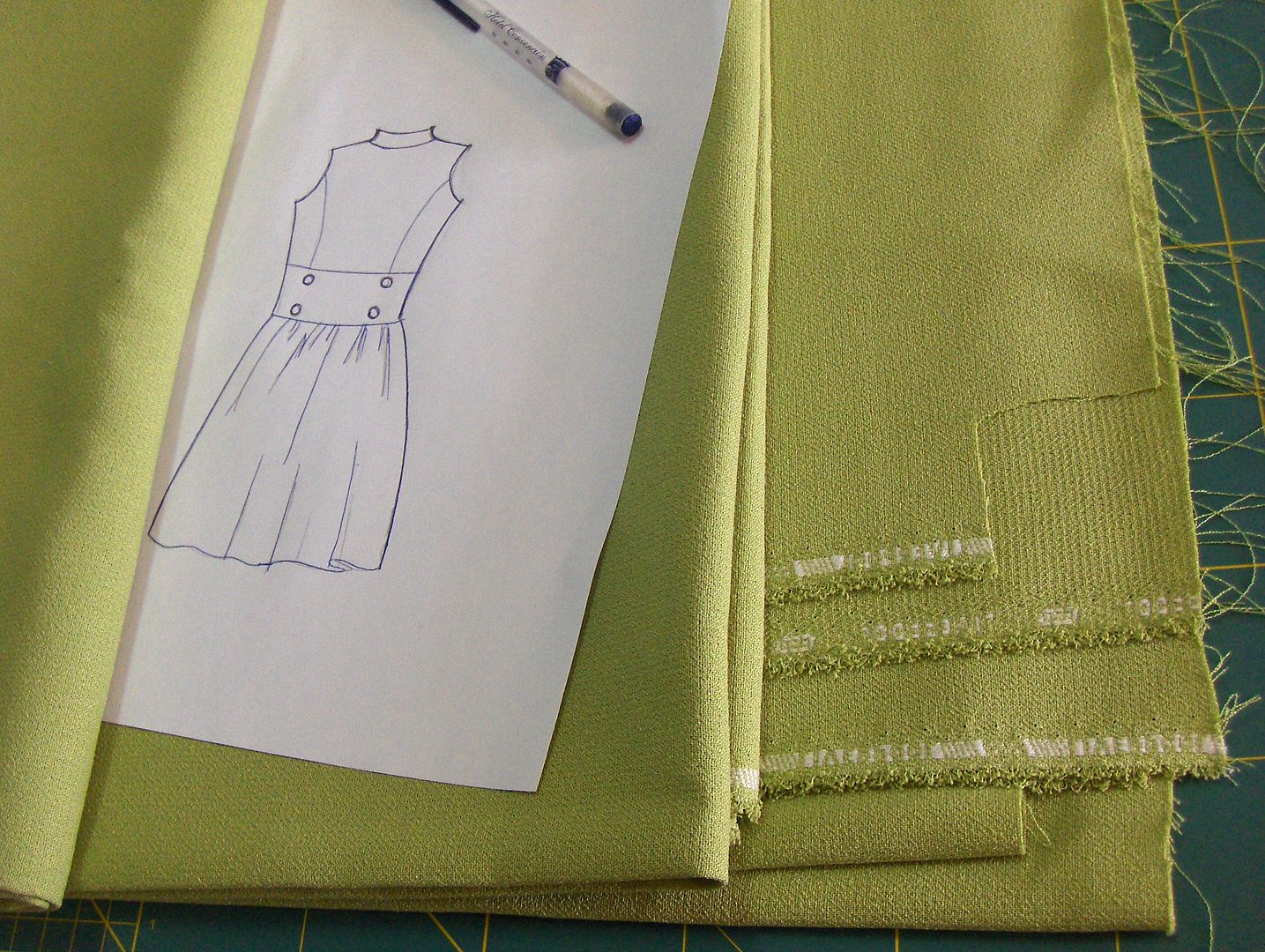 For this dress, I have found in my stash a few meters from the beautiful crepe fabric, it's perfect for this season, it does not wrinkle and is fair texture, neither too thin nor too coarse.
So now I will look for a pattern in my Burda magazine to keep leaving me by this little addiction ....
Do you like getting caught up in wonderful addictions??
Para este vestido, he encontrado en mi stash unos metros de esta hermosa tela de crep, perfecta para esta estación del año, no arruga y tiene la textura justa, ni muy fina, ni muy gruesa.
Así que ahora voy a buscar un patrón en mis Burdas para seguir dejándome llevar por esta pequeña adicción....
Te gusta dejarte llevar por maravillosas adicciones??