Obviously, this is not one of the best jobs in terms of seam finishes, but it's worth showing it here, just for the stupidity of hours I spent on embroidering the design, stitch by stitch with silk thread.
I loved this jacket when it was published in the Burda, March, 1994, and I mean when I say that I started to make it in that year, believe me, I cut it, embroidered it for two weeks working an average of four hours daily and then I started sewing , when came time to lining it stayed on hold and then forgotten for many years. Wow! Eighteen years is a long time, right?
Obviamente, este no es uno de los trabajos mejor acabados en cuanto a costura, pero vale la pena mostrarlo aquí, solamente por la burrada de horas que gasté en bordarlo, punto por punto con hilo de seda.
Me enamoré de esta chaqueta cuando salió en el Burda de Marzo del año 1994, y digo bien cuando digo que comencé a hacerla en aquel año, puedes creérme, la corté, la bordé durante quince días bordando una media de cuatro horas diarias y después la comencé a coser, cuando llegó la hora de forrarla se quedó en espera y después se olvidó durante muchos años. Wow! Dieciocho años son muchos años, verdad??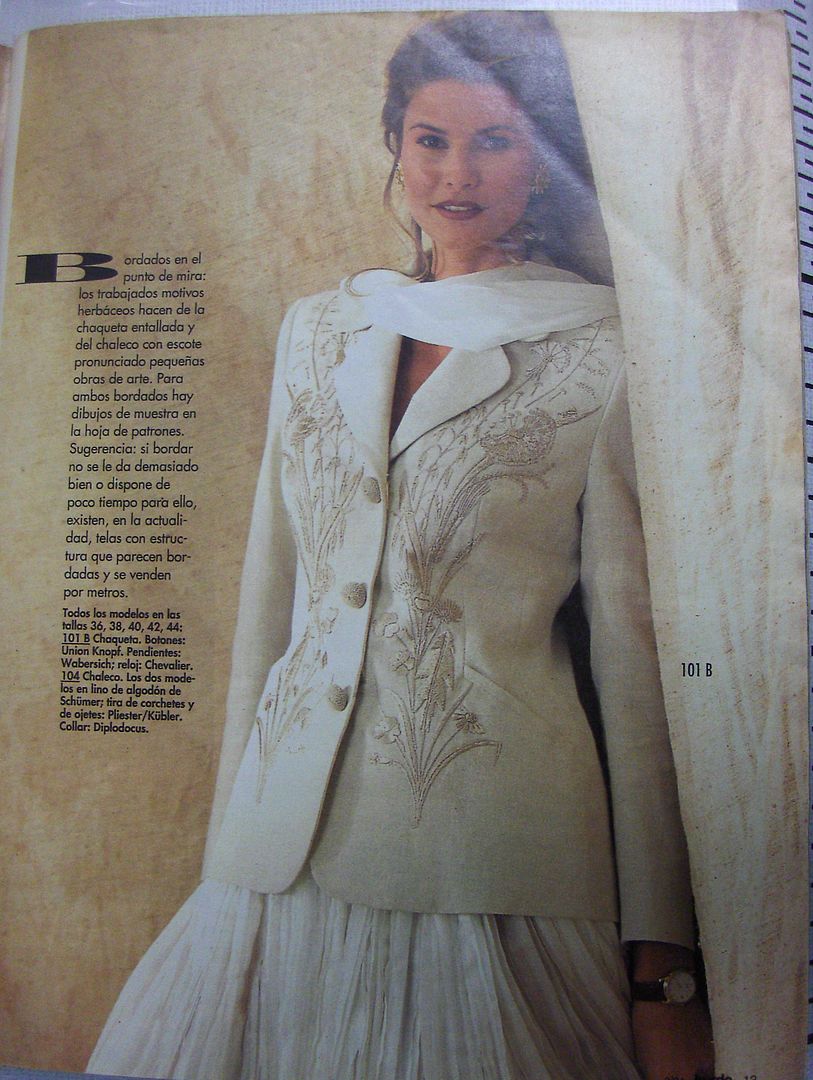 The original pattern has long sleeves, but I knew that I would not use it much if it's cut well, and also advised embroider with thick thread, I strive to make it more difficult (as always) and embroidered it with fine silk thread which ended with the desire to do any hand-stitching for long
El patrón original lleva mangas largas, pero yo sabía que no iba a usarla mucho si la cortaba así, y tambien aconsejaba bordarla con hilo grueso, yo me empeñé en hacerlo más difícil (como siempre) y la bordé con finísimo hilo de seda que acabó con las ganas de hacer cualquier puntada a mano durante mucho tiempo.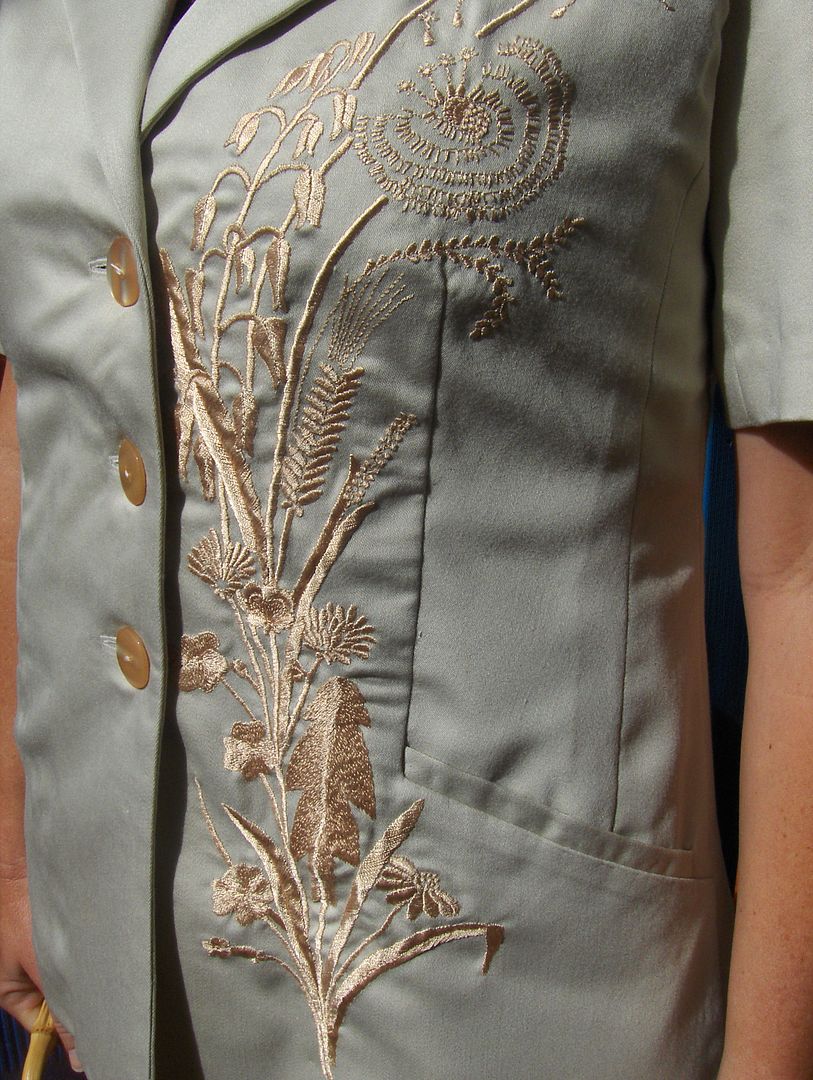 Well, I finished it last weekend. I was sick of seeing it from the coatrack of UFOs beheld me sad and remorseful every time I started a new project, reminding me that it had been very patient always
Bien, yo la acabé este fin de semana. Estaba harta de verla desde el perchero de los UFOs mirándome triste y compungida cada vez que yo comenzaba un nuevo proyecto, recordándome siempre que ella había tenido mucha paciencia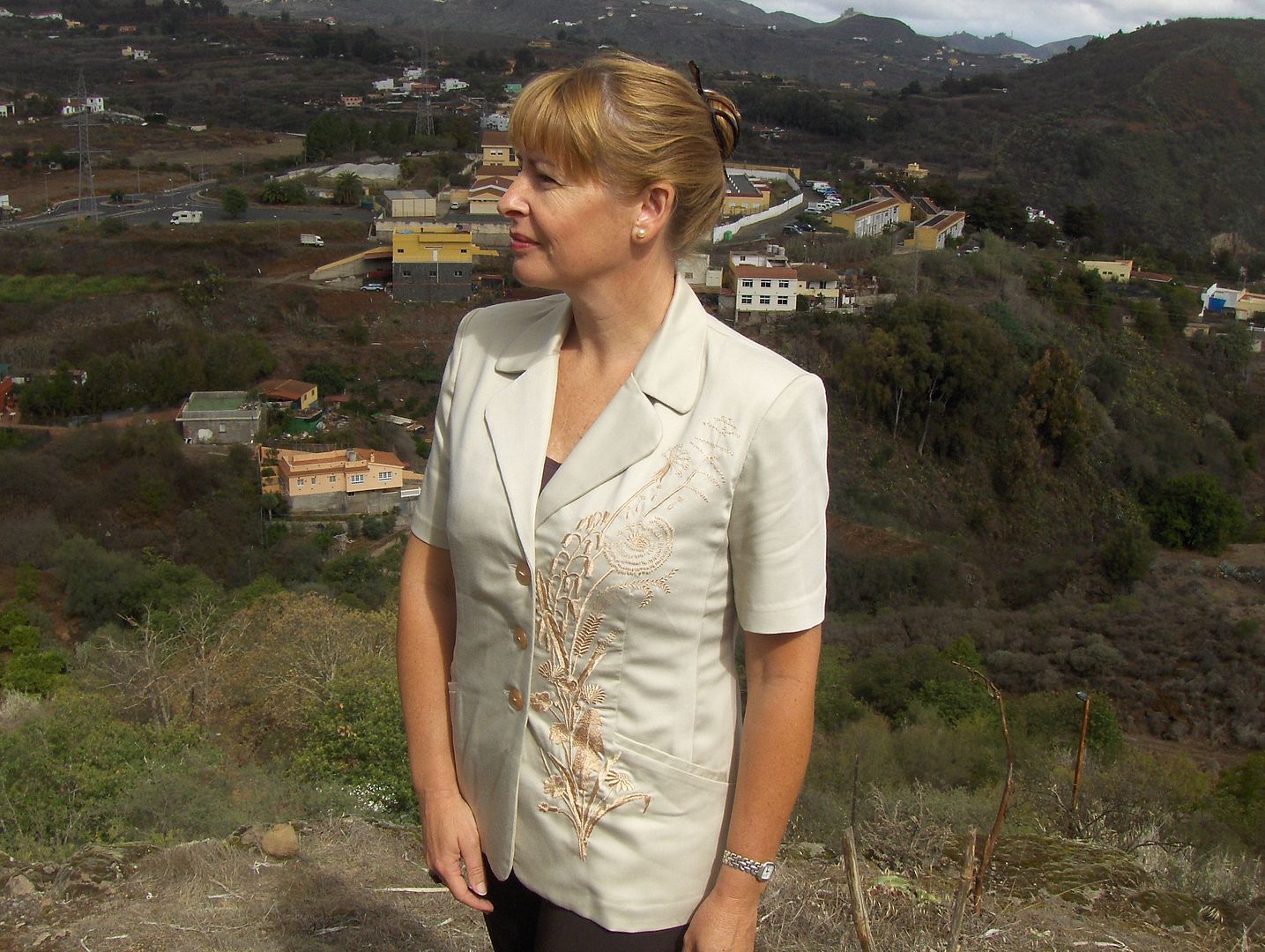 For many autumns I said that I had to end the agony of this poor coat and give it the opportunity to go outside to breathe the autumn air that surrounds us since few days ago.
Durante muchos otoños me decía que tenía que acabar con la agonía de esta pobre chaqueta y darle la oportunidad de salir al exterior a respirar el aire otoñal que nos envuelve desde hace unos días.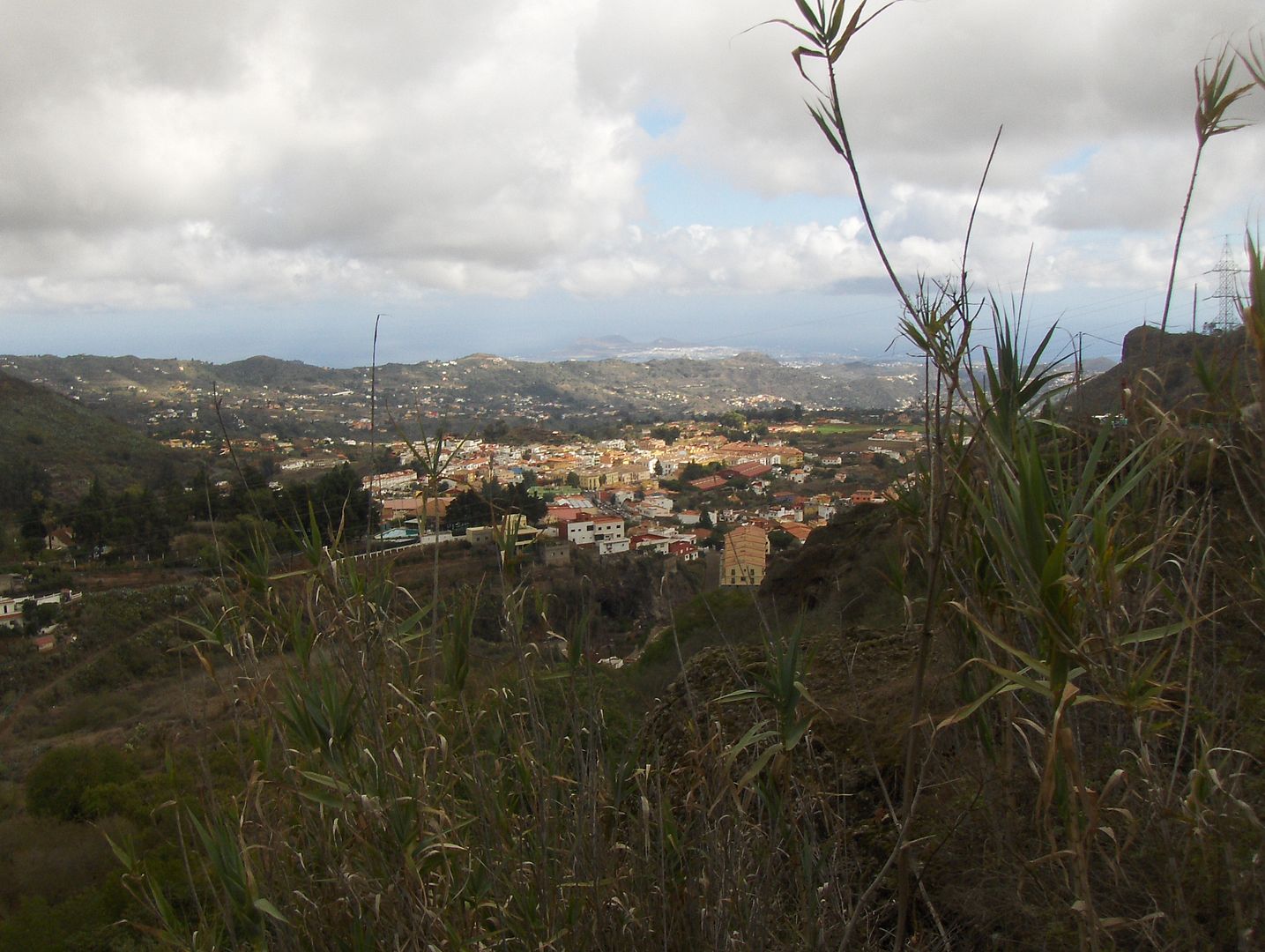 And I've been a joy, because thinking that I'm still wearing a jacket that I cut eighteen years ago is much joy, even I think I could adjust something the waist, but I preferred not to touch anything and finish it already.
Y me he llevado una alegría, porque pensar que sigo entrando en una chaqueta que corté hace dieciocho años es mucha alegría, incluso creo que me podría ajustar algo la cintura, pero preferí no tocar nada y acabarla ya.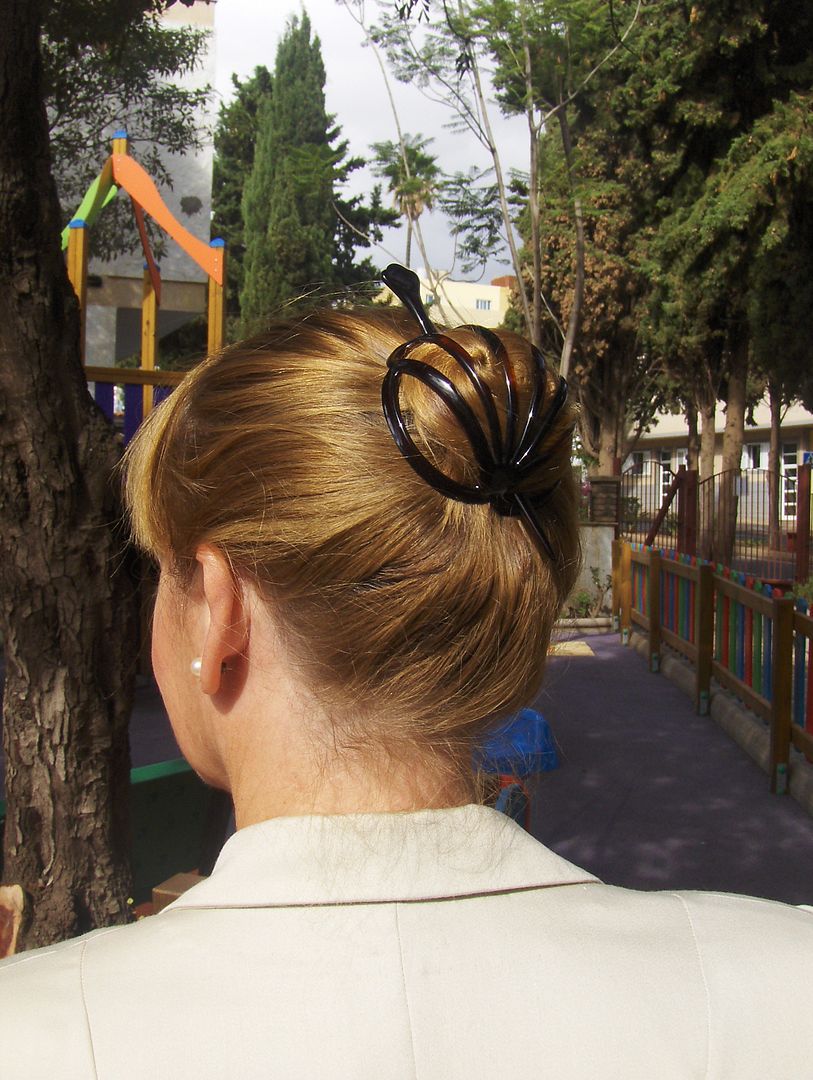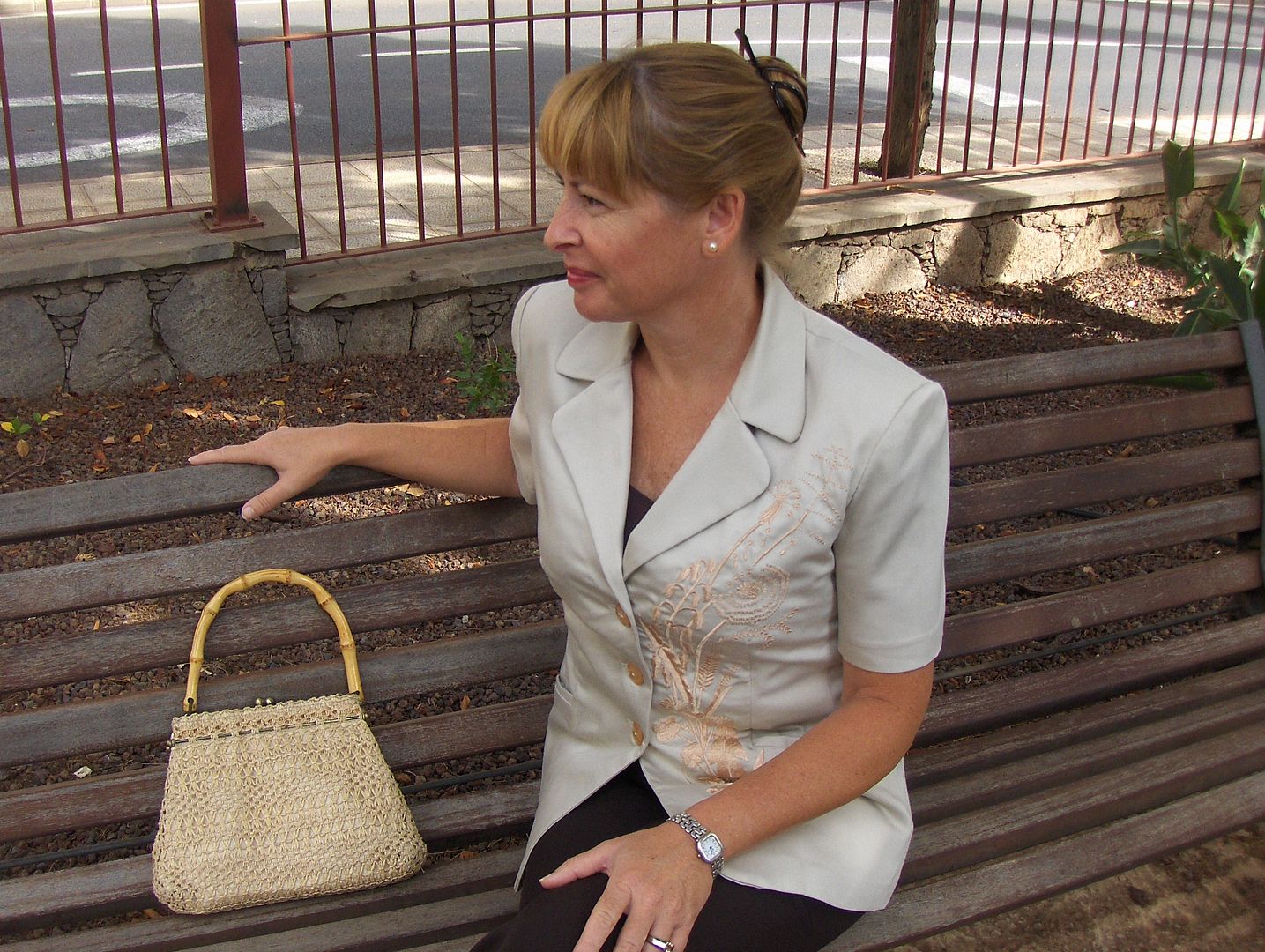 So there is a UFO unless in my sewing cave and a new jacket in my wardrobe more than sure I fall I will enjoy.
And you? Do you have many projects on hold?? Any of them is eighteen waiting for??
Así que hay un UFO menos en mi cueva de costura y una chaqueta más en mi armario de otoño que seguro voy a disfrutar mucho.
Y tú? Tienes muchos proyectos en espera?? Alguno de ellos tiene dieciocho años esperando??