Well .... Soon I have to say about this coat ....
As a final surprise I have kept secret buttons that I would use for it ... I wanted some special buttons for a coat so special, so I decided it was worth a little extra work ... I took some leftover scraps of wool and embroidered small roses to matching with the lining ....
Y bien.... Poco me queda que decir sobre este abrigo....como sorpresa final he guardado en secreto los botones que yo iba a usar para él... yo quería unos botones especiales para un abrigo tan especial, así que yo decidí que valía la pena un poco de trabajo extra ... tomé algunos retales sobrantes de la lana y bordé pequeñas rosas para que hicieran juego con el forro....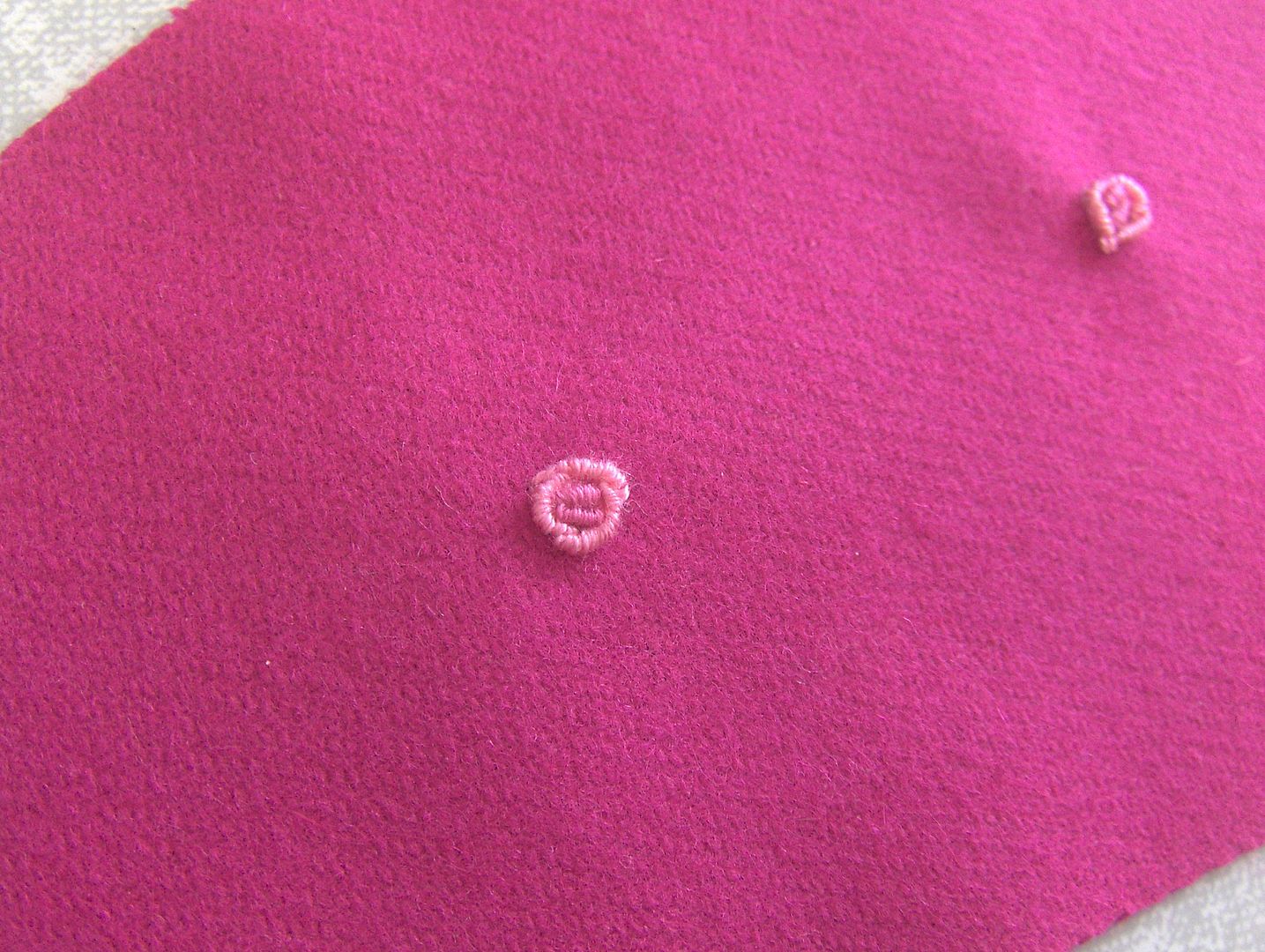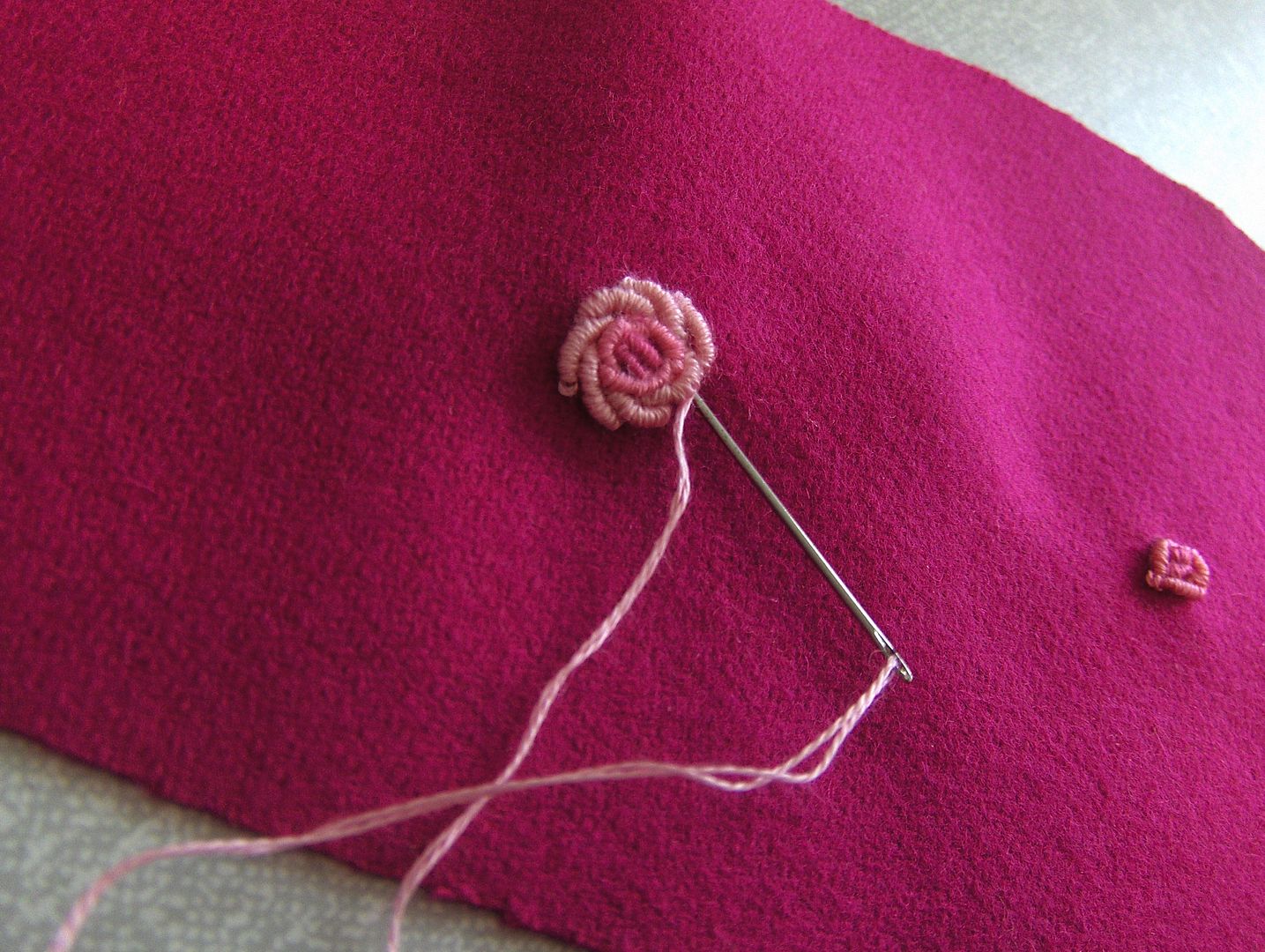 I love the end result! I think these custom buttons were the perfect detail to finish "doing mine" the coat ....
El resultado final me encantó!!! Creo que estos botones personalizados eran el detalle perfecto para terminar de "hacer mío" el abrigo....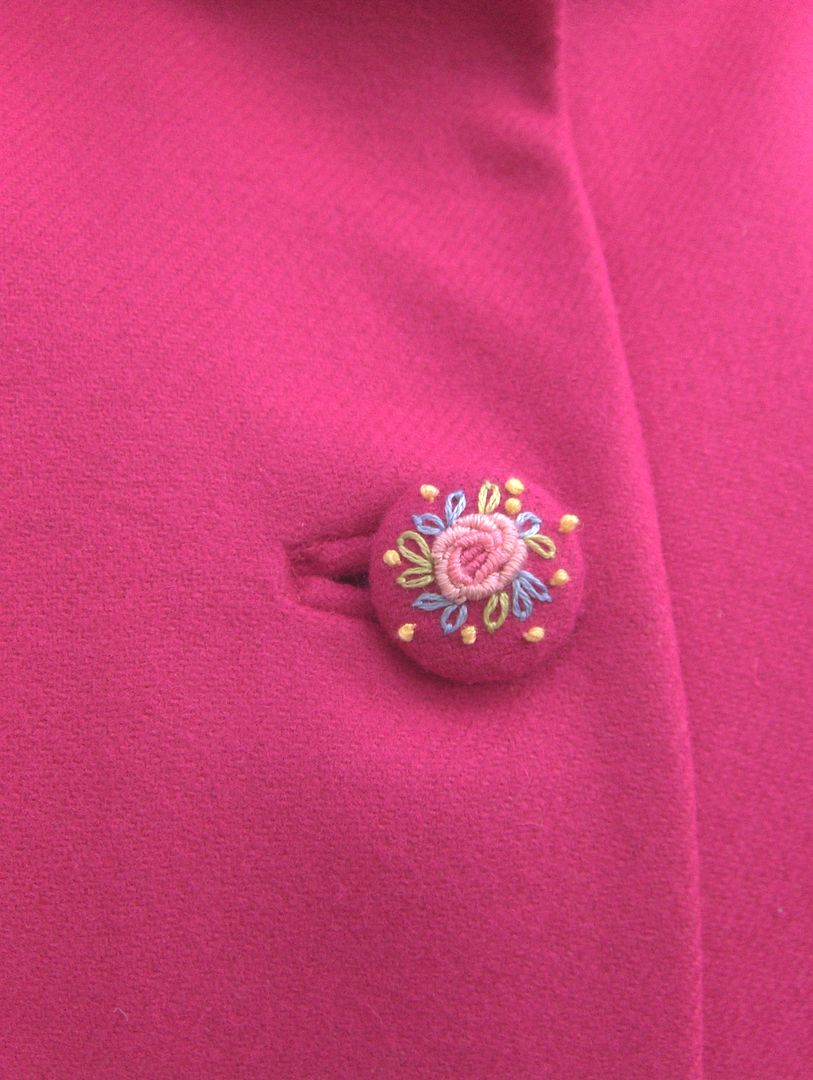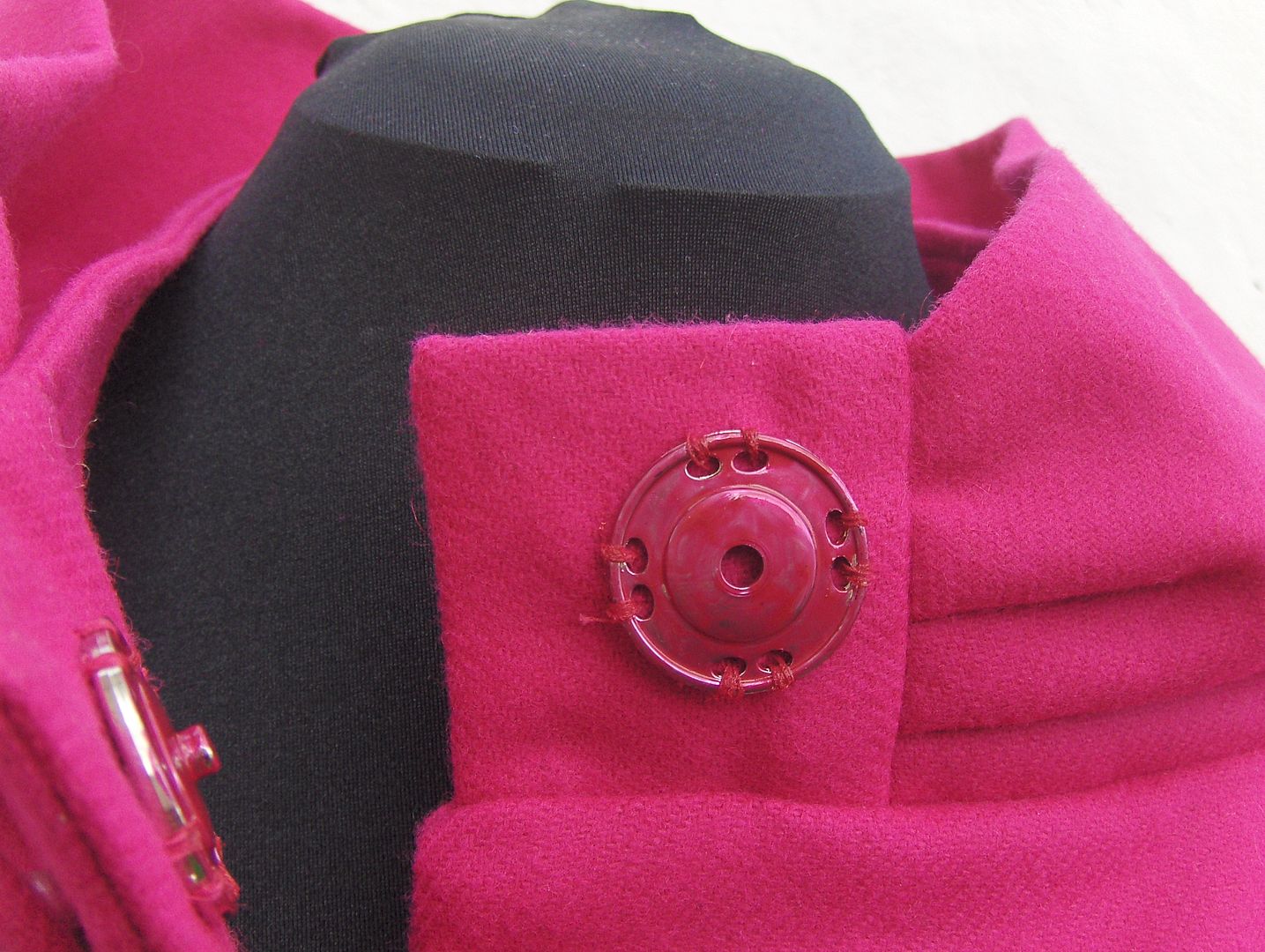 I was thinking a long time about how to solve the dilemma of the snap that closes the collar, then I got the idea to paint it with nail polish in the same color pink to "camouflage" it slightly, I also thought that the original coat hasn´t button on this site of the collar , I liked to put one there to create the illusion that the coat is completely closed with buttons ....
Then I'll allow uncontrolled flood of pictures of outfit .... My youngest son got so many beautiful images that I am unable to choose a few ....
Estuve largo rato pensando en como resolver el dilema del broche-corchete que cierra el cuello, entonces se me ocurrió la idea de pintarlo con laca de uñas en el mismo color fucsia para "camuflarlo" ligeramente, también pensé que aunque el abrigo original no lleva ningún botón en este punto del cuello , a mí me gustaba colocar uno ahí para crear la ilusión optica de que el abrigo se cierra completamente con botones....
A continuación me vas a permitir una descontrolada avalancha de fotos del outfit.... mi hijo menor obtuvo tantas imágenes preciosas que me siento incapaz de elegir unas pocas....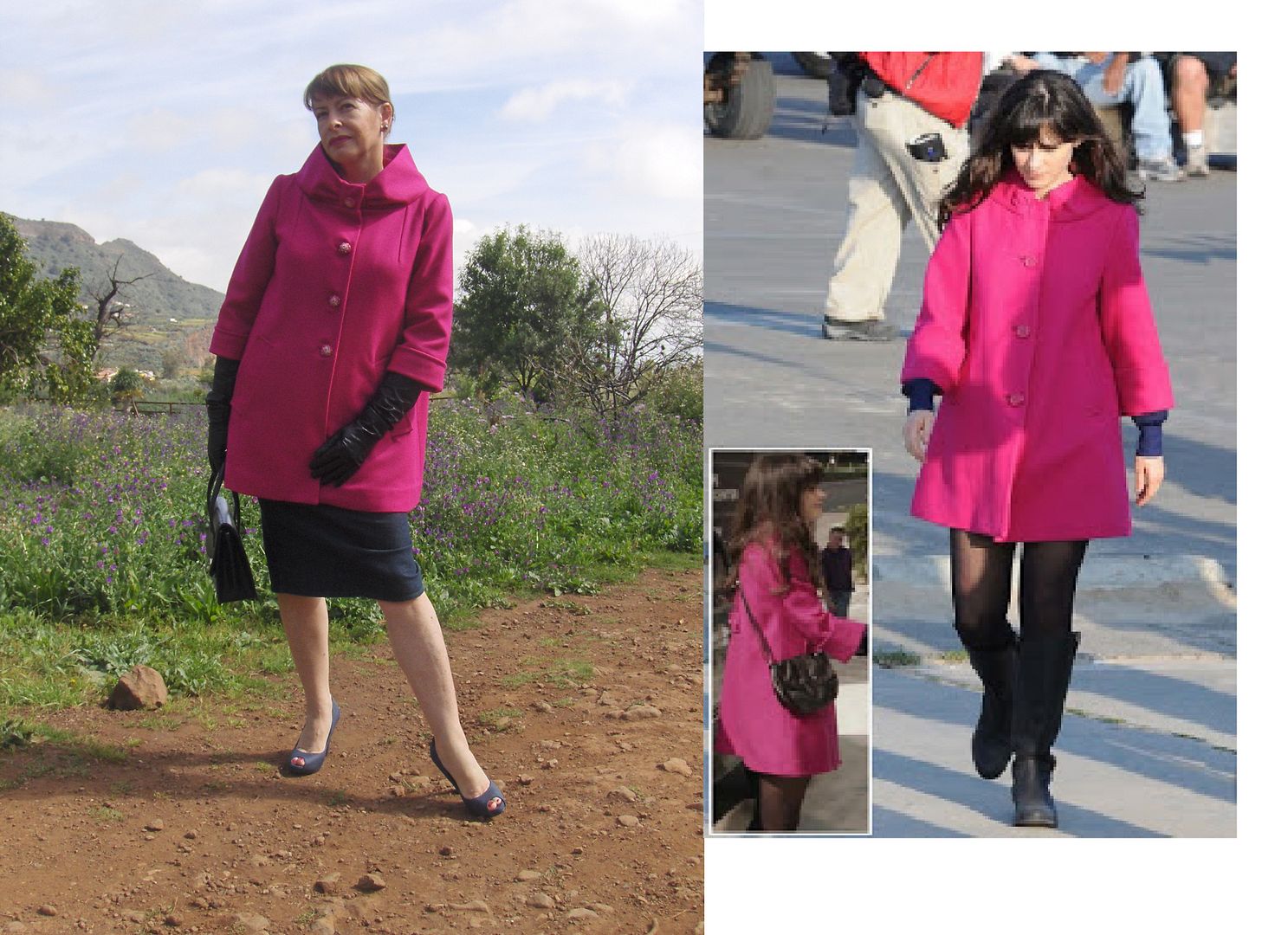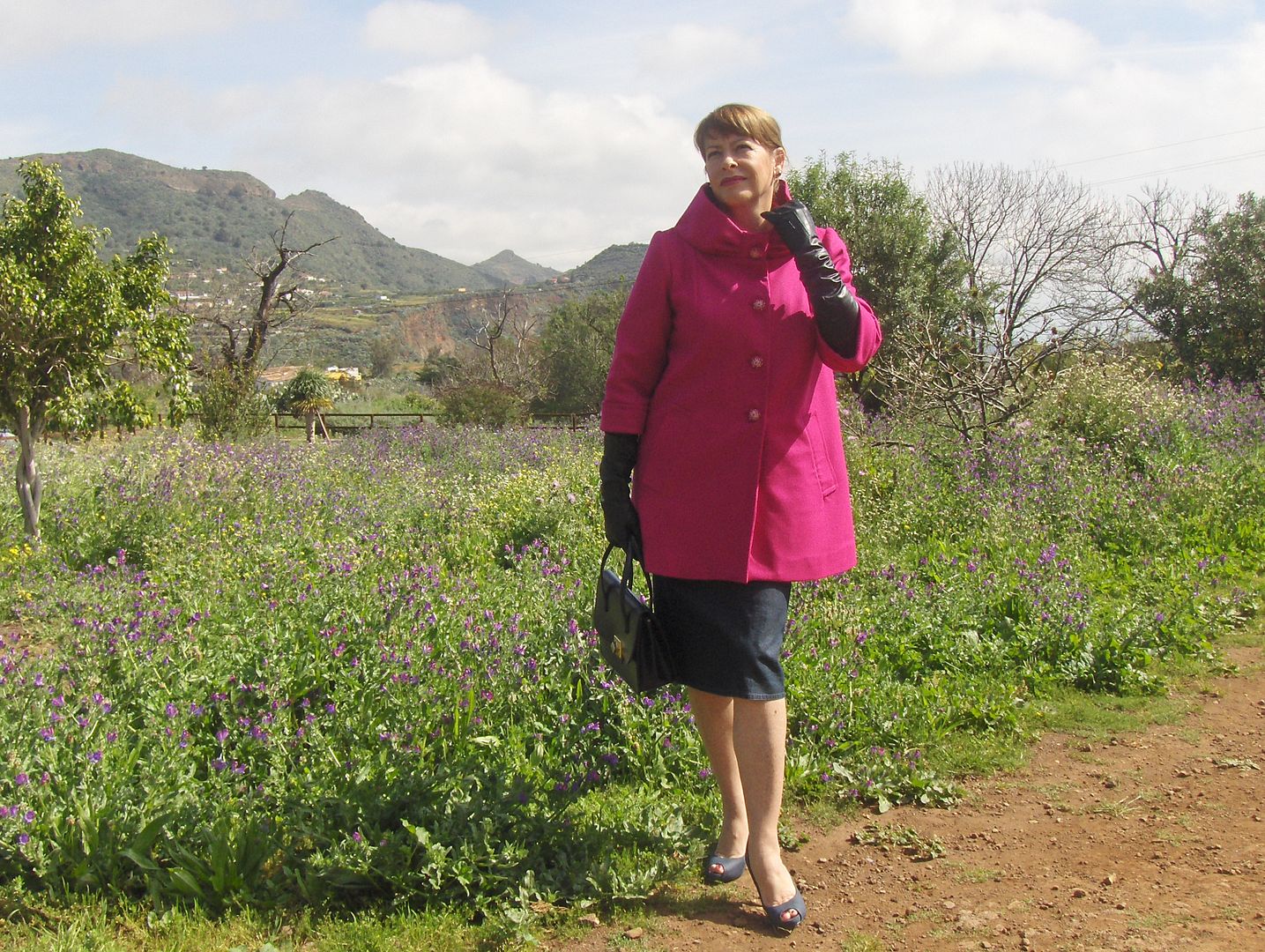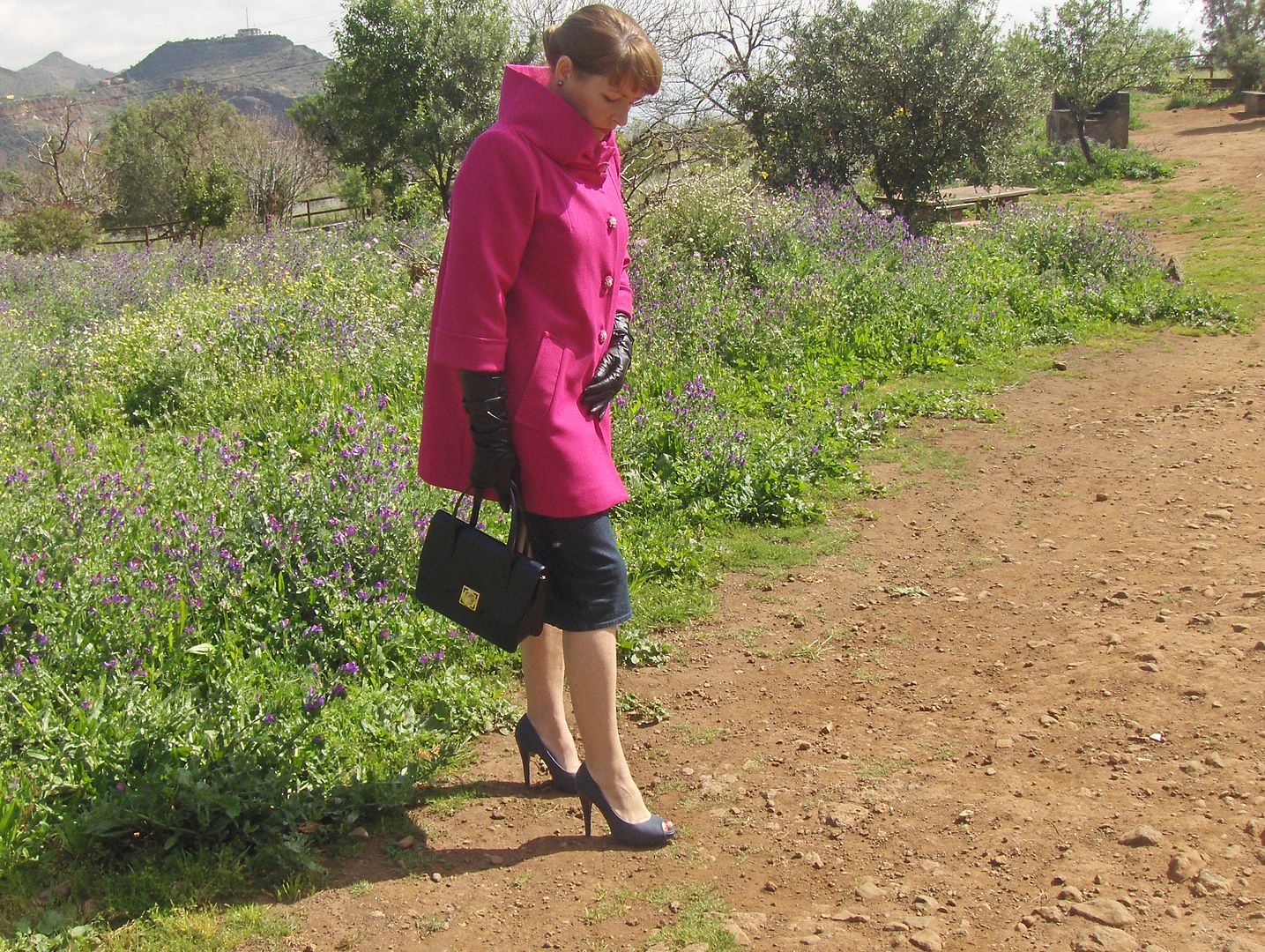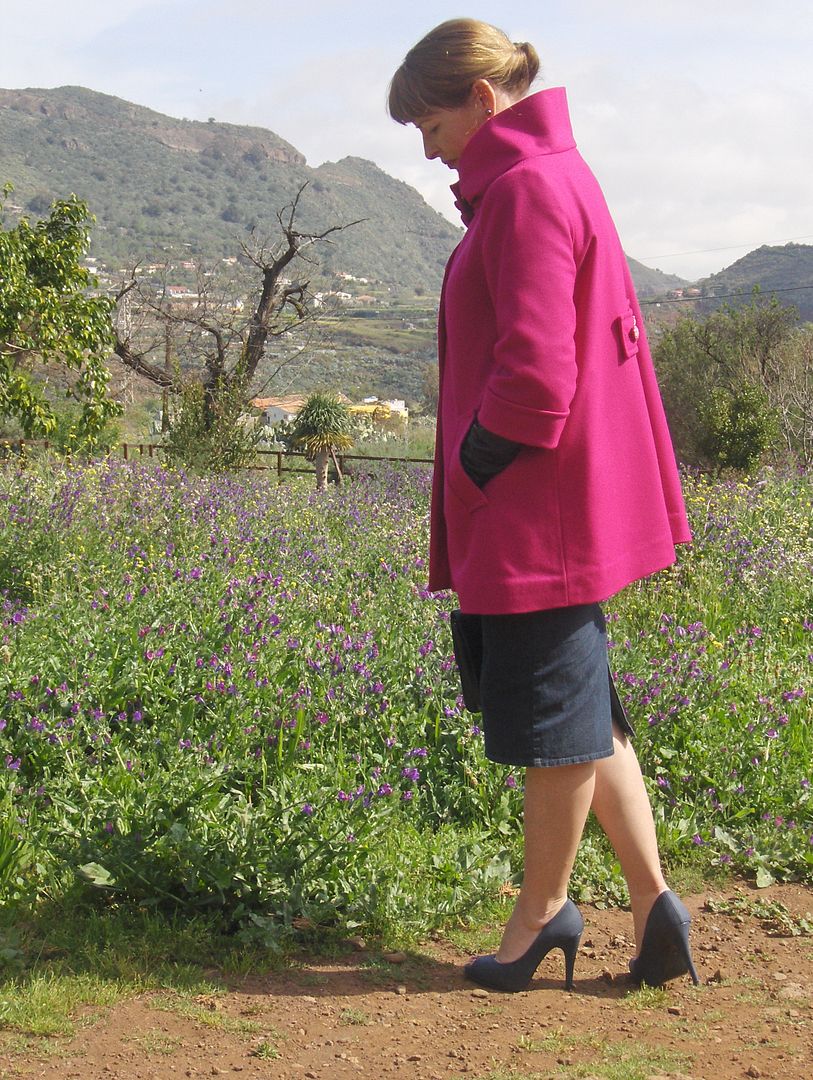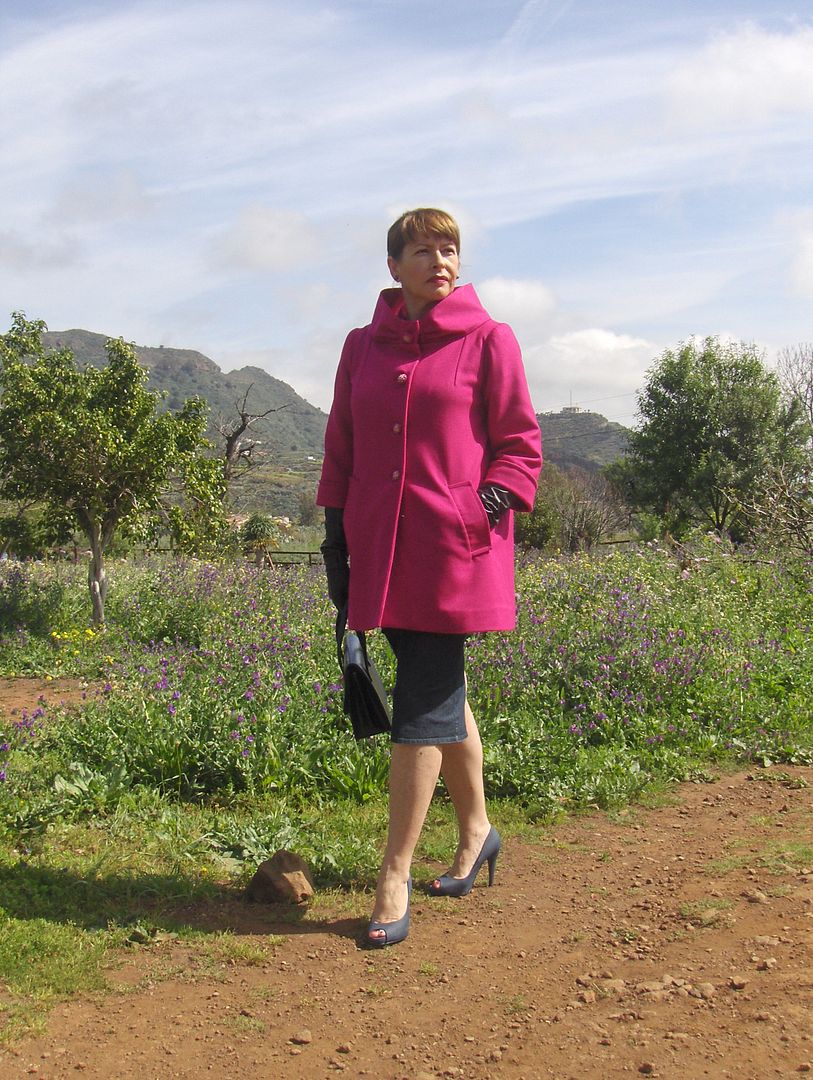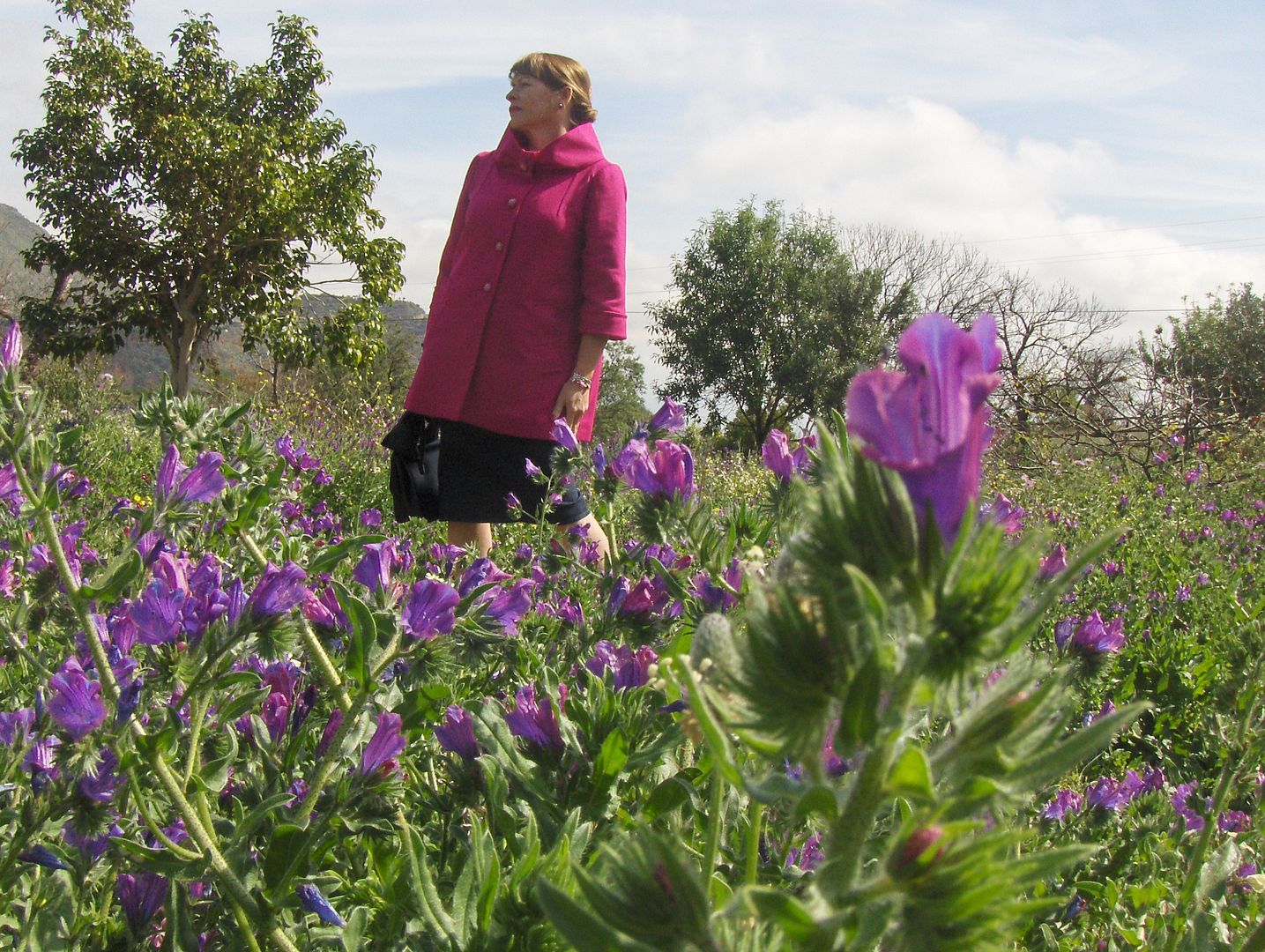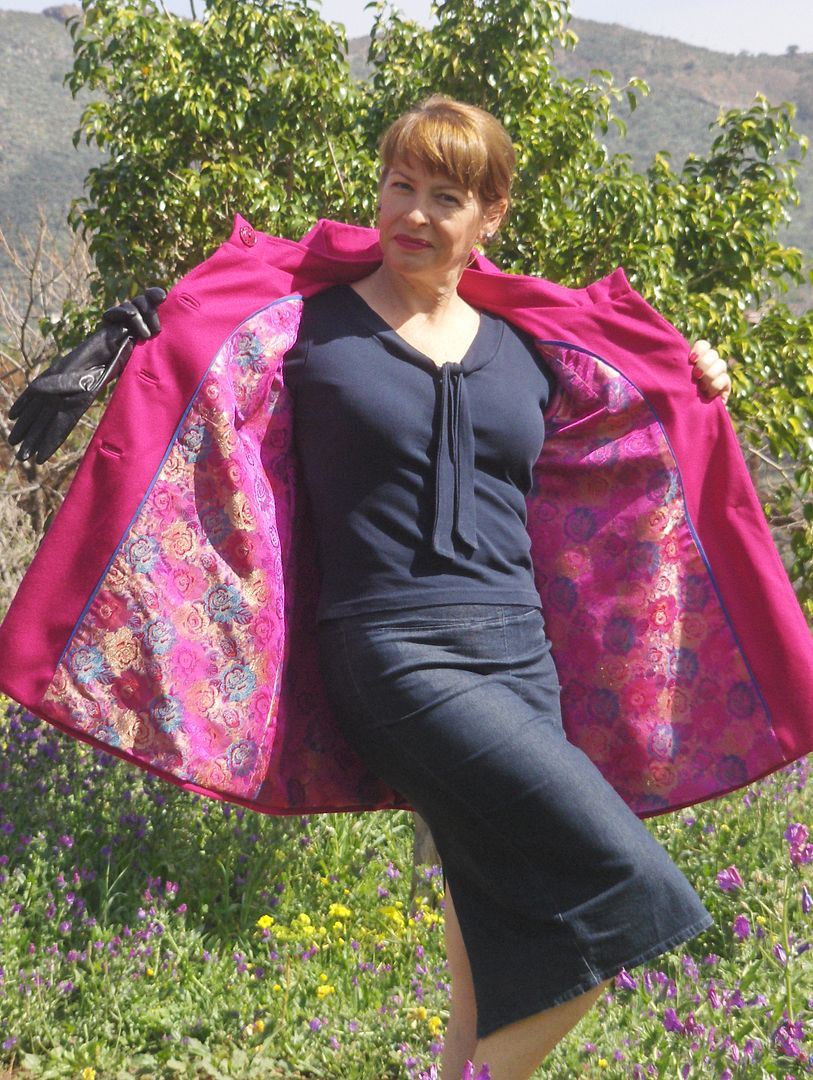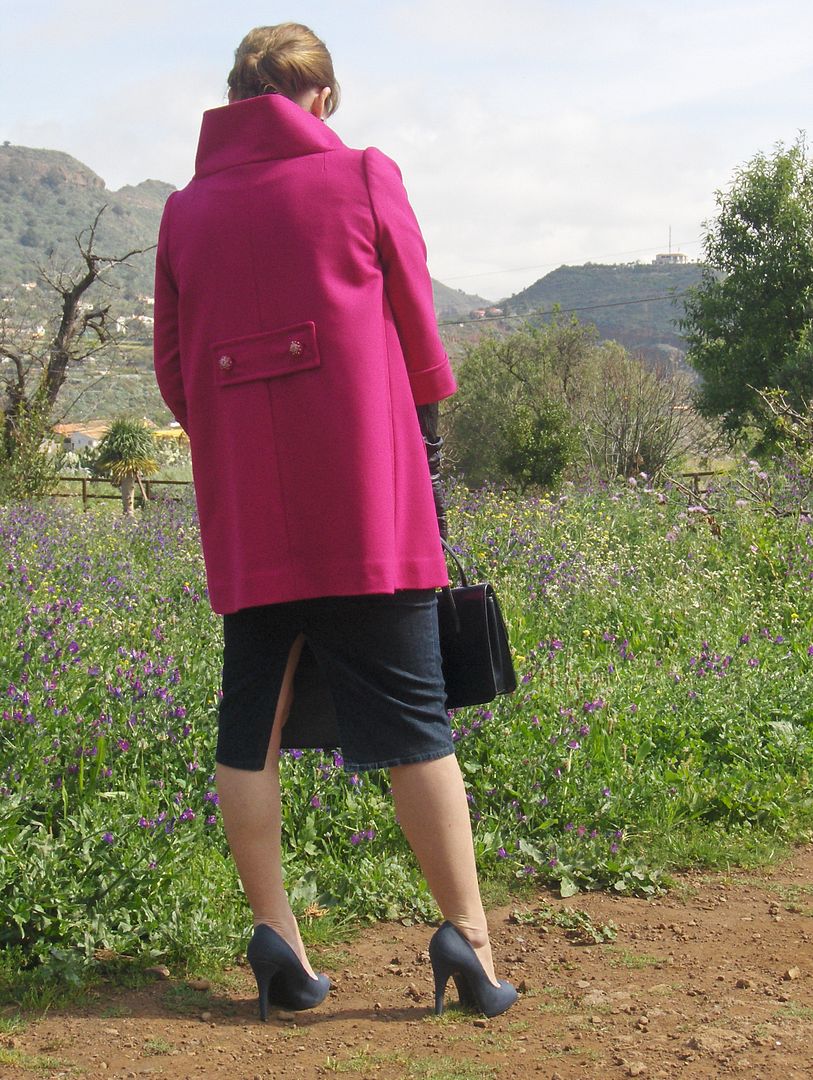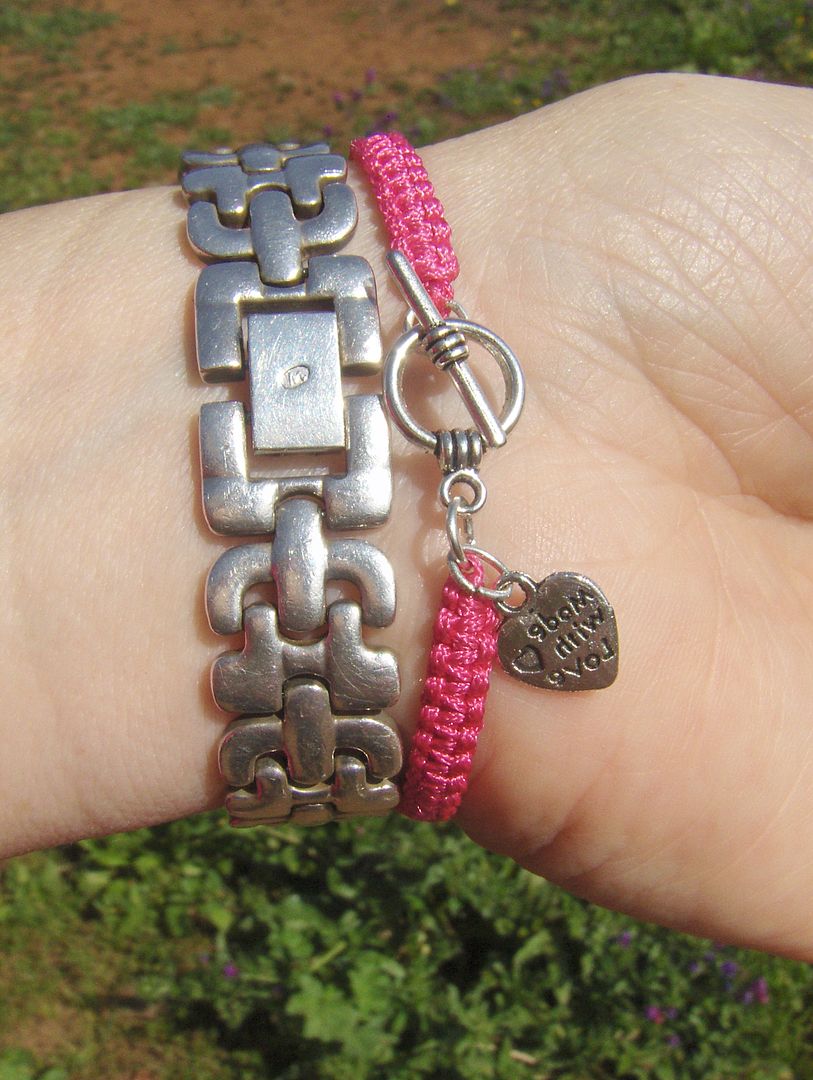 I allowed myself to get a few close-up images of the bracelet accompanying the coat ... and this is a fun surprise that awaits all fun adventures mates of this Sew Along .... each and every one of my dear "Tailors Brave" will receive at home a bracelet like this, but with the color of her own coat when they send me pictures of their finished coat ... a small detail that will unite us a bit more in this crazy adventure, the bracelets are made with love courtesy of Antonella, the girlfriend of my younger son.
Me permití obtener unas pocas imágenes cercanas de la pulsera que acompaña al abrigo... y esta es una divertida sorpresa que aguarda a todas las divertidas compañeras de aventuras en este Sew Along.... todas y cada una de mis queridas "Sastrecillas Valientes" van a recibir en su casa una pulsera como esta , pero en el color de su propio abrigo cuando me envíen imágenes de su abrigo terminado... un pequeño detalle que nos unirá un poco más en esta loca aventura, las pulseras están hechas con mucho amor por cortesía de Antonella, la novia de mi hijo menor.
I thought that an outfit that looks like 50s fashion, it was well worth a slight "strip tease" of gloves, Gilda style!
Yo pensé que un outfit con aspecto de los años cincuenta bien merecía un ligero "strip tease" de guantes, al estilo Gilda!!!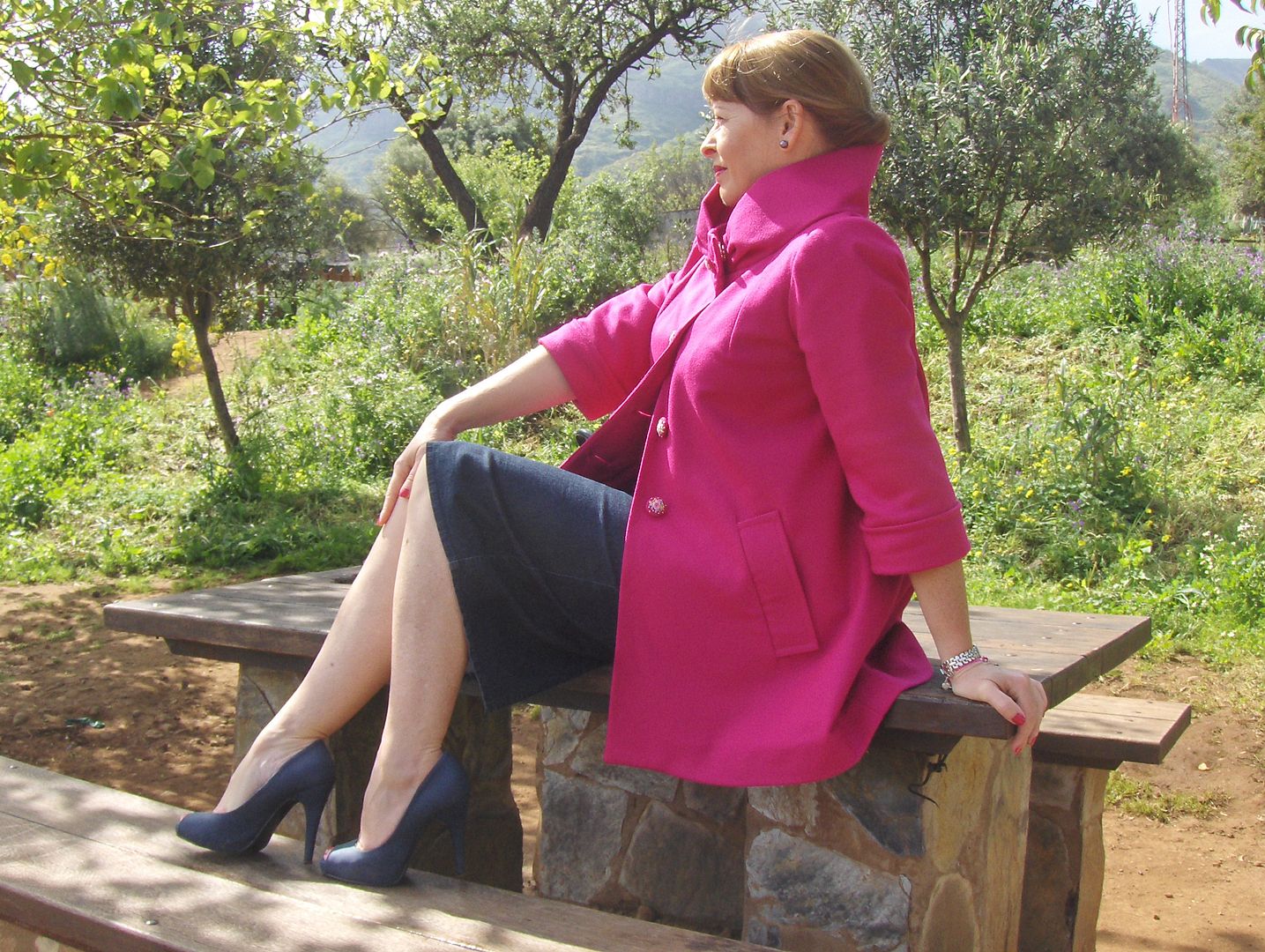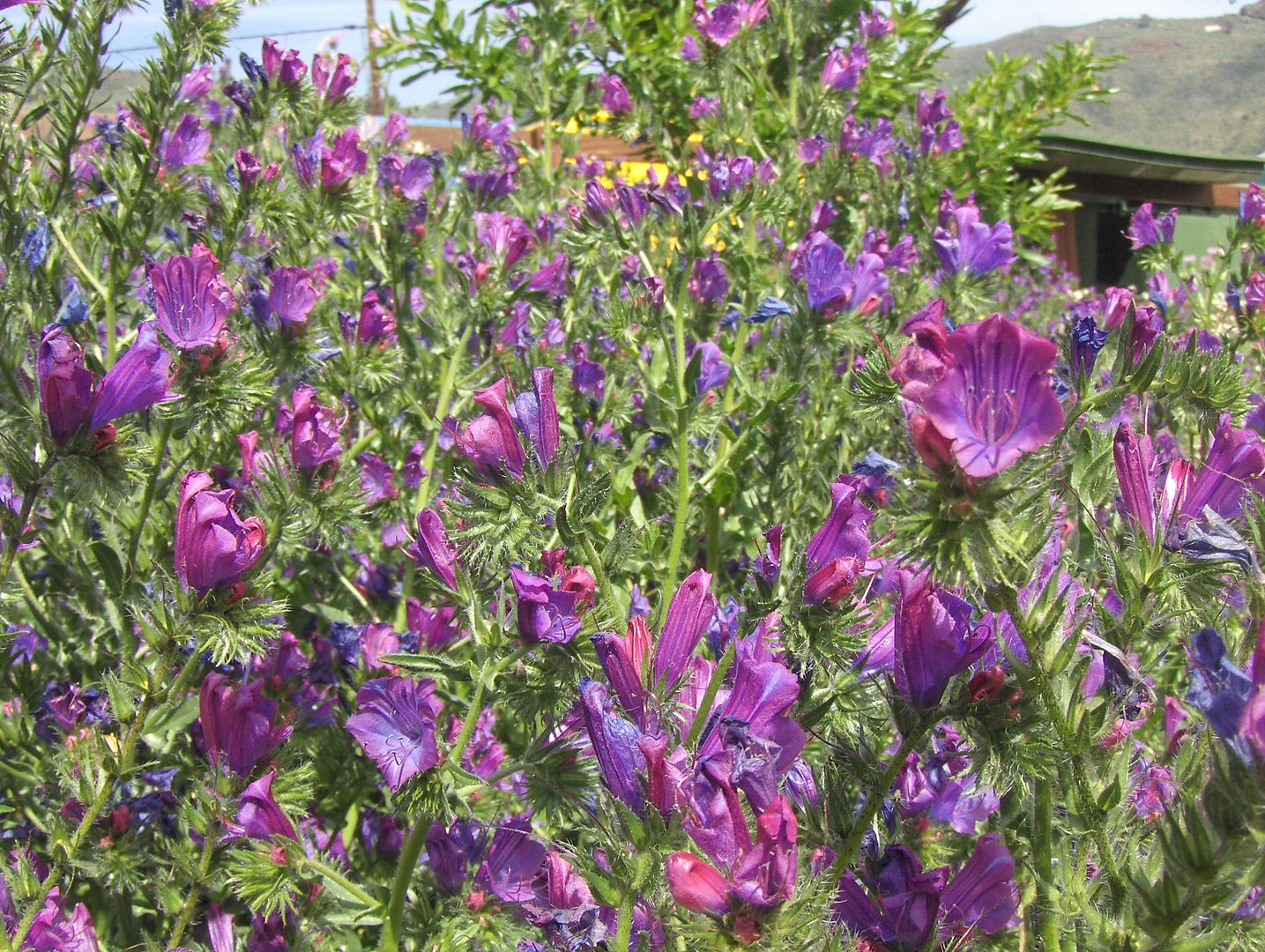 If you want to do a coat like this just need patience and the following tutorials ...
Si te apetece hacer un abrigo igual a este solamente necesitas paciencia y los siguientes tutoriales...
-Take measurements of our body
-Drawing our own pattern of back
-Drawing our own pattern of front
-Drawing darts to our pattern
-
Drawing our sleeves pattern
The muslin....
-Step 1
-Step 2
-Step 3
-Step 4
-Step 5
-Step 6
The coat...
.
-Step 1
-Step 2
-Step 3
-Step 4
-
Step
5
-Step 6
-Step 7
-Step 8
-Step 9
-Step 10
-Step 11
-Step 12