Warning ... if you are allergic to pink .. better not go any further ... there is considerable risk of poisoning pink that can be embedded in your brain ...
Well, if you've decided to go despite my warnings, then I'll tell you the beautiful project that is in this post ...
Some time ago, I discovered Telaria online store. Pure wonder! You can spend a lot of time enjoying all beautiful colors and variety of prints to choose from, and the hours can fly by without noticing among so many beautiful fabrics. Also, let me tell you the little head thinking behind this candy store, is someone willing to help you, no matter the number of queries you can reach her, she´s kindness itself! I attest it.
Advertencia... si eres alérgico al rosa.. mejor no sigas adelante... existe bastante riesgo de una intoxicación de color rosa que se puede incrustar en tu retina...
Bien, si has decidido seguir a pesar de mis advertencias, entonces voy a contarte el hermoso proyecto que hay en este post...
Hace algún tiempo, descubrí
la tienda online de Telaria
. Pura maravilla!! Puedes pasarte mucho tiempo disfrutando de hermosos colores y toda variedad de estampados para elegir, y las horas pueden pasar volando sin darte cuenta entre tantas telas tan bonitas. Además, déjame decirte que
la cabecita pensante
que hay detrás de esta tienda de golosinas , es una persona siempre dispuesta a ayudarte sin importar la cantidad de consultas que puedes llegar a hacerle, ella es la amabilidad personificada! Doy fé...
Then when Miren contacted me to request a joint collaboration with other three also addicted to sewing, my heart pumped faster and as I said Yay! I was jumping for joy on my chair.
She gave us freedom to choose the fabric that I wanted from her store and use it in the project of my choice ... it took me a long time to settle on one, because honestly .. I wanted to take me all of them! Finally I chose this gorgeous fabric of Geekly Chic collection, designed by Dorothy Tsang ... seriously, who can resist pink skulls? The fabric is the softest cotton I've ever worked in my life (and I can assure you that I have worked with all kinds of fabrics)
To play with the ambivalence of pink with skulls, I decided to design a dress inspired by my beloved era of the fifties. Both the design, as the pattern are made by me, so it's quite unlikely to find a dress like this one down the street ... total exclusivity!
Entonces no es de extrañar que cuando
Miren
se puso en contacto conmigo para solicitar una colaboración conjunta con
otras tres
grandes
adictas
a la
costura
también, mi corazón bombeó doblemente deprisa y mientras le decía que si, iba dando saltos de pura alegría sobre mi silla.
Ella nos dió carta blanca para elegir la tela que quisiera de su tienda y emplearla en el proyecto de mi elección... tardé mucho tiempo en decidirme por una, porque sinceramente.. me las quería llevar todas! Finalmente elegí esta preciosidad de tela de la colección Geekly Chic, diseñada por Dorothy Tsang... en serio, quien puede resistirse a calaveras de color rosa?? La tela es el algodón más suave que he trabajado en mi vida (y te puedo asegurar que he trabajado con todo tipo de telas )
Para jugar con la ambivalencia del rosa con las calaveras , decidí diseñar un vestido inspirado en mi adorada época de los cincuenta. Tanto el diseño, como el patronaje está hecho por mi, así que es bastante improbable que pueda encontrarme con un vestido igual al mío por la calle... que viva la exclusividad!!
The bodice of the dress is fully lined in white cotton, although I used the technique of sewing the two fabrics together as if they were one, so I got to give more rigidity to the bodice ... I did a little fascinator with a scrap of the same fabric for complete the look of 50s ... more exclusive, impossible ...
El cuerpo del vestido está completamente forrado en algodón blanco, aunque yo usé la técnica de coser las dos telas juntas como si fuesen una sola, así he conseguido dar un poco más de rigidez al bodice ... y para completar el look cincuentero hice un pequeño tocado con un trocito de la misma tela... más exclusivo, imposible...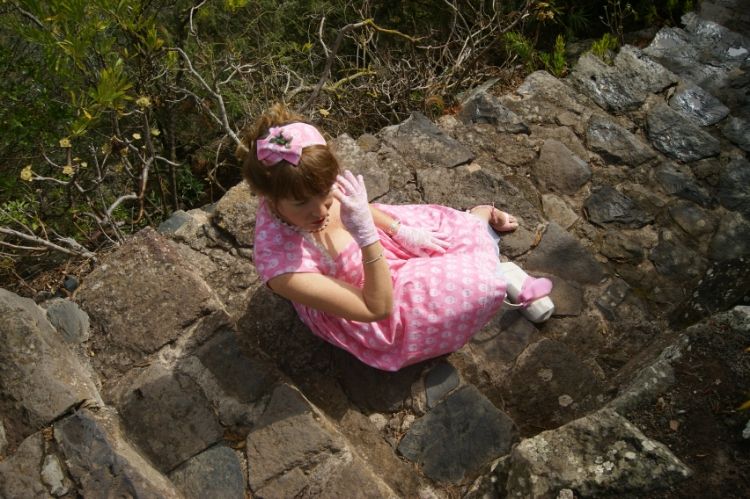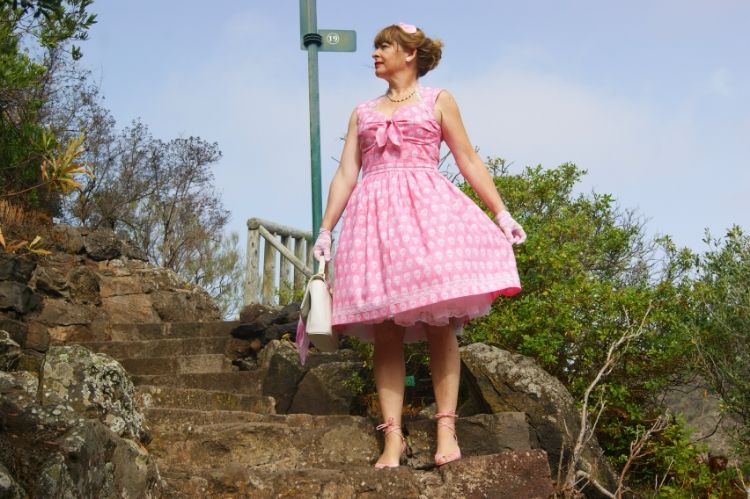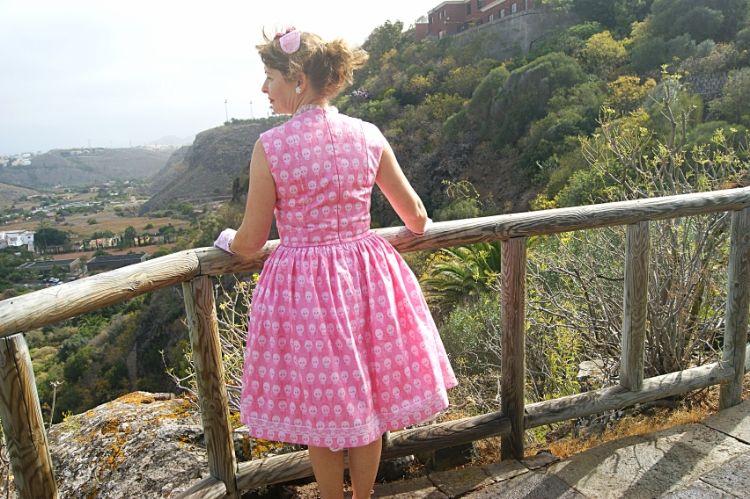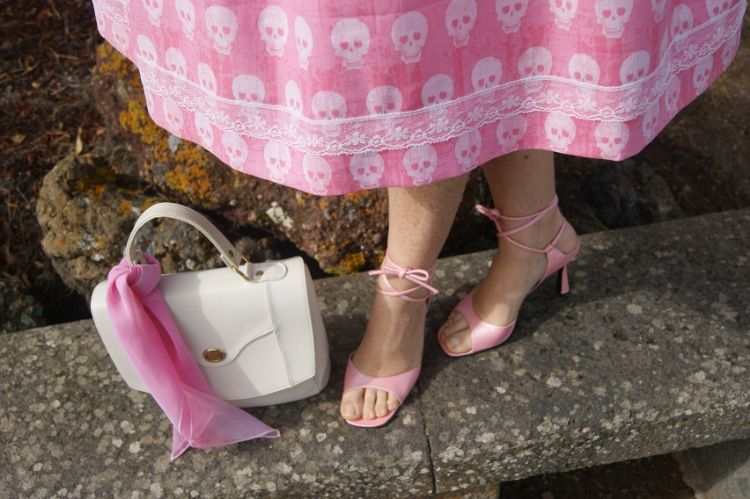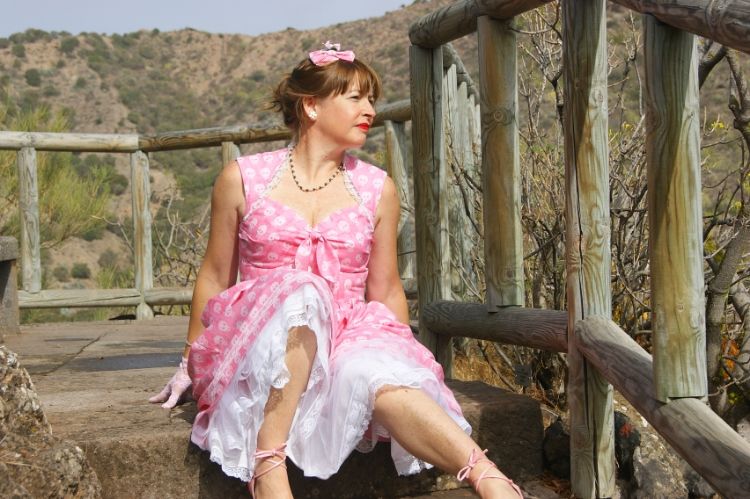 I like the ambiguity of the fabric, when you look at it from a distance and you can see a pink dress ... and the contrast of the faces of the people passing and realize that the printing are small skulls ... so funny ... Who did say that skulls are not sweet and romantic???
Check to Sacramento today, with "Share Vintage" too...
Me gusta mucho el juego que da la tela, cuando lo miras desde lejos y puedes ver un vestido rosa... y el contraste de la cara de la gente al pasar y darse cuenta que el estampado son pequeñas calaveras... tan divertido... Quien dijo que las calaveras no son dulces y románticas???
Visita a
Sacramento que comparte hoy "Share Vintage" también...