And this is the latest addition to my wardrobe ... a basic shirt in Sailor Style, if you follow me on Instagram, you have probably seen the previews of what I'm sewing, there ...
...
some posts ago
, I commented that I needed to sew some basic items for my wardrobe, well ... I´m a dutiful girl and this is the first article of this series. I want to add some items with Sailor Style to my closet because I think it's a perfect style for the place where I live, where summer extends until mid-November.
Y este es el último añadido a mi guardaropa... una camiseta básica en estilo marinero... si me sigues en
Instagram
, seguramente habrás visto los adelantos de lo que estoy cosiendo, allí.... H
ace algunos posts,
yo comentaba que necesitaba coser algunas prendas básicas para mi vestuario, bien... soy una chica cumplidora y esta es la primera prenda de esta serie. Quiero añadir algunas prendas con aires marineros a mi armario porque creo que es un estilo perfecto para el sitio donde vivo, donde el verano se prolonga hasta mitad del mes de Noviembre.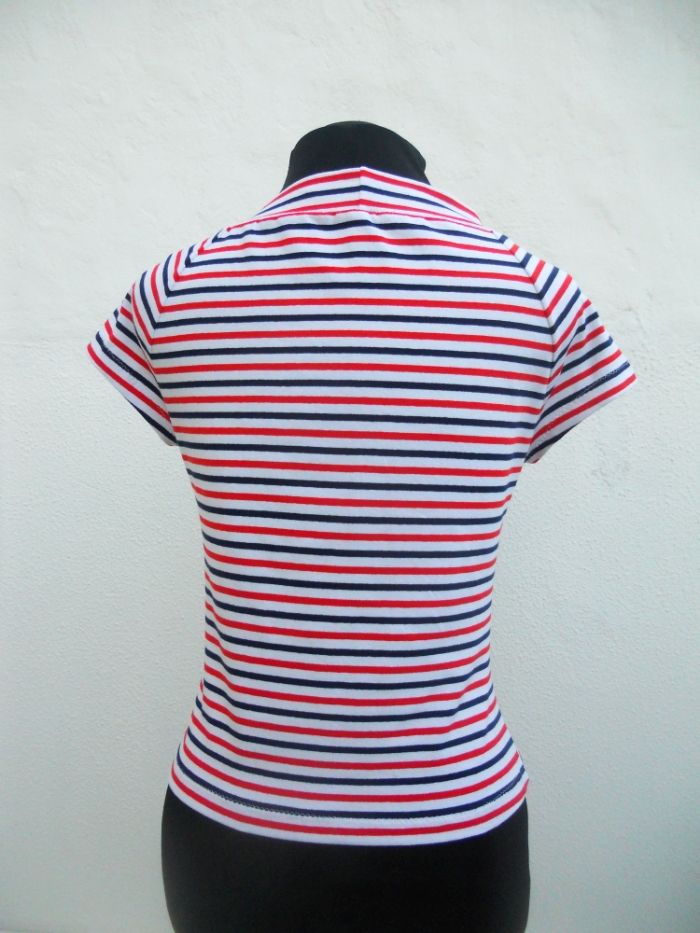 I had this fabric saved in my wishlist for a few months, but I could not buy it until last Saturday, the perfect pattern for this beautiful knit jersey is,( in my opinion), this one that can be seen in the photo below, I have been impossible to know which month is this magazine, or even which year, because it isn´t written on any place of the magazine , so I put a cover photo if anyone is interested in it.
Tenía esta tela guardada en mi lista de deseos desde hace algunos meses, pero no pude comprarla hasta el pasado sábado, el patrón perfecto para este hermoso punto jersey es, para mi gusto, este que se puede ver en la foto de abajo, me ha sido imposible saber de qué mes es esta revista, ni siquiera de qué año, porque no lo tiene escrito, así que he puesto una foto de la portada por si a alguien le interesa.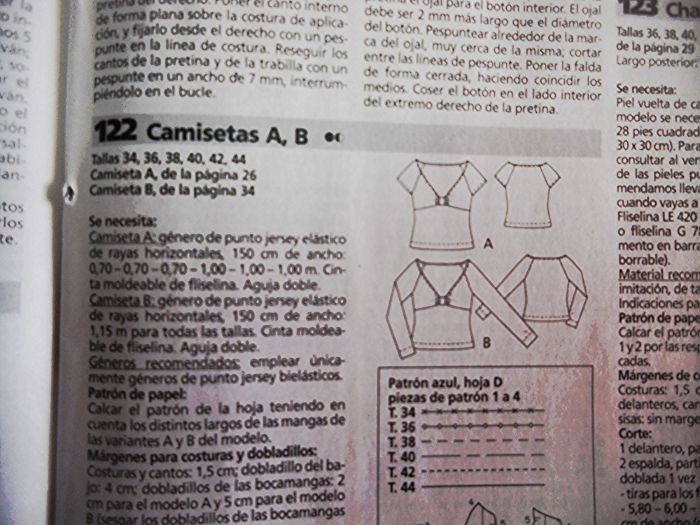 I cut as always, size 40, which is what I always use, but after preparing the shirt to try it on I had to adjust it all ... I have needed one size smaller! I also added a strip of the same fabric to the neckline because Burda and I don´t share the same view of a "decent neckline" without showing to the navel.
Corté como siempre, la talla 40, que es la que uso siempre, pero después de preparar la camiseta para probármela he tenido que entrarle de todo sitio... hubiese necesitado una talla menos! También he añadido al escote una tira de la misma tela porque Burda y yo no compartimos la misma opinión de un "escote decente" sin necesidad de enseñar hasta el ombligo.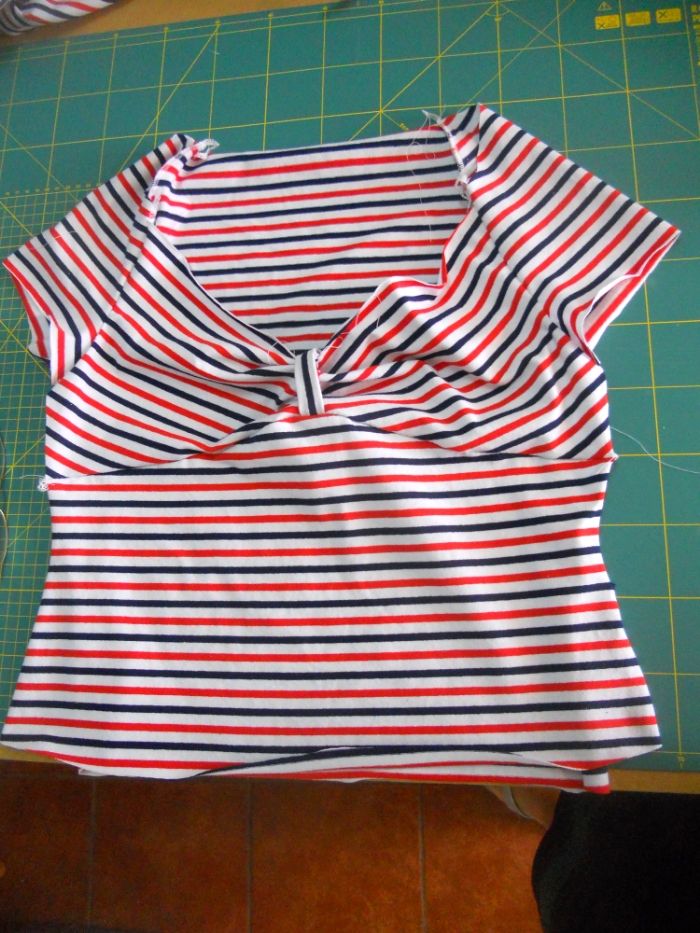 Really it´s a very nice garment and it can be cut and sewn in about three or four hours, the kind of "instant gratification" The hardest work of all, was matching stripes all the right pieces to get a nice effect .
En realidad es una prenda muy bonita y resultona que se puede cortar y coser en unas tres o cuatro horas , de esas de "gratificación instantánea" el trabajo más pesado de todo fué emparejar todas las rayas de las distintas piezas para conseguir un efecto bonito.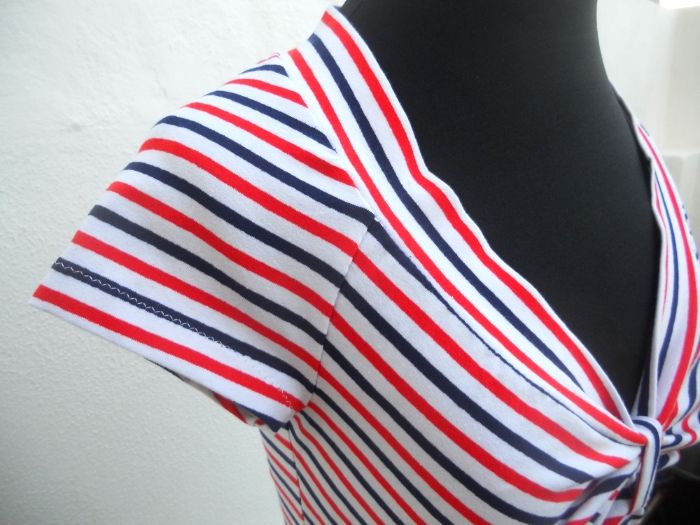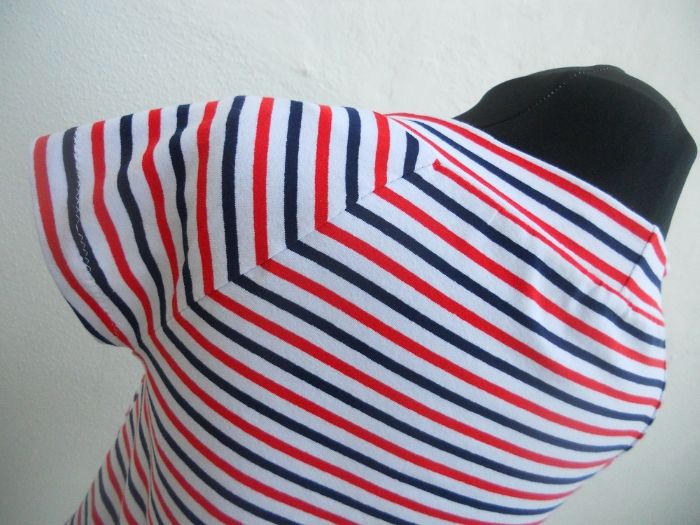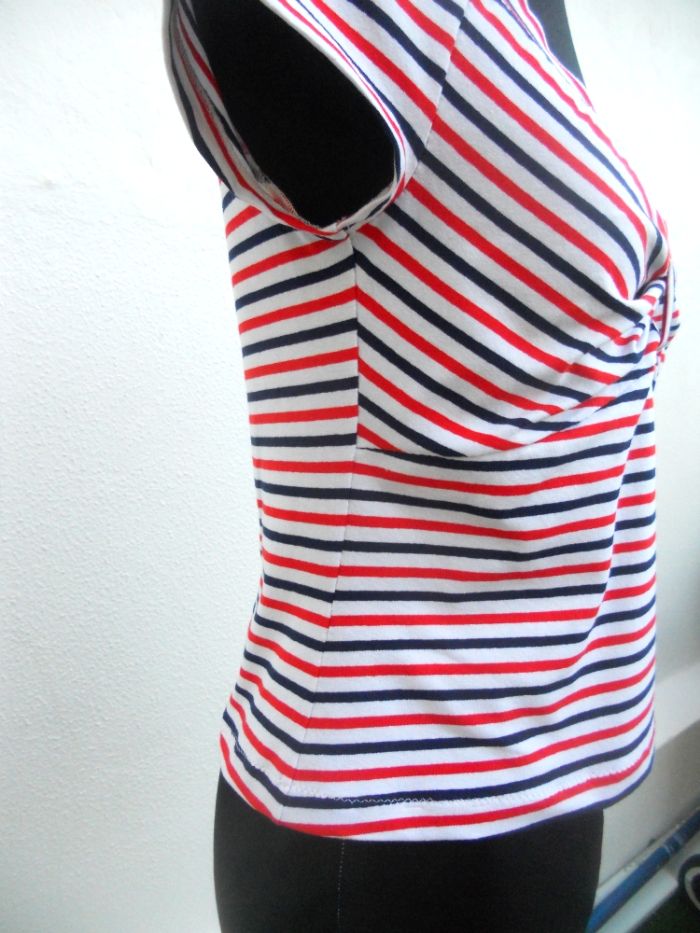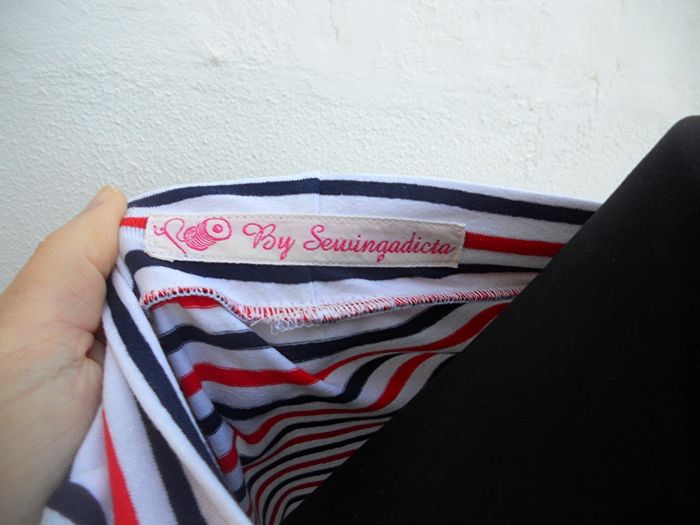 And of course, the photos are taken on my dressform because this shirt needs a partner ... I haven´t yet decided whether a skirt or shorts to cope with the high temperatures ... that will be in the next post .....
And you .... Do you like sailor style? Do you have many items of this style in your closet??
Y por supuesto, las fotos están tomadas sobre el maniquí porque esta camiseta necesita una pareja... aún no tengo decidido si una falda o un pantalón corto para hacer frente a las altas temperaturas... eso será en el siguiente post.....
Y tú.... Te gusta el estilo marinero? Tienes muchas prendas de este estilo en tu armario??