Today is the day! Let's get the name of the giveaway winner I announced here on my birthday-blog ...
Hoy es el día!!! Vamos a obtener el nombre ganador del sorteo que yo anunciaba
aquí por mi cumpleblog...
1... Olga Rani
2... Elena
3.. Ginger
4... Mónica
5... Magda E.
6... Magda E.
7... Mery Popland
8... Mery Popland
9... Fios e lás
10.. Fios e lás
11...Lara-Audrey
12...celeste alejandra garcia
13...celeste alejandra garcia
14...The Dainty Dolls House
15...The Dainty Dolls House
16...Oiane Niebla
17...TARA
18...TARA
19...xicurrina
20...mary
21...Sacramento Amate
22...Alison Daly
23...Alison Daly
24...Estelle Watson
25...Estelle Watson
26...Curra
27...Hana
28...Lenya
29...Lupe Santiago
30...Mariela Sugasti
31...Sonia Fonseca
32...recicloloquepuedo
33...vintagevisions27
34...Mariela
35...Sola ante el espejo
36...Charo Murciano
37...Jessica Cangiano
38...Sarah DeLicatease
39...Sewing Princess
40...María José
41...María José
42...The Long & Winding Bobbin
43...Carolyn
44...Merche Martinez
45...tess soap
46...Maria Rosa
47...Maria Rosa
48...Rebecca Harasym
49...Lisa
50...RetroGran
51...RetroGran
52...Masustak eguzkitan
53...elenaknits1
54...Tere Ávila
55...The Style Crone
56...bastamb
57...sabine
58...Sonia
59...Sonia
60...elpuntodelola
61...Sugar Lane
62...Carmen Bouchard aka CarmencitaB
63...Michelle Jadaa
64...Alyssa Marie
65...Alicia
66...Alicia
67...Yaz
68...Yaz
69...La Bibliotecaria Emboscada
70...La Bibliotecaria Emboscada
71...Señorita Palomo
72...Guaxara Zoila L.M
73...Guaxara Zoila L.M
74...Estrella De Enero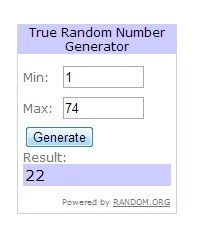 I used the Random.org number generator for the giveaway is as fair as possible and fate has decided that the winner is ....
He utilizado el generador de números aleatorios
Random.org
para que el sorteo sea lo más justo posible y la suerte ha decidido que el ganador es ....
Alison Daly!!!
Congratulations to the winner, then I will contact you to take all data needed for shipping.
Thank you very much to all for participating and enjoy with me, step by step on this beautiful journey of five years on Blogger, I enjoy reading all of you so well and with time goes we´re true friends in the distance. Don´t be disheartened if you didn´t win this time, I think the bug has bitten me and there will be more giveaways to come, of course things made ​​by me with love for you.
Happy start to the week for all!
Enhorabuena a la ganadora, enseguida me pondré en contacto contigo para tomar todos los datos necesarios para el envío.
Muchas gracias a todas por participar y disfrutar conmigo, pasito a pasito en este hermoso viaje de cinco años en Blogger, yo disfrtuto tanto leyendo a todas vosotras también y con el paso del tiempo somos verdaderas amigas en la distancia. No te desanimes si esta vez no has ganado, creo que el gusanillo me ha picado y habrán más sorteos por venir, por supuesto de cosas hechas por mi con mucho amor para tí.
Feliz inicio de semana para todas !