First of all, I need to thank each one and all of you, I include you too, Josep-maria! by the avalanche of responses from my previous post, I know there are many of you out there who have to deal every day with irreverent people because of their fashion style, I was very wrapped and which is very important, help me to look at defiantly for this kind of people the next time they cross my path ... and each one of you will be with me when I do it.
And now we´ll share a new edition of Share in Style!
Primero de todo, yo necesito dar las gracias a todas y todos vosotros, a tí también te incluyo,
Josep-maria!
por la avalancha de respuestas de mi post anterior, sé que hay muchas de vosotras ahí fuera que tienen que enfrentarse día a día con gente irreverente por culpa de su estilo de ropa, me sentí muy arropada y lo que es muy importante, me ayudará a mirar a la cara de forma desafiante a este tipo de gente la próxima vez que se crucen en mi camino... y todas y cada una de vosotros estaréis conmigo cuando lo haga.
Y ahora toca compartir una nueva edición de Share in Style!!
The inspiration came to me suddenly when Sacramento told me that the Share in Style this Friday was "Boots" ... I'm not much of boots, I like to feel my feet free and boots not make the job easy for me, however, Cowboy style (in this case cowgirl) if something that really fascinates me, there are some garments coming with this style in my wishlist pending that will come later.
La inspiración me llegó de repente cuando
Sacramento
me contó que el Share in Style de este viernes era "Botas"... yo no soy muy de botas, me gusta sentir mis pies libres y las botas no hacen el trabajo fácil para mi, sin embargo, el estilo Cowboy (en este caso , Cowgirl) si que me apasiona de verdad, en mi lista de deseos pendientes hay algunas prendas por venir con este estilo, eso será más adelante.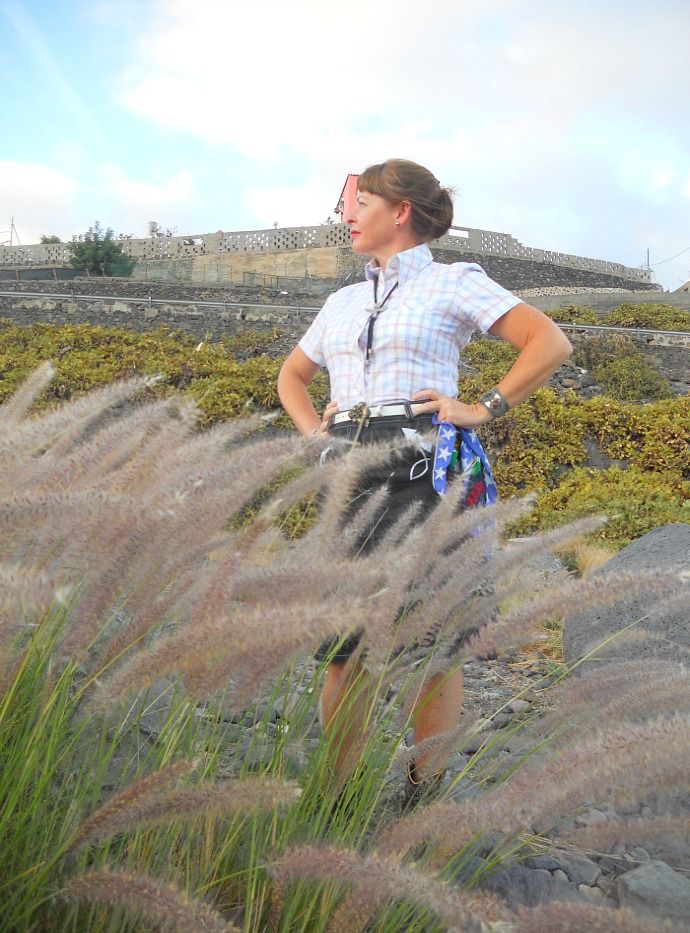 And as the chosen theme is "Boots" .... I should just show my boots ...
Y lo más adecuado , si el tema elegido es "Botas".... podría ser que os muestre mis botas...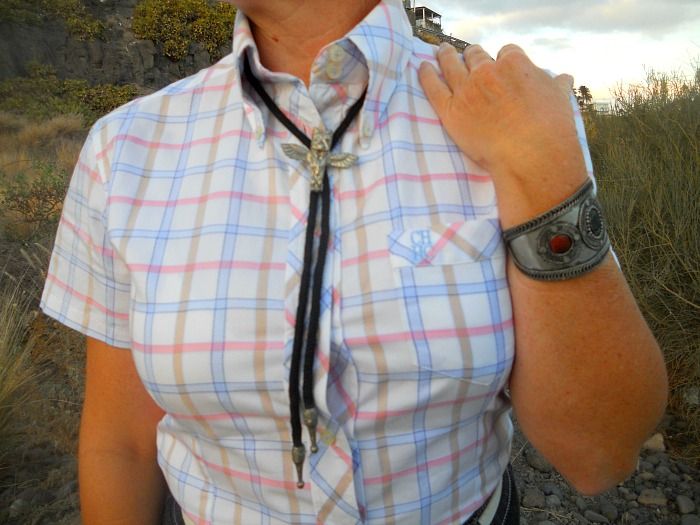 The only garment that I sewed this outfit is the skirt, you can find more information about it here, and every time I use it has a bittersweet taste to me, it hides one story behind it ..
La falda es la única prenda que yo he cosido de este outfit, puedes encontrar más información sobre ella
aquí, y cada vez que yo la uso tiene un sabor agri-dulce para mi, y es que esconde esta historia detrás de ella..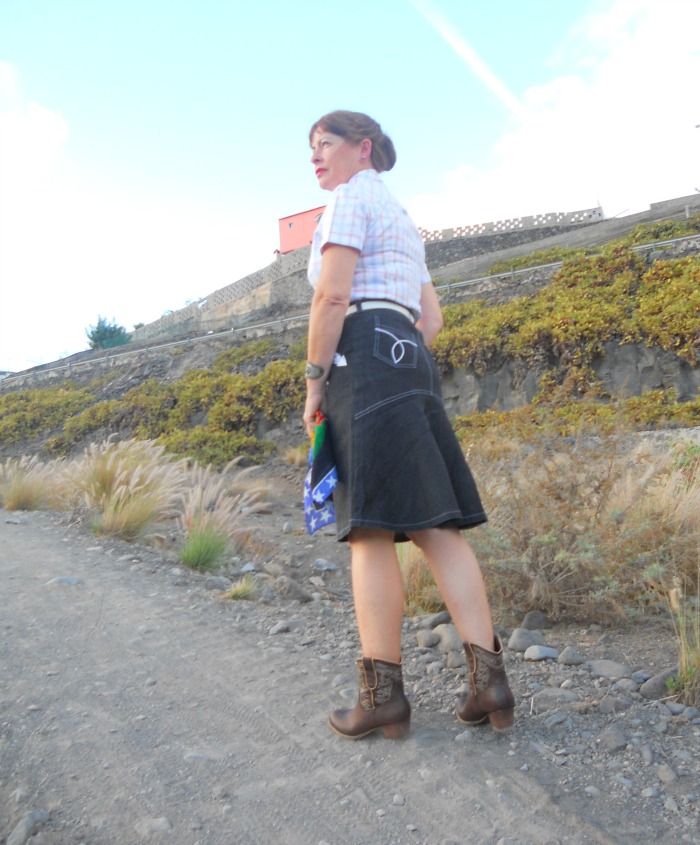 And this time I'm really delighted to share style today with, my dear Marie Chantal! If you do not know she yet, be sure to stop by her blog and say "Hi" to this wonderful girl!
Y esta vez yo estoy realmente encantada de compartir estilo hoy con ,
mi querida María Chantal
!! Si no la conoces todavía, asegúrate de pasar por su blog y decir " Hola" a esta maravillosa chica!!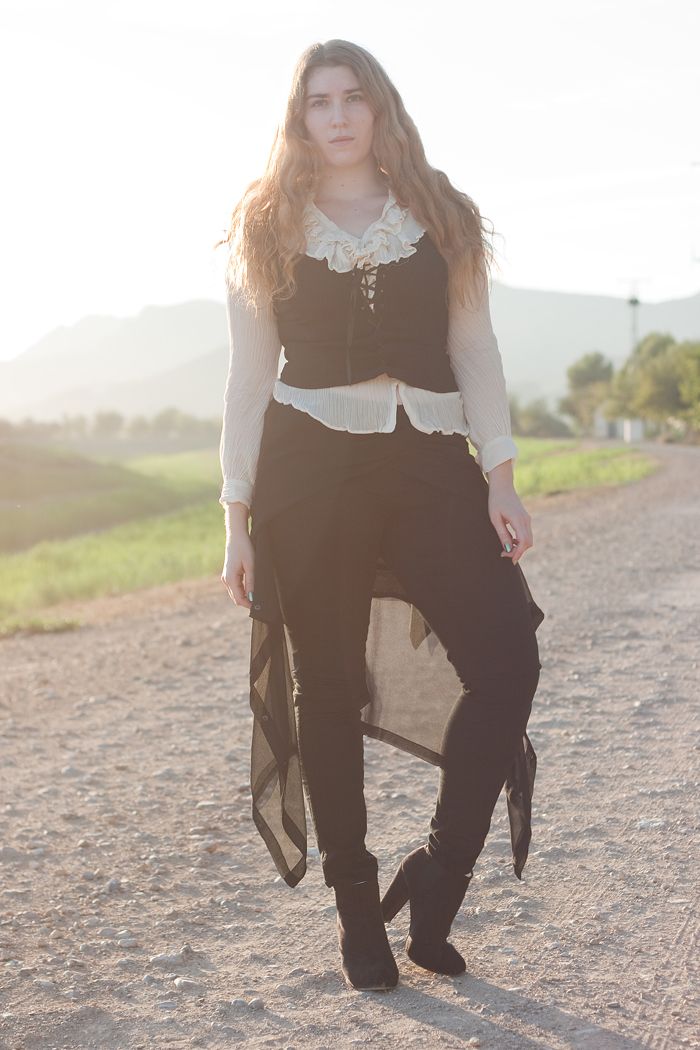 And there will be some changes in successive Share in Style, for starters ... this project will be every other Friday, ie a Friday yes and other Friday no, this way it will be easier for everyone to take the pace and there will be a calendar of proposed topics for every Friday, so you have no excuses and you will be encouraged to participate and prepare your post and your partners in advance. What do you say? Do you cheer up to part with this fun community??
And... if you love petticoats, don´t forget enter in my giveaway, here...
Y habrá algunos cambios en los sucesivos Share in Style, para empezar... este proyecto se hará cada dos viernes, es decir, un viernes si y otro no, de esta forma será más fácil para todos tomar el ritmo y también habrá un calendario con los temas propuestos para cada viernes, para que no tengas excusas y te animes a participar y preparar tus post y tus parejas con suficiente antelación.
Qué me dices? Te animas a participar con esta divertida comunidad??
Y si te gustan los petticoats,
no olvides entrar a mi sorteo , aquí..
..