I've been missing for the past few days, but it has just been a whole bunch of small things in my life, but here I´m again, with a new edition of Share in Style, this time the theme is "White", beside to Sacramento and Peggy Sue.
But first, I want to thank you all for the birthday wishes. A big kiss to everybody, you´ve made me very happy.
So, Martina is my partner today, she is one of the most elegant blogger I´ve ever know, I think that's definitely the word that can best define her .... Martina is pure elegance! Don´t forget to visit her blog and enjoy the looks which seem taken from a fashion magazine, but with her own style. Martina is the "proof" that you can remain equally fantastic and wonderful after 40, be sure to visit her!
He estado perdida durante todo este tiempo, pero solamente ha sido un cúmulo de pequeñas cosas que se cruzan en la vida y aquí estoy de nuevo, en una nueva edición de Share in Style, esta vez el tema es "Blanco", junto a mis compañeras de aventuras
, Sacramento
y
Peggy Sue
.
Pero antes que nada, quiero dar las gracias a todas por las felicitaciones por mi pasado cumpleaños, tanto aquí en el blog, como en facebook . Un beso muy grande para todas, me sentí muy feliz.
Y mi pareja de hoy es Martina,
una de las blogueras más elegantes que conozco, creo que definitivamente esa es la palabra que mejor puede definirla....Martina es pura elegancia! No olvides visitar su blog y disfrutar de sus looks que parecen sacados de una revista de moda , pero con sello propio. Martina es la prueba viviente de que se puede seguir siendo igual de fantástica y maravillosa después de los 40,
no dejes de visitarla!
Today's topic is "White" but I decided to mix it with small black polka dots to recycle a dress that I had kept unused in my closet .... here you can see the previous dress, I had long been thinking about making some alterations in it and to make it a little more .... swingy.
Y aunque el tema de hoy es Blanco, yo he decidido mezclar un poco y derivarlo a pequeños lunares negros para reciclar un vestido que tenía guardado en mi armario sin darle uso apenas...
. puedes ver el vestido anterior aquí,
llevaba tiempo pensando en darle un cambio para que no resultara tan sobrio y darle un poco más de.... swing.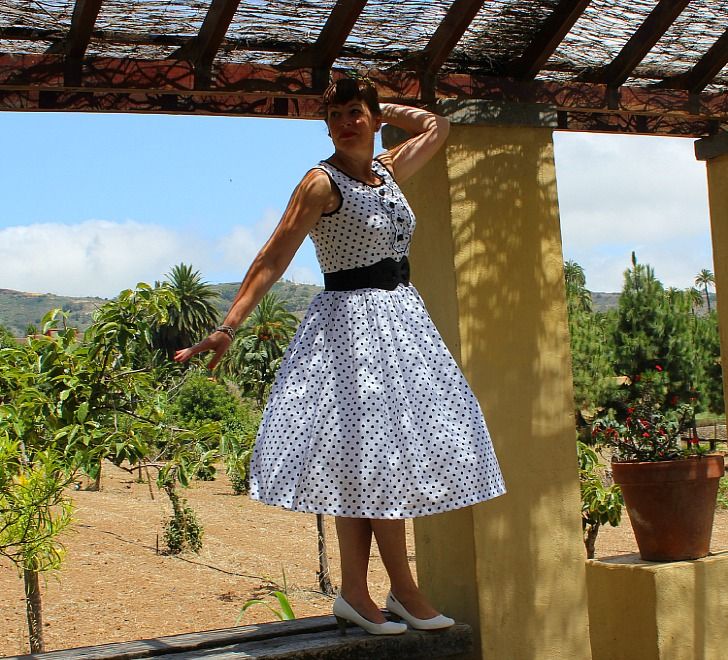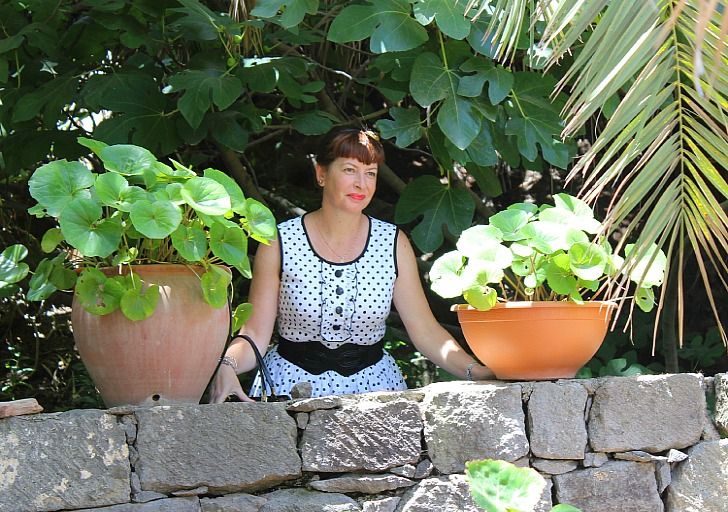 Join us and link your post bellow... and don´t forget the next Share in Style, it will be next August, 4th and the theme "Flowers".
Únete a nuestra fiesta y linkea tu post con tu interpretación del tema "Blanco" aquí abajo y no olvides que el próximo Share in Style será el día 4 de Agosto con el tema "Flores".