Lately, I haven´t free time to do things and publish posts, but everything will return to normal soon, meanwhile it has arrived a new Share in Style, this time with the themed "Sailor" with my adventure´s accomplices , Sacramento and Peggy Sue, although the last one not participate today, we miss her.
Today I have a luxury partner to share outfit, my dear friend Ana María.
I met Ana Maria from her blog , at that time her main activity was knitting and
crochet, she made wonderful things and shown them on her blog. But recently she has returned to her sewing. And she continues doing wonderful things !!!
This time, she sewed a blue capri and a striped blouse and share her own style with all of us. She designed her garments, she drew her patterns and she sewed them... and she looks so wonderful! Ana María ,thank you for joining me in this little adventure.
Ultimamente el tiempo es bien poco, no te tenido mucho tiempo libre para hacer cosas ni publicar, pero todo volverá a la normalidad dentro de poco, mientras tanto ha llegado un nuevo Share in Style , esta vez con el tema "Sailor" junto a mis cómplices de aventuras,
Sacramento
y
Peggy Sue
, aunque esta última no podrá participar esta hoy, la echamos de menos.
Hoy tengo una compañera de lujo para compartir outfit, mi querida amiga Ana María.
Conocí a Ana María a través de su blog y sus agujas
, en aquel momento su actividad principal era tejer y el crochet, hace cosas maravillosas y las muestra en su blog . Pero hace relativamente poco tiempo que ha vuelto a coser para ella . Y sigue haciendo cosas maravillosas!!!
Esta vez ha cosido unos capri azules y una blusita a rayas para compartir su propio estilo con todas nosotras. Ella lo diseñó, ella lo patronó, ella lo cosió y lo luce así de bien!
Gracias Ana María por acompañarme en esta pequeña aventura.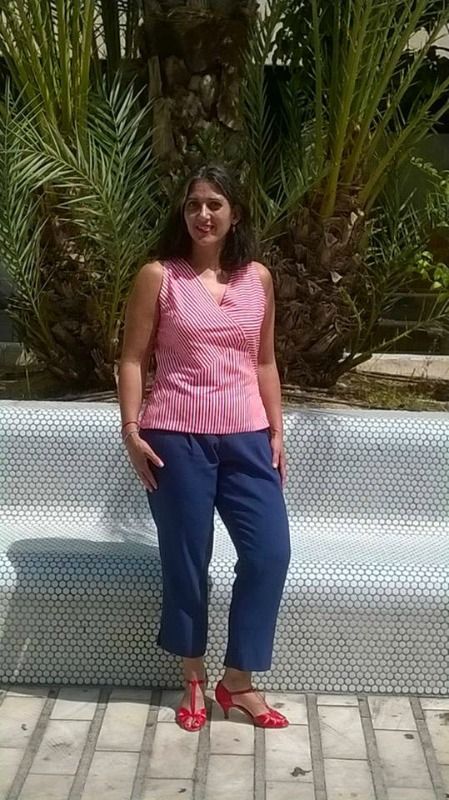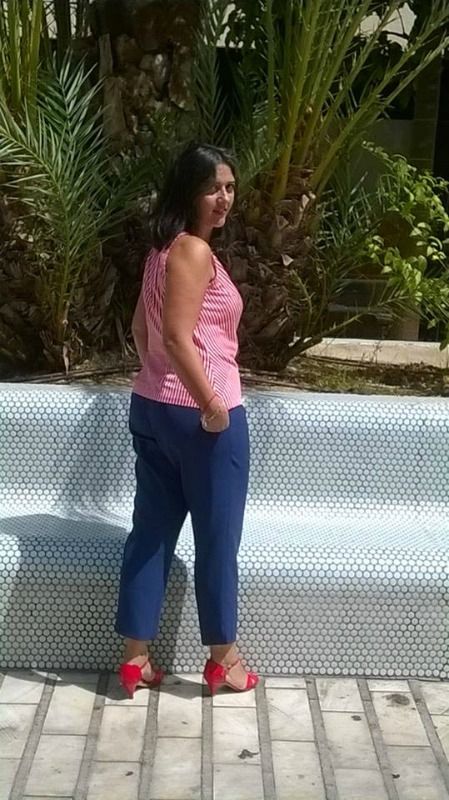 And this time I sewed a blouse for me... the fabric is vintage, I found it some years ago in a thrift store and I fell in love with its print , but seeing it close up I noticed it was full of yellow stains and small holes, so I kept long. I think this fabric can be from the 50s or 60s , it's so hard find Rayon fabric in these days so that does it more desirable ... when you like something and you really love it , you accept it , with their virtues and bad things.
Y yo esta vez he cosido una blusita para mí. Aunque estoy encantada con ella, ya sabéis lo que me gusta el vintage... pues la tela es vintage, la encontré hace algunos años en una tienda de segunda mano y me llamó la atención su estampado , pero al verla de cerca me llevé un disgusto porque estaba llena de manchas amarillas y pequeños agujeros, así que seguí de largo.
Pero no me la podía quitar de la cabeza, esta tela puede ser de los años 50s o 60s calculo yo, es Rayón tan difícil de encontrar en estos días lo que la hacía más deseable... al fin y al cabo, cuando te gusta algo y lo quieres de verdad , se perdonan los pequeños defectos, verdad? Lo aceptas tal y como es, con sus virtudes y sus cosas malas, porque si lo amas, las cosas malas te parecerán menos malas...
The Rayon scrap was so small that I could not matching the stripes on the side seam , plus it has some holes, so I had to choose.. matching stripes ... or holes ...
For this "Share",I thought that the port was a good place to get some photos to show my blouse. I love the style of the 40s I've got this time.
El trozo de Rayón era tan pequeño que , intentando evitar los agujeros de la tela no he podido cuadrar las rayas en las costuras laterales, era o eso... o los agujeros... pensé que las rayas ligeramente descasadas eran un problema menor.
Para este Share, pensé que nada mejor que ir al puerto a obtener algunas fotos que hicieran juego con mi blusa. Me encanta el estilo de los 40s que he conseguido esta vez.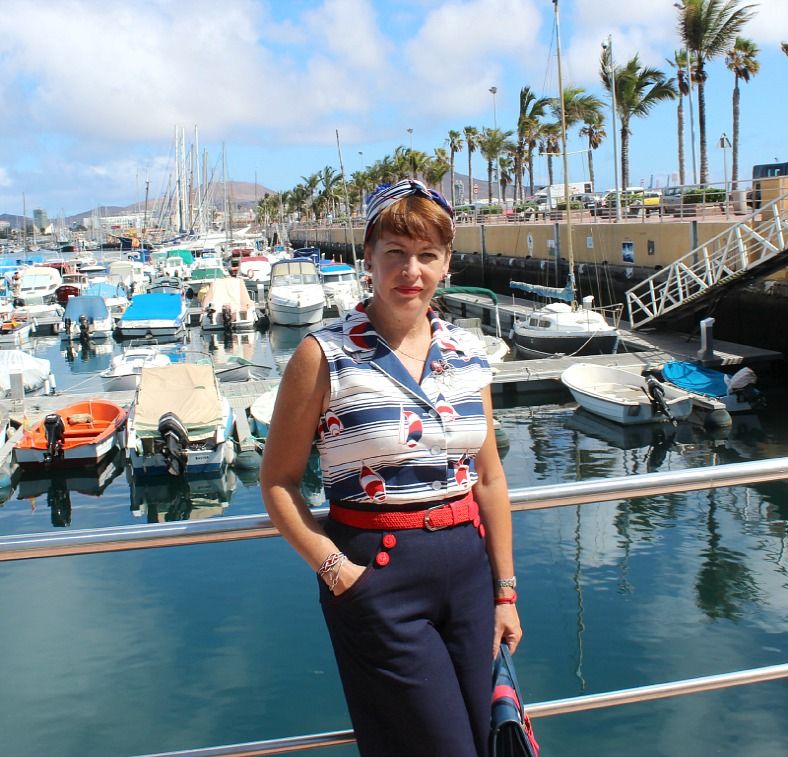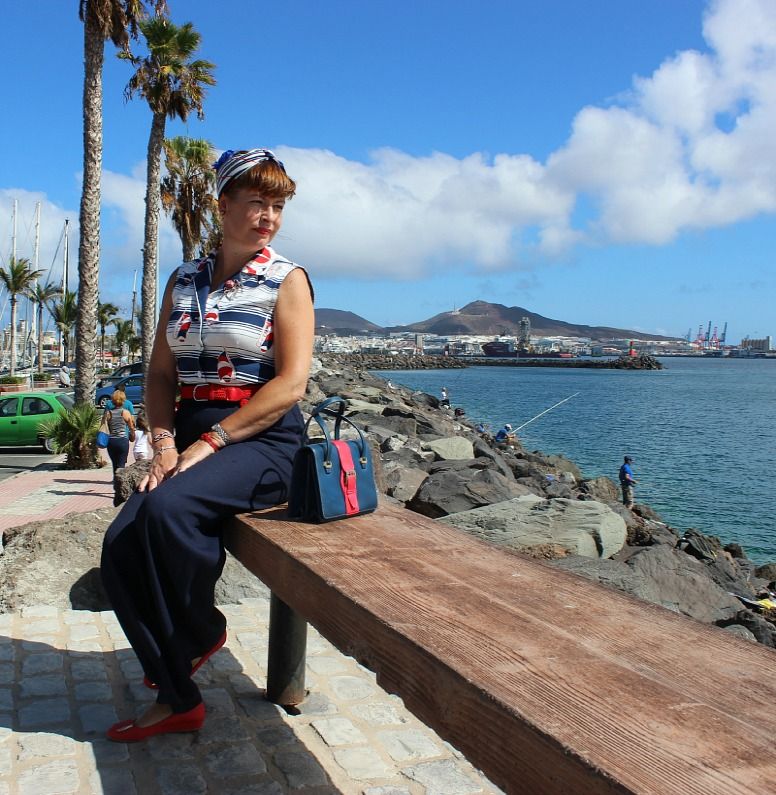 Join us linking your "Sailor" post below and don´t forget next "Share in Style" will be September, 15th and the theme will be "Skirt or Trousers."
Participa con nosotras linkeando tu post "Sailor" aquí abajo y no olvides que el próximo Share in Style será el día 15 de Septiembre y el tema será "Falda o Pantalón".