A new edition of Share in Style with Sacramento and the topic "Christmas". I spent a long time thinking how I could interpret this topic unused red colour and then I thought ... what color is Christmas where I live?
Una nueva edición de Share in Style junto a
Sacramento
con el tema "Navidad". Estuve largo rato pensando como podría yo interpretar este tema sin caer el el rojo y entonces pensé... de que color es la Navidad en el sitio donde vivo?
The contrast of the landscape mine and the my partner today is wonderful.... meet to my friend Sara, from Finland!
El contraste es maravilloso si lo comparas con el paisaje de mi pareja de hoy....
mi amiga Sara, de Finlandia!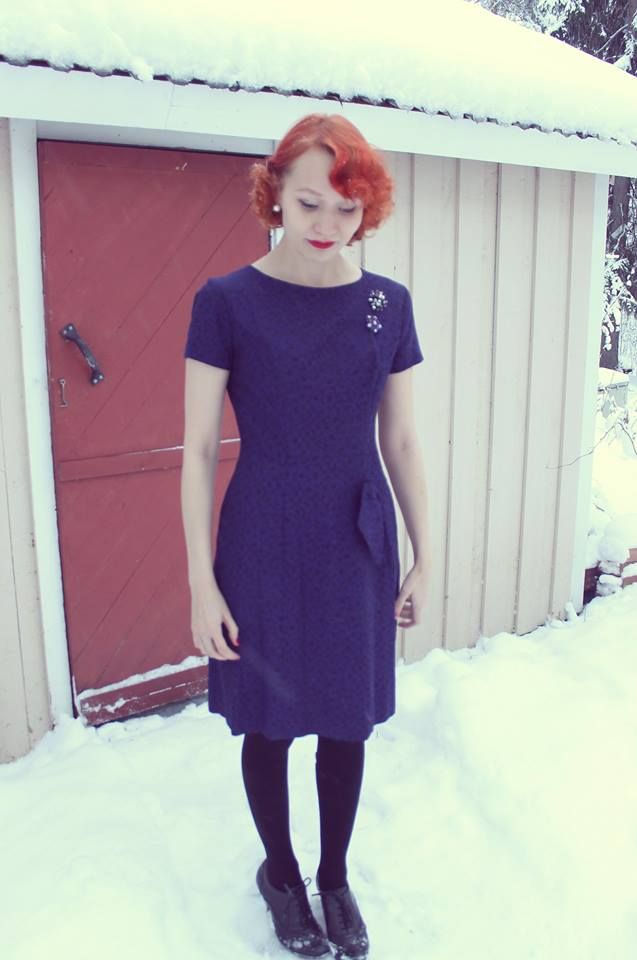 Sara is the girl behind the blog Ladylike Delicacy, I found her blog about four years ago and I fall in love with it. Sara is a girl lover of vintage, especially fashion from the 50s, she shows looks as delicate as the name suggests and she also sew some of her garments, she´s graduated in Dressmaking, you want to see the beautiful things he has made here.
I have a special affection to Sara because she's a lot younger than me and even with the distance years, we have experienced some ups and downs of life together, I've seen she has matured over the years and has become a wonderful person. If you like vintage and sewing, you have to add her blog to your reader, because each post published by she improves the previous one.
Sara es la chica que está detrás del blog
Ladylike Delicacy
un blog que me enamoró cuando lo encontré por este mundo cibernético hace unos cuatro años ya. Una chica amante del vintage, especialmente de la moda de los 50s, que muestra looks tan delicados como su nombre indica, ella también cose algunas prendas y es graduada en Confección, si te apetece ver
las cosas tan bonitas que ha hecho, lo puedes ver aquí.
Le tengo un cariño especial a Sara, porque es muuuuchos años más joven que yo y aún con la distancia, hemos vivido algunos avatares de la vida juntas, he visto como ha ido madurando a lo largo de los años y se ha convertido en una persona maravillosa. Si te gustan el vintage y la costura, tienes que añadir su blog a tu lector, porque cada post que publica mejora al anterior.
And returning to me and my color version of Christmas, of course it's green, I chose this color for the topic of this Share because the island where I live is flooded with this color at this time, it's a great pleasure to walk around it and see the landscape full of all green shades existing in nature.
Y volviendo a mi y a mi versión del color de las Navidades, evidentemente es verde, yo elegí este color para interpretar el tema porque la isla donde vivo se inunda de este color en estas fechas, es un gustazo pasear y ver el paisaje lleno de todos los matices de verde existentes en la naturaleza.
So I chose this fabric I had in my stash since last winter, it's corduroy and the pattern is BurdaStyle, December 2014, # 103. I omitted the epaulets that has the original model on the yoke for not saturate it more, the design of the fabric is enough.
Así que yo elegí esta tela que tenía en mi stash desde finales del invierno pasado, es una micropana y el patrón es
Burdastyle, diciembre del 2014, el modelo 103
. Omití las trabillas que trae el modelo original en el canesú de la falda para no saturar más, el dibujo de la tela ya es suficiente.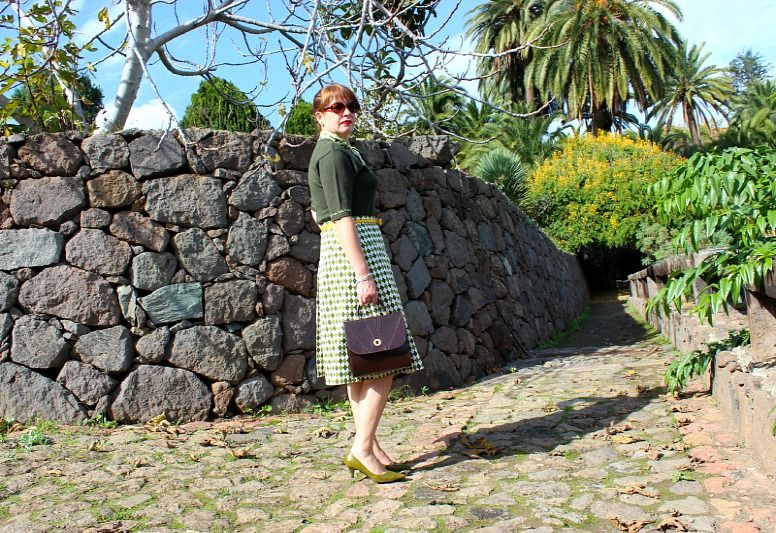 I´m wearing the skirt with green shoes very similar to those used in the 50s, the bag is vintage from 70s I found it in a flea market. The brooch is also vintage and together with the neckerchief and glasses get a 50s look quite acceptable.
Yo combiné la falda con unos zapatos verdes muy parecidos a los usados en los 50s, el bolso es vintage de los 70s lo encontré en un mercadillo de segunda mano y fue amor a primera vista. El broche también es vintage y junto a el pañuelo en el cuello y las gafas consiguen un look "cinquentero" bastante aceptable.
So, join us linking up your post "Christmas" down and don't forget next Share in Style will be on

January, 5th

with the theme

"Masculine Look"

, I am excited to see what will happen on that topic! !
Por lo tanto, únete a nosotros linkeando tu post de Navidad aquí abajo y no olvides que el próximo Share in Style será el día
5 de Enero
con el tema
"Look Masculino"
, estoy deseando ver lo que se os ocurre para interpretar ese tema!!